Gear & Tech
Review: SunGod PaceBreaker sunglasses – Look Cool While Dropping Watt Bombs
SunGod sunglasses are a relatively new player to the market, a successful, UK based, crowd-funded business who's appeal is focused on the ability to customise the glasses online at an affordable price. SunGod was founded in 2013 and developed from a frustration that to get quality lenses that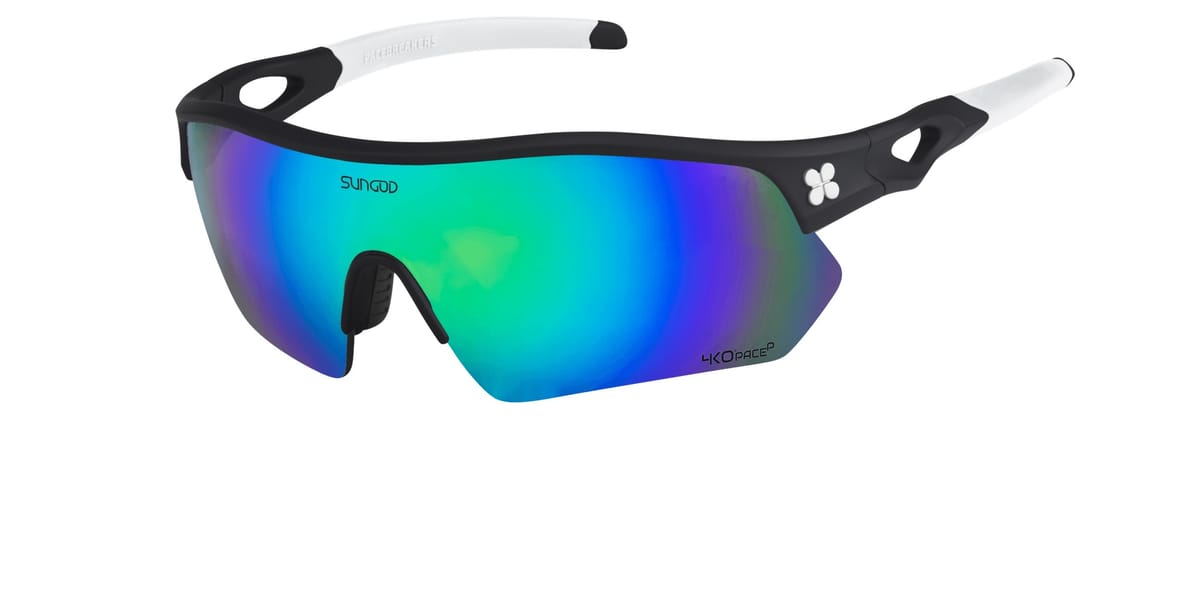 SunGod sunglasses are a relatively new player to the market, a successful, UK based, crowd-funded business who's appeal is focused on the ability to customise the glasses online at an affordable price.
SunGod was founded in 2013 and developed from a frustration that to get quality lenses that would be able to withstand a sports/adventure lifestyle.
They launched their first product, SunGod Classic, as their first complete custom online build, with polycarbonate polarised lenses and TR90 memory polymer frames. This campaign exploded, with SunGods being shipped to 93 countries and making 10x the initial funding target and becoming the largest crowdfunded project of its kind in the UK.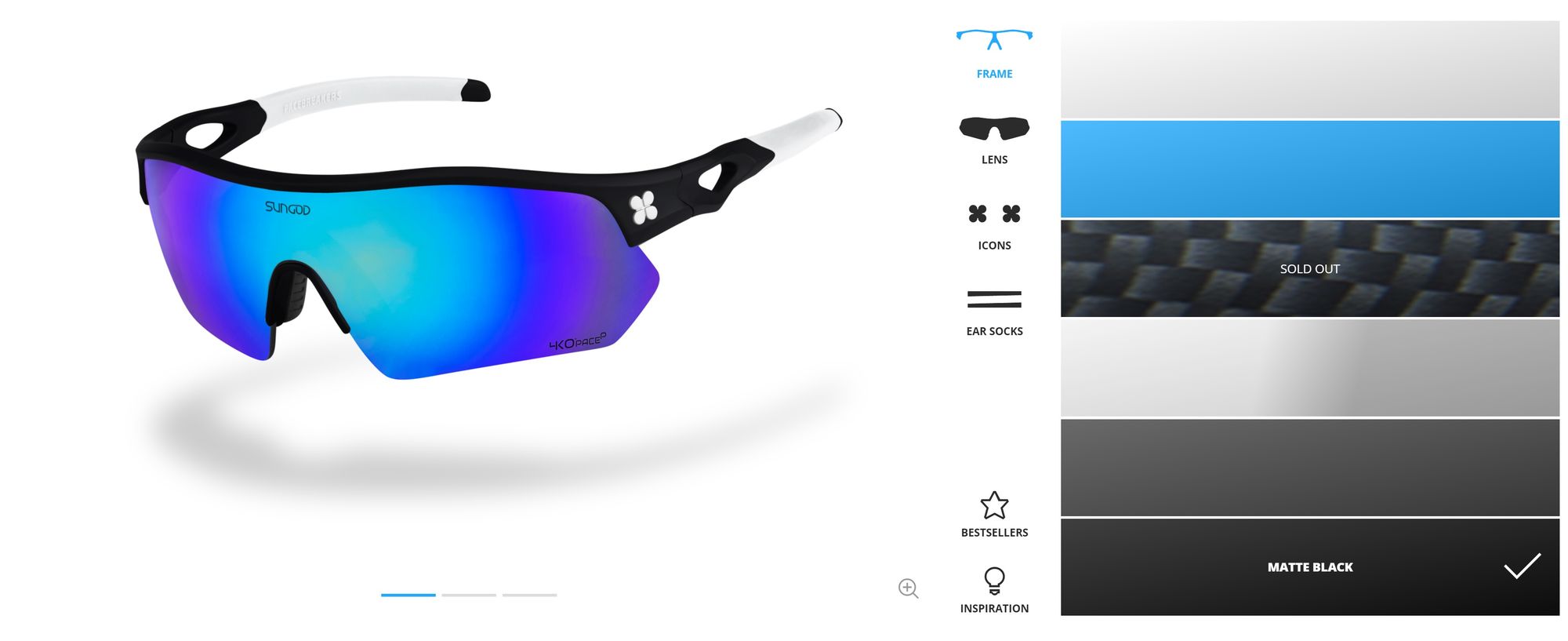 Jumping on to the website is simple enough, and you get to choose from a variety of frames and styles. The Classics and Renegades focus more on traditional streetwear, extreme sports etc., while the Revolts are focused on snow sports. All of the range bears the funky looking Limited editions, are fully customizable.  As triathletes wouldn't be seen dead wearing non-race specific gear, we're going to focus the review on the PaceBreakers – wraparounds focused on riding and running (swimming not tested!)
What design do you ask?
I was lucky enough to get to design a pair of sunglasses via the simple to understand interface. Simple enough in fact that my five-year-old daughter created my first pair below.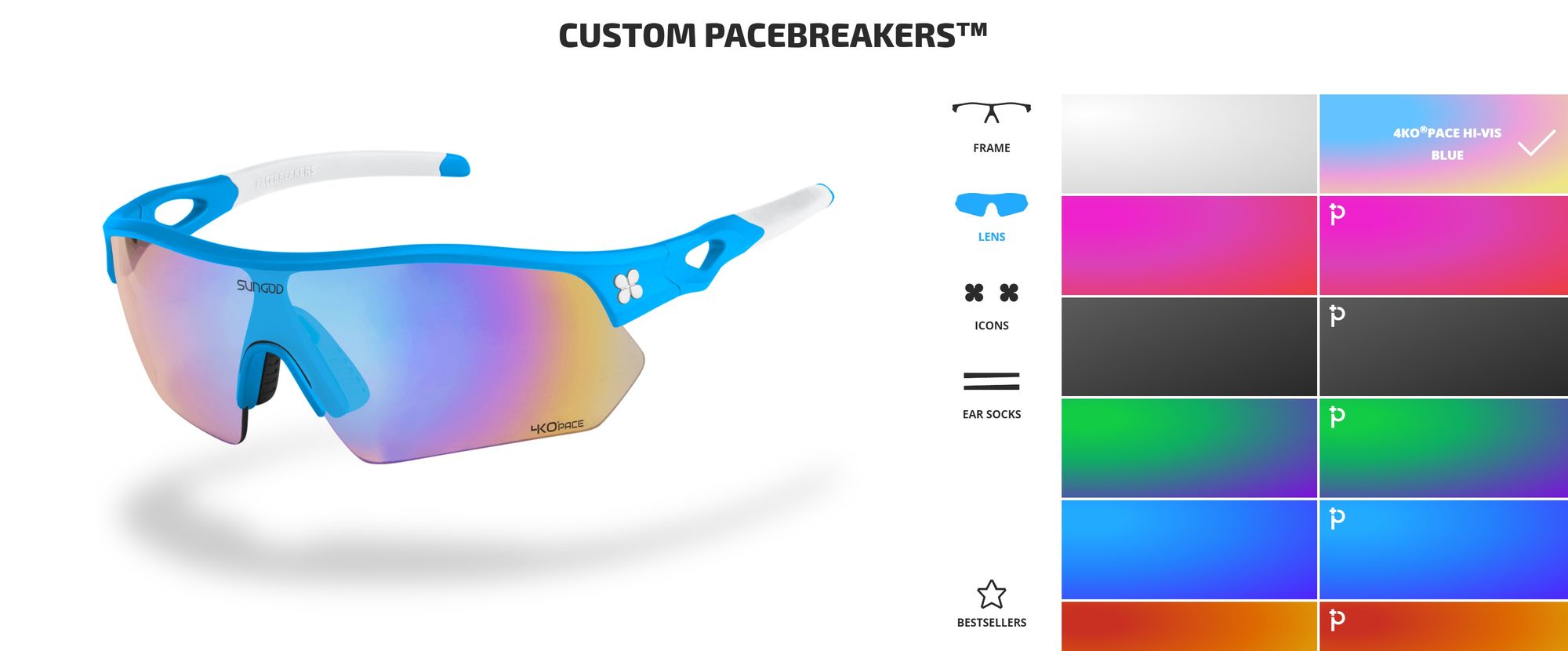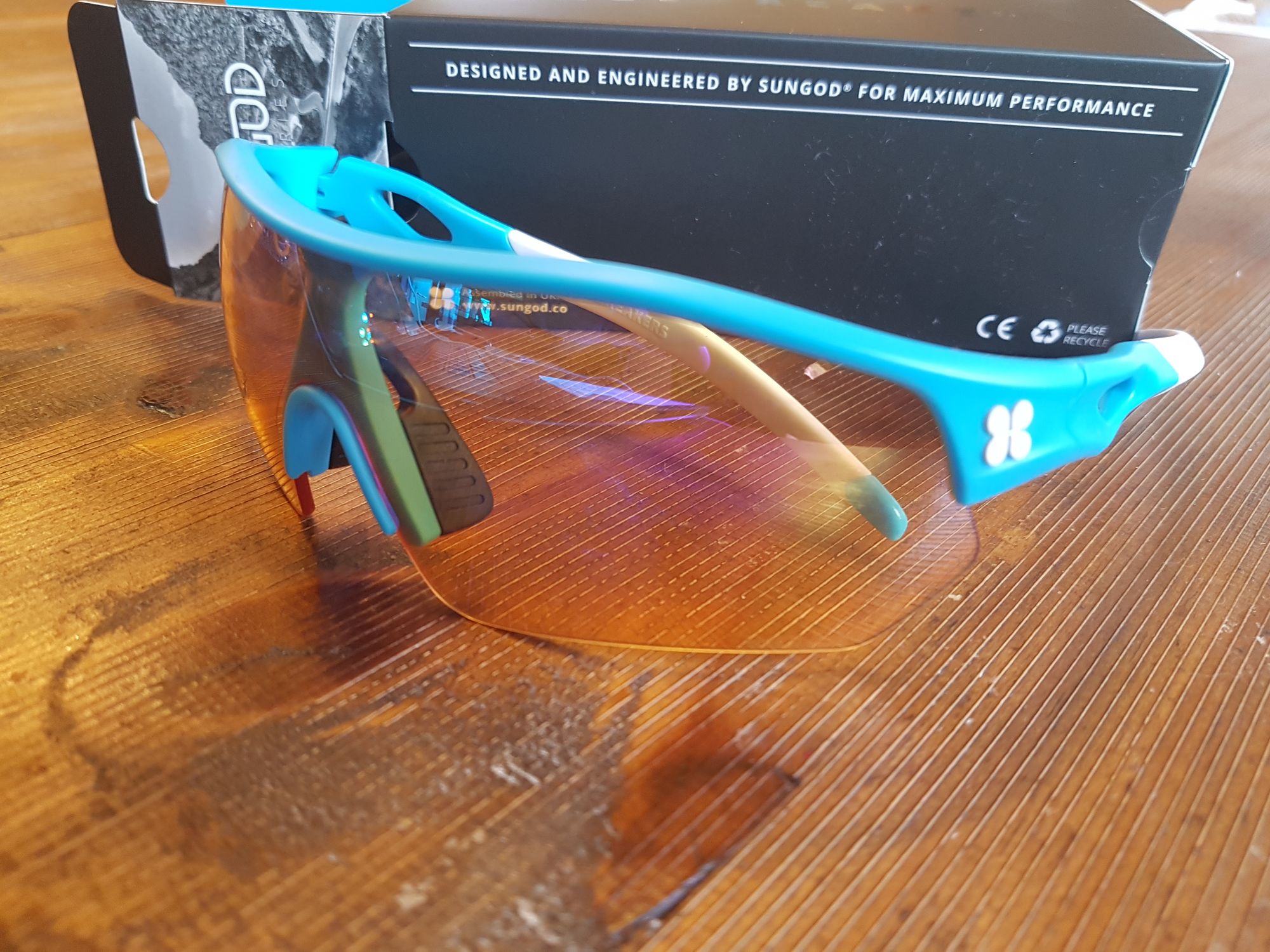 Going through the interface, you get to choose the frame colour, lens type (4KO Polarised or not – more on that later), icons on the side and ear sock colour (the tips of your glasses). If your creativity is failing you, you can also choose from a set series of best sellers.
The whole process takes around 30 seconds of effort with 20 minutes of procrastination around the right colours to match with your complexion and handbag.
My second pair was a much more straightforward affair focusing on the traditional grey look.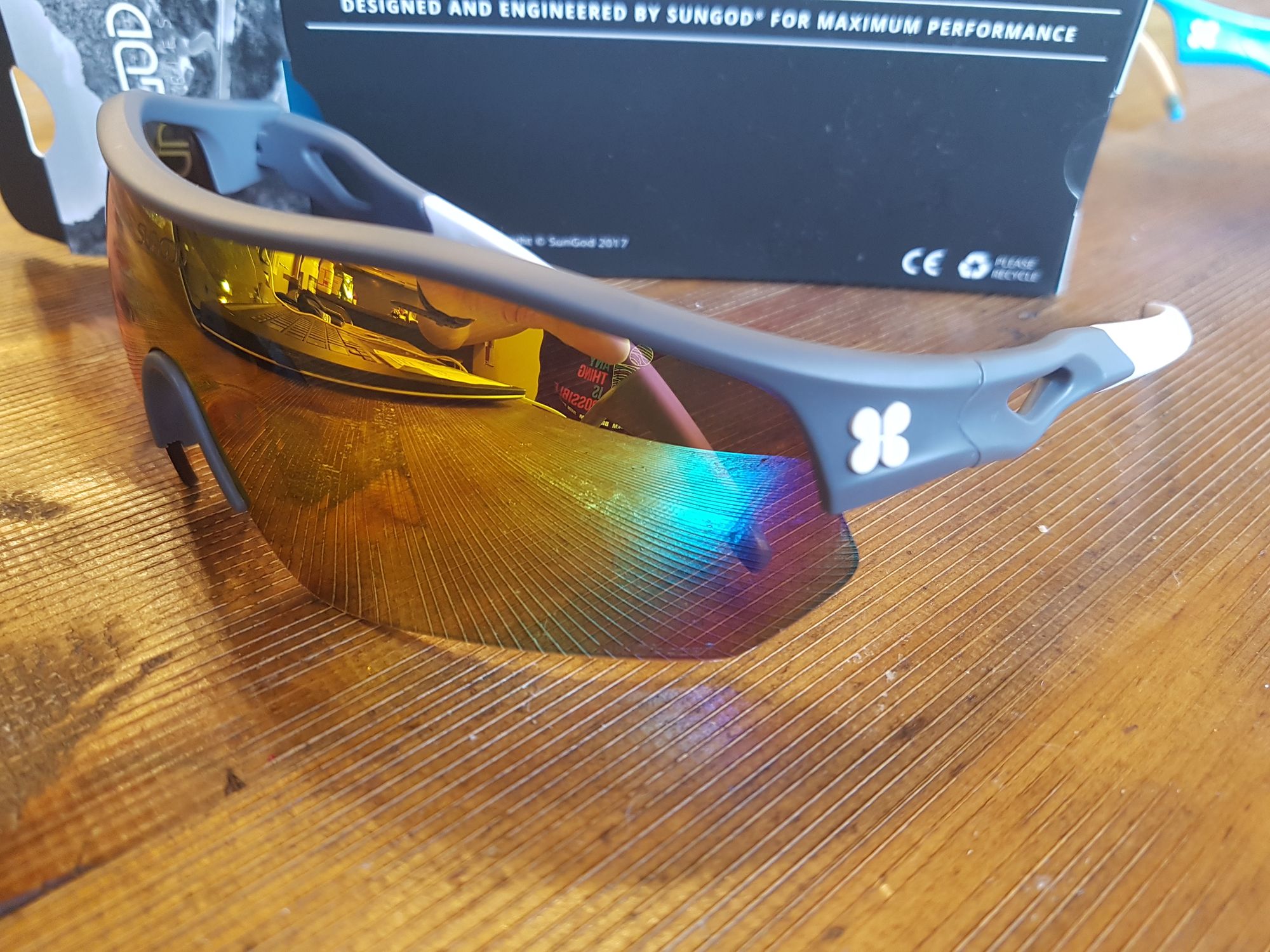 The glasses ship from the UK and for me, turned up in 3 days, a surprising and welcome change.
What's in the box?
SunGod indeed go above and beyond with the packaging and its contents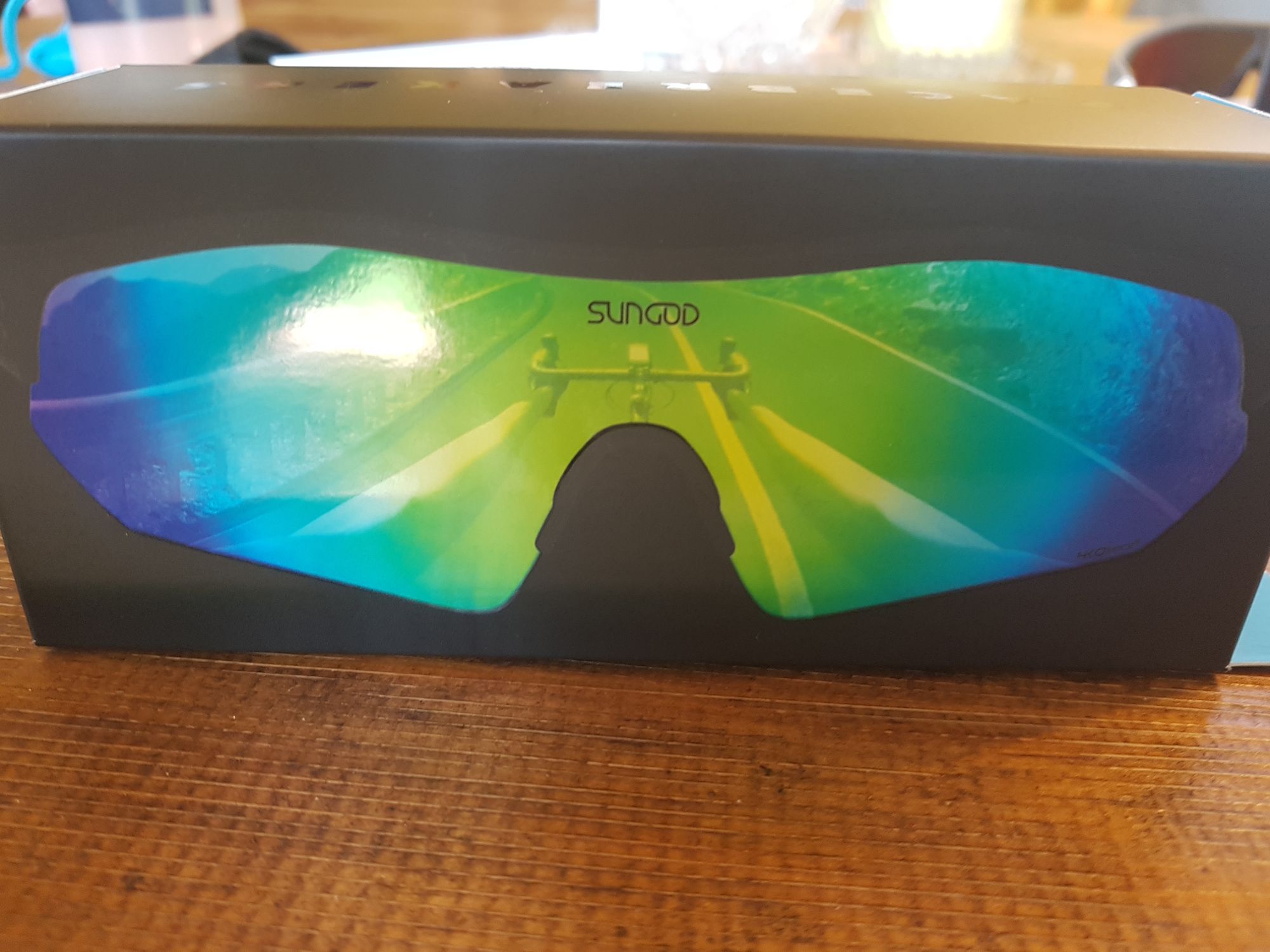 As you would expect you get a box with the sunglasses included, but you also get a spare nose clip, a case which also doubles as a cleaning rag and a truckload of stickers to stick around the place. Its quite a few freebies given the low cost of the product.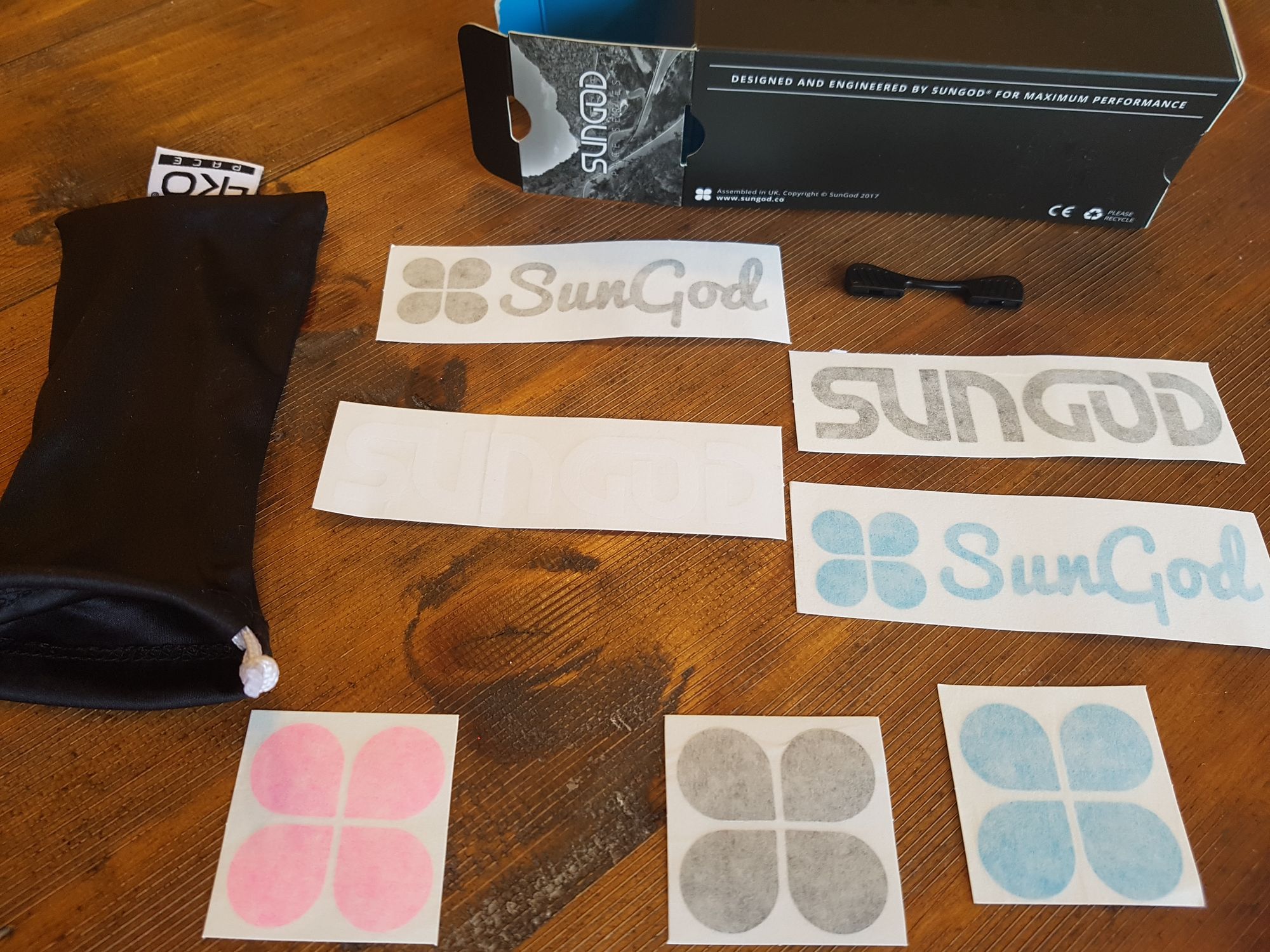 4KO pace lens with triple scratch resistance
SunGod claims that the polarised lens is both triple scratch resistant and will enhance both visibility and field of view in both low light and bright conditions. We obviously couldn't test them in a lab with serious equipment, but we took the glasses out on a treacherous, wet and windy early morning Melbourne ride around the Dandenong mountains in peak hour traffic.
Compared to my Jawbreakers I certainly felt that their visibility in early morning sun up (6am) conditions were improved.  The lens also survived being bounced along the road at high speed when I forgot to put them back on during a decent, with no scratches if I may add.  So science aside, these sunglasses certainly did the job during a challenging day out.
What differentiates SunGod from the competition
SunGod has a few key differentiated points.
Firstly is the price. For around $110 – $130 dollars you get a solid pair of high-performance sunglasses with features to match and outperform glasses twice their price.
The glasses come with a lifetime warranty so if they break they will replace them free of charge. A lofty claim that I haven't tested but certainly a welcome one – which some of the major players struggle to offer.
The glasses are made from adventure proof flexible rubber which allows the frames to be flexed, and as above bounced along the road, without damage. Which as a clumsy guy is a great feature.