Gear & Tech
Review: SwimFast Pro Swimming Ergometer
Review of the SwimFast Pro, a dry land swimming ergometer. Read about our time with it, in and out of the great Australian COVID-19 lockdown and if its worth your hard-earned dollars.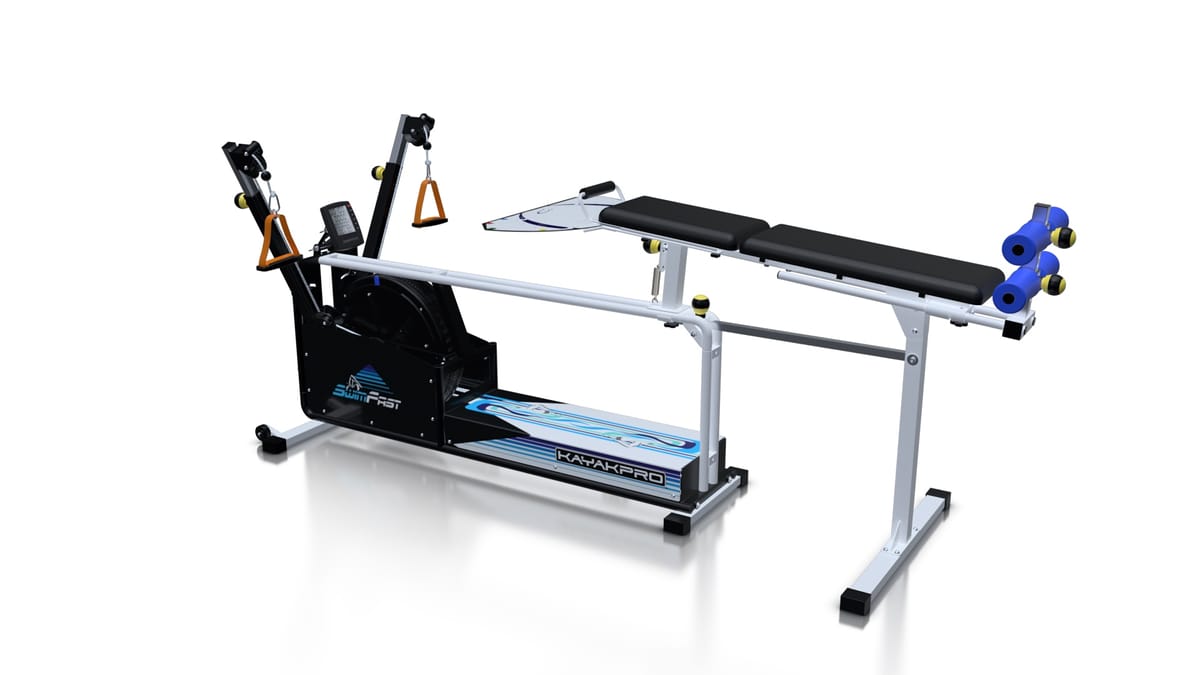 When I was first approached for the opportunity to review the SwimFast Pro swimming ergometer, my immediate thought was, I'm a middle of the pack age-group triathlete swimmer where swimming fast is part technique, part karate ability. Sound familiar? Or watching those dolphin-like hybrids cruise away at a 1:10 pace. So would this ergometer be lost on this age-group athlete?
Before we dive in, I thought it would be helpful to know a little background on the person behind the SwimFast Pro. Grayson is a person who knows how to get the most out of himself and his equipment. He's a five-time Olympian Kayaker with two medals and a two-time ICF world champion to name a few. Let's say he's been at the top of his sport for a long time.
According to Grayson Bourne, the creator of the SwimFast Pro ergometer, the ergometer is for all levels of ability, and when used correctly, it will get you to the front of the pack in no time. I aim to see if those claims are realistic or not.
When I finally got access to the SwimFast Pro, most of us were still in lockdown here in Australia. As a proud Triathlon Victoria member, we were still in the prison state with pools closed and the possibility of snap pool closures in the future. This is where the SwimFast Pro absolutely fits in. But what about when they are? Let's find out.
---
As part of our dedication to trustworthy journalism, we strictly adhere to our Editorial Standards and Independence Policy, ensuring all our content, including this product review, remains unbiased and uninfluenced by external commercial interests. For more details on our editorial practices and our approach to product reviews, please refer to our Editorial Standards and Independence Policy and Product Review Disclaimer.
---
What is the SwimFast Pro?
The SwimFast Pro is a complete system that contains an air-braked flywheel attached to a pair of adjustable (height and angle) rope and pulley system. You are orientated on the machine in a streamlined position across a high bench, allowing for a full rotation and extension. I felt like Superman.
The interaction with the machine is done by using a pair of paddles attached to a rope, which, when pulled, simulates the high catch position of the stroke, pull through and exit. The movement feels very natural, and you are only limited to how fast you go via stroke turnover and strength – as you are in the water. You can also acquire some high resistance bands and add further strength-based resistance to the workout.
Your speed, cadence, distance and heart rate are displayed via a traditional-looking – think rowing machine – interface over ANT+. This can be upgraded, which will provide you with Bluetooth connectivity, giving you the ability to connect to any smartphone or tablet and then run their App or any 3rd party Apps like Kinomap. And of course, uploading to Strava, because if it's not on Strava, it never happened.
But most excitingly, it gives you access to virtual swimming via the SwimFast App – oh, those grumpy swim coaches just felt a tremor in the force. This means you can interact with a live video of someone swimming, similar to Rouvy and race your friends, Zwift styles. I never got to test this feature, but it certainly seems exciting for someone who hates getting up at 4:30 am for a swim on cold Melbourne mornings.
SwimFast approach vs swimming bands vs pool swimming
As you may have worked out by now, traditional swim bands are limited in providing sports-specific movement and the required geometry specific to the swimming. Often they are slack at the front so limit on the catch, don't support high elbows, and you are often never in a streamlined position. So whilst it adds strength to the movement, it isn't sport-specific.
If you are like me, you can never get into the correct swimming position when using bands. With the SwimFast Pro, you are in a streamlined position, rotating and having pressure across all phases of the stroke.
It's important to note that the SwimFast Pro doesn't replace swimming but augment your swimming. It can create sports-specific strength workouts or a quality workout if you can't get to the pool. Good luck going for a 1hr 30min session on it – more on that later.
When I approached my swim coach and several professional triathletes to see how this could be integrated into my program, the general consensus was to create sports-specific strength and conditioning sessions. These are more beneficial than gym-based, non-functional workouts. The SwimFast Pro will be great for your second swim of the day or when you can't get to the pool.
First Impressions
The first thing you need to think about is space. This thing is long. As a 190cm (6ft 3in) tall guy, you will need clearance for at least 215cm (7 ft) when you're working out. Thankfully you can collapse the SwimFast, which will take it under 100cm (3 feet) when not in use. It also comes with the ability to stand it on its side and wheel around. So if you are thinking about buying one, you will need roughly a treadmills space to store.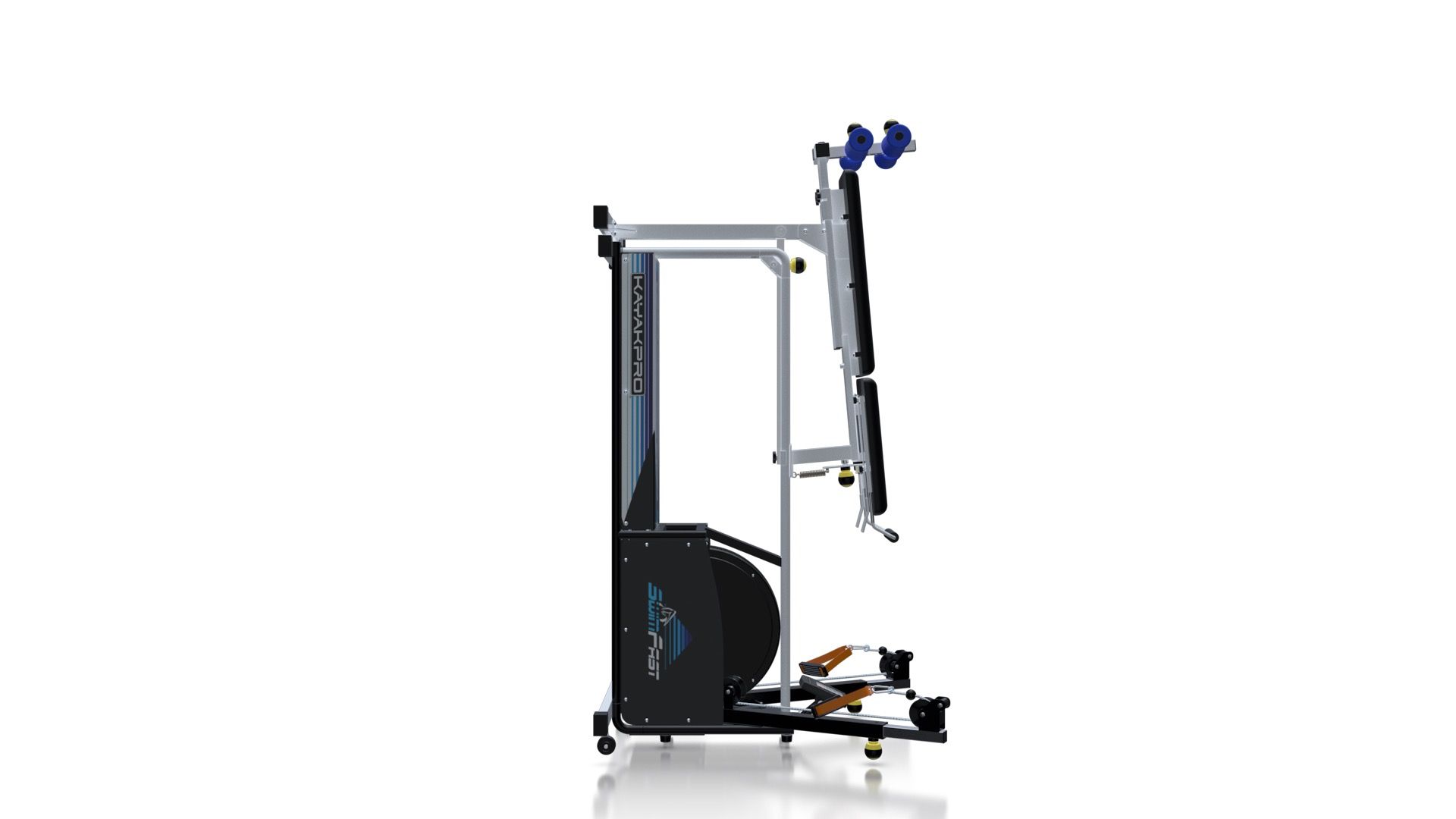 The initial setup was somewhat onerous. Building up the ergometer is equivalent in complexity to assembling a small home gym – roughly an hour. Thankfully, Swimfast has a set of instructional videos making the process straightforward.
Out of the box, the SwimFast Pro comes with a set of small paddles to facilitate the pull. However, I would highly recommend splashing out on upgraded hand paddles which allow for a greater feel and strength bands that give you more options for training.
The overall system is highly adjustable. The base can be lengthened for height, and the height and angle of the swim bands can be adjusted depending on your preferred catch entry point and streamline flexibility.
The only area where it felt lacking was the feet support, which was too small to fit large feet in, but overall a minor fault.
4-Week Test
I used the SwimFast for four weeks, four times a week, with a variety of workouts from distance to strength. Sets were mainly focused on 20-minute sessions, escalating to 30 mins towards the end of the four weeks.
Sample Set – Conditioning
4 x 5 min effort at E2 / 2 mins rest
Sample Set – Strength
5x (2 min efforts at firm pace/60seconds rest, 5 mins effort at sub-threshold)
Having come off eight weeks of resistance bands, the first thing I noticed was the natural feel of the movement. You really do feel like you are swimming and there is a noticeable pressure across the full stroke.
Second, just how ineffective traditional bands are. Getting onto the SwimFast Pro, I noticed significant dead spots in strength at the front part of the catch and I realised that during the lockdown. Using bands, I struggled to get power through the catch. After a few weeks on the SwimFast Pro, I felt my catch greatly improved.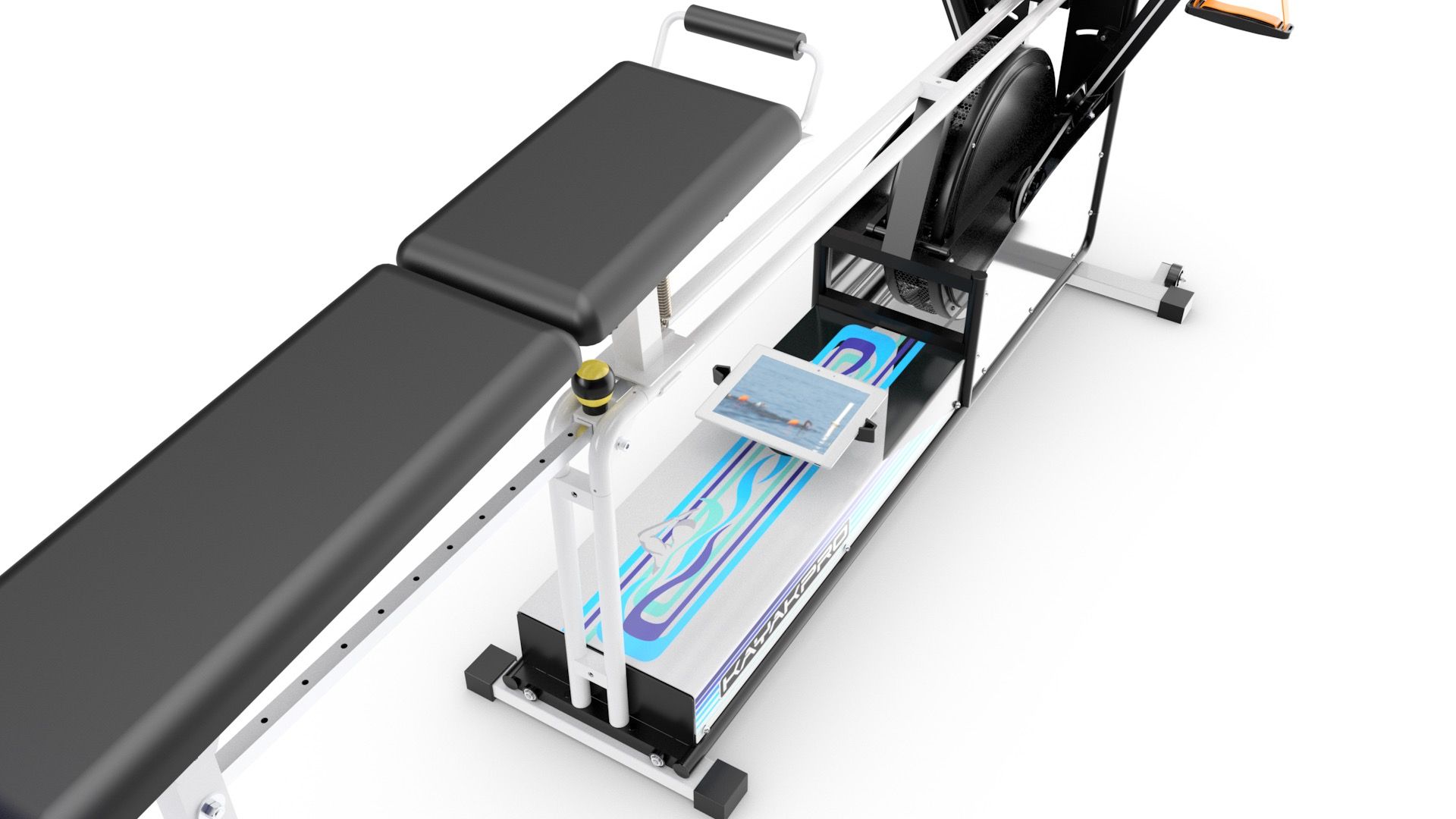 The strength sessions were noticeably harder than bands, given the isolated movement. But over time, I noticed strength improvement and the ability to go from 20 minutes to 40 minutes across the four-week period. I feel these are substantial gains.
On the timing side, these workouts are hard. Even without the resistance bands, getting through 20 minutes is tough going, so for those of us that want a solid workout and struggle with time, this is a great bang for your buck.
It's a shame I couldn't measure the impact of hybrid pool use and the SwimFast Pro. I can see how this adds strength and specific patterning beyond just banging out laps in a pool – which aids your cardiac system but doesn't add strength.
I will keep using it to augment my swimming and I will report back in two months to see the impact on my performance.
Conclusion
At $2,500 AUD/$1,895 USD for the base model, it's not cheap. At the time of writing, SwimFast doesn't have a local Australian distribution – so expect some shipping costs. However, I really do see it giving you the ability to gain sports-specific strength quickly and even replacing swimming for those of us that are time-poor or don't regularly have access to a pool.