News & Racing
A Massive Weekend of Racing for Australia's Elite Triathletes in Leeds and the Gold Coast
Australia's elite triathletes return to international racing and preparation for Tokyo at the WTC and World Para Series in Leeds as well as the Oceania Cup on the Gold Coast.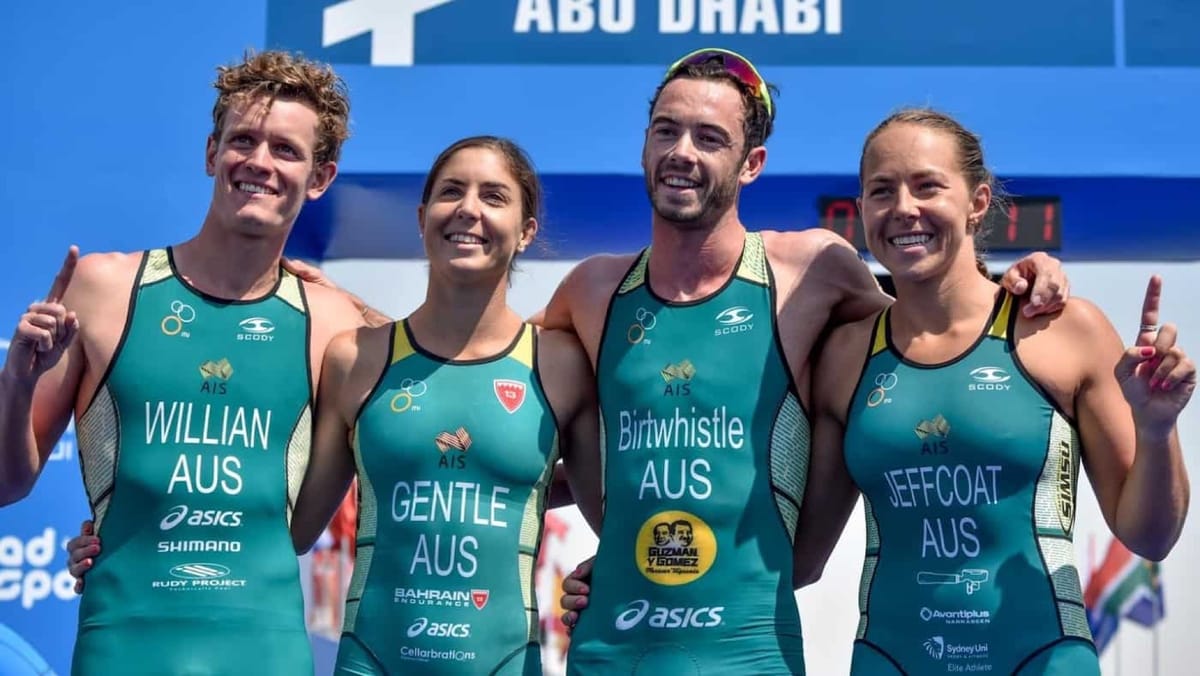 Five Australians will represent the National Team in Leeds as the second round of the World Triathlon Championship Series gets underway. Jake Birtwhistle, the winner in Leeds in 2019 and Aaron Royle also a podium finisher in 2016, will face strong competition in the men's field including World Triathlon Championship Series Yokohama round one winner Kristin Blummenfelt (NOR), second place finisher Jelle Geens (BEL) and third place finisher Morgan Pearson (USA). Jonathan Brownlee is quickly finding form heading to Leeds from his convincing recent win at the 2021 World Cup held in Arzachena on the 29th of May 2021. Birtwistle will be looking to ramp back up his gritty racing style as part of his preparation for Tokyo having previously being ratified for nomination to the Australian Olympic Committee pending final confirmation of World Triathlon quota allocation.
Natalie Van Coevorden continues her season build following a 15th place position in Yokohama and an 11th place position at the 2021 World Triathlon Cup held in Lisbon. Following her bike mechanical issues in Yokohama Emma Jackson is also looking for a strong result from Leeds eager to return to the form that saw her win the World Triathlon Series event in Edmonton in 2019.
Natalie and Emma will face strong competition in Leeds including Yokohama third place finisher Maya Kingma (NED), 4th place Yokohama finisher Taylor Spivey (USA) among a large number of athletes seeking to confirm their national federation Tokyo Olympic team positions.

In the World Triathlon Para Series, Clint Pickin continues his pursuit of Paralympic Qualification points in the PTS4 class off the back of a 4th place finish at the World Triathlon Para Series event in Yokohama.
The Trans-Tasman rivalry is set to ignite this Saturday the 6th of June at the Gold Coast Performance Centre, Runaway Bay, Queensland as more of Australia's elite triathletes race domestically over the Super Sprint format at the Oceania Triathlon Cup.
The Oceania Triathlon Cup provides athletes a key competition not only to gain important World Triathlon race ranking points on Australian soil, but also provides a critical platform for Australian athletes to build race performances as they chase final selection for the Tokyo Olympics alongside their compatriots who are racing overseas.
37 elite males and 22 elite women will battle a unique course consisting of a 150 metre pool swim, 4km cycle criterium course and a 1km run on an athletics track. Athletes will compete across a number of individual races over the day including a qualifier round, repecharge round, semi-finals and an A and B Final.
2019 Mixed Relay World Championship bronze medallist Emma Jeffcoat will be drawing on her Super Sprint experience as she races for the Oceania Triathlon Cup Elite Female crown on Saturday. Jeffcoat faces strong competition from fellow Australians Jaz Hedgeland and 2018 Commonwealth Games Mixed Relay Gold Medallist Gillian Backhouse alongside experienced Kiwi's Nicole Van Der Kaay and Ainsley Thorpe.  .
Luke Willian will be aiming to go two podium positions higher than his 2020 World Cup Mooloolaba third place podium position against 2021 Devonport Triathlon and Mooloolaba Triathlon winner Matt Hauser and Kiwi 2018 U23 World Champion, Tayler Reid.
One to watch will be Australian young gun Josh Ferris who represented Australia at the 2018 Youth Olympic Games in Buenos Aires. Ferris will though be keeping an eye on New Zealand Under 23 athlete Dylan Mccullogh who reigned supreme in 2018 winning the Youth Olympics crown.
A number of other up and coming Australian athletes will also be on show including Brandon Copeland, Emma Hogan and Kira Hedgeland. The Super Sprint style of racing giving these athletes the chance to take it to their more experienced counterparts on the fast and short Gold Coast race course.

The Gold Coast event also features Super Sprint racing for prospective Paralympic Team members. Athletes will compete over two rounds of racing in what will be a crucial test of form and skills as preparation is ramped up for the Tokyo Games. The PTVI event will feature 2020 Devonport World Paratriathlon Series winner Jono Goerlach with guide David Mainwaring, and in the PTWC field 2018 World Champion Emily Tapp is the standout female competitor alongside 2020 Oceania Champion Nic Beveridge in the men's event. PTS5 athlete David Bryant and PTS4 teammate Liam Twomey will also be looking for some quality head to head racing over the format.