News & Racing
Aaron Royle 3rd at the OTU Oceania Championships in Devonport – Our next big ITU Star?
I remember watching Aaron Royle race for the first time ever at the Callala triathlon in Jervis Bay, NSW, January 2011. To be honest I had only heard his name mentioned once or twice before. He was racing a couple of NSW's better young open triathletes who are solid all rounders. One of them,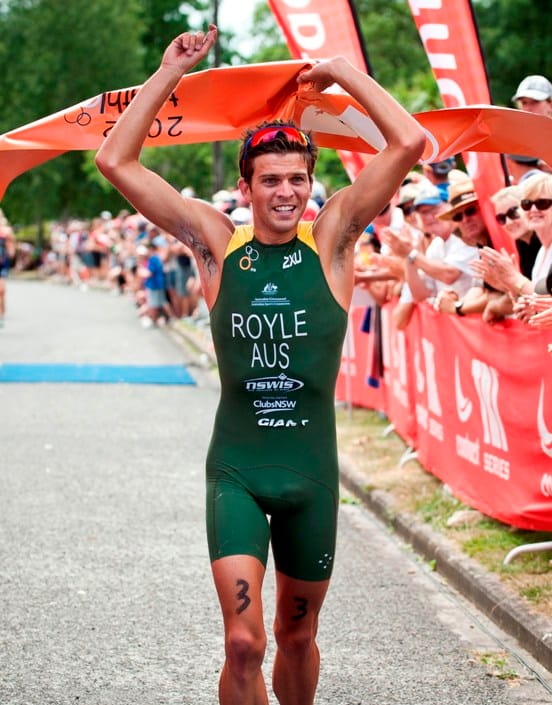 I remember watching Aaron Royle race for the first time ever at the Callala triathlon in Jervis Bay, NSW, January 2011. To be honest I had only heard his name mentioned once or twice before. He was racing a couple of NSW's better young open triathletes who are solid all rounders. One of them, Michael Fox, showed that last weekend in Wollongong when he gaped the field in the swim. At Callala Royle swam away from Fox, James Davy, Shane Farrant and Sam Douglas, then continued to put time on them on the bike and finished the day off running just over 3min/kms for the 8km run leg.
This year we have seen Aaron race in the ITU sprint race in New Zealand and win and then place 5th in the Geelong ITU sprint race in a strong field. Royle's 3rd at Devonport over the Olympic distance proved that he has the goods to put his hand up as one of our leading ITU triathletes. Aaron trains under Jamie Turner at NSWIS in Wollongong. Turner has a tough reputation and those that click with him reap the rewards. The young men and women coming through NSWIS right now are showing huge potential.
Aaron also puts together very good race reports and here is his latest following the Devonport triathlon.
Race Report by Aaron Royle
The Oceania Championships were held in Devonport, Tasmania this weekend. My first couple of races of the season had gone well, along with my training so again I went into this race confident I could keep the good form going. Furthermore this race held a particular importance for both Australia and New Zealand, with additional Olympic spots on the line for the country that finished in first spot.
The swim was a beach start on the shores of Devonport. My start was reasonable, although a group of really strong swimmers to my left got out ahead of me. Early on I was able to swim across the gap managing to position myself in the top 6 after the first 300 metres. James Sears set a solid tempo at the front of the pack, which forced the lead group into a single file line. I was able to relax into my stroke once I could see that I was in a comfortable position near the front. I exited the water in 4th, right on the leader's feet.
Australia's plan for the race was to make sure all of our top athletes were in the lead pack off the bike, giving Australia the best opportunity to take the win. Consequently we had to immediately assess how we were going to approach the ride. We quickly realised that Australia were in a dominate position. Not only did the front pack include really strong Australian riders, but also some of New Zealand's top athletes including Gemmell and Scissons were not present. Along with Atkinson, Sear, Amberger, Hickey and Box, we were maintaining a solid pace to keep ourselves away from the chase pack which included the 2 most dangerous NZ athletes. Nevertheless our efforts weren't enough; with some incredibly strong riding from behind they were able to catch us before the halfway point on the ride. After the 2 packs came together the pace dropped with everyone's attention turning to conserving as much energy as possible to ensure a quick run. Driving the pack was Jack Hickey, controlling the group he ensured a trouble free ride for Australian athletes sitting in behind. Coming into transition I followed the very experienced Courtney Atkinson and Kris Gemmell, knowing they would come off the bike at the front of the group. I had a few little problems getting to my spot and putting my shoes on which cost me a couple of valuable seconds coming out of transition.
Atkinson and Gemmell went out hard on the run, as did I, managing to tuck in behind Brendan Sexton's shoulder coming out of transition. I felt stretched running with Sexton for the first 400 metres as we tried to bridge across to the lead two, and after 500 metres I had to drop off to ensure I didn't completely blow myself to pieces. In the first few steps of the run I had committed and backed myself to go for the win, and although I wasn't able to keep up with the lead 3, my initial intensity allowed a buffer between me and the chasing athletes. I didn't want my early efforts on the run to go to waste so I set my own tempo, making sure the guys behind didn't bridge across.
With the top 3 only 20 "30 metres ahead during the first lap, I could see that Sexton was the stronger athlete, with the other two struggling to keep up. This kept my motivation high, knowing that if they spent too much energy trying to stay with Sexton I might be able to catch them later on. This did eventually happen, after the first of 4 laps, New Zealand's Kris Gemmell couldn't keep up with Sexton. I lifted my rating and started to close the 50 metre gap to around 25. It wasn't enough though, as he looked to have got his second wind as he started to extend his lead again. At this point Brendan Sexton had pulled away, with Gemmell now running with Atkinson, followed by myself, around 20 seconds behind and then about 20 seconds back to the next guy. At the 6 kilometre mark Atkinson looked like he had blown up and it didn't take long before I had bridged the gap and then moved straight passed. With 2.5km left in the run I had moved into 3rd spot, with Gemmell 25 seconds ahead and Brendan another 30 seconds ahead of him!
I had crossed the line 3rd to finish on the podium two years in a row at the Oceania Championships. I was extremely happy with my result. Moreover I was satisfied that I could prove my form over the Olympic distance as opposed to the Sprint distance events I had raced in this season. I have managed to set up a good foundation to work off for the rest of the season and I can have confidence going forward that I can be up with the world's best elite men. My next race will be the World Championship Series Race 1 on the Sydney Harbour with the highest quality field where everyone will be out to make a statement as countries finalise their Olympic Games' selections.