Interviews
Age group Triathlete Laura Siddall second overall at the recent Ironman 70.3 Honolulu
You could be forgiven for confusing the name Laura Siddall as a professional on the female long course circuit after finishing second overall at the recent Honolulu 70.3 to seasoned professional Belinda Granger. In reality Laura is an age grouper juggling a demanding career as a qualified chartered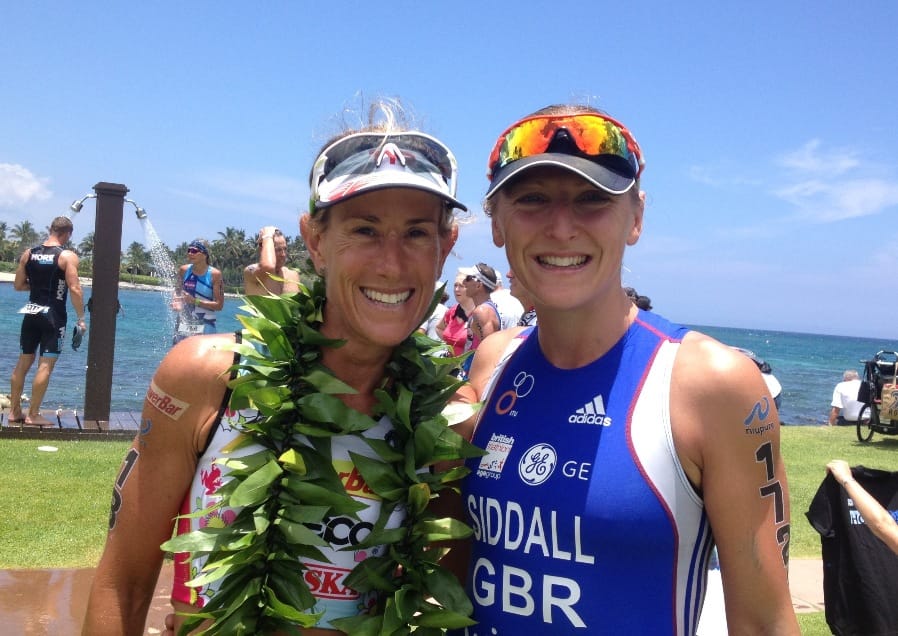 You could be forgiven for confusing the name Laura Siddall as a professional on the female long course circuit after finishing second overall at the recent Honolulu 70.3 to seasoned professional Belinda Granger. In reality Laura is an age grouper juggling a demanding career as a qualified chartered mechanical engineer. After making the move from Nottinghamshire/Yorkshire in the UK in 2008 to pursue her career, it was here in Australia that Laura discovered triathlon and hasn't looked back since. To date her focus has been on short course events, with two age group world titles in both the sprint and Olympic distances (Beijing 2011 and Auckland 2012 respectively).
Prior to attending university Laura spent a year as a Second Lieutenant in REME, in the British Army, based with an artillery Regiment in Germany. A self-confessed sport junky, Laura's idols include her own sister, a Commonwealth medal holder in the English Netball team, her coach Spot Anderson (a champion athlete in his own right), Chrissie Wellington and a number of other highly driven and successful Olympians. To Laura, it is the high work ethic and dedication displayed by these athletes that inspires her, giving you an insight into how she achieves at such a high level across two demanding domains.
We spoke to Laura to see what makes her tick and her plans for the future.
Trizone: Hi Laura, thanks for joining us on Trizone and congrats on your recent result at Honolulu 70.3 – first overall age grouper and 2nd overall female – can you tell us a little about this performance?
Laura Siddall: Thanks. It was a fantastic race. The whole event was really well organised and such good fun. I think because the race was in Hawai'i it was a bit like being on holiday. In fact in the days leading up to the race I was so relaxed (ok well relatively) I kept forgetting I had to race!
As for the result itself, I was obviously really pleased. I guess deep down I'd hoped to win and wanted to win but until you cross the finish line, I don't think you can really take it for granted or believe it. I still feel so new to the sport and I'm still learning all the time, that every race is a bit of an unknown.
I really enjoyed the race though, and that was one of the goals. It's such a fantastic location and course, with the challenge of the climb up to Hawi and the winds, as well as the Hawiian heat on the undulating run around the golf course.
The swim was in the stunning setting of Hapuna Beach. There were so many fish and even the odd turtle about, it was easy to forget you were racing. I was wearing a new Huub speed suit which was great. The bike was great too. I felt really comfortable and in control and loved every minute of it. I have to say thanks as well to the team at Shotz for the help with my nutrition plan. I think this was a real boost knowing that I had this structured (apart from when I managed to drop my gels at the start of the run – a big learning here and I'm keen to see how I go when I don't mess this bit up!)
I don't think it really sank in when I crossed the finish line. I was 4th female outright to actually cross the line and that was a pretty good feeling as well as knowing I was the first female age grouper to finish. I felt really good at the finish, which was either just the high from racing or the caffeine in my system! However at the same time I was disappointed with certain elements of my race so I always find it's a whole mix of emotions. Elation for the win and finishing, relief that I achieved what I'd dreamt about and envisioned, and that training is going in the right direction, but also a little  disappointment or frustration for various aspects of my race and a question or knowing of 'could I have done better'?
Trizone: Does a result like this make you wonder how you would have fared in the pro wave, or are you content on focussing on your own races and performances?
Laura Siddall: Whenever I race, I focus on my own race and performance and making sure I execute to the best of my ability. You can only control yourself in the race, so I focus on the controllable. However, having said that, yes, it is hard not to wonder afterwards how I would have fared. I think to an extent that's human nature.  I think I have to be pretty realistic about it too though. On paper I may have been second, but I started in a different wave. If I was racing shoulder to shoulder who knows what would have happened and the outcome could have been completely different.
TZ: You have a couple of age group world championship victories to your name, including in Auckland 2012 (Olympic distance) and Beijing 2011 (Sprint). Do you have a preference towards the shorter distance, or do you plan on racing longer in the future?
Laura: I love the short distance, and these have been great as a learning and start for me into the sport of Triathlon, but my plan is to race longer going forward. My swim isn't as fast as I would like and I feel this is key to the shorter distance races, particularly at the elite level. I'm excited about moving up to the longer distance though. It's daunting but I'm looking forward to the challenge and learning how to race and be competitive over that distance. (I'm also not getting any younger and so the longer races I think will suit me better.)
TZ: Any desire to step up to the pro ranks? Is there anything specific you're aiming towards or working at before taking this step?
Laura: Yes for sure, I'd love to step up and see what I can do. I love the sport, the training and the racing so why not make the leap and compete with the other girls in the Pro ranks. I want to see how fast I can go.
At the moment I have to sort out things like visa and work, if I'm going to do this I want to try and do it properly (well as much as I can whilst still surviving). I aim to race at Las Vegas and London as an Age Grouper and then will hopefully step up after that.
TZ: You moved to Australia and discovered Triathlon in 2008 – can you tell us a little bit about this and how it's changed your life?
Laura: Changed my life…?? It is my life! Ha ha! As you said I'm a self confessed Tri Geek come Sports junky!
As a youngster I've always been involved in sport. I pretty much played every sport I could at school, before focusing more on Netball and Athletics (400m hurdles and then 800m). When I moved to Australia, I didn't really find a athletics group I gelled with, and after a few lunch time swims with colleagues, and also signing up for the Sydney to Wollongong Cycle (before I even owned a bike), Triathlon was suggested as something I try. I found a beginners course run by Bondifit and signed up. Before I knew it I was hooked, and addicted to the Triathlon drug. To be honest it shouldn't really have surprised me. I'm kind of all or nothing. If I do something or start something I want to see how far I can go and I fully commit to doing that.
TZ: You're working with Spot Anderson of Bondi Fit for your coaching, do you have any additional coaches or assistance for individual disciplines, or does Spot keep a tight reign on your entire program?
Laura: Spot has an overall view and charge, I guess, of my training and program, but I think over the years we've developed this into quite a good partnership or two way relationship, where I can have some input as well. We'll discuss numbers and types of sessions and I can make my suggestions.
TZ: On the note of coaching, I see you joined Darren Smith for a D-squad camp in February. What did you take away from this experience?
Laura: The camp in February was fantastic. I loved every minute of it and didn't want it to end. It was brilliant to be able to get a glimpse of the environment that Darren had created in Canberra and to be able to watch and train alongside his elite squad. He has an incredible attention to detail. He's constantly watching, analysing, critiquing and providing feedback to his athletes. His hours and commitment to the athletes and the squad is impressive but something that I believe is necessary in demanding the best of the best and something I would want from a coach if at that level. To me it shows they are fully committed and are wholeheartedly interested in the athlete and improving.
I just couldn't get enough of the experience. It definitely made me realise that, yes I want more of this, and I could actually see myself living in Canberra!! Ha ha! Scary I know!
It's also about making sure that everything you are doing in training has a purpose and reason that is linked towards performing your best. Don't just go through the motions of a session to hit a time repeat or rep or to get a session done. It's remembering to think constantly and focus on your technique and getting the detail right all the time in everything you do. Even when you're tired make sure your thinking about the little things and focusing.
TZ: Would you ever consider quitting work and training full time? Or do you see value as an athlete in maintaining a level of balance in your life?
Laura: Yep! I would quit work in an instance if I could and train full time! Unfortunately without an income it's just not sustainable, until Triathlon gets the coverage and following that soccer or AFL does and pays the same! I do think there is something key though in maintaining a level of balance in your life, be that through work or family. There are lots of ways to gain the balance without working (hint hint if anyone would like to fund me full time, I'm in! 😉
I guess it depends on your passion. If you love your work then it doesn't feel like work. I love training and finding my limits and therefore would happily do this full time.
TZ: How do you find training in a city as large as Sydney? Do you spend much time traveling for training, or are you able to keep everything pretty close to home?
Laura: Sydney is fantastic for training, well it definitely suits me with fitting in training around work. As a city, and maybe it's just because I'm from the UK originally, it's amazing to have so many swimming facilities (yes 50m pools) as well as all the beaches on your door step. We are incredible lucky to have Centennial Park as a cycling venue as well as being pretty close to the National Parks (North or South) for those longer rides and hills. I think I'm very fortunate to have all these facilities very close to home and a great group of people based here to train with.
TZ: Do you prefer to train alone or with company, and what do you look for in your training partners?
Laura: Most of my training is in a group and I prefer this. I thrive of the buzz between the group whatever level or ability, it's the people that make this sport. The group can be great for really pushing you and motivating you, particularly on those days when you may not feel 100%. However some of my training is on my own. This is also good I think (I'm convincing myself now) as it's more a mental challenge often with these sessions to keep going or to keep pushing yourself. At the end of the day in a race it's just you and you need to be able to push and maintain your efforts without chasing or having other people around you.
What do I look for in training partners….? People who inspire and motivate me. This doesn't necessarily mean they need to be fitter, faster and stronger but that they don't give up and they always give it a go and 100% ++ effort. However I also look for training buddies that do obviously challenge me in speed and strength. People I can chase down, or people who I know are going to push my boundaries and limits and put me in that uncomfortable space.
TZ: Would you mind sharing a favourite training session of yours and why you enjoy it so much?
Breakfast and coffee afterwards?
Hmmm…tricky, the sessions can be so varied it's hard to pick out a specific one. It can so often depend on how I'm feeling fitness wise and where I am in race preparation as to which sessions I love or hate. I'm not sure I really have a favourite. I really enjoy the sessions at Turbo Studio. I started these in September 2012 and I'm now really starting to see and feel the benefit. I love the fact that it's just you against the Watts, and ok I'm now contradicting myself as I've just said I thrive off a group, but at the Turbo Studio there's no hiding. You know whatever the weather, traffic or conditions you are going to get a quality work out in and can challenge yourself against the power (Most of the time there are others going through the pain with you, so there's still the group aspect.).
Before a race, I like doing a run set that involves a series of 1km reps (for example 4-6) at race pace (or faster) off relatively short recovery. These can be done either on the promenade at Bondi Beach (which is about 1km in length) or on the track or even at Centennial Park on rougher terrain. If I'm feeling good and hitting good splits, that gives me confidence.
TZ: Outside of triathlon, is there such a thing? You obviously have a demanding career, do you manage to fit in time for other interests?
Laura: My favourite interest or hobby after triathlon… is the post training coffee and breakfast with everyone! Ha ha! So in terms of life outside of the sport, well I probably don't really have one if you ask my friends, family and training group. One of the huge benefits of training in a group like Bondifit I think, is that it's a pretty social group as well. There's always time for coffee and breakfast after a training session and there's always something going on at the weekend.
I'm kind of also of the opinion that all those other amazing interests and things to do in life will always be there, my years in triathlon are probably more limited and so why not make the most of that now.