News & Racing
Andrea Hewiit and Kris Gemmell win Barfoot & Thompson ITU World Cup Triathlon on Home Soil
It was double delight for the huge crowd on the Auckland waterfront this afternoon as Kiwis dominated the Barfoot & Thompson ITU World Cup Triathlon, claiming 3 of the 6 medals on offer, including gold to Andrea Hewitt and Kris Gemmell.
Main Photo Credit: Delly Carr/ITU
Slideshow: Trizone
It was double delight for the huge crowd on the Auckland waterfront this afternoon as Kiwis dominated the Barfoot & Thompson ITU World Cup Triathlon, claiming 3 of the 6 medals on offer, including gold to Andrea Hewitt and Kris Gemmell.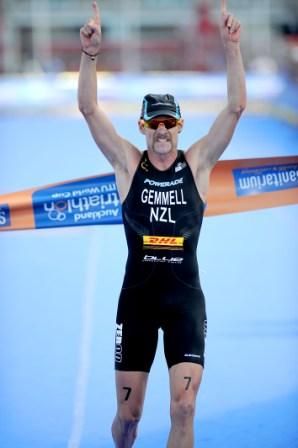 The day began for many in pre-dawn darkness as 1,100 age group competitors battled it out for qualifying spots at next year's World Championships at the same Auckland venue and ended in an emotional celebration for Palmerston North's Gemmell, who ended a wretched year on the highest possible high as he dominated from start to finish with Bevan Docherty claiming second and Australian Ryan Fisher third.
Gemmell was delighted to return to the winners circle.
"We all needed to race well and I haven't had the best years, with some health issues and family stuff going on. And it gets a bit tiring telling people I have problems and people don't believe you. When you're a car and you're only got 6 cylinders and you want 8 and then you're racing against the best in the world you just can't race against them. It's nice to be back to full health and now I can see what I can do."
"There's been some shadows following me most of my career but today the sun was shining brightly on me today.   It was amazing with the public and the course. I felt pretty comfortable on the run, to be honest. I felt like I could go faster at any moment and I really enjoyed the atmosphere."
Gemmell spoke of the news that rocked his family a month ago, news that helped drive him to his win today and left him in tears after crossing the line.
"I don't want to sound like a hypocrite "I don't know what it's like for families and people who have cancer "I like to pretend I know but all I know is that I want to help. Tim (Gemmell's cousin) got diagnosed with a brain tumour 4 weeks ago and it gave him a life sentence which I don't think is very fair. So I just want to help as much as I can and give some of my prize money and my sponsors will match that and I hope the little I can give will help these people."
Hewitt was just as dominant as Gemmell leading virtually from start to finish in the women's race as she held of Japanese pair, afterwards admitting that she felt comfortable throughout.
"No, no, it wasn't that hard, I had prepared specifically for this race. I did training after Beijing and Yokohama and really, really wanted to do well here. And so I did "so I'm really happy.
"I was surprised we could get such a small group away on the bike, but that's what I wanted. So, it's all in the plan. And five of us on the bike was a great way to do it.
"My legs felt a little bit sore starting the run but I just tried to pace myself and I managed to get away from the Japanese girls straight away, so, just kept going and had a good win.
"The course was great though, tough yes but great. The first few laps we just tried really hard on the hills just to get a group away and we ended up dropping a few girls, and then we had a group of five for the final, for the second half of the race. So it all, that's how it all worked out, and it all came together."
Young Teresa Adam was to the forefront throughout the swim and the bike, playing her role in the leading group of five before fading on the run but showing her potential in the sport she has only been involved in for 3 years.
Docherty made it a memorable one-two for the Kiwi men, the US based athlete was pleased with his performance today but more so was thrilled with the way the city of Auckland the country has supported the event.
"It was amazing, as an athlete and even as an organiser "I know Dave Beeche (CEO) was worried people wouldn't turn up but why wouldn't you? I can remember back in 2004 coming back from the Olympics, everyone had watched it on TV and it's so different watching it live, you can really get a feel for the speed and enjoy it more. It was an amazing atmosphere; there were lots of bars along the way with drunken Kiwi's spurring us on. It's a great sport and multi-lap courses are very enjoyable to watch and certainly to having a Kiwi win too and Andrea winning just tops off a great weekend."
Tom Davison and Tony Dodds featured strongly in the breakaway group on the bike with Gemmell and Docherty, indeed Davison broke away with Gemmell over the final two laps to establish a lead of close to a minute.
While Davison faded on the run, Dodds succumbed to a nasty Achilles tendon injury when looking a chance to make it a complete black out of the podium. Clark Ellice and Ryan Sissons ran strongly though to make it four Kiwis in the top ten on a memorable day for the sport in this country, one witnessed by many thousands of spectators around the waterfront and CBD course with pictures sent around the world showing Auckland city off at its best.
Race Website: Auckland Tri