News & Racing
Andy Potts wins third IRONMAN Coeur d'Alene while Heather Jackson wins her first IRONMAN title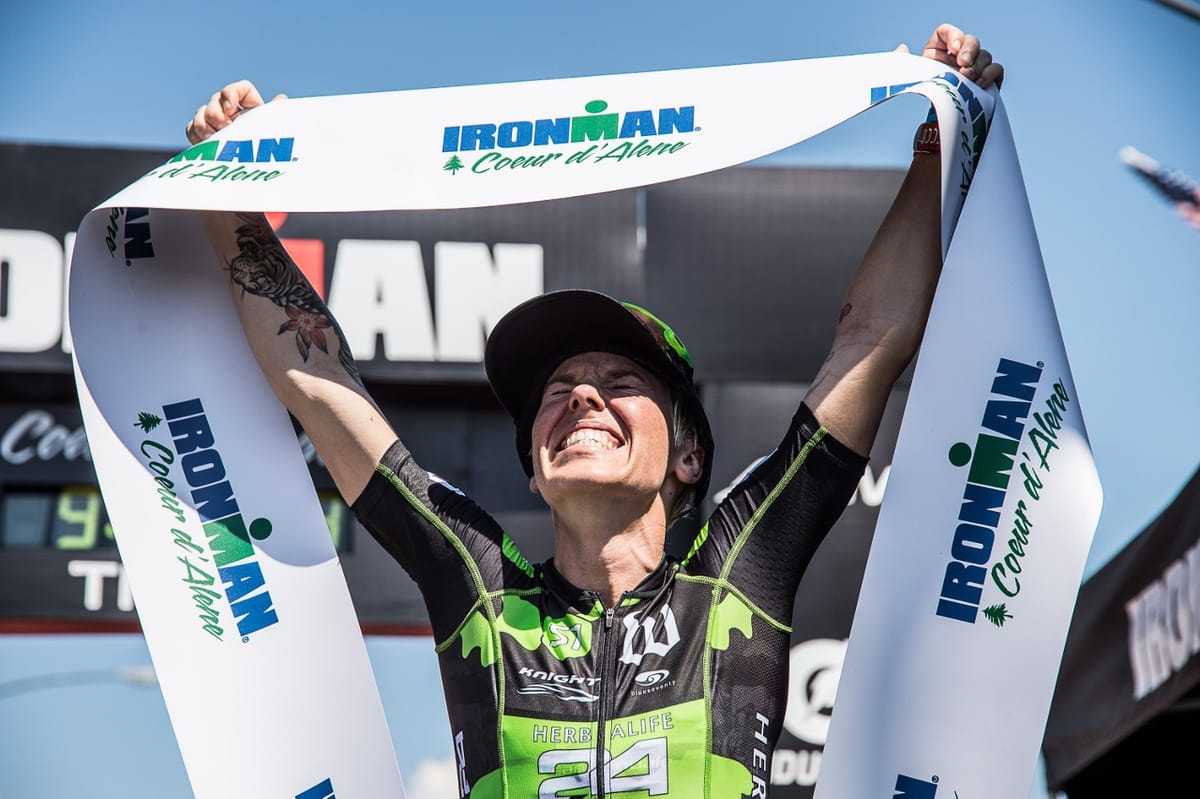 Andy Potts (USA) and Heather Jackson (USA) showed grit and determination as they overcame high temperatures to earn wins at the thirteenth edition of IRONMAN Coeur d'Alene with times of 8:20:35 and 9:23:27, respectively. This was the third win for Potts at IRONMAN Coeur d'Alene, besting his winning time from last year by five minutes. For Jackson, this is her first IRONMAN win after sustained success in IRONMAN 70.3 races.
Men's Race
Setting out at the earlier than normal start time of 5:30 a.m., Barrett Brandon (USA) pushed his way to the front of the swim in Lake Coeur d'Alene. Paul Matthews (AUS), Andy Potts (USA), and Callum Millward (NZL) trailed closely until the second lap, when Millward fell 90 seconds back of the three leaders. Brandon notched the top swim in (50:23), with a chase group containing Stephen Kilshaw (CAN), Pedro Gomes (PRT), Leon Griffin (AUS), Maik Twelsiek (DEU), and Derek Garcia (USA) scrambling onto the beach 4:30 back after the 2.4-mile swim.
Once clipped into his bike, Potts stormed to the front of the race where he'd go on to maintain his lead fighting off pushes from Matthews before he pulled away for good at mile 70. Behind the leaders, Twelsiek and Millward worked together to put the heat on. Twelsiek eventually passed Millward to follow Potts into T2 eight minutes back of the defending champion.
On the run, Potts began churning out the miles and over the 26.2 miles, he would go on to extend his lead to well over 20, as the men jostled for position behind him. Potts crossed the finish line in 8:20:35, using his race-best bike and the day's only sub-three hour marathon to claim his third title in Coeur d'Alene—and the sixth IRONMAN title of his career. Millward used his solid run to finish second while Kilshaw emerged out of the chase pack to take third.
Top five professional men's results:
SWIM BIKE RUN FINISH
1. Andy Potts USA 00:50:30 04:33:13 02:53:25 08:20:35
2. Callum Millward NZL 00:51:47 04:44:07 03:00:34 08:41:12
3. Stephen Kilshaw CAN 00:54:45 04:43:37 03:00:05 08:43:04
4. Trevor Wurtele CAN 00:56:42 04:41:30 03:04:40 08:46:38
5. Barrett Brandon USA 00:50:23 04:53:45 03:00:02 08:47:29
Women's Race
The women's race saw super-swimmer Amanda Stevens (USA) run up the sandy beach first in 54:54, two minutes ahead of her next-closest competitors, Katy Blakemore (USA) and Dede Griesbauer (USA). A chase group containing Laura Siddall (GBR), Heather Jackson (USA) and Amber Ferreira (USA), trailed at over seven minutes back.
Once on the bike, Stevens held greedily to her position through the first half before Blakemore took advantage of the hills and passed the leader at mile 45. All eyes were on Jackson, however, who made quick work of her eight-minute swim deficit and by mile 65 had ridden through the field to take the lead. Stevens put up a fight, but it was Jackson who entered T2 with a three-minute buffer and the fastest bike split on the day (5:08:32).
The New Hampshire-born Jackson set out on the marathon course with admirable form, steadily putting time on Stevens, and successfully holding off the strong runners hoping to hunt her down. By the half-marathon point, she had extended her lead to seven minutes. The race continued to be Jackson's, who, after battling injury last year, got the day she's been working towards finishing in a time of 9:23:27.
Stevens held on for second, finishing in 9:40:16, while Kim Schwabenbauer (USA) used her second-best bike and run splits to snag the third position with a time of 9:50:19.
Top five professional women's results:
SWIM BIKE RUN FINISH
1. Heather Jackson USA 01:02:00 05:08:31 03:08:54 09:23:27
2. Amanda Stevens USA 00:54:14 05:19:51 03:22:20 09:40:16
3. Kim Schwabenbauer USA 01:07:03 05:16:01 03:23:07 09:50:19
4. Amber Ferreira USA 01:01:59 05:20:43 03:31:55 09:58:53
5. Katy Blakemore USA 00:56:03 05:24:10 03:35:01 09:59:18