News & Racing
Anne Haug takes a home win at the World Triathlon Series in Hamburg
Anne Haug gave her home crowd something to cheer about as she powered her way to victory in a thrilling World Tour Series race in Hamburg. The WTS leader exited the swim 40 seconds behind the lead but worked her way through the field on the 20km bike and then broke away from the pack […]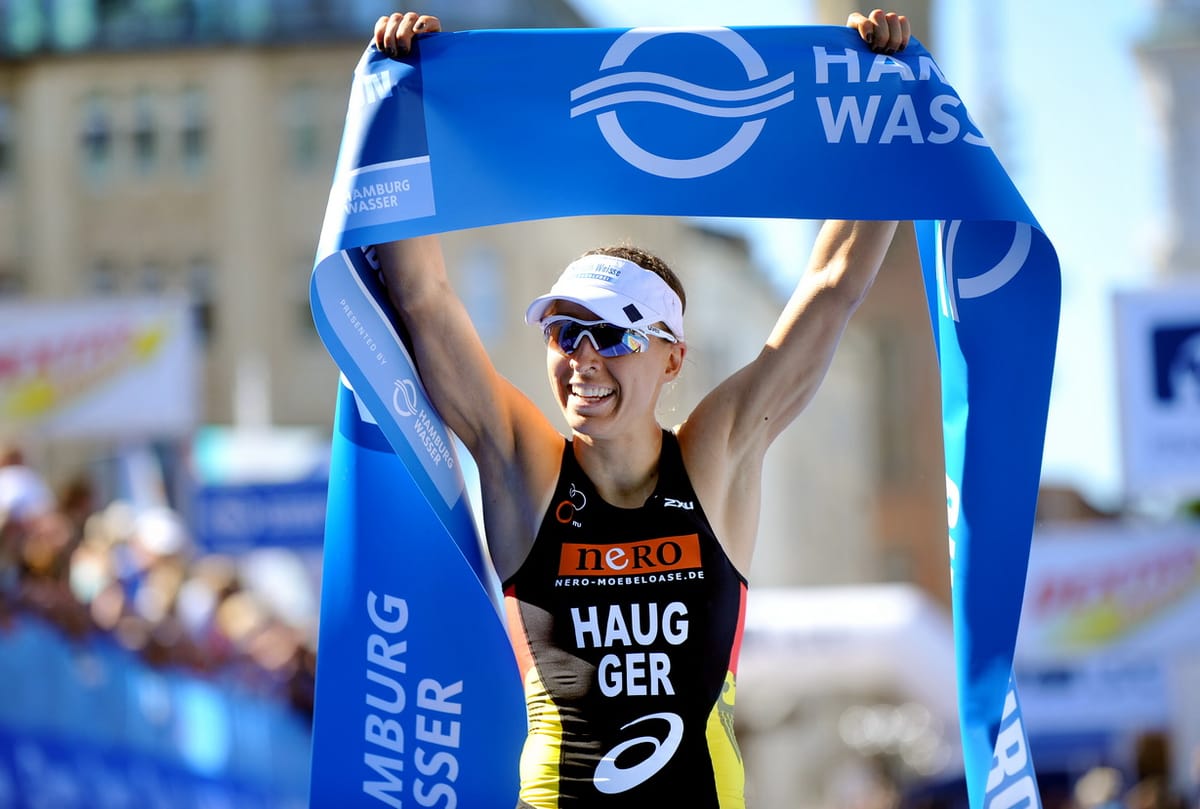 Anne Haug gave her home crowd something to cheer about as she powered her way to victory in a thrilling World Tour Series race in Hamburg.
The WTS leader exited the swim 40 seconds behind the lead but worked her way through the field on the 20km bike and then broke away from the pack in the last kilometre of the 5km run to maintain her place at the top of the rankings. Haug finished in 57 minutes and 21 seconds, ahead of second-place Non Stanford (GBR) in 57:35, who was one second ahead of compatriot Jodie Stimpson in third.
It was a star-studded field in Hamburg, with all four women to have won a WTS event in 2013 – Haug, Stanford, Stimpson and Gwen Jorgensen (USA) – all taking part.
In the 750m swim, Spain's Carolina Routier was first out of the water in 9:25, closely followed by Pamela Oliveira (BRA) and Maya Kingma (NED).
The 20km bike saw two 180-degree bends on each of the five laps and riders exercised caution through the section which in turn caused a huge lead group of around 35 athletes. It was that slow pace, as well as tactical support from compatriot Svenja Bazlen (GER), which allowed Haug to claw her way back into contention.
Haug was first out of a congested transition, with Anja Knapp, Stimpson and Stanford the early leaders in the 5km run.
Stimpson, Stanford and Haug were slightly ahead as the race entered the second and final lap, but they were suddenly joined by Andrea Hewitt (NZL) and then Ashleigh Gentle (AUS) who picked up the pace and bridged up to ensure a thrilling finish.
It was still too close to call as the race entered the final kilometre, but it was Haug who made the move with 800m to go. It looked like it may have been too early to start a sprint to the finish but Haug powered her way to the line and even extended her lead enough to take in the adulation of the home crowd before crossing the finish line.
Haug's victory marks the first time a German woman has won the Hamburg race since 2008 and afterwards she said she didn't want to look back after making her move in the final stretch. "I was afraid to look back, I just kept pushing as hard as I could," said Haug. "I have to say a big big thank you to Svenja. She protected me from everyone on the bike. She did an amazing job."
Hamburg – World Triathlon Hamburg   – 20 July 2013
Final Results – Elite Women – 750m swim, 20km bike, 5km run
| | | | | | | |
| --- | --- | --- | --- | --- | --- | --- |
| Pos | Athlete | Country | Time | Swim | Bike | Run |
| 1 | Anne Haug | GER | 0:57:21 | 0:10:18 | 0:30:09 | 0:16:05 |
| 2 | Non Stanford | GBR | 0:57:35 | 0:09:57 | 0:30:31 | 0:16:17 |
| 3 | Jodie Stimpson | GBR | 0:57:36 | 0:09:50 | 0:30:35 | 0:16:19 |
| 4 | Andrea Hewitt | NZL | 0:57:40 | 0:10:08 | 0:30:21 | 0:16:18 |
| 5 | Ashleigh Gentle | AUS | 0:57:41 | 0:10:10 | 0:30:18 | 0:16:19 |
| 6 | Gwen Jorgensen | USA | 0:58:03 | 0:10:21 | 0:31:21 | 0:15:31 |
| 7 | Emma Jackson | AUS | 0:58:12 | 0:10:10 | 0:30:27 | 0:16:41 |
| 8 | Anja Knapp | GER | 0:58:18 | 0:09:48 | 0:30:40 | 0:17:01 |
| 9 | Hanna Philippin | GER | 0:58:19 | 0:10:10 | 0:30:18 | 0:16:58 |
| 10 | Alice Betto | ITA | 0:58:20 | 0:09:54 | 0:30:40 | 0:16:54 |
| 11 | Sarah-anne Brault | CAN | 0:58:20 | 0:10:08 | 0:30:26 | 0:16:53 |
| 12 | Aileen Reid | IRL | 0:58:24 | 0:09:57 | 0:30:27 | 0:16:59 |
| 13 | Annamaria Mazzetti | ITA | 0:58:31 | 0:09:59 | 0:30:36 | 0:17:03 |
| 14 | Kaitlin Donner | USA | 0:58:31 | 0:10:11 | 0:30:19 | 0:17:06 |
| 15 | Kirsten Sweetland | CAN | 0:58:33 | 0:10:07 | 0:30:22 | 0:17:08 |
| 16 | Mateja Simic | SLO | 0:58:36 | 0:10:09 | 0:30:16 | 0:17:15 |
| 17 | Jessica Harrison | FRA | 0:58:39 | 0:09:51 | 0:30:39 | 0:17:17 |
| 18 | Ainhoa Murua | ESP | 0:58:42 | 0:09:59 | 0:30:32 | 0:17:18 |
| 19 | Vicky Holland | GBR | 0:58:44 | 0:10:01 | 0:30:26 | 0:17:20 |
| 20 | Rebecca Robisch | GER | 0:58:46 | 0:09:51 | 0:30:39 | 0:17:28 |
| 21 | Pamela Oliveira | BRA | 0:58:47 | 0:09:36 | 0:30:54 | 0:17:20 |
| 22 | Emma Moffatt | AUS | 0:58:49 | 0:10:27 | 0:31:13 | 0:16:17 |
| 23 | Katrien Verstuyft | BEL | 0:58:49 | 0:10:04 | 0:30:25 | 0:17:26 |
| 24 | Kate Roberts | RSA | 0:58:49 | 0:10:02 | 0:30:26 | 0:17:19 |
| 25 | Svenja Bazlen | GER | 0:58:52 | 0:10:00 | 0:30:26 | 0:17:30 |
| 26 | Natalie Van Coevorden | AUS | 0:58:52 | 0:09:38 | 0:30:50 | 0:17:26 |
| 27 | Kate Mcilroy | NZL | 0:58:56 | 0:09:58 | 0:30:30 | 0:17:38 |
| 28 | Vanessa Raw | GBR | 0:59:00 | 0:10:00 | 0:30:34 | 0:17:24 |
| 29 | Irina Abysova | RUS | 0:59:07 | 0:09:49 | 0:30:50 | 0:17:33 |
| 30 | Maaike Caelers | NED | 0:59:12 | 0:10:20 | 0:31:18 | 0:16:39 |
| 31 | Ellen Pennock | CAN | 0:59:13 | 0:10:22 | 0:31:15 | 0:16:39 |
| 32 | Sarah Groff | USA | 0:59:15 | 0:09:40 | 0:31:14 | 0:17:27 |
| 33 | Charlotte Bonin | ITA | 0:59:17 | 0:09:49 | 0:30:45 | 0:17:47 |
| 34 | Claudia Rivas | MEX | 0:59:18 | 0:09:50 | 0:30:43 | 0:17:49 |
| 35 | Katie Hursey | USA | 0:59:28 | 0:10:07 | 0:31:33 | 0:16:50 |
| 36 | Carolina Routier | ESP | 0:59:32 | 0:09:35 | 0:30:54 | 0:18:05 |
| 37 | Lisa Perterer | AUT | 0:59:37 | 0:10:26 | 0:31:13 | 0:17:03 |
| 38 | Emmie Charayron | FRA | 0:59:37 | 0:10:30 | 0:31:08 | 0:17:04 |
| 39 | Yuka Sato | JPN | 0:59:37 | 0:09:39 | 0:30:50 | 0:18:11 |
| 40 | Katie Hewison | GBR | 0:59:42 | 0:10:28 | 0:31:11 | 0:17:13 |