News & Racing
Ashleigh Gentle continues her march up the ladder with a win in the new ITU format at Tiszaujvaros
In a tight battle for gold, Ashleigh Gentle (AUS) claimed her second career World Cup title with a win at the Tiszaujvaros ITU Triathlon World Cup. Maaike Caelers (NED), who collected silver, pushed Gentle to the end, giving the crowd an exciting finish. Annamaria Mazzetti (ITA) rounded out the top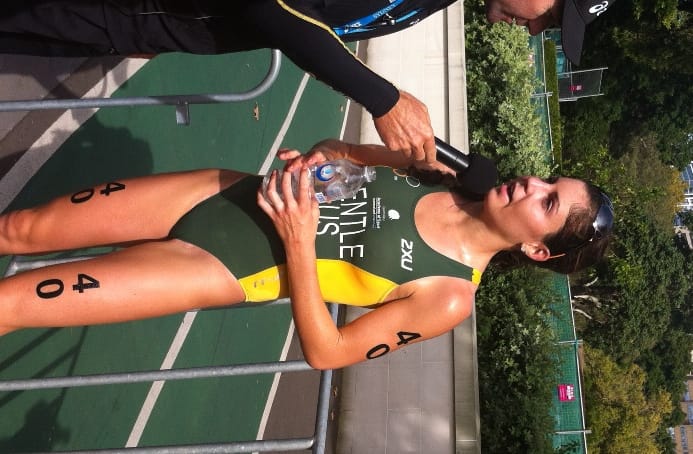 In a tight battle for gold, Ashleigh Gentle (AUS) claimed her second career World Cup title with a win at the Tiszaujvaros ITU Triathlon World Cup. Maaike Caelers (NED), who collected silver, pushed Gentle to the end, giving the crowd an exciting finish.
Annamaria Mazzetti (ITA) rounded out the top three, but not without a fight from Charlotte McShane (AUS).
The excitement in Tiszaujvaros began Saturday with the women's semifinals. The top 25 women across two waves advanced to finals on Sunday. The athletes completed the same three-lap 750m swim, but encountered a new six-lap 20km bike and three-lap 5km race the second day of competition.
"I think its a really good idea," Gentle said. "I think everyone was a little tired out there. But I had lots of fun. I didn't really know what to expect."
Gentle started her road to gold on Saturday when she finished at the top of her heat with fellow Aussie McShane. Like the first day of action, Gentle exited the water late in the group during the finals. Caelers fared only slightly better, leaving the lake in 15th place.
A lengthy 35 seconds back from leader Inna Tsyganok (RUS), Gentle pounded out two speedy bike laps, to form one big lead group by the third lap. The women rode in a hefty pack of 21 athletes for the next four laps, with Gentle, Mazzetti and Caelers gradually pushing their way to the front.
"I knew had to get on the bike and hammer," Gentle said. "For the first lap and a bit, I was just time trialing. I knew I had to catch up to that group or I wasn't really going to have a chance in the race."
Similarly to yesterday's seminfinal, Rebecca Robisch (GER) hopped off her bike to storm out on the run course first.
Teammate Anja Knapp (GER) followed suit, with Mazzetti, Gentle, and McShane on her heels. It didn't take long for the agile runner Gentle to take over.
However, Gentle's quest for the lead was answered by Caelers, who also had a monster first run lap. Together, the women ran shoulder-to-shoulder, followed by the pair of Mazzetti and McShane.
Gentle found the energy to dash ahead of Caelers in the final meters of the last lap, leaving no time to slow for a celebratory finish. Gentle shot forward to and stopped the clock at 58 minutes, 40 seconds, while Caelers crossed three seconds later.   It was the first World Cup podium of Caelers' career.
"It was a really hard fought battle to be honest," Gentle said, who also recorded the fastest run splits of the day. "I was trying to shake her, but she was relentless and stuck by my side. I'm lucky I had that little bit extra at the end."
With gold and silver secure, Gentle watched as teammate McShane battled for third. In the last push, Mazzetti edged out McShane, sailing ahead for the bronze in 59 minutes, 19 seconds.
McShane finished fourth, followed by a pair of Germans, Knapp and Robisch.
This World Cup was the first in ITU history to feature a semifinals and finals format with sprint distance races on back to back days.
Elite Women
| | | | | | | |
| --- | --- | --- | --- | --- | --- | --- |
| Pos | Athlete | Country | Time | Swim | Bike | Run |
| 1 | Ashleigh Gentle | AUS | 0:58:39 | 0:10:06 | 0:30:23 | 0:16:49 |
| 2 | Maaike Caelers | NED | 0:58:43 | 0:09:57 | 0:30:33 | 0:16:52 |
| 3 | Annamaria Mazzetti | ITA | 0:59:19 | 0:09:45 | 0:30:38 | 0:17:29 |
| 4 | Charlotte McShane | AUS | 0:59:24 | 0:09:45 | 0:30:40 | 0:17:33 |
| 5 | Anja Knapp | GER | 0:59:31 | 0:09:37 | 0:30:49 | 0:17:42 |
| 6 | Rebecca Robisch | GER | 0:59:32 | 0:09:39 | 0:30:47 | 0:17:43 |
| 7 | Arina Shulgina | RUS | 0:59:33 | 0:10:00 | 0:30:23 | 0:17:37 |
| 8 | Inna Ryzhykh | UKR | 0:59:45 | 0:09:46 | 0:30:37 | 0:17:57 |
| 9 | Zsofia Kovacs | HUN | 0:59:46 | 0:09:57 | 0:30:34 | 0:17:55 |
| 10 | Helle Frederiksen | DEN | 0:59:59 | 0:09:36 | 0:30:49 | 0:18:05 |
| 11 | Natalie Van Coevorden | AUS | 1:00:05 | 0:09:38 | 0:30:49 | 0:18:11 |
| 12 | Alexandra Razarenova | RUS | 1:00:07 | 0:09:52 | 0:30:38 | 0:18:13 |
| 13 | Hideko Kikuchi | JPN | 1:00:10 | 0:09:51 | 0:30:39 | 0:18:14 |
| 14 | Mariya Shorets | RUS | 1:00:13 | 0:09:48 | 0:30:39 | 0:18:21 |
| 15 | Sarah Fladung | GER | 1:00:23 | 0:09:53 | 0:30:38 | 0:18:24 |
| 16 | Elena Danilova | RUS | 1:00:24 | 0:10:31 | 0:30:12 | 0:18:15 |
| 17 | Inna Tsyganok | RUS | 1:00:26 | 0:09:31 | 0:30:54 | 0:18:34 |
| 18 | Mikayla Nielsen | NZL | 1:00:28 | 0:10:14 | 0:30:25 | 0:18:18 |
| 19 | Liubov Ivanovskaya | RUS | 1:00:37 | 0:09:58 | 0:30:32 | 0:18:41 |
| 20 | Margit Vanek | HUN | 1:00:47 | 0:09:34 | 0:30:54 | 0:18:51 |
| 21 | Kseniia Levkovska | UKR | 1:00:51 | 0:09:47 | 0:30:41 | 0:18:59 |
| 22 | Eszter Dudas | HUN | 1:00:55 | 0:09:58 | 0:30:34 | 0:19:00 |
| 23 | Ashlee Bailie | AUS | 1:01:01 | 0:10:32 | 0:30:11 | 0:18:47 |
| 24 | Hanna Philippin | GER | 1:01:14 | 0:10:32 | 0:30:10 | 0:19:03 |
| 25 | Tamsyn Moana-Veale | AUS | 1:02:49 | 0:10:05 | 0:30:26 | 0:20:53 |