News & Racing
ASICS Mooloolaba Twilight 5km Run this Friday
The Mooloolaba Esplanade will host the ASICS Mooloolaba Twilight 5km Run, launching the 3-day Mooloolaba Triathlon Festival and supporting Make-A-Wish.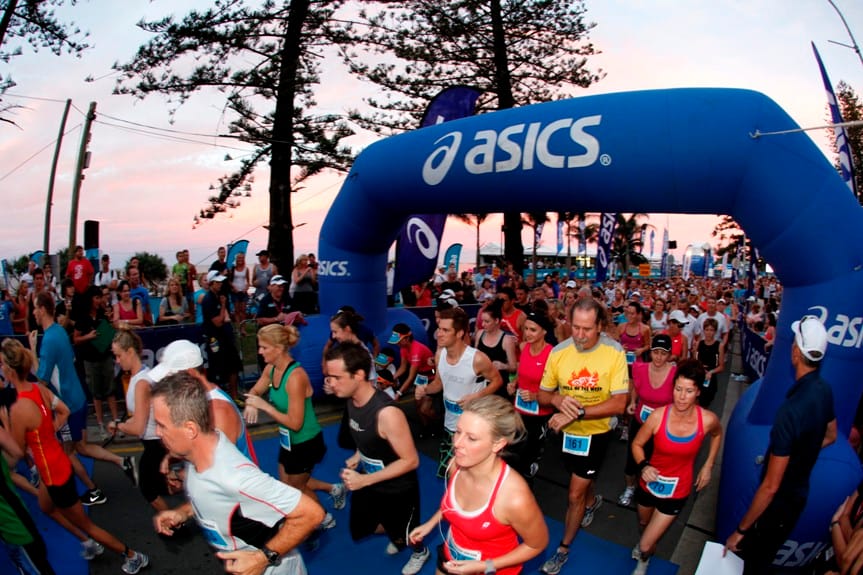 Get your blue on and run along the Mooloolaba Esplanade at twilight
Friday 15 March will see the Mooloolaba Esplanade painted in a sea of blue, as the ASICS Mooloolaba Twilight 5km Run kicks off the 3-day Mooloolaba Triathlon Festival, in support of Make-A-Wish.
The ASICS Twilight 5km Run is widely regarded as one of Australia's premier 5km road distance events and continually attracts an outstanding field.
The event welcomes an array of participants, from elites in the ASICS Twilight Sprint to families jogging and walking the 5km distance together.
New to 2013 is the ASICS Mooloolaba Twilight Sprint. This is a fast paced, 4 loop course designed for the speed racers!
The ASICS Twilight Sprint stems from the famous ASICS Noosa Bolt, and will provide elite runners and ambitious age group runners to put their speed to the test.
Make-A-Wish is proud to partner with the ASICS Mooloolaba Twilight 5km Run with $2 from every entry donated to Make-A-Wish.
Participants are encouraged to show their support for Make-A-Wish Foundation by wearing as much blue race gear as possible – shoes, shorts, shirts and hats!
Chief Executive Officer of USM EVENTS | IRONMAN Asia Pacific, Geoff Meyer, said that supporting events of the Mooloolaba Triathlon Festival, such as the ASICS Mooloolaba Twilight Run, encourages the community to get involved, make a difference while promoting a healthy active lifestyle.
"It's not only a great chance to enjoy the healthy lifestyle and landscape the Sunshine Coast is known for, but also a great way to supporting foundations such as Make-A-Wish," Mr Meyer said.
In the women's field, ASICS Moloolaba Twilight 5km run regular Clare Geraghty, from Brisbane, will once again be keen to snare a podium finish.
The open men's field will see a big contingent of local talent on the start line with Brenden Loag from Little Mountain, Robert Collins from Mudjimba and Adam Hulme from Caloundra all eager to make a claim on the prize money up for grabs and seize the twilight title.
Over 700 keen runners and walkers are expected to join the open athletes and take to the floodlight course.
The ASICS Mooloolaba Twilight Sprint kicks off at 6.00pm followed by the ASCIS Mooloolaba 5km run/walk commences at 6.30pm at the corner of Brisbane Road and Mooloolaba Esplanade on Friday 16th March 2013.
ASICS MOOLOOLABA TWILIGHT 5KM RUN TIMETABLE
Race Day Entry
4.30 – 5.30pm
Beach Tce, The Esplanade
Check-In
4.30 – 5.30pm
Beach Tce, The Esplanade
Race Briefing
5:45pm
Stage, The Esplanade
Race Start (Sprint)
6.00pm
Cnr Brisbane Rd & Mooloolaba Esp
Race Start (Age groupers)
6.30pm
Cnr Brisbane Rd & Mooloolaba Esp
Presentations
7.00pm
Stage, The Esplanade

Prize Money: Male & Female
1st – $1000
2nd – $500
3rd – $250
The 2013 Mooloolaba Triathlon Festival will be held from 15 "17 March 2013.
Online entries close at 5.00pm on Wednesday 13th March, 2013.
Event day entries will be available until fields reach capacity.
Previous Winners (open)
2012: Patrick Teirnan 00:14:37 & Emma Jackson 00:16:38
2011: Jackson Elliott 00:14:40 & Ashleigh Gentle 00:16:26