News & Racing
Australian-based, German Anne Haug wins Subaru ITU Triathlon World Cup opener in Mooloolaba
Australian-based duo, Germany's Anne Haug and Great Britain's Jodie Stimpson turned the tables on home-town hero Emma Moffatt in an enthralling Subaru ITU Triathlon World Cup opener in Mooloolaba today. What started out to be a group of eight in the early laps of the 40km bike course aft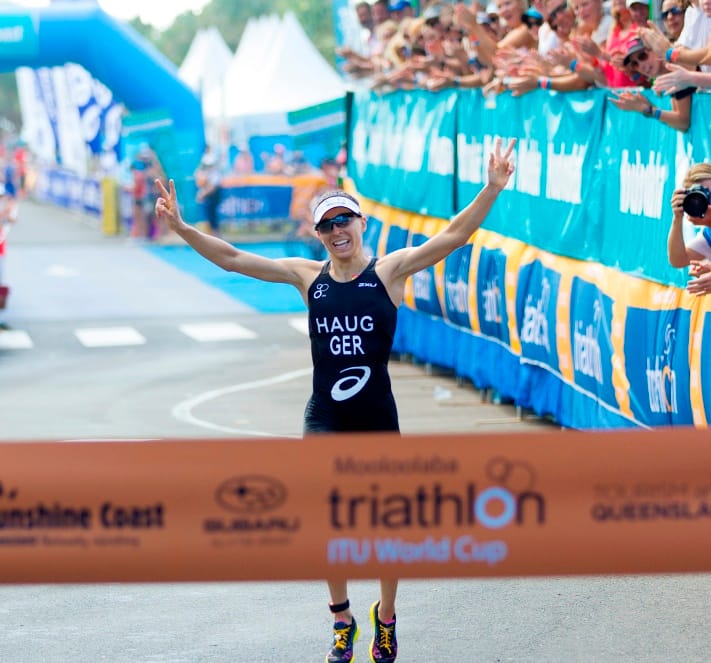 Australian-based duo, Germany's Anne Haug and Great Britain's Jodie Stimpson turned the tables on home-town hero Emma Moffatt in an enthralling Subaru ITU Triathlon World Cup opener in Mooloolaba today.
What started out to be a group of eight in the early laps of the 40km bike course after the 1.5 kilometre swim gradually dwindled down to a race in three as the infamous Alexandra Headland hill gradually took its toll on the field in the 10km run.
And it was Haug (2:03.31.1) who like Stimpson trains in Canberra under the astute coaching prowess of Australian Darren Smith, tamed the killer climbs better than her opponents to record a convincing win over Stimpson (2:03.53.3) with the determined Moffatt (2:04.24.8) filling out the podium in third.
"I had one gear left (for the final hill assault) and I didn't really expect that but I am a good hill runner," said Haug, who has started her 2013 campaign off where she left off after winning the 2012 ITU Grand Final in Auckland.
"There was a long break after last year and although I had a good preparation leading into this race I did not expect anything. I actually came here to do a good swim and I did that which was satisfying and it was good not having to chase on the bike.
"And on the run I just focus on my performance and technique and try the best I can. I am not influenced by what the others do."
Haug, like Spain's Olympic silver medallist Javier Gomez in yesterday's men's race, is a class act and is certain to continue on her winning ways as the ITU World Championship Series gets under way in Auckland next month (April 6,7).
Stimpson, who showed her grit determination to win the OTU Oceania Sprint Championship in Devonport three weeks ago, admitted no one in the bike group wanted to work.
"I had an easy swim which was nice and when it came to the bike no one wanted to work and if no wanted to work then I wasn't going to work," said Stimpson.
"This race was always going to be won on the back end of the run and that hill is so unforgiving (sic); I'm sure it gets steeper every time you run up it and when the coach said 'go' then it was time to go.
"It was a case of the girls dropping off one by one and Annie (Haug) is a strong girl and well done to my team mate she was just too strong today.
"She just keeps going and going. I knew what a strong girl she was so if I am running with her I know I am running well. She had me at the end, she just has such strong legs."
Moffatt, Australia's two-time ITU World Champion and Olympic bronze medallist from Beijing, who was forced out the London Olympics after crashing early in the bike, hung in until the final ascent when Haug and Stimpson took the reigns for their winning assault.
But Moffatt, second in a 70.3 race in Geelong last month, was happy with her early season form saying: "I had a good base season over the summer so hopefully it pays off at the end of the year and I get some good results.
"The first part (of today's race) felt comfortable but I just couldn't keep going with them in the last bit but I haven't really worked on any speed work so hopefully that will be the next block we do in training.
"Hopefully come San Diego (April 20-21) I'll have a bit more speed and I'll be able to go with the girls.
"I think with the heat today it was a matter of just hanging in and racing smart and not trying to go out too hard and pay too for it in the end.
"Mooloolaba is always hard. You always curse that hill having to go up and down it so many times. You feel pretty happy on that last lap when you get to run down that hill for the last time to the finish line.
"But overall I'm happy with today with the big goal being London in September (for the ITU World Championship Grand Final). It's still a long, long way away.
"You really need to be able to perform in every single ITU World Series race – they're the important ones."
New Zealand's 2012 ITU Grand Final winner Andrea Hewitt (2:05.13.7) dropped off the pace on lap three but hung on to show all her determination to finish fourth ahead of emerging Australian youngster Natalie Van Coevorden (2:07.03.4), Ireland's Aileen Reid (2:07.50.2) and Van Coevorden's consistent training partner from Jamie Turner's Wollongong squad Charlotte McShane (2:09.54.3) seventh.
Dutch youngster Maaike Caelers (2:10.52.1) was eighth; Italy's Annamaria Mazetti (2:10.55.9) ninth and New Zealand's Simone Ackerman (2:10.59.8) who collapsed over the line in a brave 10th place ahead of her compatriot Rebecca Clarke (2:12.05.8) 11th, Australia's London Olympian Emma Jackson (2:14.54.6) 12th and Korea's Dan Bi Hong (2:16.43.0) 13th.
SUBARU ITU Mooloolaba Triathlon ITU World Cup Results
| | | | | | | |
| --- | --- | --- | --- | --- | --- | --- |
| Pos | Athlete | Country | Time | Swim | Bike | Run |
| 1 | Anne Haug | GER | 2:03:31 | 0:18:52 | 1:07:40 | 0:35:47 |
| 2 | Jodie Stimpson | GBR | 2:03:53 | 0:18:38 | 1:07:51 | 0:36:06 |
| 3 | Emma Moffatt | AUS | 2:04:24 | 0:18:35 | 1:07:57 | 0:36:32 |
| 4 | Andrea Hewitt | NZL | 2:05:13 | 0:18:36 | 1:07:55 | 0:37:24 |
| 5 | Natalie Van Coevorden | AUS | 2:07:03 | 0:18:36 | 1:07:58 | 0:39:12 |
| 6 | Aileen Reid | IRL | 2:07:50 | 0:18:40 | 1:07:50 | 0:40:01 |
| 7 | Charlotte Mcshane | AUS | 2:09:54 | 0:18:54 | 1:11:07 | 0:38:36 |
| 8 | Maaike Caelers | NED | 2:10:52 | 0:18:51 | 1:11:11 | 0:39:33 |
| 9 | Annamaria Mazzetti | ITA | 2:10:55 | 0:18:51 | 1:11:10 | 0:39:36 |
| 10 | Simone Ackermann | NZL | 2:10:59 | 0:18:38 | 1:08:01 | 0:43:02 |
| 11 | Rebecca Clarke | NZL | 2:12:05 | 0:18:35 | 1:07:58 | 0:44:09 |
| 12 | Emma Jackson | AUS | 2:14:54 | 0:18:47 | 1:11:14 | 0:43:31 |
| 13 | Dan Bi Hong | KOR | 2:16:43 | 0:18:47 | 1:11:12 | 0:45:14 |
| DNF | Mikayla Nielsen | NZL | 0:00:00 | 0:19:53 | 0:00:00 | 0:00:00 |
| DNF | Sarah Deuble | AUS | 0:00:00 | 0:20:22 | 0:00:00 | 0:00:00 |
| DNF | Kathy Rakel | USA | 0:00:00 | 0:21:15 | 0:00:00 | 0:00:00 |