Australian Charlotte McShane steals crown at British Triathlon Sprint Championship
Australian triathlete Charlotte McShane has stolen the crown from the British in Liverpool over the weekend, at the British Triathlon Sprint Championship (750m swim, 20km bike and 5km run). Just to be cheeky her boyfriend, fellow Australian Brendan Sexton, claimed the men's title also to make
Australian triathlete Charlotte McShane has stolen the crown from the British in Liverpool over the weekend, at the British Triathlon Sprint Championship (750m swim, 20km bike and 5km run). Just to be cheeky her boyfriend, fellow Australian Brendan Sexton, claimed the men's title also to make it an Australian double.
Charlotte put in a fast swim to exit the water in the lead with British junior Sophie Coldwell. The two then rode together over the first four laps of the somewhat technical course to hold off the chase pack as long as possible. McShane left transition in the lead, quickly joined by former X-country runner and current leader of the British series Emma Pallant, and ran side by side for the first 3km. It was at this point Charlotte tested her speed and put a gap between herself and Emma, running away to her victory which was never challenged over the final 2km.
Charlotte and Brendan both entered Liverpool as tune up races in preparation for the ITU World Series in Hamburg this weekend. Sexton's win was an impressive break through for the London Olympian, being his first victory in 18 months.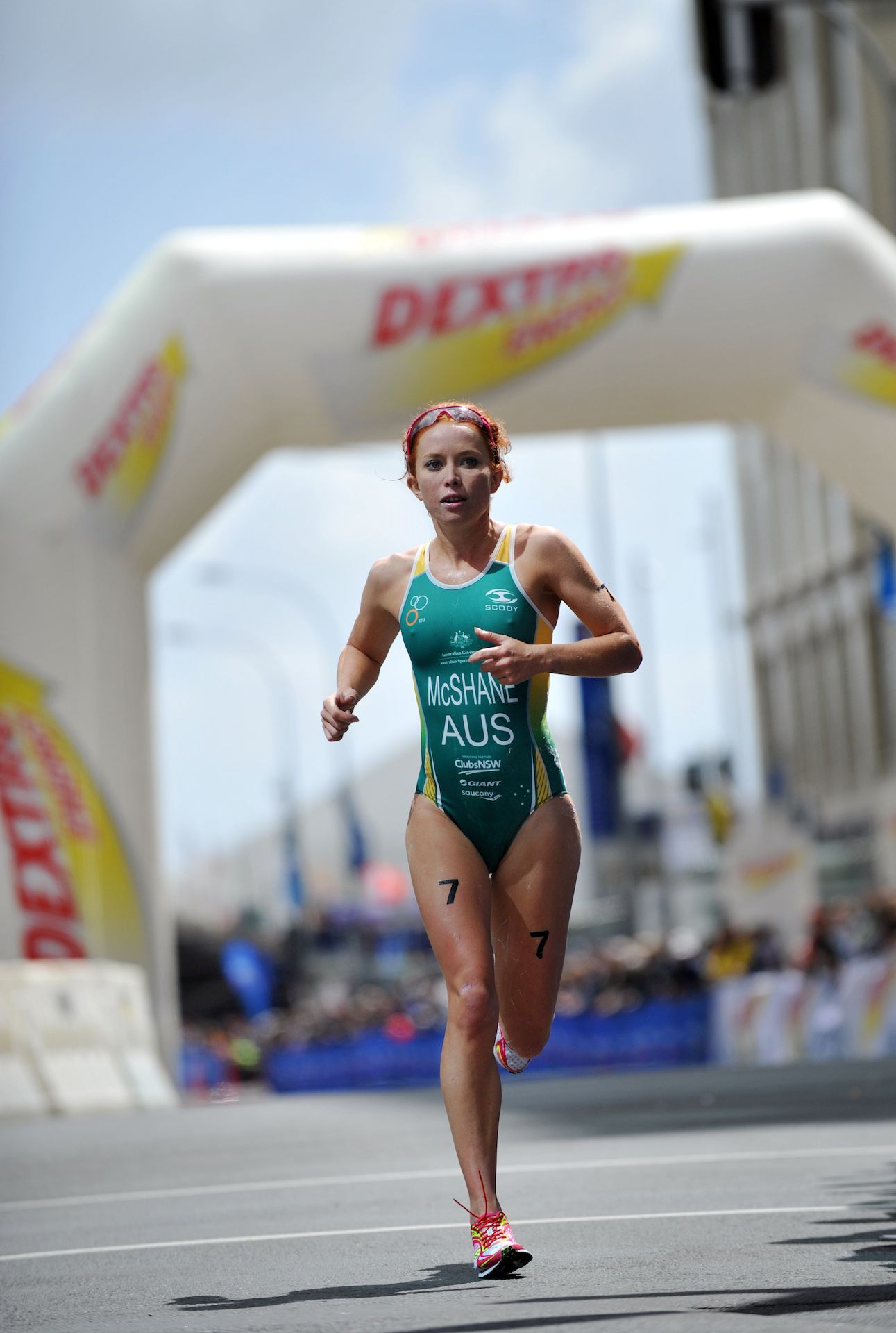 In the women's race it was a stunning catch me if you can victory to Charlotte McShane, who claimed the British title alongside her boyfriend Brendan Sexton to give Australia the double.
The race was the perfect Hamburg hit out for Charlotte McShane, who has had her most consistent season as she carves her career on the ITU circuit. McShane went into the race aiming to have a really good swim and said she couldn't have been happier.
"I got myself into second position within the first 200m behind British junior Sophie Coldwell. A decent gap opened up behind me to the rest of the field, and hanging as close to Sophie as I could our lead had grown when I exited the water just shy of the front.
It was clear to both Sophie and I that neither of us wanted to hang around and we quickly got to work attempting to extend the difference over the large pack behind us. Being vastly outnumbered by some motivated chasers we managed to stay off the front for two of the four laps before eventually being caught and becoming part of a larger lead bunch. From there I just tried to stay towards the front – the safest place to be, particularly on a somewhat technical course.
I led out of bike/run transition and to be honest I felt pretty terrible for the first 2km or so. I knew there were a couple of strong runners there, including former X-country runner Emma Pallant who is currently leading the (British) series. We ran side by side until the three kilometre mark when I decided to make a move and step outside my comfort zone. I felt a slight gap open and didn't look back for the rest of the run continuing to push into my next level until I ran into the finish tape with a 40 second advantage.
I am really happy with how my race went. I approached the race with some clear goals and I definitely felt like I achieved them all, a huge positive going into Hamburg ITU World Series next weekend!"
A return to the winners list for London Olympian Brendan Sexton highlighted a successful weekend for Australia's triathletes in Europe. Sexton broke through for his first victory in 18 months to win the British Triathlon Sprint Championship (750m swim, 20km bike and 5km run) in Liverpool.