News & Racing
Australian Olympians Courtney Atkinson and Erin Densham claim Oceania Cross Tri Champs
Two-time Olympian Courtney Atkinson and 2012 bronze medallist Erin Densham take to the trails and win the Oceania Cross Triathlon Championship in the Snowies… With a $40,000 prize purse up for grabs, it was a dominate performance from Australian Olympians Courtney Atkinson and Erin Densham over a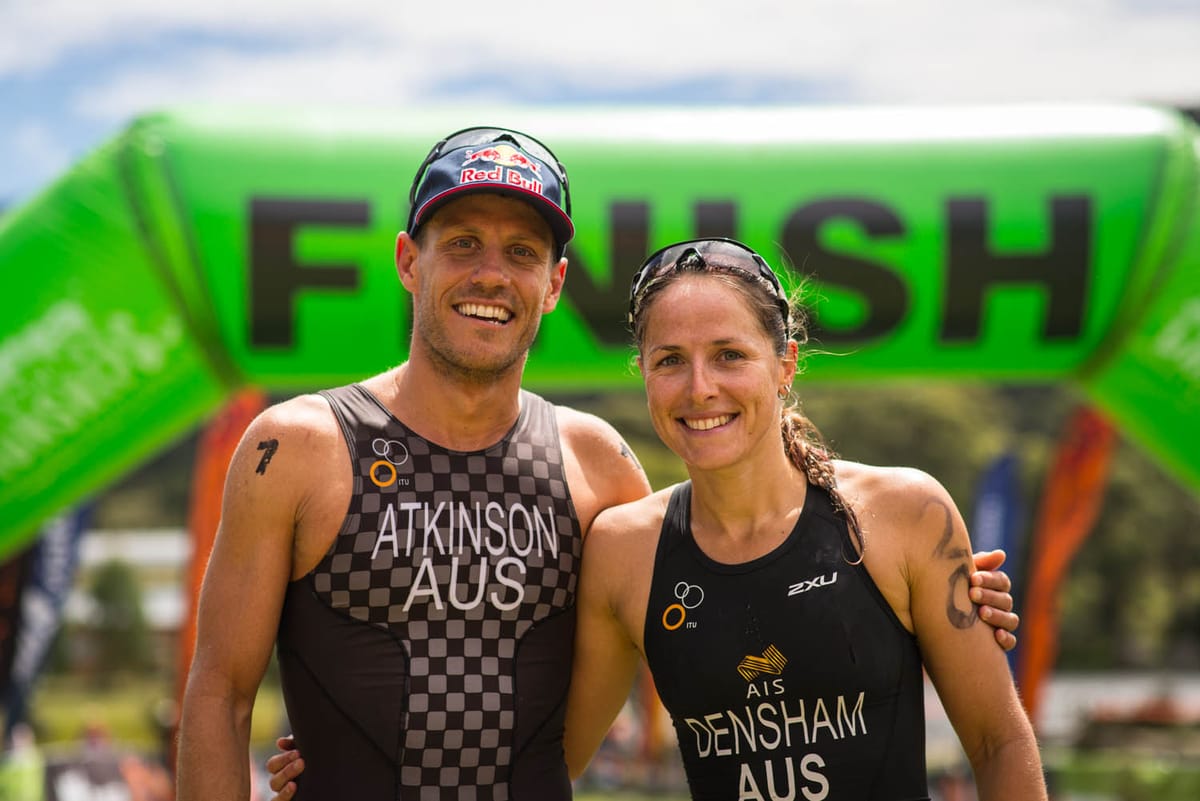 Two-time Olympian Courtney Atkinson and 2012 bronze medallist Erin Densham take to the trails and win the Oceania Cross Triathlon Championship in the Snowies…
With a $40,000 prize purse up for grabs, it was a dominate performance from Australian Olympians Courtney Atkinson and Erin Densham over a red-hot elite field at the 2015 Oceania Cross Triathlon Championships surrounding Lake Crackenback on Saturday.
While Densham, a 2012 London Olympics bronze medallist, led from start to finish, two-time Olympian Atkinson had to claw his way back from two and a half minute deficit to 14-time Xterra champion Ben Allen, who finished third at Xterra Philippines two weeks ago.
The 35-year-old Atkinson, who recently announced his plans to qualify for an historic third Olympics in triathlon come Rio 2016, passed Allen on the hill of the third and final leg of the 10km trail run.
"My legs were shot on that last lap," said Allen, who felt he had the race in the bag leading out of transition two (T2) following the two-lap 30km mountain bike. "I just hit the wall on that last lap of the run and perhaps paid the price for going out too hard on the bike.
"Courtney passed me on the hill, and I tried to dig deep and find another gear, but it goes to show you that you can never count anyone out until it's over.
"To be honest, I come to win every time I enter a race," he continued. "But there is absolutely no shame in losing to an athlete the calibre of Courtney Atkinson."
For Allen, the 30-year-old Wollongong native now turns his attention towards the Xterra Asia-Pacific championships in April and the worlds in October, while Atkinson returns to a full-time ITU World Triathlon Series schedule after a two-year absence.
"I couldn't ask for a better start to the year than winning here today," said Atkinson,  who has had a successful run the past six months, taking out the 2014 Singapore ASTC Triathlon Asian Cup and Ironman (IM) 70.3 Gurye Korea, and downing Commonwealth Games representative and fellow Olympic hopeful Dan Wilson, who was the highest Aussie elite male at the 2014 ITU World Championships in Edmonton, to claim victory at IM 70.3 Sunshine Coast.
"Winning races is good for confidence, so I'm happy with the result and I think I'm on the right track," said Atkinson, who exited the two-lap 1500m swim with leaders Allen and Dan Neilson (AUS).
The Gold Coast native is no stranger to off-road sports after having  spent much of his two-year sabbatical from full-time ITU competition, racing mountain bikes, adventure races and even winning the inaugural Xterra Great Ocean Road race in 2013 and finishing second to South African Dan Hugo at the Xterra Asia-Pacific Championships in 2014.
"Getting out of the swim with Ben, I was able to stay with him for the first section of the bike course and I thought this is great, I'm going to hang, but then I lost his wheel and got blown away by the better mountain bikers," admitted Atkinson.
"On that last lap of the run I knew I was in that strike zone, but if Ben was having his best run I wouldn't have caught him. The thing with racing off road is that it's not like you are running up and down a street where you can see your competition, so you are running blind and just can't let your foot off the gas."
Recently crowned Australian Cross Triathlon Champion Max Neumann climbed onto the podium in third after surpassing adventure race world champion Braden Curries (NZL), who finished in fourth after capturing his third straight Speight's Coast to Coast title two weeks ago and taking fifth Challenge Wanaka last weekend.
Mountain bike specialist Kyle Ward (AUS), who returned to Lake Crackenback after finishing fourth at last weekend's Snowy Mountain Bike Festival, took fifth again in a sprint finish over Jarad Kohlar (AUS) in sixth.
For Densham, the win marks a significant return to form for the 29-year-old New South Wales native who now resides in Arizona.
"I came into the race feeling good after a solid block of training," said Densham "But I had no idea where I was at actually in terms of facing a field of off-road specialists."
"The course was good for me," she said. "Parts of the mountain bike were technical, but I was able to enjoy the ride. The run was really tough and was all up and down with rocks and creeks. The water was waist high so I couldn't run.
Like Atkinson, the 2006 ITU Under-23 world champion now turns her attention towards a bid for a third Olympics, which kicks off in Mooloolaba in two weeks (March 14), followed by Auckland two weeks later (March 28).
"I really love the job In2Adventure does and I'm always keen to support their events," said Densham, who claimed  ITU World Triathlon Series wins in Sydney and Hamburg in 2012 before illness and fatigue forced her to miss the majority of racing following the London Olympics.
"This is a great start to the year and a really solid hit out," she added. "You can't go easy and you're always thinking out on the course. Like I said, I feel good and I'm positive about my health and I look forward to the season ahead.
"I think I'm on the right track for my bigger picture plans."
Joining Densham on the podium was eight-time Xterra winner Jacqui Slack (GBR), who finished fourth at the Husky Long Course last weekend, and Jessica Simpson (AUS), who passed Switzerland's Renata Bucher on the final run leg to claim third.
New Zealand's Jess Simson finished fifth behind Bucher, after having won her second Coast to Coast two weeks ago and finishing second at the Lake Wanaka Half on Sunday.
"When you talk about triathlon you admire the skill, endurance and tenacity of the athletes," said Troy Grant, Deputy Premier of NSW. "When you add this extra element of ruggedness about it "particularly on a very challenging course like they've had today in Lake Crackenback "it just speaks volumes of the calibre of athletes that were attracted here.
"It's extraordinary really."
The Oceania Cross Triathlon Championships is a Continental Championships awarded by the Oceania Triathlon Union (OTU), and is one of three events in Australia that are qualifying rounds for the World Cross Triathlon Championships in 2015 to be held in Sardinia, Italy on 26th September, 2015.
RESULTS
Elite Men:
Courtney Atkinson, AUS, 2:12:08.11
Ben Allen, AUS, 2:13:57.41
Max Neumann, AUS, 2:14:03.52
Braden Currie, NZL, 2:14:57.41
Kyle Ward, AUS, 2:19:35.16
Jarad Kohlar, AUS, 2:19:37.97
Todd Israel, AUS, 2:23:42.17
Nick Moore, AUS, 2:24:09.80
Jason Chalker, AUS, 2:27:19.15
George Tamblyn, AUS, 2:28:04.82
Russell Kennedy, AUS, 2:31:01.61
Dan Neilson, AUS, 2:32:14.64
Elite Women:
Erin Densham, AUS, 2:27:23.93
Jacqui Slack, GBR, 2:32:27.50
Jessica Simpson, AUS, 2:38:19.72
Renata Bucher, SUI, 2:40:58.71
Jess Simson, NZL, 2:41:24.49
Lizzie Orchard, NZL, 2:40:42.11
Peri Gray, AUS, 2:49:55.34
Sophie Bos, AUS, 2:54:06.87
About the Oceania Cross Triathlon Championships:
The Oceania Cross Triathlon Championships is a Continental Championships awarded by the Oceania Triathlon Union (OTU), and is one of three events in Australia that are qualifying rounds for the World Cross Triathlon Championships in 2015 to be held in Sardinia, Italy on 26th September, 2015.