Australian results at Ironman 70.3 World Championship
182 Australians started the 2013 Ironman 70.3 World Championship with some outstanding results. Melissa Hauschildt won the professional women's title with Annabel Luxford finishing third female overall. In the men's race Joe Gambles was third overall with Tim Reed 5th and Leon Griffin 7t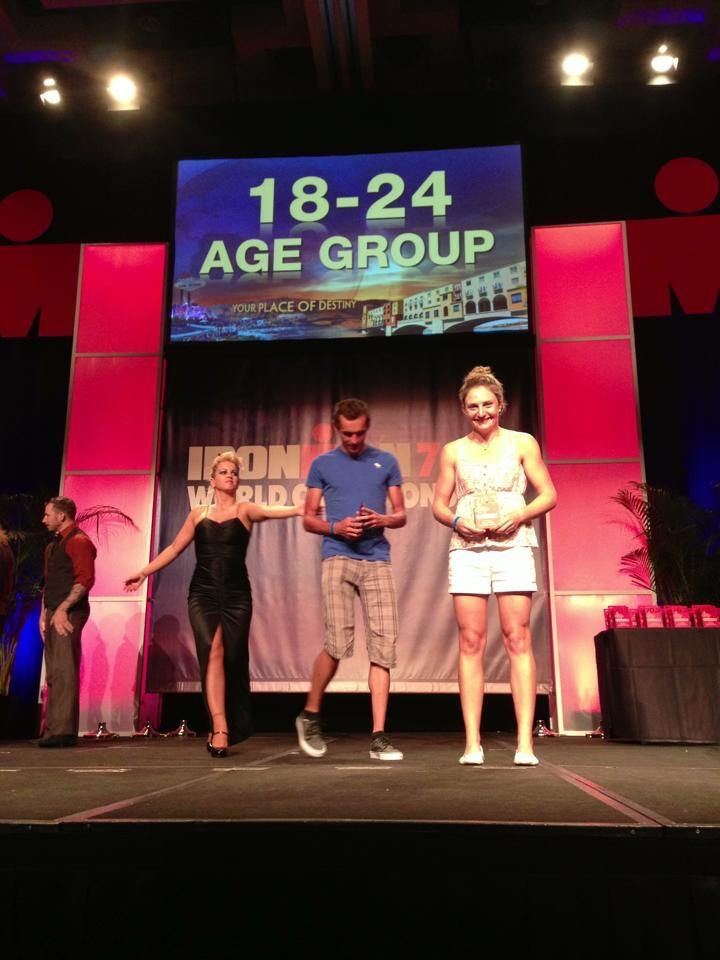 182 Australians started the 2013 Ironman 70.3 World Championship with some outstanding results.
Melissa Hauschildt won the professional women's title with Annabel Luxford finishing third female overall. In the men's race Joe Gambles was third overall with Tim Reed 5th and Leon Griffin 7th. Once again Australia is over represented at this level.
At the start of the race it was Joshua Amberger who took it to the field and lead until he was caught on the bike and 'sunk like the Titanic'. Amberger had unfortunately sprained his ankle the day and upon finding himself out in front decided to lay it down for as long as he could.
Dan MacPherson showed once again what a talented person he is.
Nicole Ward coached Laura Harris finished top five in her age group. This was another great result.
Kym Jaenke once again showed her class winning the 35-39 age group. Kym was the fastest woman overall at the Cairns 70.3 in June this year.
Susan Langley won the female 40-44 age group in 5:01. Susan finished 12th female overall at Canberra 70.3 in December 2012. Raeleigh Harris finished 6th in the same age group with less than ten minutes separating the top 6.
Jane Mountford finished 4th overall in the 65-69 age group.
Philip Hanley was second in the men's 60-64 age group with a handy time in the conditions of 5:17.
One person missing from the results table below (because she is a POM) is Sydneysider Laura Siddall who trains with Bondi Fit under coach Spot Anderson. Siddall is an age grouper who finished 11th female overall and first female age grouper in 4:33:12. Siddall added this age group title to her current ITU Olympic distance AG title which she will be defending this weekend in London. Arguably this was one of the best performances of the championship. The pros will all argue that it was a different race, the draft zone was shorter, etc, etc… But the age groupers left later, the sun came out, the heat rose and it was slightly tougher conditions. Siddall works full time, trains with age groupers and is punching above her weight. Credit where credit is due.
We'd like to see a 70.3 in Australia with Siddall, Rachael Smith and Kym Jaenke going head to head. Would be a great race.
Let us know about the other Australian's listed below. Email us here.
| | | | | | | |
| --- | --- | --- | --- | --- | --- | --- |
| First Name | Last Name | Rank | Swim | Bike | Run | Finish |
| Tim | Reed | 5 | 0:24:47 | 2:14:15 | 1:15:07 | 3:57:42 |
| Leon | Griffin | 7 | 0:24:58 | 2:14:12 | 1:15:35 | 3:58:17 |
| Paul | Matthews | 18 | 0:23:40 | 2:15:38 | 1:23:05 | 4:05:53 |
| Samuel | Betten | 19 | 0:23:42 | 2:15:37 | 1:23:04 | 4:06:09 |
| Craig | Alexander | 20 | 0:24:34 | 2:23:13 | 1:15:05 | 4:06:23 |
| Brad | Kahlefeldt | 37 | 0:24:00 | 2:27:58 | 1:22:18 | 4:17:54 |
| Melissa | Hauschildt | 44 | 0:29:19 | 2:25:08 | 1:21:37 | 4:20:07 |
| Josh | Amberger | 46 | 0:23:22 | 2:15:41 | 1:37:46 | 4:20:41 |
| Luke | McKenzie | 50 | 0:25:30 | 2:33:32 | 1:19:34 | 4:22:15 |
| John | Polson | 62 | 0:25:21 | 2:30:50 | 1:25:27 | 4:25:33 |
| Annabel | Luxford | 66 | 0:25:59 | 2:28:38 | 1:27:24 | 4:25:59 |
| Aaron | Williams | 103 | 0:28:41 | 2:21:44 | 1:36:17 | 4:31:43 |
| Simon | Anderson | 141 | 0:33:19 | 2:30:34 | 1:27:11 | 4:35:37 |
| Ryan | Palazzi | 157 | 0:27:07 | 2:32:31 | 1:32:06 | 4:37:35 |
| Mitch | Burrage | 163 | 0:31:04 | 2:31:56 | 1:29:41 | 4:37:58 |
| Peter | Mauro | 173 | 0:29:44 | 2:33:40 | 1:30:32 | 4:38:46 |
| Daniel | MacPherson | 190 | 0:27:32 | 2:32:50 | 1:34:56 | 4:40:03 |
| Lucas | Spargo | 199 | 0:29:31 | 2:34:41 | 1:30:54 | 4:40:54 |
| Luke | Stratford | 202 | 0:30:15 | 2:29:23 | 1:36:05 | 4:41:06 |
| David | Green | 205 | 0:35:08 | 2:35:23 | 1:24:47 | 4:41:10 |
| Ben | O'Neill | 207 | 0:30:39 | 2:25:31 | 1:40:25 | 4:41:22 |
| Michael | Musk | 232 | 0:34:32 | 2:27:41 | 1:34:28 | 4:43:19 |
| Kym | Jaenke | 258 | 0:28:24 | 2:40:36 | 1:30:27 | 4:45:17 |
| Matthew | De Pomeroy | 266 | 0:32:17 | 2:34:39 | 1:33:13 | 4:45:46 |
| Alistair | Press | 289 | 0:35:18 | 2:36:40 | 1:29:17 | 4:47:36 |
| Ben | Richardson | 291 | 0:34:03 | 2:30:30 | 1:37:51 | 4:47:37 |
| Paul | Walton | 295 | 0:29:47 | 2:34:44 | 1:37:35 | 4:47:44 |
| Kate | Bevilaqua | 318 | 0:28:44 | 2:39:37 | 1:35:51 | 4:48:51 |
| Terence | Bell | 332 | 0:31:46 | 2:38:03 | 1:35:11 | 4:49:49 |
| James | Debenham | 337 | 0:32:24 | 2:32:45 | 1:40:06 | 4:50:20 |
| Zane | Hopper | 342 | 0:30:45 | 2:38:49 | 1:34:34 | 4:50:36 |
| Michael | Sullivan | 352 | 0:27:23 | 2:44:24 | 1:33:42 | 4:51:03 |
| Jack | Macdiarmid | 355 | 0:32:19 | 2:34:48 | 1:38:46 | 4:51:10 |
| Andrew | Reid | 359 | 0:30:49 | 2:40:04 | 1:34:27 | 4:51:18 |
| Angus | Wippell | 360 | 0:31:26 | 2:40:18 | 1:33:59 | 4:51:20 |
| Phil | Smith | 363 | 0:33:06 | 2:35:56 | 1:36:30 | 4:51:26 |
| Ross | Kinsella | 370 | 0:40:55 | 2:32:29 | 1:32:35 | 4:51:47 |
| Wesley | Thompson | 417 | 0:32:21 | 2:33:19 | 1:43:54 | 4:54:42 |
| Katie | Kyme | 448 | 0:31:54 | 2:39:38 | 1:39:29 | 4:56:28 |
| Damion | Davis | 451 | 0:35:14 | 2:36:17 | 1:39:15 | 4:56:37 |
| John | Raleigh | 473 | 0:31:11 | 2:38:45 | 1:41:33 | 4:57:49 |
| Blake | Kappler | 474 | 0:27:44 | 2:35:31 | 1:49:03 | 4:57:49 |
| Rebecca | Hoschke | 479 | 0:32:50 | 2:44:19 | 1:35:28 | 4:57:58 |
| Nathan | Sandford | 489 | 0:38:43 | 2:37:25 | 1:37:22 | 4:58:29 |
| Ryann | Mills | 490 | 0:31:37 | 2:48:07 | 1:33:32 | 4:58:29 |
| Grant | Ironside | 497 | 0:35:56 | 2:37:30 | 1:38:37 | 4:58:41 |
| Matthew | Carman | 499 | 0:33:47 | 2:34:29 | 1:45:02 | 4:58:43 |
| Marina | Jurjevic | 534 | 0:37:41 | 2:38:26 | 1:39:29 | 5:00:40 |
| Adriano | Pavia | 539 | 0:36:11 | 2:34:38 | 1:43:06 | 5:00:53 |
| Susan | Langley | 543 | 0:37:22 | 2:41:19 | 1:36:54 | 5:01:05 |
| Jeremy | Geikie | 561 | 0:35:28 | 2:38:51 | 1:40:15 | 5:01:37 |
| James | Hingert | 568 | 0:35:19 | 2:37:35 | 1:41:20 | 5:01:52 |
| Will | Kimber | 605 | 0:31:48 | 2:40:47 | 1:43:38 | 5:03:30 |
| Jeremy | Hill | 606 | 0:35:46 | 2:37:37 | 1:43:59 | 5:03:39 |
| Sarah | Crowley | 609 | 0:30:11 | 2:49:44 | 1:39:11 | 5:03:59 |
| Josh | Webb | 614 | 0:32:20 | 2:39:47 | 1:44:32 | 5:04:13 |
| Steven | Adams | 616 | 0:36:10 | 2:32:39 | 1:49:50 | 5:04:15 |
| Jarrod | Bosanko | 618 | 0:34:46 | 2:37:09 | 1:45:04 | 5:04:21 |
| Dale | Harrison | 642 | 0:33:14 | 2:49:07 | 1:36:31 | 5:05:01 |
| Nick | Carling | 654 | 0:42:39 | 2:43:05 | 1:34:59 | 5:05:27 |
| Dara | Johnston | 668 | 0:39:14 | 2:45:39 | 1:35:38 | 5:06:23 |
| Andrew | Crozier | 682 | 0:28:15 | 2:37:31 | 1:53:09 | 5:07:04 |
| Roger | Hastie | 688 | 0:35:17 | 2:45:45 | 1:40:39 | 5:07:49 |
| Brendan | McSweeney | 700 | 0:36:33 | 2:35:38 | 1:49:43 | 5:08:23 |
| Mike | Taylor | 704 | 0:36:54 | 2:40:11 | 1:45:51 | 5:08:34 |
| Francis | Mahony | 713 | 0:37:56 | 2:45:25 | 1:40:34 | 5:09:18 |
| Joanna | Carman | 717 | 0:33:17 | 2:52:36 | 1:38:20 | 5:09:26 |
| Dean | Shipp | 723 | 0:34:53 | 2:38:07 | 1:51:26 | 5:09:38 |
| Jason | Philp | 733 | 0:35:19 | 2:32:05 | 1:55:56 | 5:10:03 |
| Raeleigh | Harris | 750 | 0:35:39 | 2:47:16 | 1:41:35 | 5:10:42 |
| Tracy | Douglas | 751 | 0:37:04 | 2:43:36 | 1:43:28 | 5:10:50 |
| Grant | Hankinson | 754 | 0:33:39 | 2:46:24 | 1:44:01 | 5:10:54 |
| Gerald | Peterson | 761 | 0:33:23 | 2:38:52 | 1:53:18 | 5:11:23 |
| Lee-Anne | Hellberg | 772 | 0:38:17 | 2:44:12 | 1:43:54 | 5:11:46 |
| Adrian | Moy | 784 | 0:39:23 | 2:45:04 | 1:41:24 | 5:12:20 |
| Jo | Kocik | 817 | 0:37:34 | 2:42:00 | 1:49:18 | 5:14:24 |
| Oliver | Knowles | 828 | 0:36:32 | 2:50:17 | 1:42:18 | 5:15:03 |
| Joe | Sprange | 847 | 0:37:38 | 2:48:40 | 1:43:13 | 5:15:38 |
| David | Buschkuehl | 857 | 0:35:58 | 2:47:56 | 1:45:46 | 5:15:58 |
| Graeme | Alford | 876 | 0:37:17 | 2:43:38 | 1:49:36 | 5:16:49 |
| Matt | Young | 880 | 0:35:21 | 2:48:02 | 1:47:40 | 5:16:57 |
| Clinton | Robertson | 883 | 0:38:48 | 2:46:33 | 1:45:58 | 5:17:02 |
| Paul | Worroll | 893 | 0:34:27 | 2:46:18 | 1:50:02 | 5:17:14 |
| Philip | Hanley | 902 | 0:36:42 | 2:44:02 | 1:51:40 | 5:17:53 |
| Emma | Tuddenham | 909 | 0:35:02 | 2:46:36 | 1:50:09 | 5:18:12 |
| Laura | Harris | 916 | 0:35:24 | 2:59:43 | 1:37:55 | 5:18:38 |
| Jason | Geikie | 928 | 0:38:59 | 2:40:55 | 1:52:36 | 5:19:07 |
| Kellie | Epis | 953 | 0:41:15 | 2:54:05 | 1:38:46 | 5:20:04 |
| Alan | Nicholls | 957 | 0:36:57 | 2:37:08 | 1:58:00 | 5:20:11 |
| Kelly | Moore | 978 | 0:33:12 | 2:55:39 | 1:45:15 | 5:20:50 |
| Jason | Ross | 979 | 0:37:07 | 2:50:18 | 1:47:07 | 5:20:51 |
| Lisa | Ross | 985 | 0:36:30 | 2:56:27 | 1:40:03 | 5:21:13 |
| Chris | Van Dorssen | 987 | 0:37:00 | 2:40:45 | 1:58:05 | 5:21:15 |
| Nick | Gilbert | 1002 | 0:32:36 | 2:59:37 | 1:43:33 | 5:22:04 |
| Dale | Thompson | 1011 | 0:36:57 | 2:52:09 | 1:47:26 | 5:22:42 |
| Warren | Nicholls | 1020 | 0:42:43 | 2:39:19 | 1:51:06 | 5:23:09 |
| Mark | Egan | 1022 | 0:33:08 | 2:56:31 | 1:46:03 | 5:23:13 |
| Luke | Sevior | 1057 | 0:36:33 | 2:50:33 | 1:50:27 | 5:24:52 |
| Jack | Greenwood | 1061 | 0:32:24 | 2:51:22 | 1:55:19 | 5:25:07 |
| Craig | Smith | 1070 | 0:38:49 | 2:42:08 | 1:58:25 | 5:25:38 |
| Daniel | Salter | 1098 | 0:37:02 | 2:39:56 | 2:02:21 | 5:27:24 |
| Greg | Vitnell | 1104 | 0:44:04 | 2:53:57 | 1:41:08 | 5:27:52 |
| Claire | Hawkins | 1106 | 0:36:05 | 2:49:26 | 1:56:49 | 5:27:59 |
| Darryl | Worthington | 1129 | 0:29:51 | 2:56:25 | 1:53:57 | 5:28:56 |
| Jonathan | Platten | 1133 | 0:38:09 | 2:36:24 | 2:08:18 | 5:29:12 |
| John | Auriac | 1141 | 0:39:30 | 2:53:02 | 1:50:23 | 5:29:34 |
| John | Gestakovski | 1147 | 0:38:59 | 2:47:31 | 1:55:54 | 5:29:51 |
| Stephen | Thomas | 1175 | 0:49:29 | 2:50:05 | 1:43:52 | 5:31:26 |
| Jonathan | Cahill | 1186 | 0:34:37 | 2:51:00 | 1:58:36 | 5:31:50 |
| Dominic | Toole | 1195 | 0:38:26 | 2:52:18 | 1:55:06 | 5:32:15 |
| Brett | O'Neill | 1196 | 0:29:59 | 2:51:49 | 2:04:28 | 5:32:19 |
| Brad | Hough | 1202 | 0:40:46 | 2:59:04 | 1:46:34 | 5:32:58 |
| Matthew | Davies | 1208 | 0:37:02 | 2:55:30 | 1:54:03 | 5:33:21 |
| Allister | Caird | 1219 | 0:34:16 | 3:12:28 | 1:42:14 | 5:34:00 |
| Simon | Gould | 1233 | | 3:31:22 | 2:01:16 | 5:34:51 |
| Shaun | Betts | 1264 | 0:36:10 | 2:42:37 | 2:12:20 | 5:37:01 |
| Leanne | Noack | 1268 | 0:41:59 | 3:02:32 | 1:44:50 | 5:37:12 |
| Kate | Braybrook | 1274 | 0:41:02 | 2:55:13 | 1:53:18 | 5:37:48 |
| Scott | Francis | 1276 | 0:41:25 | 2:47:27 | 2:00:27 | 5:37:51 |
| Caroline | Anderson | 1285 | 0:37:42 | 2:59:45 | 1:52:18 | 5:38:15 |
| Nicole | Annson | 1291 | 0:34:19 | 2:52:40 | 2:04:57 | 5:38:33 |
| Narelle | Harrison | 1301 | 0:45:35 | 2:57:30 | 1:49:50 | 5:39:04 |
| Rebecca | Jenner | 1324 | 0:37:54 | 2:55:42 | 1:59:59 | 5:40:23 |
| Douglas | Bourne | 1335 | 0:42:00 | 2:55:23 | 1:55:50 | 5:41:05 |
| Ntasha | Gerebtzoff | 1339 | 0:34:14 | 2:57:49 | 2:02:42 | 5:41:14 |
| Glenn | Merkel | 1371 | 0:42:51 | 2:54:40 | 1:58:03 | 5:42:51 |
| Erin | Sullivan | 1384 | 0:37:11 | 3:08:04 | 1:52:13 | 5:43:37 |
| Tamara | Spargo | 1387 | 0:42:10 | 3:03:30 | 1:47:43 | 5:43:44 |
| Scott | Zanevra | 1433 | 0:32:03 | 3:23:08 | 1:46:23 | 5:46:43 |
| Emily | Kempson | 1444 | 0:35:58 | 2:47:40 | 2:17:04 | 5:47:13 |
| Kim | Elvery | 1449 | 0:38:16 | 3:07:01 | 1:55:57 | 5:47:43 |
| Kane | Ransley | 1509 | 0:40:43 | 2:56:04 | 2:07:07 | 5:51:31 |
| Rob | Tideman | 1534 | 0:41:53 | 3:08:18 | 1:56:33 | 5:53:36 |
| Andy | Taylor | 1535 | 0:40:48 | 3:02:50 | 2:03:05 | 5:53:36 |
| Ryan | Goard | 1537 | 0:43:07 | 2:51:55 | 2:09:47 | 5:53:47 |
| John | Wall | 1550 | 0:44:58 | 3:02:34 | 1:57:55 | 5:54:31 |
| David Mark | Forward | 1559 | 0:42:05 | 3:12:46 | 1:54:03 | 5:55:50 |
| Hazel | Kirby | 1561 | 0:40:44 | 3:12:04 | 1:54:46 | 5:56:15 |
| Nick | Thompson | 1567 | 0:44:04 | 2:56:23 | 2:08:38 | 5:56:55 |
| Graham | Gibson | 1597 | 0:44:40 | 2:59:32 | 2:05:31 | 5:59:27 |
| Catherine | Murray | 1599 | 0:45:29 | 3:13:13 | 1:53:09 | 5:59:28 |
| Mike | Steinberg | 1601 | 0:34:27 | 3:07:46 | 2:07:31 | 5:59:35 |
| Rachel | Mullins | 1614 | 0:35:48 | 3:10:33 | 2:06:31 | 6:00:47 |
| Chris | Gibbons | 1635 | 0:40:59 | 3:09:22 | 2:06:01 | 6:03:48 |
| Deb | Kempe | 1638 | 0:41:55 | 2:59:15 | 2:15:39 | 6:04:14 |
| Aimee | Ingram | 1640 | 0:40:44 | 3:12:20 | 2:04:31 | 6:04:27 |
| Stephanie | Brown | 1642 | 0:29:50 | 3:22:18 | 2:04:55 | 6:04:32 |
| Nick | Withycombe | 1647 | 0:35:16 | 2:56:05 | 2:25:12 | 6:05:30 |
| Sandy | De La Mare | 1674 | 0:45:45 | 3:10:45 | 2:04:17 | 6:08:36 |
| Nicola | Hoey | 1678 | 0:44:04 | 3:11:07 | 2:06:36 | 6:08:46 |
| Kerrie | Gentle | 1682 | 0:42:52 | 3:15:07 | 2:04:51 | 6:09:41 |
| Ella | Davies | 1687 | 0:42:30 | 3:25:28 | 1:55:20 | 6:10:33 |
| Judi | Clemie | 1702 | 0:47:09 | 3:13:17 | 2:03:54 | 6:12:41 |
| Joshua | Hyde | 1718 | 0:41:07 | 3:01:11 | 2:25:43 | 6:14:36 |
| Brett | Isaac | 1720 | 0:26:42 | 2:40:03 | 3:02:02 | 6:15:03 |
| Zak | Johnson | 1731 | 0:41:49 | 3:07:59 | 2:18:52 | 6:16:49 |
| Lee | Mathers | 1737 | 0:45:35 | 2:58:02 | 2:26:39 | 6:17:14 |
| Rochelle | Youngson | 1740 | 0:40:12 | 3:25:55 | 2:01:43 | 6:18:00 |
| Carol | Bruce | 1761 | 0:38:29 | 3:30:23 | 2:06:51 | 6:23:00 |
| Andrew | Hardy | 1764 | 0:43:04 | 3:06:25 | 2:24:49 | 6:23:15 |
| Megan | Kinder | 1765 | 0:44:16 | 3:22:11 | 2:09:31 | 6:23:45 |
| Daniel | Milne | 1775 | 0:50:36 | 3:00:46 | 2:25:20 | 6:25:02 |
| Alison | Williams | 1785 | 0:41:30 | 3:20:55 | 2:11:04 | 6:26:52 |
| Gary | Nicholls | 1798 | 0:37:30 | 3:16:50 | 2:24:50 | 6:29:20 |
| Samantha | Whitfield | 1814 | 0:40:15 | 3:28:45 | 2:17:38 | 6:33:23 |
| Kirstin | Beedie | 1816 | 0:37:03 | 3:32:27 | 2:13:49 | 6:33:58 |
| Jocelyn | Smith | 1837 | 0:37:45 | 3:36:13 | 2:16:16 | 6:38:52 |
| Natashia | Iacovelli | 1841 | 0:50:14 | 3:26:10 | 2:15:38 | 6:39:43 |
| Sarah | Carter | 1845 | 0:43:55 | 3:31:31 | 2:16:10 | 6:40:19 |
| Neil | Powers | 1867 | 0:42:35 | 3:12:57 | 2:40:56 | 6:47:10 |
| Jane | Mountford | 1887 | 0:37:31 | 3:35:59 | 2:37:26 | 6:59:23 |
| Gladys | Woods | 1890 | 0:45:15 | 3:38:20 | 2:24:12 | 7:00:55 |
| William | Hunter | 1892 | 0:55:14 | 3:30:41 | 2:26:52 | 7:01:47 |
| David | Nealon | 1894 | 0:48:26 | 3:24:50 | 2:35:48 | 7:03:19 |
| Robert | Frazer | 1905 | 0:50:40 | 3:27:02 | 2:43:24 | 7:10:14 |
| Eleanor | Dally | 1910 | 1:05:55 | 3:28:28 | 2:29:24 | 7:13:05 |
| Melanie | Gillespie | 1912 | 0:33:02 | 3:50:49 | 2:41:25 | 7:14:04 |
| Monique | Kusse | 1915 | 0:51:00 | 3:57:32 | 2:20:34 | 7:17:33 |
| Nathan | Cahill | 1924 | 0:56:40 | 3:33:34 | 2:40:14 | 7:24:42 |
| Susie | O'Neill | 1927 | 0:53:43 | 3:29:36 | 2:53:19 | 7:25:55 |
| Rodney | Wilson | 1936 | 1:33:58 | 3:33:29 | 2:21:24 | 7:37:47 |
| Anton | Bredow | 1943 | 0:44:35 | 4:03:59 | 2:46:04 | 7:45:56 |
| Joseph | Lampe | DNF | 0:23:28 | | | |
| | | | | | | |
| --- | --- | --- | --- | --- | --- | --- |
| First Name | Last Name | Rank | Swim | Bike | Run | Finish |
| Tim | Reed | 5 | 0:24:47 | 2:14:15 | 1:15:07 | 3:57:42 |
| Leon | Griffin | 7 | 0:24:58 | 2:14:12 | 1:15:35 | 3:58:17 |
| Paul | Matthews | 18 | 0:23:40 | 2:15:38 | 1:23:05 | 4:05:53 |
| Samuel | Betten | 19 | 0:23:42 | 2:15:37 | 1:23:04 | 4:06:09 |
| Craig | Alexander | 20 | 0:24:34 | 2:23:13 | 1:15:05 | 4:06:23 |
| Brad | Kahlefeldt | 37 | 0:24:00 | 2:27:58 | 1:22:18 | 4:17:54 |
| Josh | Amberger | 46 | 0:23:22 | 2:15:41 | 1:37:46 | 4:20:41 |
| Luke | McKenzie | 50 | 0:25:30 | 2:33:32 | 1:19:34 | 4:22:15 |
| John | Polson | 62 | 0:25:21 | 2:30:50 | 1:25:27 | 4:25:33 |
| Annabel | Luxford | 66 | 0:25:59 | 2:28:38 | 1:27:24 | 4:25:59 |
| Aaron | Williams | 103 | 0:28:41 | 2:21:44 | 1:36:17 | 4:31:43 |
| Simon | Anderson | 141 | 0:33:19 | 2:30:34 | 1:27:11 | 4:35:37 |
| Ryan | Palazzi | 157 | 0:27:07 | 2:32:31 | 1:32:06 | 4:37:35 |
| Mitch | Burrage | 163 | 0:31:04 | 2:31:56 | 1:29:41 | 4:37:58 |
| Peter | Mauro | 173 | 0:29:44 | 2:33:40 | 1:30:32 | 4:38:46 |
| Daniel | Macpherson | 190 | 0:27:32 | 2:32:50 | 1:34:56 | 4:40:03 |
| Lucas | Spargo | 199 | 0:29:31 | 2:34:41 | 1:30:54 | 4:40:54 |
| Luke | Stratford | 202 | 0:30:15 | 2:29:23 | 1:36:05 | 4:41:06 |
| David | Green | 205 | 0:35:08 | 2:35:23 | 1:24:47 | 4:41:10 |
| Ben | O'Neill | 207 | 0:30:39 | 2:25:31 | 1:40:25 | 4:41:22 |
| Michael | Musk | 232 | 0:34:32 | 2:27:41 | 1:34:28 | 4:43:19 |
| Kym | Jaenke | 258 | 0:28:24 | 2:40:36 | 1:30:27 | 4:45:17 |
| Matthew | De Pomeroy | 266 | 0:32:17 | 2:34:39 | 1:33:13 | 4:45:46 |
| Alistair | Press | 289 | 0:35:18 | 2:36:40 | 1:29:17 | 4:47:36 |
| Ben | Richardson | 291 | 0:34:03 | 2:30:30 | 1:37:51 | 4:47:37 |
| Paul | Walton | 295 | 0:29:47 | 2:34:44 | 1:37:35 | 4:47:44 |
| Kate | Bevilaqua | 318 | 0:28:44 | 2:39:37 | 1:35:51 | 4:48:51 |
| Terence | Bell | 332 | 0:31:46 | 2:38:03 | 1:35:11 | 4:49:49 |
| James | Debenham | 337 | 0:32:24 | 2:32:45 | 1:40:06 | 4:50:20 |
| Zane | Hopper | 342 | 0:30:45 | 2:38:49 | 1:34:34 | 4:50:36 |
| Michael | Sullivan | 352 | 0:27:23 | 2:44:24 | 1:33:42 | 4:51:03 |
| Jack | Macdiarmid | 355 | 0:32:19 | 2:34:48 | 1:38:46 | 4:51:10 |
| Andrew | Reid | 359 | 0:30:49 | 2:40:04 | 1:34:27 | 4:51:18 |
| Angus | Wippell | 360 | 0:31:26 | 2:40:18 | 1:33:59 | 4:51:20 |
| Phil | Smith | 363 | 0:33:06 | 2:35:56 | 1:36:30 | 4:51:26 |
| Ross | Kinsella | 370 | 0:40:55 | 2:32:29 | 1:32:35 | 4:51:47 |
| Wesley | Thompson | 417 | 0:32:21 | 2:33:19 | 1:43:54 | 4:54:42 |
| Katie | Kyme | 448 | 0:31:54 | 2:39:38 | 1:39:29 | 4:56:28 |
| Damion | Davis | 451 | 0:35:14 | 2:36:17 | 1:39:15 | 4:56:37 |
| John | Raleigh | 473 | 0:31:11 | 2:38:45 | 1:41:33 | 4:57:49 |
| Blake | Kappler | 474 | 0:27:44 | 2:35:31 | 1:49:03 | 4:57:49 |
| Rebecca | Hoschke | 479 | 0:32:50 | 2:44:19 | 1:35:28 | 4:57:58 |
| Nathan | Sandford | 489 | 0:38:43 | 2:37:25 | 1:37:22 | 4:58:29 |
| Ryann | Mills | 490 | 0:31:37 | 2:48:07 | 1:33:32 | 4:58:29 |
| Grant | Ironside | 497 | 0:35:56 | 2:37:30 | 1:38:37 | 4:58:41 |
| Matthew | Carman | 499 | 0:33:47 | 2:34:29 | 1:45:02 | 4:58:43 |
| Marina | Jurjevic | 534 | 0:37:41 | 2:38:26 | 1:39:29 | 5:00:40 |
| Adriano | Pavia | 539 | 0:36:11 | 2:34:38 | 1:43:06 | 5:00:53 |
| Susan | Langley | 543 | 0:37:22 | 2:41:19 | 1:36:54 | 5:01:05 |
| Jeremy | Geikie | 561 | 0:35:28 | 2:38:51 | 1:40:15 | 5:01:37 |
| James | Hingert | 568 | 0:35:19 | 2:37:35 | 1:41:20 | 5:01:52 |
| Will | Kimber | 605 | 0:31:48 | 2:40:47 | 1:43:38 | 5:03:30 |
| Jeremy | Hill | 606 | 0:35:46 | 2:37:37 | 1:43:59 | 5:03:39 |
| Sarah | Crowley | 609 | 0:30:11 | 2:49:44 | 1:39:11 | 5:03:59 |
| Josh | Webb | 614 | 0:32:20 | 2:39:47 | 1:44:32 | 5:04:13 |
| Steven | Adams | 616 | 0:36:10 | 2:32:39 | 1:49:50 | 5:04:15 |
| Jarrod | Bosanko | 618 | 0:34:46 | 2:37:09 | 1:45:04 | 5:04:21 |
| Dale | Harrison | 642 | 0:33:14 | 2:49:07 | 1:36:31 | 5:05:01 |
| Nick | Carling | 654 | 0:42:39 | 2:43:05 | 1:34:59 | 5:05:27 |
| Dara | Johnston | 668 | 0:39:14 | 2:45:39 | 1:35:38 | 5:06:23 |
| Andrew | Crozier | 682 | 0:28:15 | 2:37:31 | 1:53:09 | 5:07:04 |
| Roger | Hastie | 688 | 0:35:17 | 2:45:45 | 1:40:39 | 5:07:49 |
| Brendan | McSweeney | 700 | 0:36:33 | 2:35:38 | 1:49:43 | 5:08:23 |
| Mike | Taylor | 704 | 0:36:54 | 2:40:11 | 1:45:51 | 5:08:34 |
| Francis | Mahony | 713 | 0:37:56 | 2:45:25 | 1:40:34 | 5:09:18 |
| Joanna | Carman | 717 | 0:33:17 | 2:52:36 | 1:38:20 | 5:09:26 |
| Dean | Shipp | 723 | 0:34:53 | 2:38:07 | 1:51:26 | 5:09:38 |
| Jason | Philp | 733 | 0:35:19 | 2:32:05 | 1:55:56 | 5:10:03 |
| Raeleigh | Harris | 750 | 0:35:39 | 2:47:16 | 1:41:35 | 5:10:42 |
| Tracy | Douglas | 751 | 0:37:04 | 2:43:36 | 1:43:28 | 5:10:50 |
| Grant | Hankinson | 754 | 0:33:39 | 2:46:24 | 1:44:01 | 5:10:54 |
| Gerald | Peterson | 761 | 0:33:23 | 2:38:52 | 1:53:18 | 5:11:23 |
| Lee-Anne | Hellberg | 772 | 0:38:17 | 2:44:12 | 1:43:54 | 5:11:46 |
| Adrian | Moy | 784 | 0:39:23 | 2:45:04 | 1:41:24 | 5:12:20 |
| Jo | Kocik | 817 | 0:37:34 | 2:42:00 | 1:49:18 | 5:14:24 |
| Oliver | Knowles | 828 | 0:36:32 | 2:50:17 | 1:42:18 | 5:15:03 |
| Joe | Sprange | 847 | 0:37:38 | 2:48:40 | 1:43:13 | 5:15:38 |
| David | Buschkuehl | 857 | 0:35:58 | 2:47:56 | 1:45:46 | 5:15:58 |
| Graeme | Alford | 876 | 0:37:17 | 2:43:38 | 1:49:36 | 5:16:49 |
| Matt | Young | 880 | 0:35:21 | 2:48:02 | 1:47:40 | 5:16:57 |
| Clinton | Robertson | 883 | 0:38:48 | 2:46:33 | 1:45:58 | 5:17:02 |
| Paul | Worroll | 893 | 0:34:27 | 2:46:18 | 1:50:02 | 5:17:14 |
| Philip | Hanley | 902 | 0:36:42 | 2:44:02 | 1:51:40 | 5:17:53 |
| Emma | Tuddenham | 909 | 0:35:02 | 2:46:36 | 1:50:09 | 5:18:12 |
| Laura | Harris | 916 | 0:35:24 | 2:59:43 | 1:37:55 | 5:18:38 |
| Jason | Geikie | 928 | 0:38:59 | 2:40:55 | 1:52:36 | 5:19:07 |
| Kellie | Epis | 953 | 0:41:15 | 2:54:05 | 1:38:46 | 5:20:04 |
| Alan | Nicholls | 957 | 0:36:57 | 2:37:08 | 1:58:00 | 5:20:11 |
| Kelly | Moore | 978 | 0:33:12 | 2:55:39 | 1:45:15 | 5:20:50 |
| Jason | Ross | 979 | 0:37:07 | 2:50:18 | 1:47:07 | 5:20:51 |
| Lisa | Ross | 985 | 0:36:30 | 2:56:27 | 1:40:03 | 5:21:13 |
| Chris | Van Dorssen | 987 | 0:37:00 | 2:40:45 | 1:58:05 | 5:21:15 |
| Nick | Gilbert | 1002 | 0:32:36 | 2:59:37 | 1:43:33 | 5:22:04 |
| Dale | Thompson | 1011 | 0:36:57 | 2:52:09 | 1:47:26 | 5:22:42 |
| Warren | Nicholls | 1020 | 0:42:43 | 2:39:19 | 1:51:06 | 5:23:09 |
| Mark | Egan | 1022 | 0:33:08 | 2:56:31 | 1:46:03 | 5:23:13 |
| Luke | Sevior | 1057 | 0:36:33 | 2:50:33 | 1:50:27 | 5:24:52 |
| Jack | Greenwood | 1061 | 0:32:24 | 2:51:22 | 1:55:19 | 5:25:07 |
| Craig | Smith | 1070 | 0:38:49 | 2:42:08 | 1:58:25 | 5:25:38 |
| Daniel | Salter | 1098 | 0:37:02 | 2:39:56 | 2:02:21 | 5:27:24 |
| Greg | Vitnell | 1104 | 0:44:04 | 2:53:57 | 1:41:08 | 5:27:52 |
| Claire | Hawkins | 1106 | 0:36:05 | 2:49:26 | 1:56:49 | 5:27:59 |
| Darryl | Worthington | 1129 | 0:29:51 | 2:56:25 | 1:53:57 | 5:28:56 |
| Jonathan | Platten | 1133 | 0:38:09 | 2:36:24 | 2:08:18 | 5:29:12 |
| John | Auriac | 1141 | 0:39:30 | 2:53:02 | 1:50:23 | 5:29:34 |
| John | Gestakovski | 1147 | 0:38:59 | 2:47:31 | 1:55:54 | 5:29:51 |
| Stephen | Thomas | 1175 | 0:49:29 | 2:50:05 | 1:43:52 | 5:31:26 |
| Jonathan | Cahill | 1186 | 0:34:37 | 2:51:00 | 1:58:36 | 5:31:50 |
| Dominic | Toole | 1195 | 0:38:26 | 2:52:18 | 1:55:06 | 5:32:15 |
| Brett | O'Neill | 1196 | 0:29:59 | 2:51:49 | 2:04:28 | 5:32:19 |
| Brad | Hough | 1202 | 0:40:46 | 2:59:04 | 1:46:34 | 5:32:58 |
| Matthew | Davies | 1208 | 0:37:02 | 2:55:30 | 1:54:03 | 5:33:21 |
| Allister | Caird | 1219 | 0:34:16 | 3:12:28 | 1:42:14 | 5:34:00 |
| Simon | Gould | 1233 | | 3:31:22 | 2:01:16 | 5:34:51 |
| Shaun | Betts | 1264 | 0:36:10 | 2:42:37 | 2:12:20 | 5:37:01 |
| Leanne | Noack | 1268 | 0:41:59 | 3:02:32 | 1:44:50 | 5:37:12 |
| Kate | Braybrook | 1274 | 0:41:02 | 2:55:13 | 1:53:18 | 5:37:48 |
| Scott | Francis | 1276 | 0:41:25 | 2:47:27 | 2:00:27 | 5:37:51 |
| Caroline | Anderson | 1285 | 0:37:42 | 2:59:45 | 1:52:18 | 5:38:15 |
| Nicole | Annson | 1291 | 0:34:19 | 2:52:40 | 2:04:57 | 5:38:33 |
| Narelle | Harrison | 1301 | 0:45:35 | 2:57:30 | 1:49:50 | 5:39:04 |
| Rebecca | Jenner | 1324 | 0:37:54 | 2:55:42 | 1:59:59 | 5:40:23 |
| Douglas | Bourne | 1335 | 0:42:00 | 2:55:23 | 1:55:50 | 5:41:05 |
| Ntasha | Gerebtzoff | 1339 | 0:34:14 | 2:57:49 | 2:02:42 | 5:41:14 |
| Glenn | Merkel | 1371 | 0:42:51 | 2:54:40 | 1:58:03 | 5:42:51 |
| Erin | Sullivan | 1384 | 0:37:11 | 3:08:04 | 1:52:13 | 5:43:37 |
| Tamara | Spargo | 1387 | 0:42:10 | 3:03:30 | 1:47:43 | 5:43:44 |
| Scott | Zanevra | 1433 | 0:32:03 | 3:23:08 | 1:46:23 | 5:46:43 |
| Emily | Kempson | 1444 | 0:35:58 | 2:47:40 | 2:17:04 | 5:47:13 |
| Kim | Elvery | 1449 | 0:38:16 | 3:07:01 | 1:55:57 | 5:47:43 |
| Kane | Ransley | 1509 | 0:40:43 | 2:56:04 | 2:07:07 | 5:51:31 |
| Rob | Tideman | 1534 | 0:41:53 | 3:08:18 | 1:56:33 | 5:53:36 |
| Andy | Taylor | 1535 | 0:40:48 | 3:02:50 | 2:03:05 | 5:53:36 |
| Ryan | Goard | 1537 | 0:43:07 | 2:51:55 | 2:09:47 | 5:53:47 |
| John | Wall | 1550 | 0:44:58 | 3:02:34 | 1:57:55 | 5:54:31 |
| David Mark | Forward | 1559 | 0:42:05 | 3:12:46 | 1:54:03 | 5:55:50 |
| Hazel | Kirby | 1561 | 0:40:44 | 3:12:04 | 1:54:46 | 5:56:15 |
| Nick | Thompson | 1567 | 0:44:04 | 2:56:23 | 2:08:38 | 5:56:55 |
| Graham | Gibson | 1597 | 0:44:40 | 2:59:32 | 2:05:31 | 5:59:27 |
| Catherine | Murray | 1599 | 0:45:29 | 3:13:13 | 1:53:09 | 5:59:28 |
| Mike | Steinberg | 1601 | 0:34:27 | 3:07:46 | 2:07:31 | 5:59:35 |
| Rachel | Mullins | 1614 | 0:35:48 | 3:10:33 | 2:06:31 | 6:00:47 |
| Chris | Gibbons | 1635 | 0:40:59 | 3:09:22 | 2:06:01 | 6:03:48 |
| Deb | Kempe | 1638 | 0:41:55 | 2:59:15 | 2:15:39 | 6:04:14 |
| Aimee | Ingram | 1640 | 0:40:44 | 3:12:20 | 2:04:31 | 6:04:27 |
| Stephanie | Brown | 1642 | 0:29:50 | 3:22:18 | 2:04:55 | 6:04:32 |
| Nick | Withycombe | 1647 | 0:35:16 | 2:56:05 | 2:25:12 | 6:05:30 |
| Sandy | De La Mare | 1674 | 0:45:45 | 3:10:45 | 2:04:17 | 6:08:36 |
| Nicola | Hoey | 1678 | 0:44:04 | 3:11:07 | 2:06:36 | 6:08:46 |
| Kerrie | Gentle | 1682 | 0:42:52 | 3:15:07 | 2:04:51 | 6:09:41 |
| Ella | Davies | 1687 | 0:42:30 | 3:25:28 | 1:55:20 | 6:10:33 |
| Judi | Clemie | 1702 | 0:47:09 | 3:13:17 | 2:03:54 | 6:12:41 |
| Joshua | Hyde | 1718 | 0:41:07 | 3:01:11 | 2:25:43 | 6:14:36 |
| Brett | Isaac | 1720 | 0:26:42 | 2:40:03 | 3:02:02 | 6:15:03 |
| Zak | Johnson | 1731 | 0:41:49 | 3:07:59 | 2:18:52 | 6:16:49 |
| Lee | Mathers | 1737 | 0:45:35 | 2:58:02 | 2:26:39 | 6:17:14 |
| Rochelle | Youngson | 1740 | 0:40:12 | 3:25:55 | 2:01:43 | 6:18:00 |
| Carol | Bruce | 1761 | 0:38:29 | 3:30:23 | 2:06:51 | 6:23:00 |
| Andrew | Hardy | 1764 | 0:43:04 | 3:06:25 | 2:24:49 | 6:23:15 |
| Megan | Kinder | 1765 | 0:44:16 | 3:22:11 | 2:09:31 | 6:23:45 |
| Daniel | Milne | 1775 | 0:50:36 | 3:00:46 | 2:25:20 | 6:25:02 |
| Alison | Williams | 1785 | 0:41:30 | 3:20:55 | 2:11:04 | 6:26:52 |
| Gary | Nicholls | 1798 | 0:37:30 | 3:16:50 | 2:24:50 | 6:29:20 |
| Samantha | Whitfield | 1814 | 0:40:15 | 3:28:45 | 2:17:38 | 6:33:23 |
| Kirstin | Beedie | 1816 | 0:37:03 | 3:32:27 | 2:13:49 | 6:33:58 |
| Jocelyn | Smith | 1837 | 0:37:45 | 3:36:13 | 2:16:16 | 6:38:52 |
| Natashia | Iacovelli | 1841 | 0:50:14 | 3:26:10 | 2:15:38 | 6:39:43 |
| Sarah | Carter | 1845 | 0:43:55 | 3:31:31 | 2:16:10 | 6:40:19 |
| Neil | Powers | 1867 | 0:42:35 | 3:12:57 | 2:40:56 | 6:47:10 |
| Jane | Mountford | 1887 | 0:37:31 | 3:35:59 | 2:37:26 | 6:59:23 |
| Gladys | Woods | 1890 | 0:45:15 | 3:38:20 | 2:24:12 | 7:00:55 |
| William | Hunter | 1892 | 0:55:14 | 3:30:41 | 2:26:52 | 7:01:47 |
| David | Nealon | 1894 | 0:48:26 | 3:24:50 | 2:35:48 | 7:03:19 |
| Robert | Frazer | 1905 | 0:50:40 | 3:27:02 | 2:43:24 | 7:10:14 |
| Eleanor | Dally | 1910 | 1:05:55 | 3:28:28 | 2:29:24 | 7:13:05 |
| Melanie | Gillespie | 1912 | 0:33:02 | 3:50:49 | 2:41:25 | 7:14:04 |
| Monique | Kusse | 1915 | 0:51:00 | 3:57:32 | 2:20:34 | 7:17:33 |
| Nathan | Cahill | 1924 | 0:56:40 | 3:33:34 | 2:40:14 | 7:24:42 |
| Susie | O'Neill | 1927 | 0:53:43 | 3:29:36 | 2:53:19 | 7:25:55 |
| Rodney | Wilson | 1936 | 1:33:58 | 3:33:29 | 2:21:24 | 7:37:47 |
| Anton | Bredow | 1943 | 0:44:35 | 4:03:59 | 2:46:04 | 7:45:56 |
| Joseph | Lampe | DNF | 0:23:28 | | | |