News & Racing
Australia's Craig Alexander and Belinda Granger win Ironman 70.3 Hawaii 2013
Craig Alexander has shown that he is back in business by winning the Hawaii 70.3 by over six minutes. Crowie's bike time was dominant and set him up for the win. Another Australian Paul Matthews was second with Damon Barnett from USA 3rd. Continuing with the Australian theme recent Ironman Aus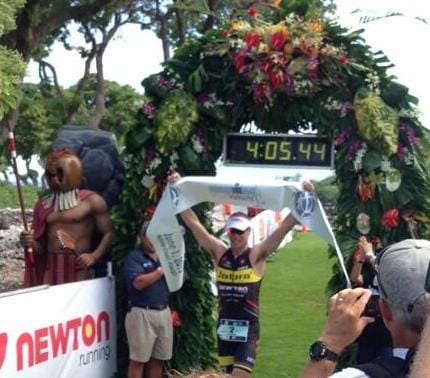 Craig Alexander has shown that he is back in business by winning the Hawaii 70.3 by over six minutes. Crowie's bike time was dominant and set him up for the win. Another Australian Paul Matthews was second with Damon Barnett from USA 3rd. Continuing with the Australian theme recent Ironman Australia Champion Luke Bell was fourth overall with one of the fastest runs of the day. Bell has shown a lot of form this year with a bit of bad luck seeing him out of the running at Auckland in January. He went on to come second at Geelong, was forced out of Ironman Melbourne and went on to record his first IM title at Port Macquarie.
Craig Alexander was questioning his future after Kona last year but with some contemplating and support from his wife Nerida he is back to his best. On the bike today he showed that he was a cut above the rest of the field with Luke Bell commenting on twitter that "Crowie the Uber biker, dropped us like a bad smell."
Paul Matthews had yet another strong race with a top finish. Matthews is usually on the podiums when he races 70.3 but this year has been finishing just outside the top 3. Today was a good result and we look forward to seeing more this year.
Missing from the top 5 was Pete Jacobs. After leading out of the water Jacobs lead out on the bike but after 10kms felt   himself slipping back with back pain becoming an issue. Towards the end of the bike he came good and went on to run well and post one of the faster run times of the day.
The Australian dominance continued with Belinda Granger winning the women's title yet again. Granger recently won Challenge Taiwan and seems to be in great form at the moment. Belinda is in some really good form at the moment and is racing strongly.
Sydney based English age group athlete Laura Siddall has shown the form we predicted in the race preview by coming in the the second fastest female time overall. Siddall is trained by former triathlon great Spot Anderson of Bondi Fit and does a lot of her bike work on a Computrainer at Sydney's Turbo Studio. Siddall is the current ITU 30-34 age group Olympic distance champion and is looking to step up. This result will go a long way to helping her achieve the dream. Siddall is yet another Shotz Sport Nutrition powered athlete after getting in touch with Shotz less than three weeks ago to get the final piece of the puzzle put together by one of the best in the game.
New Zealand's Julia Grant finished second pro and third overall. Grant has been building her results over the last couple of years.
One of the pre race favourites, Bree Wee was strongly placed in the lead until fading in the run. We are not sure of the reason at this stage. Wee out rode the other women by around six minutes. This may have contributed to the slow run.
It was great to see IM Talk's John Newsom finishing 10th overall. John ran a fast time and was rewarded with a great finish.
| | | | | | | | |
| --- | --- | --- | --- | --- | --- | --- | --- |
| Name | Country | Swim | Bike | Run | Finish | Div. Rank | Overall |
| ALEXANDER, Craig | AUS | 0:25:11 | 2:13:59 | 1:23:08 | 4:05:43 | 1 | 1 |
| MATTHEWS, Paul | USA | 0:25:06 | 2:18:57 | 1:25:01 | 4:12:13 | 2 | 2 |
| BARNETT, Damon | USA | 0:25:10 | 2:18:01 | 1:27:32 | 4:14:14 | 3 | 3 |
| BELL, Luke | USA | 0:25:06 | 2:23:30 | 1:23:40 | 4:15:44 | 4 | 4 |
| CONDON, David | USA | 0:30:49 | 2:17:49 | 1:26:58 | 4:20:09 | 1 | 5 |
| JEULAND, Jose | FRA | 0:28:31 | 2:25:26 | 1:23:04 | 4:21:00 | 5 | 6 |
| LEA, Rob | USA | 0:25:33 | 2:20:35 | 1:30:44 | 4:21:06 | 1 | 7 |
| WILLIAMS, Benjamin | USA | 0:29:06 | 2:26:23 | 1:23:08 | 4:22:31 | 6 | 8 |
| DE AZEVEDO ANTUNES FILHO, José Augusto | BRA | 0:28:28 | 2:25:24 | 1:25:53 | 4:23:47 | 7 | 9 |
| NEWSOM, John | NZL | 0:29:30 | 2:25:03 | 1:26:56 | 4:25:49 | 2 | 10 |
| | | | | | | | |
| Name | Country | Swim | Bike | Run | Finish | Div. Rank | Overall |
| GRANGER, Belinda | AUS | 0:29:54 | 2:36:26 | 1:33:58 | 4:44:36 | 1 | 31 |
| SIDDALL, Laura | GBR | 0:31:33 | 2:36:10 | 1:33:32 | 4:45:56 | 1 | 33 |
| GRANT, Julia | NZL | 0:30:15 | 2:40:09 | 1:31:51 | 4:46:46 | 2 | 35 |
| WEE, Bree | USA | 0:28:29 | 2:30:31 | 1:48:08 | 4:51:05 | 3 | 43 |
| ANDRES, Michelle | USA | 0:37:10 | 2:37:22 | 1:33:32 | 4:53:08 | 1 | 47 |
| HENGELS, Adrienne | USA | 0:35:06 | 2:37:56 | 1:39:37 | 4:56:59 | 4 | 55 |
| BROWN, Brooke | CAN | 0:34:43 | 2:44:03 | 1:37:56 | 5:01:33 | 5 | 70 |
| PEARCE-GIECK, Sarah | CAN | 0:34:00 | 2:46:16 | 1:38:37 | 5:04:48 | 2 | 81 |
| STEPHENSON, Nell Christine | USA | 0:37:39 | 2:46:39 | 1:35:54 | 5:06:05 | 3 | 89 |
| BATTIG, Alessandra | USA | 0:33:49 | 2:40:35 | 1:47:38 | 5:07:53 | 1 | 95 |