News & Racing
Australia's Fighting Fourth in Triathlon's Relay World Championship
Australia has finished a fighting fourth in a dramatic ITU Mixed Triathlon Relay World Championship in Hamburg overnight.  The Aussie foursome of Emma Moffatt, Aaron Royle, Ashleigh Gentle and Peter Kerr finished 38 seconds behind bronze medallists the USA with host country Germany takin
Australia  has finished a fighting fourth in a dramatic ITU Mixed Triathlon Relay World Championship in  Hamburg  overnight.
 The Aussie foursome of  Emma Moffatt, Aaron Royle, Ashleigh Gentle  and  Peter Kerr  finished 38 seconds behind bronze medallists the  USA  with host country  Germany  taking out the gold medal and  New Zealand  the silver in an action-packed event in front of a massive crowd.
 But there were dramatic scenes when defending and two-time champions, race leaders  Great Britain  were eliminated after Saturday's individual silver medallist  Non Stanford  crashed her bike in the third leg.
 The Brits had opened up a commanding lead after individual bronze medallist  Jodie Stimpson  and Olympic champion  Alistair Brownlee  had dominated the first two legs.
 And with the individual men's race winner in  Hamburg,  Jonny Brownlee, waiting in the wings a third successive gold medal looked ominous.
 Stanford had been attempting to extend  Britain's lead when she crashed, following news that the team had been given a 10-second penalty because of Alistair Brownlee's dismount from the bike.
 According to the BBC, Stanford was taken to hospital after the crash, but British Triathlon posted on Twitter: "Non is doing ok, thanks for all your concern, we'll pass on your good wishes to her."
 The determined Australians were in the medal mix from the outset when former two-times ITU World Champion and Olympic bronze medallist Moffatt had a happier day in the office after her disappointing 22nd place in the individual raced yesterday.
 She finished the first leg of the four x 300m swim, 6.6km bike and 1.6km run legs in a close-up fourth behind Stimpson, giving Royle every chance of hanging on and the reigning Under 23 ITU World Champion again showed enormous character and determination to maintain Australia's position "racing just three weeks after being released from hospital following his bout of pneumonia.
 Gentle, fifth in Saturday's individual race, was quickly able to catch up what she lost on the swim with a rigorous ride and run but as hard as anchorman Kerr tried he couldn't pull back the Americans and Kiwis for a podium finish but managed to keep the talented and fast-finishing French team at bay.
 Teams from  Italy, former champions  Switzerland,  Russia,  Canada  and  Japan  all finished behind the Australians.
 "That was a lot more fun then yesterday!" Moffatt wrote on Twitter. "Wish the teams relay was in Rio and well done to GER,  NZL,  USA, very exciting racing
!"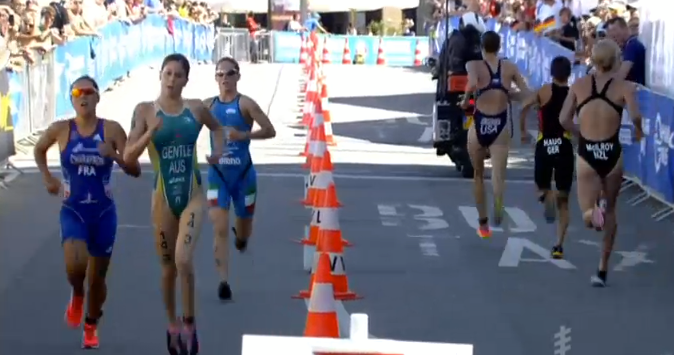 It was certainly a vastly improved result on last year from the new look Australian team.
 "There were doubters before the race about our team but in the end it was a very pleasing and encouraging result for  Australia," said High Performance Manager Bernard Savage.
 "They all did the job and Emma (Moffatt) showed her true form to hit back after her disappointment in the individual race; Aaron (Royle) again showed enormous strength of character; Ash (Gentle) did a great job as did Pete (Kerr).
 "You are never totally satisfied and a medal would have been nice but where we have come from, we have every reason to be excited about the future that's for sure.
 "Triathlon is a sport where you don't get to race in relays all that often and I was very pleased with the way the guys came together as a team; it's important to take care of your own business first and then the team's but there was a good feeling in the group and they all enjoyed the event that's for sure.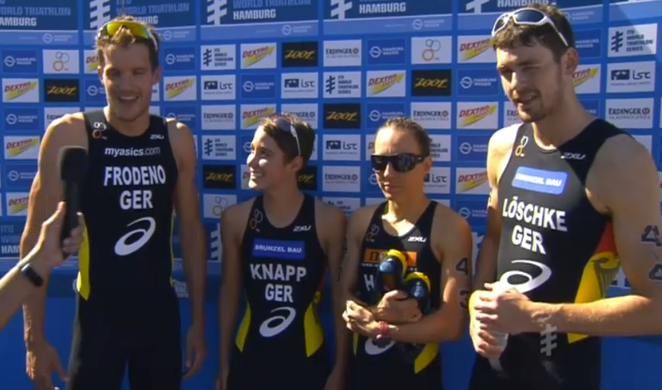 "It's disappointing (this event) is not in the Olympics but it is in the next Commonwealth Games in  Glasgow  and we have to be in with a real show for a medal along with  England  and certainly  New Zealand  after their performance today."
The Australian contingent will now return to their respective training camps in Spain, France and Switzerland to prepare for the Tiszaujvaros ITU Triathlon World Cup on August 11 before the next round of the WTS Championship in Stockholm (August 24,25) and the ITU World Championship Grand Final in London (September 11-16).
| | | | | | | | | | |
| --- | --- | --- | --- | --- | --- | --- | --- | --- | --- |
| 1 | Team I | Germany | GER | | 01:17:55 | 00:20:20 | 00:18:33 | 00:20:04 | 00:18:59 |
| 2 | Team I | New Zealand | NZL | | 01:18:14 | 00:20:08 | 00:18:34 | 00:20:27 | 00:19:06 |
| 3 | Team I | United States | USA | | 01:18:19 | 00:20:06 | 00:18:38 | 00:20:01 | 00:19:35 |
| 4 | Team I | Australia | AUS | | 01:18:33 | 00:20:10 | 00:18:29 | 00:20:41 | 00:19:15 |
| 5 | Team I | France | FRA | | 01:18:49 | 00:20:21 | 00:18:29 | 00:20:40 | 00:19:21 |
| 6 | Team I | Italy | ITA | | 01:19:00 | 00:20:17 | 00:18:37 | 00:20:30 | 00:19:37 |
| 7 | Team I | Switzerland | SUI | | 01:19:37 | 00:20:13 | 00:18:46 | 00:21:55 | 00:18:45 |
| 8 | Team I | Russia | RUS | | 01:19:40 | 00:20:33 | 00:18:59 | 00:21:21 | 00:18:48 |
| 9 | Team I | Canada | CAN | | 01:19:46 | 00:20:22 | 00:19:09 | 00:21:04 | 00:19:13 |
| 10 | Team I | Japan | JPN | | 01:19:51 | 00:20:19 | 00:18:54 | 00:21:09 | 00:19:30 |