News & Racing
Bart Aernouts wins Ironman France
Bart Aernouts of the Uplace-BMC Pro Triathlon Team has won Ironman France 2014. It is the first full Ironman victory for the seven-time half distance winner. Clocking in at 8:33:22, Bart Aernouts edged out Victor Del Corral (Spain; 08:37:23) and Tyler Butterfield (Bermuda; 08:40:56) for the win in N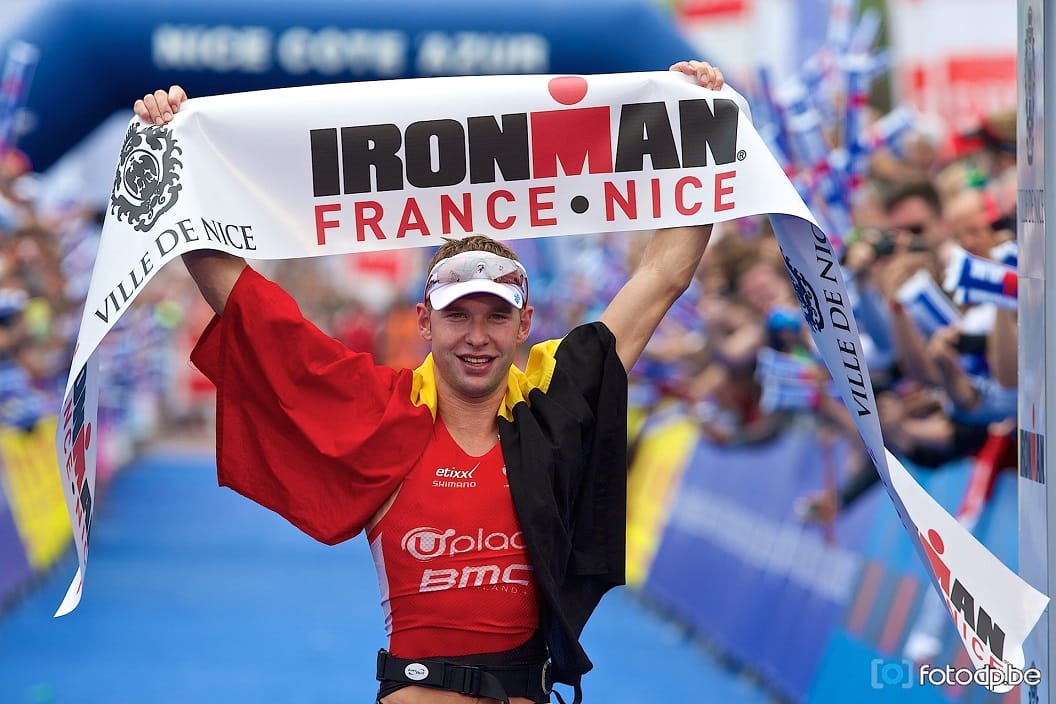 Bart Aernouts of the Uplace-BMC Pro Triathlon Team has won Ironman France 2014. It is the first full Ironman victory for the seven-time half distance winner. Clocking in at 8:33:22, Bart Aernouts edged out Victor Del Corral (Spain; 08:37:23) and Tyler Butterfield (Bermuda; 08:40:56) for the win in Nice. While Bart celebrated his win in France, his Uplace-BMC teammate Sofie Goos finished fourth in the Ironman Austria.
A strong bike leg of 4:46 on a tough bike course set up  Aernouts for the win but he didn't have it all his own way with a fast finishing Del Corral leaving no stone unturned as he attempted to hunt Aernouts down. There were some solid run times with 3rd place Tyler Butterfield posting a 2:49 to equal Bart's run time but both were 7 minutes slower than Del Corral who ran a 2:42.
Bart Aernouts has posted two of the fastest run splits at the last two Ironman World Championships and will be one to watch in the future.
Bart started the unseasonably miserable and rainy day in Nice with a strong swim. He came out of the water in 11th position, just 2:21 behind swim leader Wiltshire. But of course Nice is all about the bike leg. The race features one of the most iconic and challenging bike courses in the Ironman circuit. Bart didn't wait long to take charge in the chase group behind Jurkiewicz and Billard. On the Col de l'Ecre, about 70 kilometers in, he took the lead. But Billard was not far behind and when Bart slowed down a bit around the 100-kilometer mark, the Frenchman joined him. When Bart took a spill on the slick roads, Billard was gone, riding into T2 alone. However, Bart quickly caught him in the marathon. Despite a surging Del Corral, Bart was able to maintain a comfortable lead for a convincing first Ironman win.
Bart Aernouts had set his sights on Nice from the beginning of the year. "I am very happy I won here. I love this race. The irony is that I did the perfect race here last year and I finished second. This year I didn't feel as strong and I still managed to win. I had a great swim though. I did what I had to do and was able to stay with the main group. I lost a little bit of time in transition because my chain fell off, but once I was on the bike I tried to push the pace. I stayed with the chase group for 25 kilometers and then I attacked. That went quite well, but after I had taken the lead I started to struggle. Maybe I overdid it a bit in the beginning. That is when Bertrand joined me again. And when I crashed about 150 kilometers in, Bertrand took off. I knew I could catch him in the run, but I wasn't sure how far back the rest was. I wasn't feeling great in the marathon, so I tried to pace myself well in the beginning. Because Victor was running fast, I pushed hard in the third lap and I think that is when he cracked a bit. In the fourth lap I tried to enjoy it all. It is my first Ironman title and I hope it is not the last. I am especially pleased I have been able to make a contribution to the series of Uplace-BMC Pro Triathlon Team victories."