News & Racing
Blummenfelt Conquers Singapore for First PTO Win
After racing just two days prior in Paris, Kristian Blummenfelt displayed astonishing endurance and determination to win the PTO Asian Open triathlon in Singapore.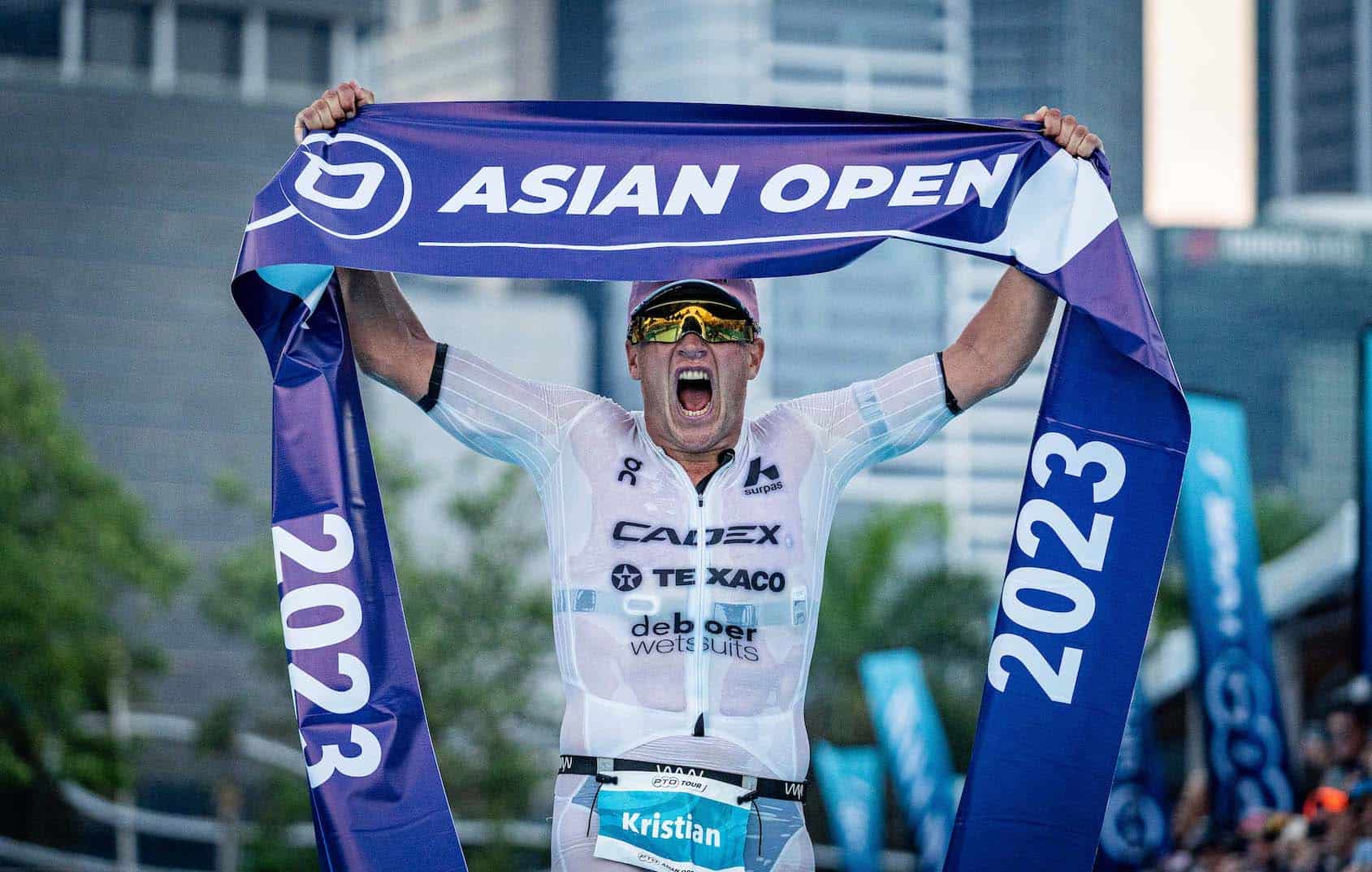 The PTO Asian Open triathlon in Singapore provided a thrilling showcase of world-class talent, with Kristian Blummenfelt overcoming a grueling travel schedule to claim a hard-fought victory.
The race began with a tight swim in Marina Bay, as the athletes completed two laps of the 1km course. Aussies Aaron Royle, Sam Appleton and Josh Amberger led out of the water, with the top 17 finishers separated by just 31 seconds. Blummenfelt was only 15 seconds back, while compatriot Gustav Iden was 31 seconds behind the leaders. Pre-race favorite Sam Long started nearly 4 minutes back in a blow to his chances.
The bike leg shook up the standings, as early leader Royle was soon overtaken by Blummenfelt and then 22-year-old German phenom Mika Noodt. By the third of eight laps, Belgium's Pieter Heemeryck had taken charge ahead of Noodt, Blummenfelt and Royle. Heemeryck continued to build on his advantage, starting the final lap with a 2:05 cushion on Blummenfelt. American Jason West, known for his running speed, was now over 4 minutes behind the leader.
Heemeryck rode solo into T2 with a 2:18 lead, but Blummenfelt was soon cutting into the deficit on the hilly 21.1km run course. Passing 10km, Blummenfelt had claimed the lead while West remained more than 2 minutes back. Sensing victory, Blummenfelt increased his pace over the final kilometers, entering the last 3km with 90 seconds on Heemeryck and nearly 3 minutes on West.
Striding down the finishing chute, Blummenfelt clinched the win in 3:20:48, an incredible performance just 48 hours after competing in Paris. His time of 1:00:29 for the half marathon run was the fastest of the day.
Heemeryck held on valiantly for 2nd place, while West's faded over the latter half of the run, ending in 3rd place. In a battle for 4th, Frenchman Denis Chevrot unleashed a late kick to overtake Sam Long and Daniel Baekkegard and claim the final money spot.
Earlier in the race, misfortune struck several top athletes. Pre-race illness forced Sam Laidlow to drop out early on the bike. Gustav Iden crashed out of contention, ending his day with 30km still to ride. Mechanical issues plagued Aaron Royle, Tom Bishop and Mike Phillips, while flat tires also disrupted several riders.
Blummenfelt's victory demonstrated astonishing durability and determination, as the Olympic champion showed no ill effects from World Triathlon Paris just two days prior. His win also marked a breakthrough on the PTO Tour after podium finishes but no victories in previous PTO events. With a $100,000 payday, Blummenfelt took a commanding lead in the PTO world rankings.
Heemeryck's runner-up finish continued his banner season, while West proved his run strength yet again. Long showed grit in working his way from far back into 5th place.
After a thrilling race filled with drama and surprises, the PTO Asian Open showed why Singapore remains a crown jewel on the triathlon calendar.
Kristian Blummenfelt (NOR) – 3:20:48
Pieter Heemeryck (BEL) – 3:22:47
Jason West (USA) – 3:24:03
Denis Chevrot (FRA) – 3:29:00
Sam Long (USA) – 3:29:11