News & Racing
Brad Kahlefeldt and Radka Vodickova sizzle at IRONMAN 70.3 Putrajaya
Putrajaya, Malaysia (April 12, 2014) Putrajaya was centre stage today for IRONMAN 70.3 Putrajaya where 1096 individuals and 56 teams took on the 1.9km swim, 90km bike and 21.1km run in temperatures of 90°F coupled with humidity felt like 109°F. Brad Kahlefeldt (AUS) and Radka Vodickova (CZE) took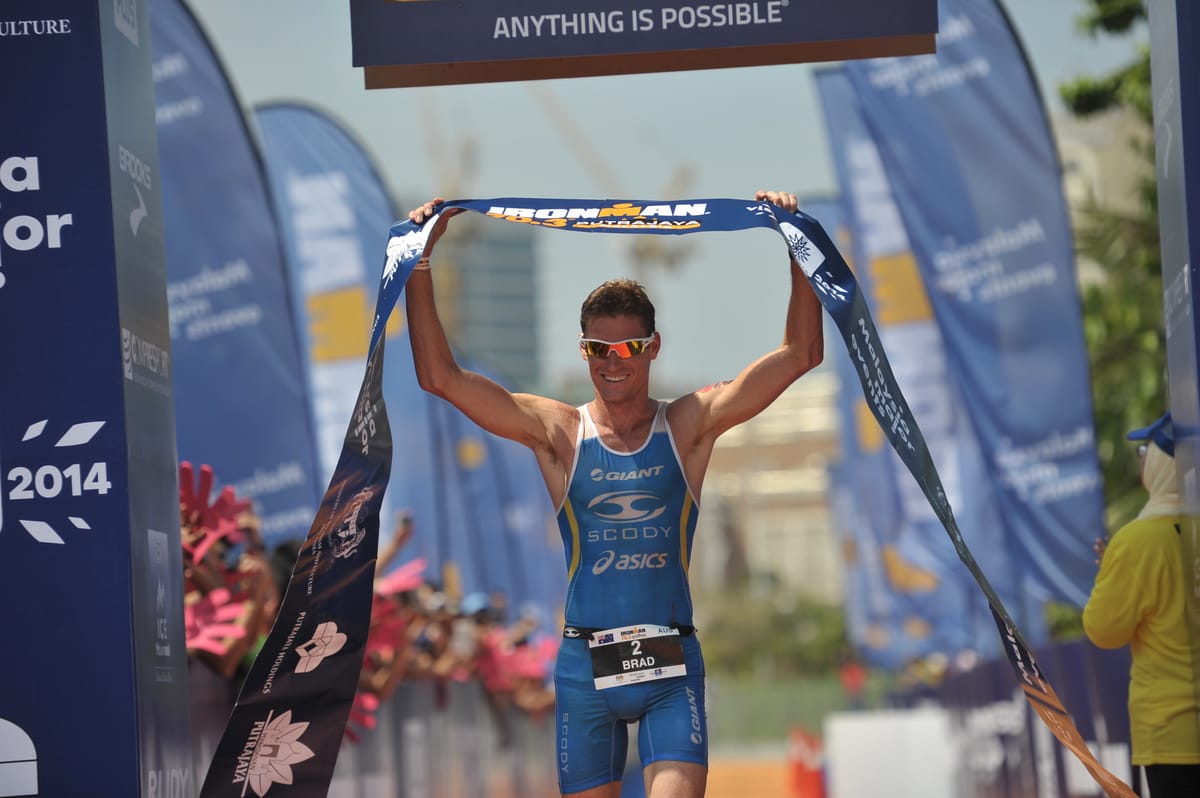 Putrajaya, Malaysia (April 12, 2014)
Putrajaya was centre stage today for IRONMAN 70.3 Putrajaya where 1096 individuals and 56 teams took on the 1.9km swim, 90km bike and 21.1km run in temperatures of 90 °F coupled with humidity felt like 109 °F.
Brad Kahlefeldt (AUS) and Radka Vodickova (CZE) took sizzling wins at the inaugural event today, for Kahlefeldt he was at the front of the field all day but had to run scared for most of the 21.2km. It was a different story for Vodickova after suffering two mechanical problems on the bike, she was running on frustration.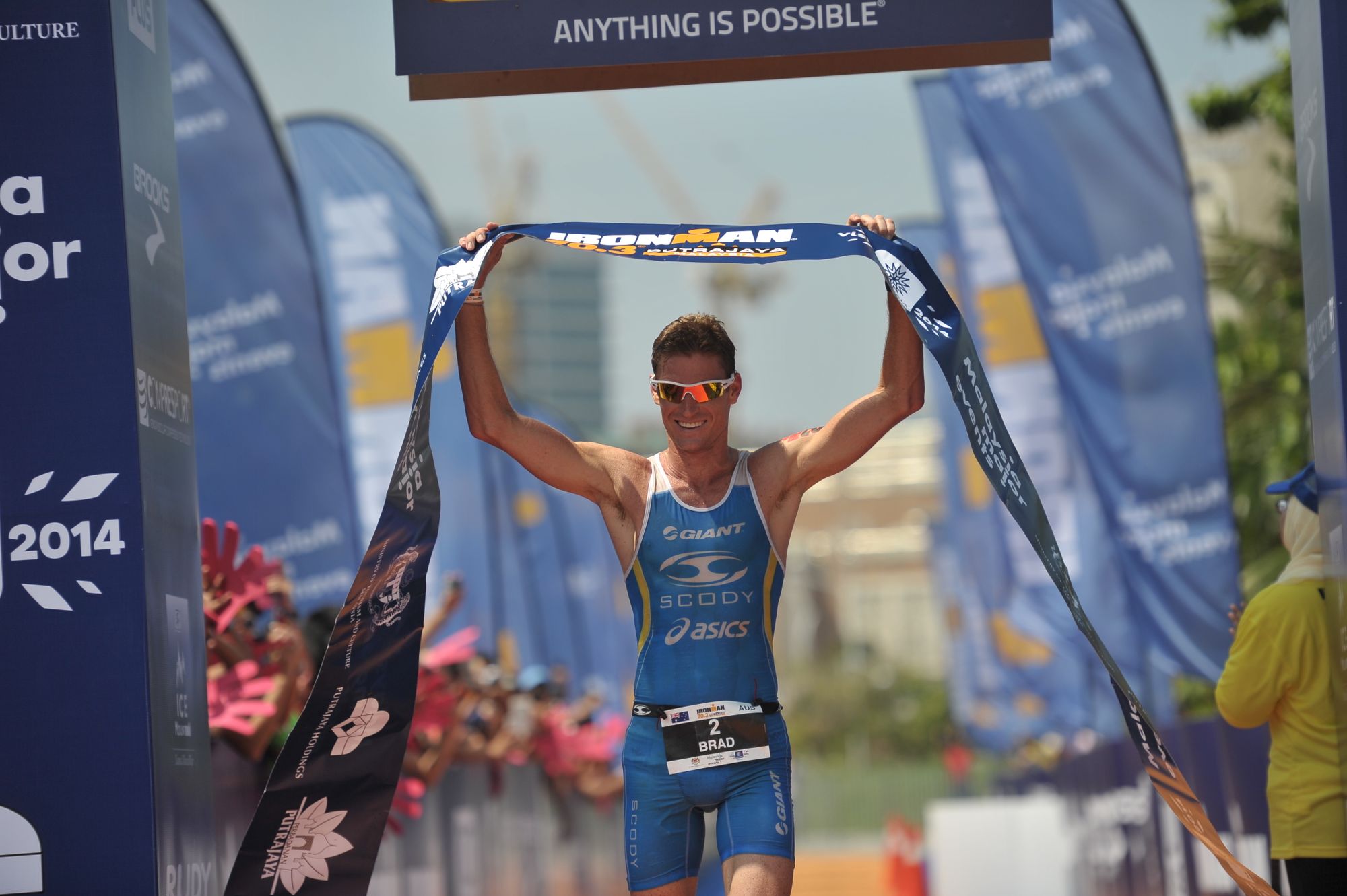 Brad Kahlefeldt (AUS) led out of the swim in the men's professional race and was pipped out of transition by Denis Chevrot (FRA). John Polson followed two minutes later and the three athletes controlled the front of the race all day. Coming into last transition Kahlefeldt was first in and out followed by Chevrot and Polson. It was then a case of running blind for Kahlefeldt as he was unaware of what was happening behind.
"It's a great run course, but from an athletes point of view (if you are at the front) it was really hard not seeing anyone out there," said Kahlefeldt.
"It definitely requires a different style of racing when in such humid conditions. The closing stages I really started to feel it. Hydrating early on the run is key and I am very happy to be able to take this win," he said.
Sweden's Frederik Croneborg has completed every IRONMAN 70.3 race in Asia and was glowing of the race and the course after crossing the line in fifth place today.
"This course gets my thumbs up for the best IRONMAN 70.3 course in Asia. The wide smooth fast roads and scenic run is great. It did get a bit lonely out there though," said Croneborg.
Radka Vodickova (CZE) took her first IRONMAN 70.3 win today here in Putrajaya in sizzling conditions. The Czech athlete who likens Malaysia to being a second home said at the press conference on Saturday that she hoped she would not let anyone down. She kept her promise.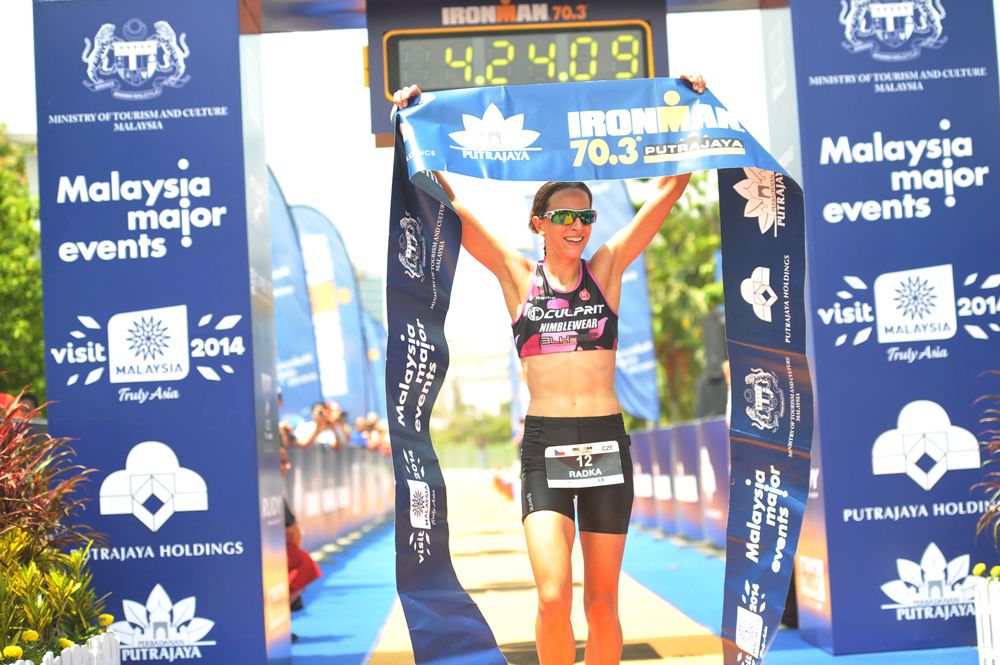 "I am so happy and delighted and happy (again) I could make the race interesting for spectators."
Following mechanical issues on the bike that caused Vodickova to stop twice, meant she was seven minutes behind pre race favourite Liz Blatchford (AUS) when starting the run.
I was angry (about mechanical issues) and I used that anger to run hard. I am used to the heat and know that I can cope with the heat."
When questioned about whether she will now step up to the IRONMAN distance, as Blatchford has successfully done. Vodickova replied; "Oh no. That's too long (pause), but then again, never say never."
It was Blatchford's first time racing in Malaysia and she admitted it wasn't her best race strategy.
"I didn't race smart today and I paid the price."
Three time IRONMAN World Champion and two time IRONMAN 70.3 Champion Craig Alexander was the swimmer in Team Crowie at IRONMAN 70.3 Putrajaya. The World Champion did get chicked in the swim but took it all in good humour admitting he hasn't been up to much for 3 weeks. "That girl took off like a rocket. And I didn't take it easy."
Alexander was at the finish line to meet his teammates, Albert Tan and Mohd 'Chott' for the team finish line shot.
Results
Women:
1. VODICKOVA, Radka CZE                00:26:42                  02:31:27                  01:22:11                                                                                                           4:23:09
2. BLATCHFORD, Liz AUS                      00:26:39                  02:24:34                  01:30:13                                                                                                           4:24:17
3. DUKE, Dimity-Lee AUS                        00:32:16                  02:32:20                  01:30:49                                                                                                           4:38:35
4. RABE, Katja DEU                                          00:30:52                  02:36:15                  01:42:00                                                                                                           4:52:07
5. RAYNOLDS, Matilda AUS                00:30:49                  02:36:17                  01:43:14                                                                                                           4:53:21
Men
1. KAHLEFELDT, Brad AUS                   00:24:52                  02:13:14                  01:15:08                                                                                                           3:55:36
2. CHEVROT, Denis FRA                          00:24:54                  02:13:19                  01:16:58                                                                                                           3:57:42
3. POLSON, John AUS                                  00:25:00                  02:13:16                  01:26:08                                                                                                           4:06:37
4. MARAIS, Stuart ZAF                                  00:28:16                  02:12:40                  01:24:42                                                                                                           4:08:38
5. CRONEBORG, Fredrik SWE          00:26:36                  02:18:34                  01:21:07                                                                                                           4:09:13
For additional information on IRONMAN 70.3 Putrajaya, please visit  www.ironmanputrajaya.com.
About IRONMAN
The iconic IRONMAN ® Series of events is the largest participation sports platform in the world. Since the inception of the IRONMAN ® brand in 1978, athletes have proven that ANYTHING IS POSSIBLE ® by crossing finish lines at the world's most challenging endurance races. Recognized for excellence through distinguished events, world-class athletes and quality products, IRONMAN has grown from a single race to a global sensation with more than 190 events across five unique brands: IRONMAN ®, IRONMAN 70.3 ®, 5150 "¢ Triathlon Series, Iron Girl ® and IronKids ®. For more information, visit  www.ironman.com.