News & Racing
Brisbane Triathlete Gillian Backhouse Adds OTU Oceania And Australian Olympic Distance Champs To Her Resume
Backhouse adds the Oceania and Australian Olympic Distance Championship titles to her growing accolades.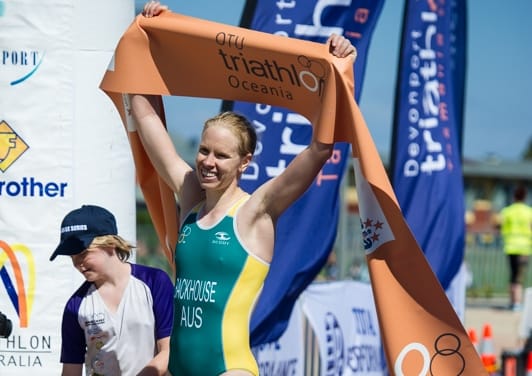 The women's race saw the continued re-incarnation of Brisbane triathlete Gillian Backhouse when she added the OTU Oceania and Australian Olympic Distance Championship to her resume.
Just two weeks ago Backhouse, 22, achieved her best ever elite result when she conquered the wind, the rain and the surf to win the Australian Sprint Championship at Elwood Beach in Melbourne.
And yesterday in perfect sunny conditions in Devonport her extraordinary 2014 success continued when she put her hand up for ITU Under 23 World Championship selection with another stirring victory.
"The training is paying off that's for sure and especially in the run leg, not just over the five kilometres but the 10 kilometres as well," said Backhouse who beat NSW pair Natalie Van Coevorden and Melinda Vernon.
"I moved across to QAS head coach Steve Moss after a stint with him in France last year and it's been really great training with Olympian Emma Jackson and Dan Wilson and our squad members and it has kept me on the ball."
Traditionally a strong swim-biker, Backhouse admitted she had to play catch up after coming out of the 1500m swim in the second pack.
"Most of the hurt was done on the bike; I was out of the water in the second pack and it was still a fairly solid swim but the girls in front me, like Maddy Allen, Natalie Van Coevorden and Penny Hayes are really strong swimmers," said Backhouse.
"I know Nat can run and I didn't want to let her get away on the bike so I really hammered the first couple of laps and fortunately I was able to get on and we worked pretty hard on the bike.
"We had to try and keep building on the gap to keep the likes of Melinda Vernon at bay and it worked out."
Vernon is a former Deaflympics gold and silver medallist who has switched from a 10,000m track runner to triathlon and is being coached by Australian coach Darren Smith in San Diego and produced an outstanding final 10km run after too working hard to catch the chase pack on the bike.