News & Racing
Brownlee and Lawrence Claim Victories at the 2017 Ironman 70.3 St. George
British athletes Lawrence and Brownlee are the new champions of the North American 70.3 Championships, standing atop podiums almost devoid of any North American athletes. Here's how the races played out Holly Lawrence tops field at 70.3 North American Championships Lawrence had been tipped to win th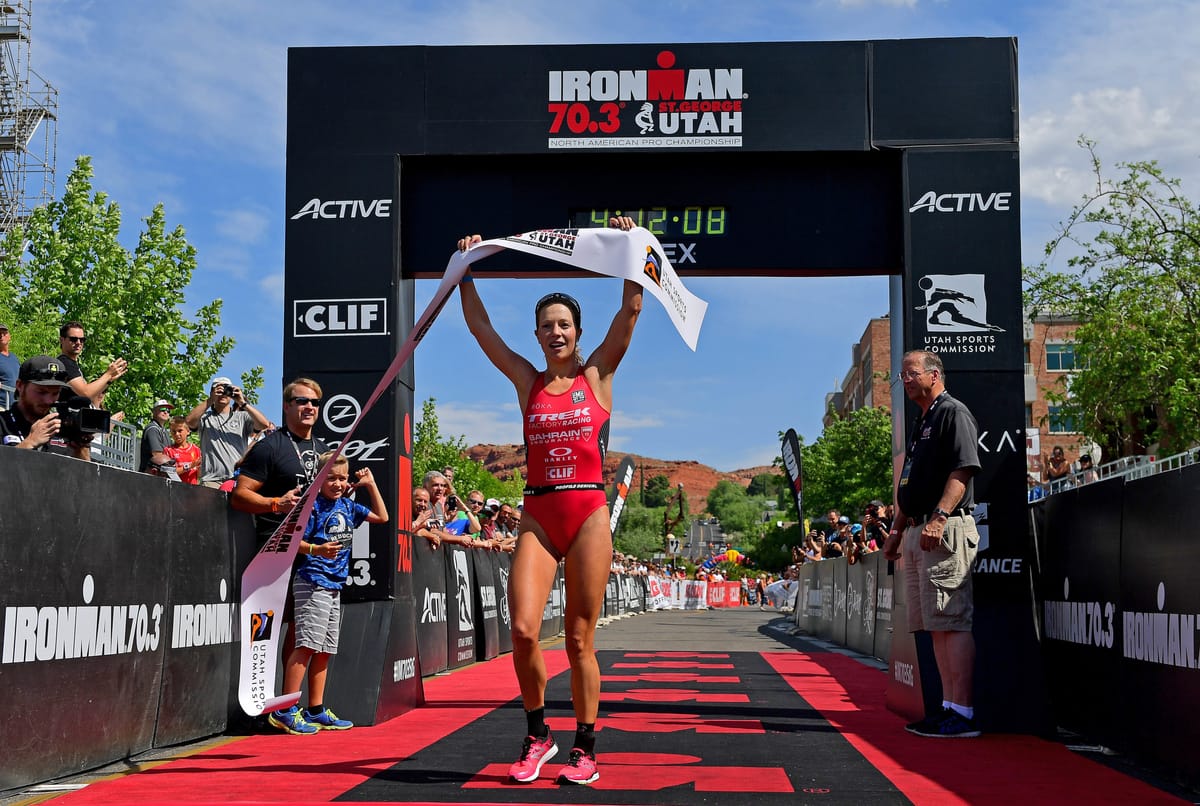 British athletes Lawrence and Brownlee are the new champions of the North American 70.3 Championships, standing atop podiums almost devoid of any North American athletes. Here's how the races played out
Holly Lawrence tops field at 70.3 North American Championships
Lawrence had been tipped to win the event, and her fierce swim placed her in perfect stead for the podium. Exiting the water with Jeanni Seymour and Australian Ellie Salthouse, Lawrence soared through the transition.
"I was able to get out of the transition quicker than they did," Lawrence said. "I knew I had to have a good time on the bike because I knew that they would close ground on the run," Lawrence told the St George News.
Surging ahead of Salthouse and Seymour on the bike, Lawrence created a seven minute gap between her and her chasers, but the run was a different story. Jeanni Seymour chased hard, closing the gap to just two minutes behind Lawrence but that's the closest she could get to the Welsh athlete and current Ironman World Champion. Lawrence finished in 4:12:07, ahead of Seymour who finished in 4:15:12 and Salthouse who ran into third in 4:22:25.
The podium had no North Americans, despite the event being the North American Championships. The lack of Americans could potentially be put down to the weather, as it was extremely hot. "It was hotter than I expected it to be," Lawrence said. "It was a tough race for me today physically. But I knew everyone else was racing in the exact same conditions."
Holly Lawrence 4:12:07
Jeanni Seymour 4:15:12
Ellie Salthouse 4:22:25
Rachel Joyce 4:25:46
Lesley Smith 4:27:44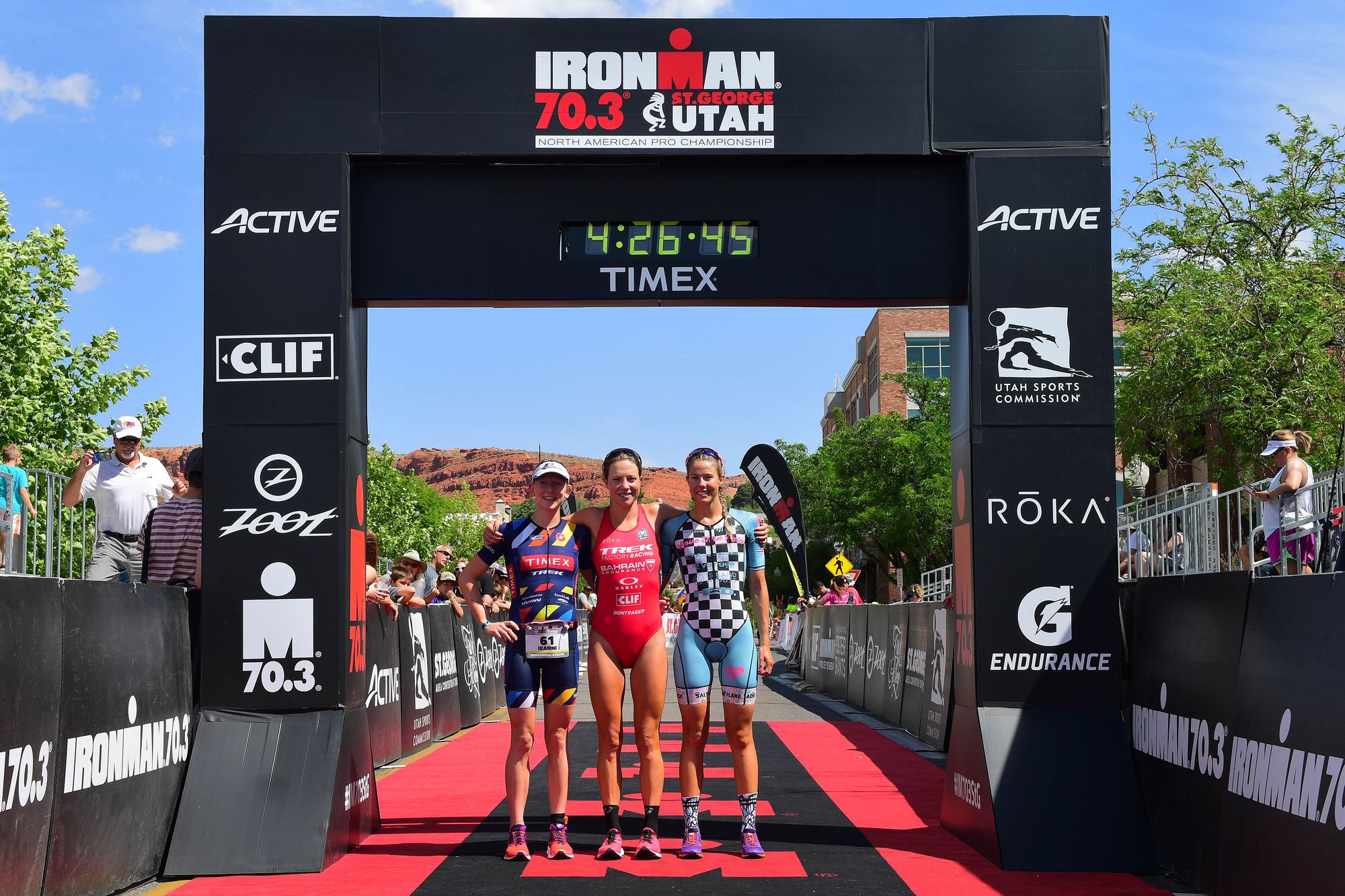 Alistair Brownlee wins 70.3 North American Championships
Everyone knew when Alistair Brownlee entered the Ironamn arena, he'd be a force to be reckoned with, and St George 70.3 was the perfect example. Brownlee found himself in the lead pack of four men, lead by Ben Kanute, as they exited the water. "I found Ben early and just did my best to stay on his legs in the swim," Brownlee said. "I was able to stay with him."
The lead pack was made up of Aussie Sam Appleton, Stuart Hayes, Brownlee, and Ben Kanute. As the bike leg got underway, Brownlee surged to the front, but little did he know Sebastian Kienle and Canadian Lionel Sanders were chasing him hard.
After T2, Brownlee maintained his lead but after the first six miles, he began to slow. "I had trouble getting fluids down all morning," Brownlee said. "After the first 6 miles I still had a bit of a lead so I began to slow my pace. I wanted to make sure I finished."
With Brownlee seeming to fade in the lead, Sanders closed the gap between them to just 65 seconds, but he thought the leader may be toying with him.
"I figured he was toying with me," a smiling Sanders said after the race. "Now I know for sure he was. We all knew that when (Alistair Brownlee) entered the Ironman arena that it would elevate the competition for all of us," Sanders told the St George News. Despite closing in on the Brit, Sanders couldn't quite catch Brownlee, who finished just 30 seconds ahead in 3:41:58.
"This was a tough course and a tough field," Brownlee said. "Every course is tough. Here when I was biking up the hills I knew at least that I would also be going down them as well. But the competition here is world-class. I could have done easier races but I wanted to measure myself against the top runners in Ironman."
Kienle finished in third place, but to him, he jokingly considers it second. "I was happy to finish second in the 'human' category," the German native said.
Alistair Brownlee 3:41:58
Lionel Sanders 3:42:31
Sebastian Kienle 3:46:20
Tim Don 3:48:26
Ben Kanute 3:50:29
Trizone wishes both British athletes a huge congratulations for their incredible results in such a tough event.