Gear & Tech
CADEX Tri Frameset – discover the ins and outs of a revolutionary triathlon machine
CADEX have produced an outstanding triathlon bike that is heavily customisable and now battle tested by the worlds best.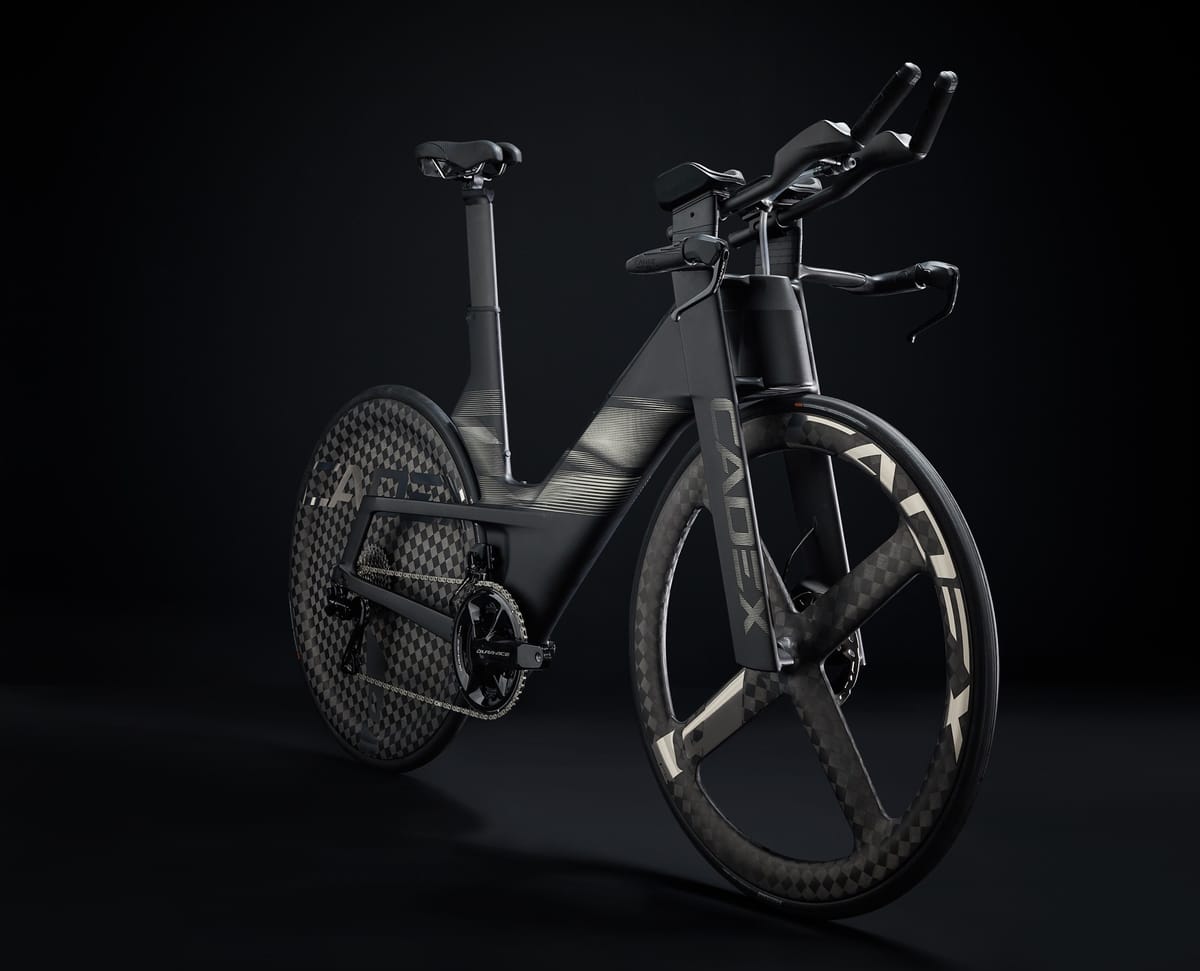 Elite athletes depend on premium gear with a high degree of customisation – thanks to a collaboration with CADEX, Norway's Kristian Blummenfelt secured the Sub7 Ironman record in Brandenburg, Germany.
In pursuit of what many see as improbable, even impossible, CADEX creates the best-performing cycling components available to riders today. Mastery of materials and production defined by advanced research is behind their long-time success. Designed, engineered, and put to the test by elite triathletes, the next-generation CADEX Tri Frameset is built to beat the records.
Professional triathlete Kristian Blummenfelt is in the business of pushing his body, and skillset, forward. He used the latest CADEX Tri frameset to win the Ironman world championship and the seven-hour Ironman barrier at the Pho3nix Sub7 event in Germany. Blummenfelt's hard-charge style and relentlessness led to a historic Sub7 victory on June 5th.
Beating the Ironman 70.3 world record by five minutes, Blummenfelt remains the first triathlete to win the Olympics and Ironman World in one year – he knows what it takes to compete. The elite competitor won his first-ever attempt at the Ironman Worlds atop the CADEX Tri frame. How did the latest technology from CADEX lead him to the gold?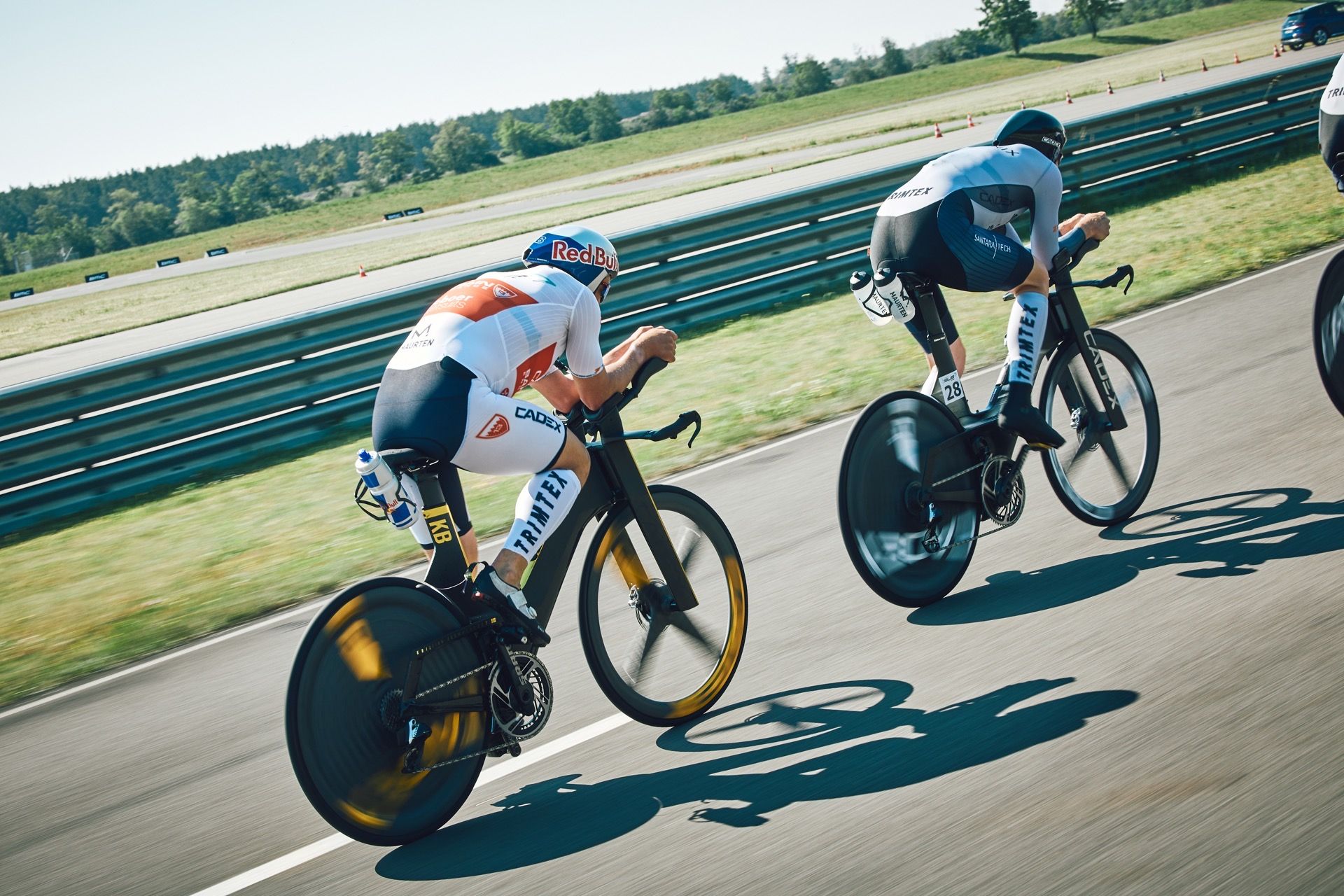 His unprecedented iron-distance record is possible thanks to his work alongside CADEX. Blummenfelt played a major role in the development of the CADEX Tri Frameset. A dynamic team of scientists, athletes, and technicians set out to produce an extraordinary machine built to conquer triathlons.
Engineers analyzed real-world dimensional data from 150 pro and amateur triathletes. Aero System Shaping Technology tapped data from computational fluid dynamics and wind tunnel testing to holistically optimize shape. The result is five frame sizes fully customizable to suit flexibility, core strength, and preferred race distances. Blummenfelt used the model to smash the seven-hour Ironman barrier with an impressive time of 6:44:25.
The CADEX Tri frameset focuses on form with function. Unlike any road or time trial bike we've ever seen, the groundbreaking frame allows riders to stay tucked into an ideal aerodynamic position throughout any race. A high-grade T1000 carbon fiber frame integrates industry-leading components that maximize overall speed and handling. Everything needed to test the record books is tucked inside a nicely aero down tube that remains invisible to the wind. With a total weight of under 4,577 grams, over 500 grams less than any competitor, the latest Tri Frameset remains light – yet structurally solid.
CADEX Tri Aero Dual Crown Fork is part of a larger system that encourages airflow throughout one connected system. The fork's bladed legs connect the front wheel directly to the cockpit, a feature that minimizes overall flex. With better control, riders like Kristian Blummenfelt reach new levels of success – further pushing the sport of triathlon into the 21st century. Extensive testing shows the wide-spreading form keeps air flowing through a long, bladed design – airflow is directed past the rider to the streamlined rear profile.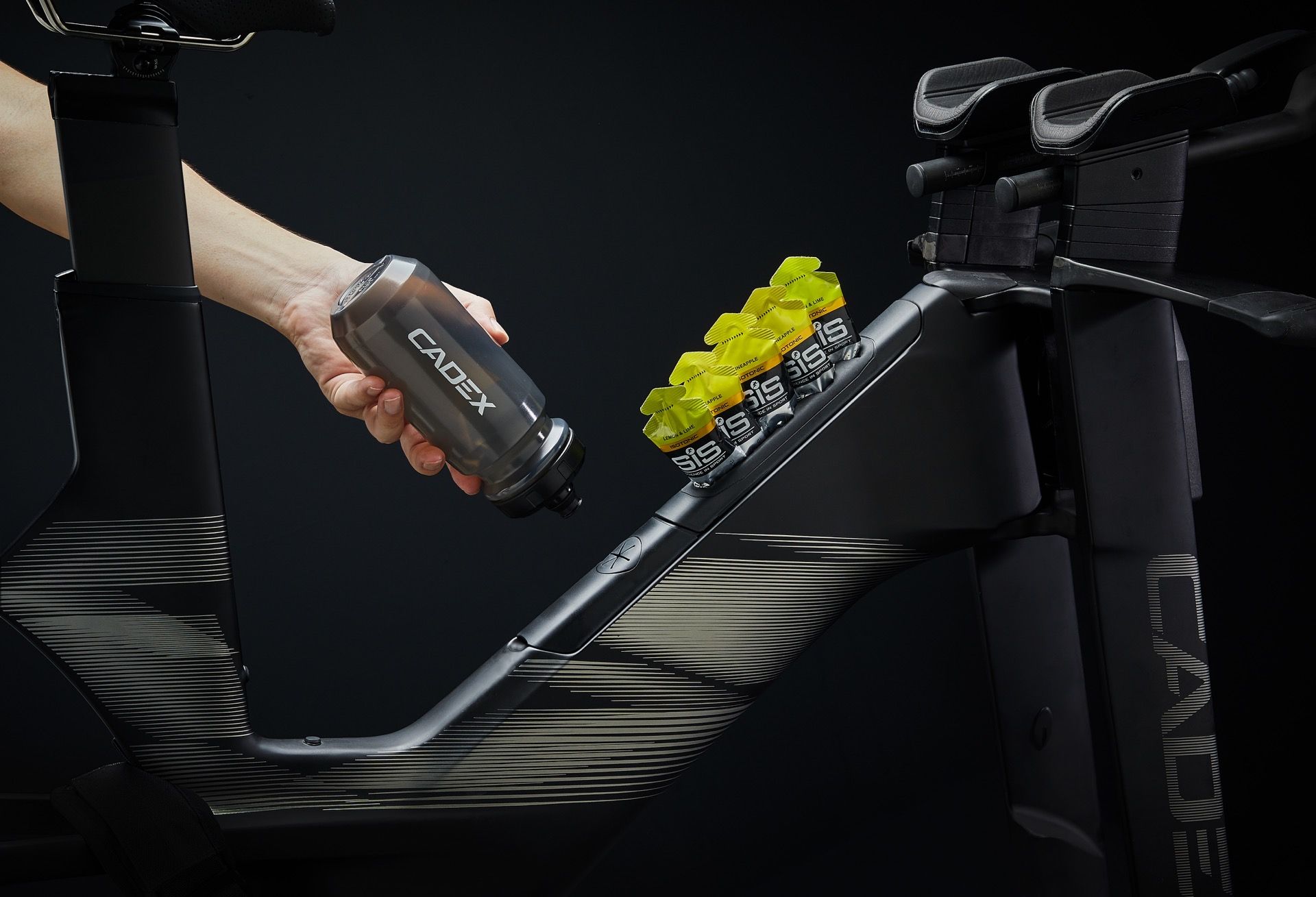 The success of a rider depends on how well the bike fits – this beyond-conventional CADEX frame adapts to meet the specific needs of individual riders. Here a high degree of personalization optimizes performance. It's more than just height, leg length, and body proportions. Variables such as flexibility, core strength, and preferred race distance determine different setups for otherwise similar athletes. Over one thousand possible configurations allow athletes to fine-tune adjustments as they train.
Blummenfelt knows the importance of adaptability.
Over the course of 180 kilometers, small changes add up. And sometimes what works in the wind tunnel doesn't work as well out on the road. Having the ability to make these adjustments quickly and easily is a game-changer when you're trying to optimise your position and fit.
An integrated cockpit features independent, angle-adjustable setups and arm extensions. X Sync Ergonomic Components serve as pedals, saddle, base bar, armrests, and bar extensions. Riders can raise or lower 80 millimeters of stack height without moving extension bars. A quick-release routing system allows cables to remain in place while making adjustments. Arm rests move forward or back 90 millimeters in 15-millimeter increments. The angle-wedged width adjustable rests sit below the arms to increase contact and boost stability.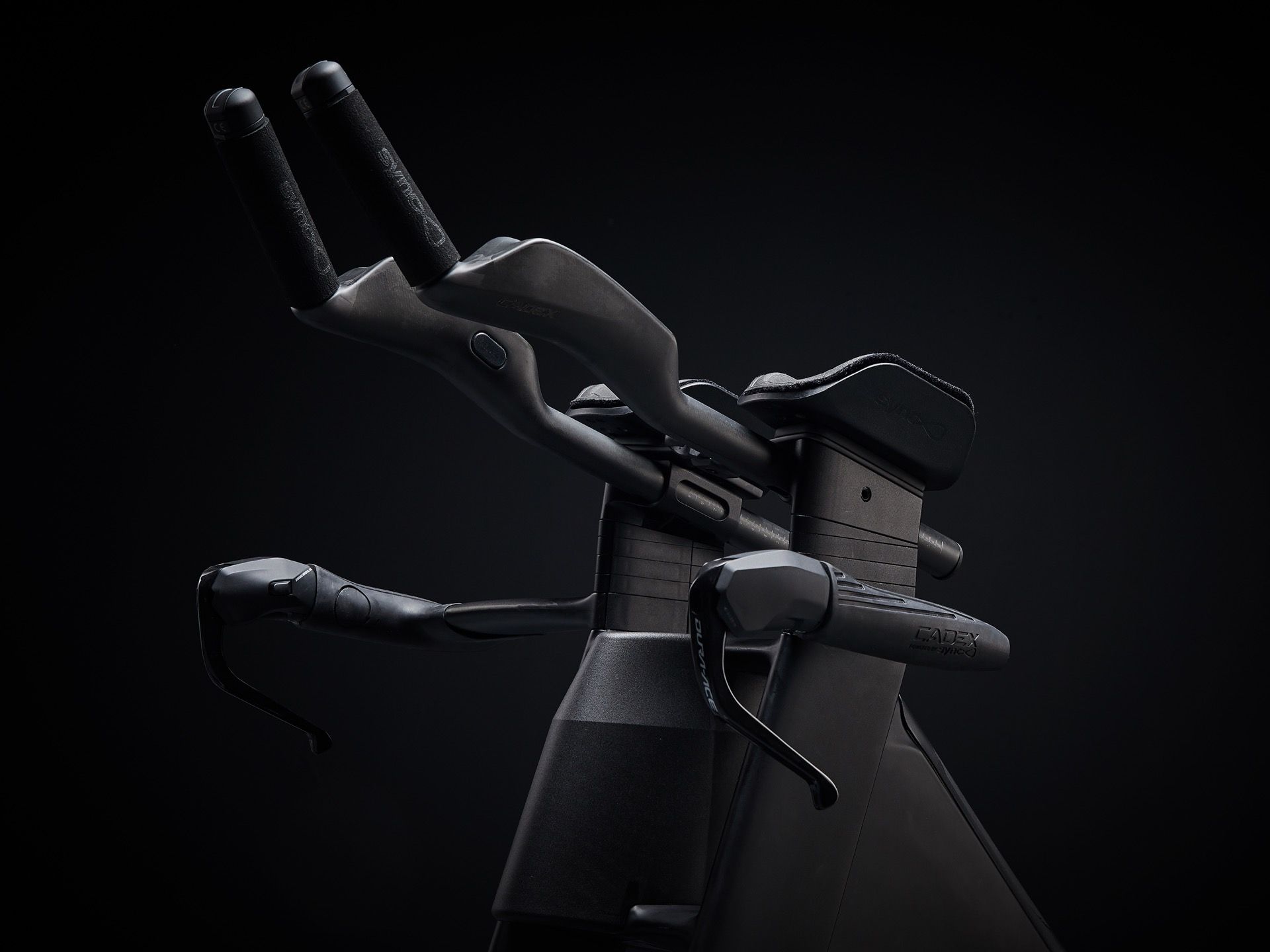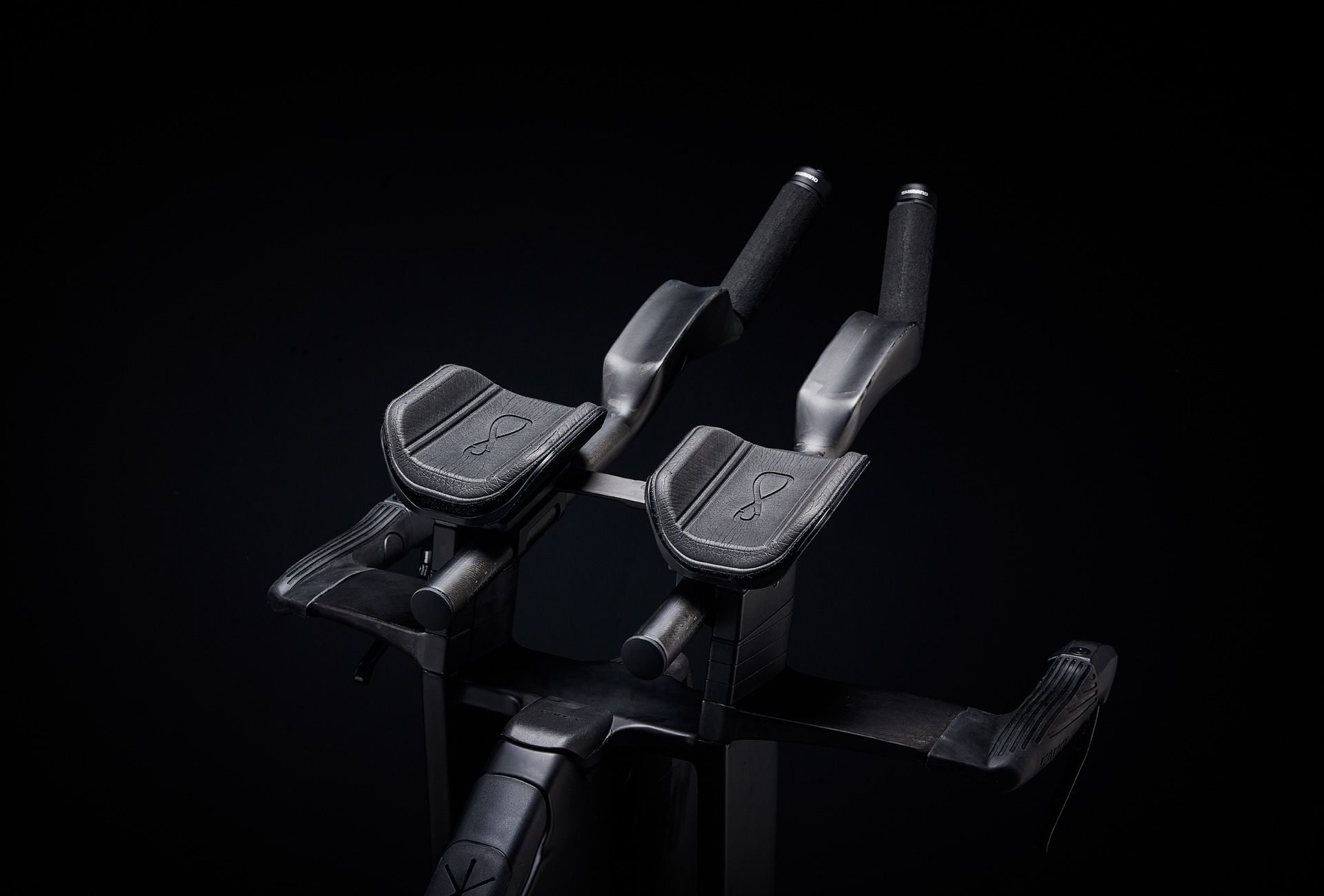 Seat position matters. The aero post sits at an effective tube angle that can be adjusted via a saddle setback position. The clamp on the seat post provides an independent fore/aft saddle adjustment range of 70 millimeters. Here athletes find a comfortable position where they can keep an eye on the finish line.
Availability of key nutrition, hydration, and other essentials without losing time is a challenge for triathletes. CADEX's Race Ready Integration system provides anything one needs to go the distance in all races. Fully integrated food and fluid systems alongside handy tool storage maintain total efficiency on the road. Easily accessible and aerodynamic, an optional bento box holds up to ten thirty-two-millimeter. Further down the tube, a rubber-covered compartment secures energy bars or other containers that are always within reach.
Self-efficiency throughout a race or training is important. An internal bladder holds 600 hundred 1000 milliliters of fluid, dependent on frame size. Riders may drink via a straw that extends from the aero cover at the head tube – thanks to this system, athletes hydrate hands-free without affecting aerodynamics. The frame's integrated toolbox in the bottom bracket area comes with a multi-tool, tire lever, and CO2 inflator.
CADEX knows athletes like Kristian Blummenfelt must travel. The Tri frameset comes with a Topeak Pakgo customised makrolon shell travel case. An integrated work stand allows triathletes to work on their equipment wherever they go. To keep things simple, the frame can fold upon itself without disassembly and fit into the polycarbonate shell. Wheels and airline compliance make this a pain-free way to travel. Simple spacers, fewer screws, and cleanly integrated cable ensure readjustments are easy on the road.
The CADEX Tri frameset achieves what it was built to do – smash world records and reimagine the sport of triathlon. The frame proved itself successful in terms of setting records and reimagining the sport of triathlon. Blummafelt's 6:44:25 Sub7 record in Brandenburg, Germany is a testament to the power of this revolutionary design. Uncompromised efficiency for real-world Ironman racing comes in this aerodynamic, light, and stiff frame.