Camilla Pedersen Wins Ironman European Championship in Frankfurt – Results
Camilla Pedersen has claimed her first Ironman victory in what was her first Ironman event in Frankfurt yesterday. The victory however didn't come easily, having to chase down Great Britain's Jodie Swallow who up until then had held the lead from the gun. Jodie Swallow showed her true cl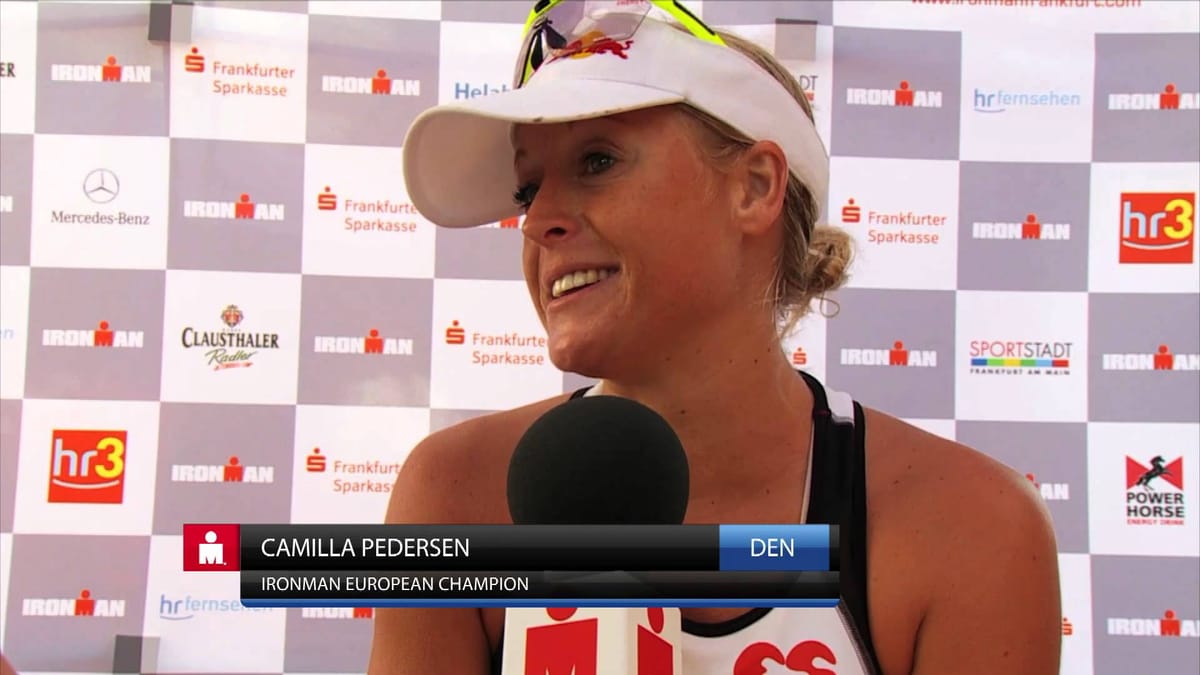 Camilla Pedersen has claimed her first Ironman victory in what was her first Ironman event in Frankfurt yesterday. The victory however didn't come easily, having to chase down Great Britain's Jodie Swallow who up until then had held the lead from the gun.
Jodie Swallow showed her true class in the swim, not only leading the women's race from the water, but exiting amongst the lead group of pro men, including Eneko Llanos. Jodie reported via teamTBB "The swim at Frankfurt was carnage as I tried to play by big men rules of pack swimming but not in fact being a big man. No tears this time despite a few big clouts on the head. It was really rough and always challenging to stay with the men when we exit the water mid way and run up beaches. I swam well though and I felt comfortable."
Jodie continued to dominate the race throughout the bike, leaving Camilla Pedersen, Regula Rohrbach, Sofie Goos, Mirjam Weed, Anja Berenek, Lucie Reed and Mareen Hufe to continue chasing.
However it was Kristin Moeller of Germany who put on a brilliant display out on the marathon course, with a 2:57:13 to chase down the final podium position. Kristin ran herself into third position but missed a sub 9 hour finish by just shy of 2 minutes.
Camilla Pedersen adds this Ironman victory to her growing resume of podium finishes, including victories in many Challenge events, most recently Challenge Half Aarhus in June and Challenge Half Barcelona in May. Add to this a second place finish in Ironman 70.3 Panama City and third place in Ironman 70.3 San Juan and 2013 is shaping up to be a great year for Camilla. A sub 9 hour Ironman on debut is a superb effort on any account, and when combined with a victory is something Camilla ought to be smiling about for many years to come!
Camilla's pre race tweet says it all: "And I'm ready to dig deep, suffer and work HARD…whatever it takes, I take it as a challenge! 🙂 IRONMAN". The Danish superstar sure dig deep to chase down Jodie Swallow, and to fend off the fast running Kristin Moeller of Germany.
Final results from Ironman European Championship, Frankfurt Germany.
| | | | | | | |
| --- | --- | --- | --- | --- | --- | --- |
| Name | Country | Swim | Bike | Run | Finish | Div. Rank |
| Pedersen, Camilla | DEN | 0:48:08 | 4:54:20 | 3:09:29 | 8:56:01 | 1 |
| Swallow, Jodie | GBR | 0:46:09 | 4:50:36 | 3:17:40 | 8:58:43 | 2 |
| Moeller, Kristin | GER | 0:57:06 | 5:03:10 | 2:57:13 | 9:01:55 | 3 |
| Goos, Sofie | BEL | 0:51:28 | 4:59:53 | 3:11:57 | 9:07:43 | 4 |
| Lyles, Elizabeth | USA | 0:53:18 | 5:10:04 | 3:01:56 | 9:09:44 | 5 |
| Nyström, Eva | SWE | 0:57:51 | 4:58:55 | 3:10:43 | 9:11:47 | 6 |
| Hufe, Mareen | GER | 0:55:06 | 4:55:23 | 3:17:02 | 9:12:24 | 7 |
| Weerd, Mirjam | NED | 0:52:12 | 4:52:58 | 3:23:16 | 9:13:11 | 8 |
| Sämmler, Daniela | GER | 0:51:29 | 5:02:37 | 3:16:32 | 9:14:51 | 9 |
| Blatt, Susan | GER | 0:54:20 | 4:59:34 | 3:18:17 | 9:16:51 | 10 |
| Rohrbach, Regula | SUI | 0:54:16 | 4:50:43 | 3:35:33 | 9:25:34 | 11 |
| Wernick, Charisa | USA | 0:55:54 | 5:14:59 | 3:27:28 | 9:44:01 | 12 |
| Ferreira, Amber | USA | 0:52:14 | 5:18:14 | 3:30:01 | 9:46:37 | 13 |
| Lemeseva, Maria | RUS | 1:02:35 | 5:19:23 | 3:22:34 | 9:49:53 | 14 |
| Carritt, Joanna | GBR | 0:56:45 | 5:20:04 | 3:28:21 | 9:50:16 | 15 |
| Bohn, Julia | GER | 0:56:38 | 5:28:11 | 3:23:49 | 9:53:33 | 16 |
| Lie, Kristin | NOR | 1:05:53 | 5:06:53 | 3:35:30 | 9:54:04 | 17 |
| Woysch, Nicole | GER | 0:55:26 | 5:17:14 | 3:42:04 | 10:00:05 | 18 |
| Van Rooijen, Carla | NED | 1:09:48 | 5:13:20 | 3:35:42 | 10:04:19 | 19 |
| Felt, Silvia | GER | 0:59:19 | 5:04:46 | 3:57:06 | 10:05:59 | 20 |
| Schmitt, Natascha | GER | 0:51:36 | 5:28:39 | 3:45:21 | 10:10:58 | 21 |
| Pekerman, Nina | ISR | 0:56:00 | 5:22:46 | 3:47:12 | 10:12:26 | 22 |
| Hallett, Kristy | AUS | 0:59:20 | 5:25:03 | 3:46:15 | 10:17:36 | 23 |
| Shigaki, Megumi | JPN | 0:57:52 | 5:33:28 | 4:35:03 | 11:11:52 | 24 |
| Beranek, Anja | GER | 0:48:19 | 4:59:27 | 0:00:00 | 0:00:00 | 25 |
| Reed, Lucie | CZE | 0:48:01 | 5:13:00 | 0:00:00 | 0:00:00 | 26 |
| Braendli, Simone | SUI | 0:52:58 | 5:08:10 | 0:00:00 | 0:00:00 | 27 |
| Grossrieder, Monique | SUI | 0:59:24 | 0:00:00 | 0:00:00 | 0:00:00 | — |