Caroline Steffen ready for Ironman World Championship in Kona
Catching up with Caroline Steffen is always such a pleasure, never without a smile on her face and a funny story to share. It's with no surprise that Caroline is feeling a little nervous, it is after all the biggest race of the season; even so the Swiss Miss manages to disguise this with relaxed [&h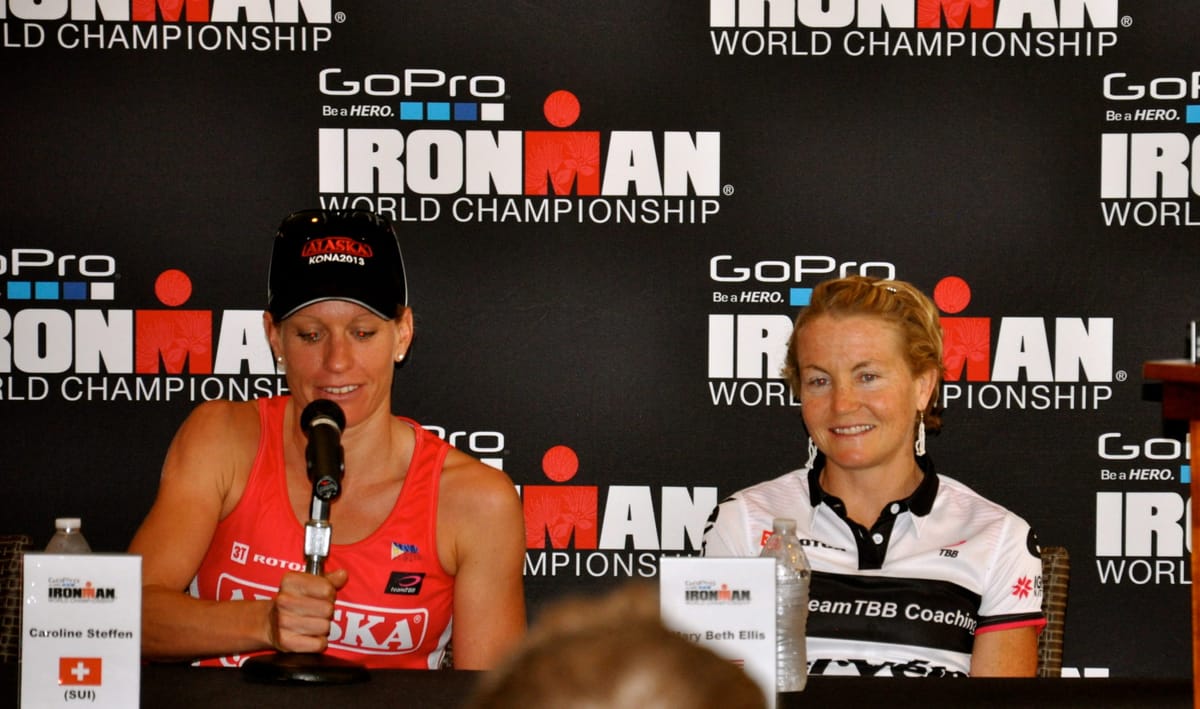 Catching up with Caroline Steffen is always such a pleasure, never without a smile on her face and a funny story to share. It's with no surprise that Caroline is feeling a little nervous, it is after all the biggest race of the season; even so the Swiss Miss manages to disguise this with relaxed composure.
Speaking to Steffen it's hard not to think of Chrissie Wellington's words at the press conference back in 2008, the year following her first title. When asked in what discipline she had improved, Wellington replied, "I've improved them all. I'm swimming faster, I'm biking faster, and I'm running faster too!" Steffen reported a similar story in a very humble way, as she spoke about her year thus far and her preparation leading into the one major race on the circuit that she is yet to win.
This year Steffen is looking lean, yet even stronger than last year. This she attributes to cutting back on her much loved food, chocolate, cutting her daily consumption of a 100g block back to just one a week. This past week she's even abstained completely, but rest assured she will be sticking to her pre-race breakfast of a Mars Bar on Saturday morning. You'll also find a Mars Bar in her X-Lab bento box for fuel on the bike, not tucked into her shorts as was mistakenly done in two years ago, resulting in a sticky, undesirable looking mess. "It looked like I had poo in my pants!" laughs Steffen.
Earlier this year Caroline chose to remain at home on the Sunshine Coast of Australia, to spend some time in the place she loves most, and to work on her swim; a discipline of which her performance has been frustrating her to no end. Under the warmth of the hot summer sun, Steffen spent 3-4 months in the pool every day, even if it was jumping in for 2km on her rest days. Her focus was not on speed, rather on concentrating on her stroke and getting her feel back for the water; something she had lost in recent years the bike/run focus she had adopted. Upon return to camp in May Steffen reported that her coach, Brett Sutton, was very pleased with what he saw, giving feedback of an improved stroke and body position in the water. Steffen will be swimming in a Huub SKN-1 on Saturday.
Another area Steffen has reported frustration with is her bike setup, which she struggled to get comfortable with last season. Steffen is now riding a larger frame, a 56cm Cervelo P5, with a standard 3T base bar as opposed to the integrated P5 bar system. Steffen also uses an adjustable "goose-neck" stem to get an even lower set up for her base bar, and has adopted a longer reach to correct the cramped position she had felt on previous setups. On the hydraulic brakes, "yes of course, they are lovely, but why does everyone ask about the brakes! I don't really need them, so I'm not so worried about them!" Editor's note: Steffen may not be looking to use her brakes too much on Saturday, but the new hydraulic brake system on the Cervelo P5's is impressive, so we'd recommend you check them out at www.cervelo.com.
A change this year thanks to On Running, Steffen will be sporting a new pair of On Cloud Racers, made especially for Kona. Green in colour, she appeared surprised by the number of comments of her looking like a Christmas tree on race day, with her red teamTBB Philippines race kit and green shoes. The Swiss Miss even had to get a new fuel belt to avoid a further colour clash, going with "boring black, but at least it looks better than pink on my Christmas tree outfit!" Despite this it's not going to matter what colours Steffen is wearing, who reports to be flying on the run leading into the race, with her times in training being faster than ever before for her training sets.
Taking a look at Steffen in her home environment, she reported having bought a cruiser bike to ride down town to grab a coffee, and to swim training in the mornings. Weighing in at around 20kg, and with only three gears, her new steed is far from the fine tuned piece of machinery she is used to training and racing on. Steffen reported Monday's ride home from swim training as OK, but as the week went on the steep hill up to her house seems to grow steeper and longer with each day that passes. By Friday she laughs, "I can't even ride up there, I have to get off and walk! It's so heavy!"
Although Steffen loves training in her home environment on the Sunshine Coast of Australia, she still makes a few trips into camp to train under the watchful eye of coach Brett Sutton. Cozumel was the location of choice for teamTBB athletes racing in Kona this year, and Steffen says she understands why! "The conditions are perfect, it's hot, windy, and safe to train. A month there was perfect, but not for much longer! There is only one road, and it gets boring! On the second day I said to Skippy (one of Steffen's training partners) I am bored already!" Despite this the conditions have prepared the teamTBB athletes well, with Steffen reporting that Kona "doesn't even feel hot", and there's not a sign of sweat on her impressively fit and strong looking body. Brett Sutton may have just discovered a gem of a training location to prepare his athletes for Kona each year.
Another fellow teamTBB athlete racing this year is Jodie Swallow, being her first time racing in Kona. Swallow would have to be the strongest female swimmer on the circuit, and although Steffen reports "I always try to swim with the fastest swimmers" she admits it could be a couple of minutes deficit to Swallow coming out of the water. In previous years Steffen has raced hard to get to the front of the race, although this year is more than happy to let someone else take the spotlight off the front. "It's tiring being at the front. There are so many cameras on you, it's a long day, and it makes you very tired. I am happy to race behind and chase a little for a change".
The only part of this year's preparation that has been thrown a little off course was the crash and subsequent injuries of teammate Mary Beth Ellis. Steffen and Ellis had a close battle last year, and with similar strengths the two athletes were looking forward to working strategically to help each other to the finish line as quickly as possible. Despite Ellis still racing, and most likely a contender despite her injuries, it would be fair to think that Steffen may find herself without Ellis coming out of the swim. Perhaps not a big deal, and Steffen is more than experienced enough to race her own race; regardless it may have been nice for the two girls to have each other on race day, and any little extra's count when it comes to racing in Kona each October.
The final preparations for race day are something Steffen hadn't given too much thought, being that of preparing a victory speech. Should she win on Saturday, Steffen wants to put in a good showing at the awards, and so should she be crowned Ironman World Champion we look forward to hearing her speech come Sunday night. It'd be fair to say the crowd will be mesmerized by her sexy Swiss accent regardless, but she jokingly laughed "I don't want to be booed on YouTube".
Whether a good speech is prepared or not, one thing is for sure, being that this Swiss Star is looking more ready than ever before to take on the island Gods of Kona. Caroline is Trizone's number one pick to take the crown on Saturday, and we hope you enjoy following her race to the finish line as much as we are going to.