News & Racing
Carrie Lester comes from behind to win Ironman Cairns 2012
On a hot day in Cairns, Carrie Lester came from behind to record her first Ironman victory since Port Macquarie 2010.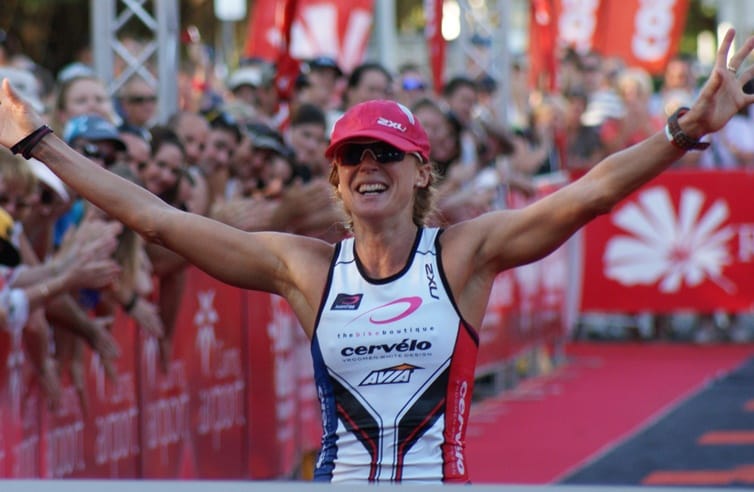 With a new coach, a new approach to racing and a bucket load of confidence it was Rebekah Keat who led the girls out of the swim in 52:23, 36 seconds ahead of second placed Kiwi Belinda Harper, followed by Michelle Mitchell, Carrie Lester and Belinda Granger.
Onto the bike and Keat put some firm pressure on the pedals quickly putting some serious distance into the chase pack. She flew in and out of T2, arriving with Macca, who said during his leisurely transition that he had had to work at a good solid pace to keep with Keat.
At this stage it looked like Keat was unstoppable, She had ridden 4:56 and put another 4 minutes into second place Harper and 9 minutes into Lester to give her a buffer of more than 13 minutes on Lester. Lester did not feel good on the bike, she commented that when she tried to push she felt no response, and just had to keep going and hope for the best on the run.
On to the run and things started to go wrong for Keat. She suffered a calf strain, and strapping did not help, so she had to pull out, which must have been very frustrating for an athlete who was clearly on fire. Harper quickly took advantage to run into first place with about a third of the run gone.
Lester just kept plugging away, never letting her pace drop, eventually it became obvious that Harper was in trouble as she struggled to hold a straight line running, and with a few kilometers to go Lester pounced, taking the lead with a surge. Harper however proved what a tough competitor she is, never letting Lester establish much of a lead, coming in just 1min 42 secs behind an emotional Lester.
At the end Harper looked totally spent, and struggled to stand. Fellow Kiwi Candice Hammond followed closely behind (2 mins) Harper, and looked the freshest of the podium. In fourth was Ironman legend Belinda Granger who along with Macca, Browny, Shorto and a host of others continues to prove that as you mature you gain a mental strength that helps you compete with or beat your younger counterparts.
There were two noticeable non finishers. Defending champion Rebekah Keat and 2012 Ironman Australia champion Michelle Mitchell. For Mitchell is was a case of not enough miles in the legs and too soon after IMOZ. "I only really have about a year of ironman training in me and I don't think I'm ready to back up. I got out on the bike and had nothing."
For Rebekah Keat it was a calf injury while leading the race on the run. The tough thing for Keat was watching around $26,000 in prize money slip away. As a full time pro Keat relies on wins to pay the bills. This was a tough break and everyone felt for her.
| | | | | | | | |
| --- | --- | --- | --- | --- | --- | --- | --- |
| Name | Country | Swim | Bike | Run | Finish | Div. Rank | Overall |
| LESTER, Carrie | Australia | 0:56:31 | 5:05:20 | 3:13:52 | 9:21:00 | 1 | 16 |
| HARPER, Belinda | New Zealand | 0:53:00 | 5:00:37 | 3:23:02 | 9:22:42 | 2 | 18 |
| HAMMOND, Candice | New Zealand | 1:00:53 | 5:07:22 | 3:10:26 | 9:24:45 | 3 | 20 |
| GRANGER, Belinda | Australia | 0:56:51 | 5:04:41 | 3:25:20 | 9:32:16 | 4 | 23 |
| HOSCHKE, Rebecca | Australia | 1:02:05 | 5:10:29 | 3:21:17 | 9:39:53 | 5 | 31 |
| DALIDOWICZ, Monica | Australia | 1:02:30 | 5:20:25 | 3:34:59 | 10:04:41 | 12 | 61 |
| CROWE, Susan | Australia | 1:05:19 | 5:17:34 | 3:41:19 | 10:11:41 | 9 | 68 |
| PARKINSON, Kathryn | Australia | 1:02:31 | 5:37:15 | 3:35:25 | 10:21:52 | 9 | 89 |
| GORDON, Elizabeth | Australia | 1:03:40 | 5:30:10 | 3:42:58 | 10:26:34 | 11 | 96 |
| BOAG, Sam | Australia | 1:16:02 | 5:27:56 | 3:41:12 | 10:33:42 | 21 | 115 |
| CASTLE, Ange | Australia | 1:13:46 | 5:41:47 | 3:33:04 | 10:36:16 | 6 | 126 |