News & Racing
Charles-Barclay Caps Kona Quest With Commanding Wire-to-Wire Win
Lucy Charles-Barclay finally broke through at Ironman World Championships after 4 straight runner-up finishes, winning wire-to-wire in a course record time at the historic first women's only pro race.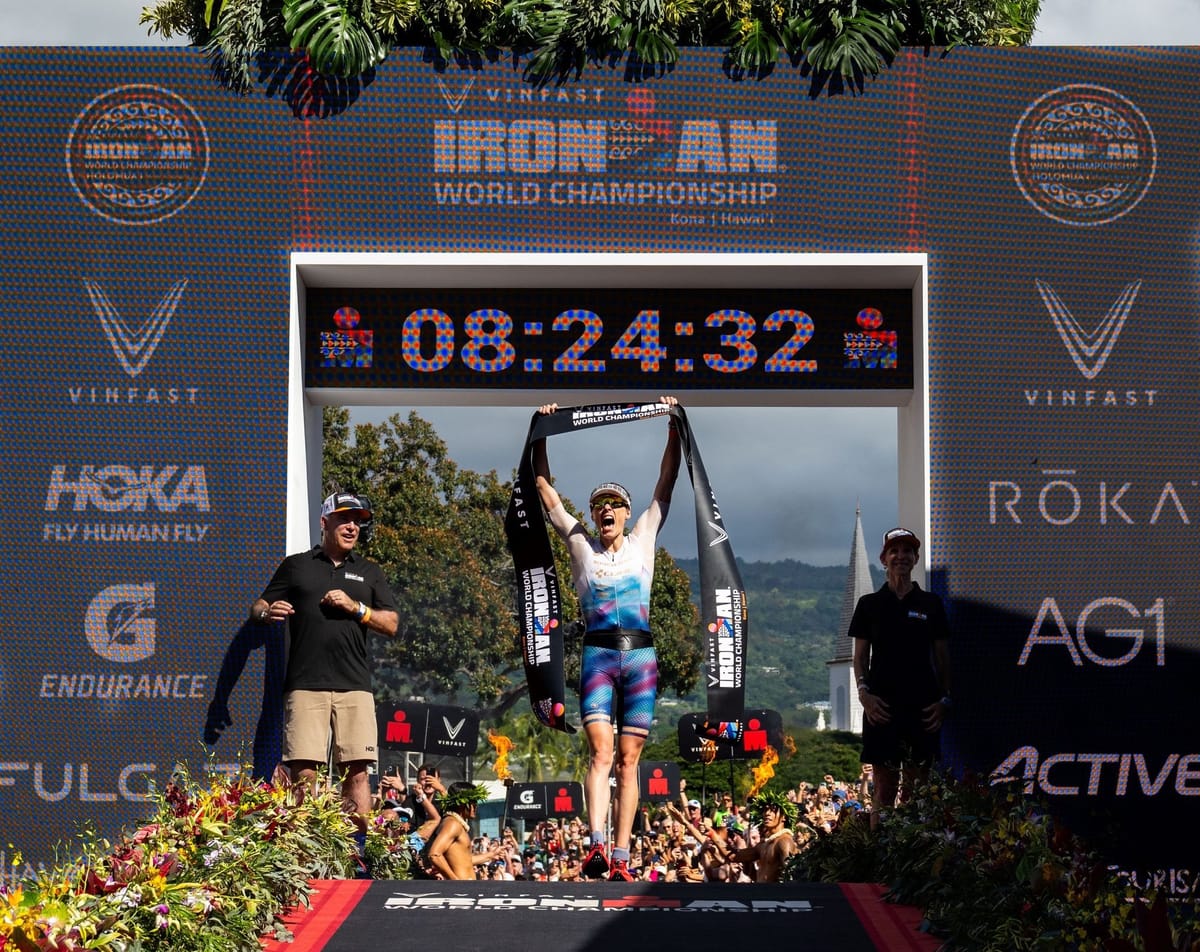 The 2023 Ironman World Championship in Kailua-Kona, Hawaii broke new ground by holding the first-ever women's only professional race. A stacked field of 50 elite women lined up at Dig Me Beach on Saturday morning, ready to tackle the iconic 226km (140.6 mile) triathlon course. By day's end, history was made and records were shattered in epic fashion across the 3.86km swim, 180km bike and 42.2km run.
Swim
As the cannon sounded to kick off the swim at 7:25 am, pre-race favorite Lucy Charles-Barclay put her stamp on the race immediately. The British star, who holds the course record of 48:18 from 2018, sprinted to the front and established a lead within the opening 650m. She continued to push the pace, finding clean water and holding a 45 second advantage by the turn buoy 1.9km (1.2 miles) into the rectangular course.
Charles-Barclay refused to let up on the back half of the swim, powering through choppy conditions to come out of the water in 49:36, stopping the clock 90 seconds ahead of the nearest competitor. It was a dominant performance that echoed her wire-to-wire 70.3 World Championship victory in 2021.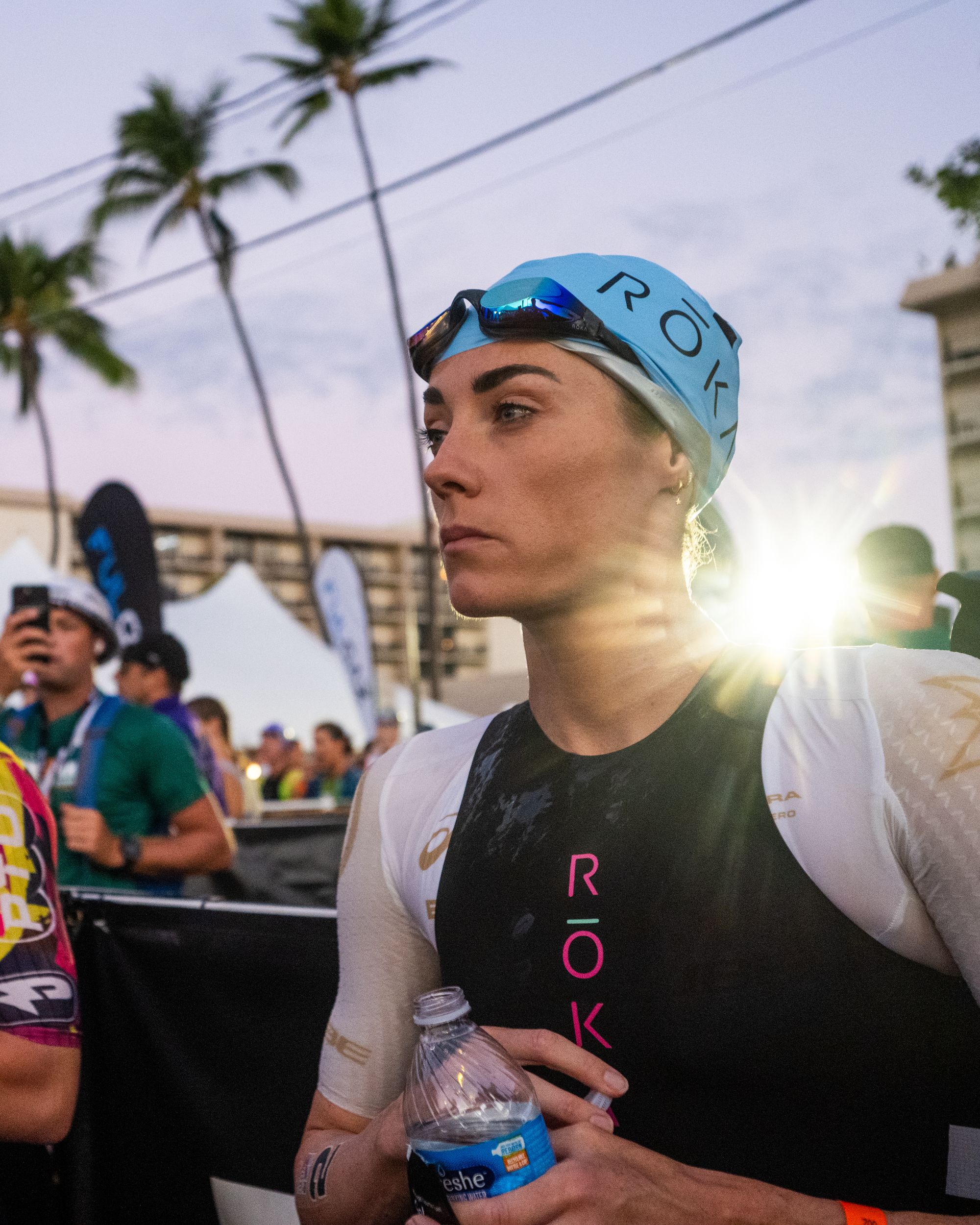 Just 1:29 behind Charles-Barclay, American Lauren Brandon exited the water with compatriot Haley Chura in tow, along with Rebecca Clarke of New Zealand and Rachel Zilinskas of the USA. This chase group of five sought to close the gap to the leader on the bike.
A second pack of swimmers formed 2 minutes behind Charles-Barclay, containing Pamela Oliveira of Brazil and Australian Sarah Crowley. At 4:21 back, a group of contenders found themselves with work to do, including defending champion Chelsea Sodaro of the USA, Britain's Kat Matthews and German Anne Haug, the reigning champion. Five-time winner Daniela Ryf was also relegated to the third pack, a tough starting position for the Swiss superstar.
Other top competitors faced massive deficits right from the start. Germany's Laura Philipp and American Skye Moench were 7 minutes behind the leaders, while Great Britain's Fenella Langridge was 4 minutes back despite having one of the fastest swim splits last year.
The 3.86km (2.4 mile) swim saw an average time of 54:38 for the elites, with 16 women finishing under 55 minutes. But it was Charles-Barclay who made the biggest impact, putting herself in prime position to finally claim victory after four straight runner-up finishes in Kona. Her time of 49:36 was just over a minute off her own course record of 48:14 set in 2018.
Bike
With Charles-Barclay quickly putting on her cycling shoes and helmet in transition, the spotlight shifted to the chase groups on whether any woman could reel in the Brit. The strongest biker in the field, Taylor Knibb, immediately seized the opportunity to do just that.
Still only 25 years old, Knibb was competing in her very first Ironman. But the Olympic-distance star wasted no time asserting herself on the bike, as she rocketed up from 7th place to ride side-by-side with Brandon within the first 1.6km of the bike. Continuing her blistering pace, Knibb soon shed Brandon and the rest of the swim pack to settle into second place and set her sights on the leader.
By 16km (mile 10) Knibb had already made up 42 seconds on Charles-Barclay, narrowing the gap to 1:03. But the pursuer's progress soon slowed, as Charles-Barclay consistently held her advantage around 2 minute mark through 48km (mile 30).
Behind the leading duo, the race became a story of champions trying to battle back into contention. Daniela Ryf surged ahead of Anne Haug, Kat Matthews and Lisa Norden to seize third place and form a 10-woman chase pack by 24km (mile 15). Ryf, the runaway winner of four straight Kona titles from 2015 to 2018, clearly had podium ambitions. But her day took a turn for the worse around mile 40.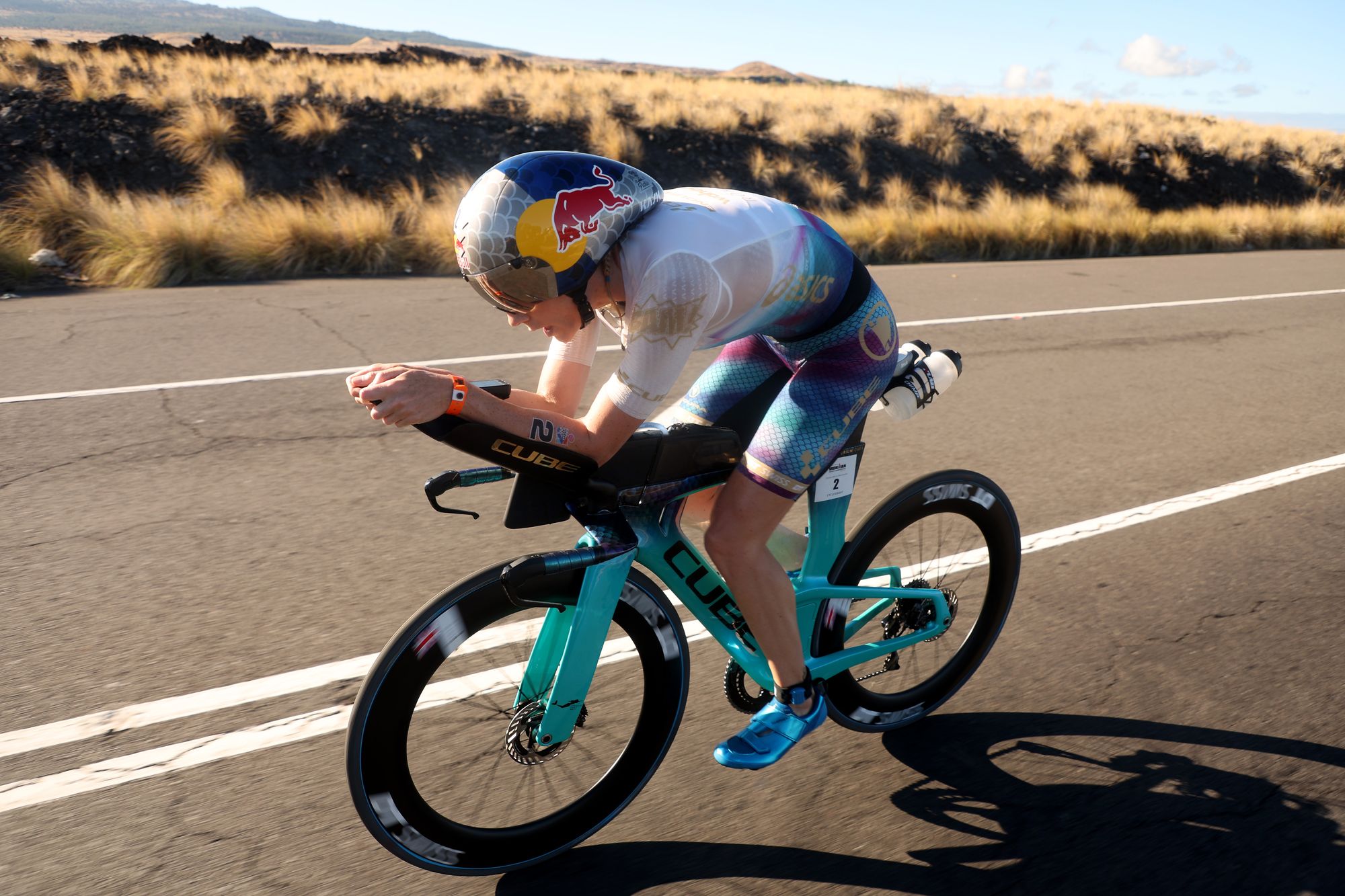 As Ryf faded from the front of that main chase, Germany's Laura Philipp mounted her comeback. The Ironman world record holder started the bike in 26th place but methodically picked off opponent after opponent. Philipp linked up with compatriot Anne Haug and Sweden's Lisa Norden. The trio powered forward, reeling in Ryf to sit 5:30 behind Knibb at the bike halfway point.
But Knibb faced her own setback around that time. The American was assessed a one-minute penalty for unintentional littering when she dropped a bottle. She ended up serving the penalty just before T2, allowing the hard-charging Norden-Haug-Philipp group to slash Knibb's advantage over them to just 3:47 off the front.
Up ahead, Charles-Barclay was in a world of her own, averaging 36kph (22.5 mph) through 145km (90 miles) en route to the fastest bike split of the day (4:32:29). Her time was a full six minutes faster than her personal best at Kona, putting her on track to shatter the course record. Entering T2 with a healthy 7:12 lead, Charles-Barclay had positioned herself perfectly for the final leg of her Kona quest.
The 180km (112-mile) bike leg saw 16 women finish under 5 hours, with the average elite split being 4:46:11. But no one could catch Lucy Charles-Barclay, who crushed the windy course and built a formidable advantage heading out onto the run.
Run
Having led over 225km (140 miles) to this point, Charles-Barclay maintained her dominance when the run began under sweltering conditions. She clicked off a 6:24 first mile (4:00 first km), showing no signs of fatigue. Her nearest challenger Knibb trailed by over 5 minutes already, and the question became if anyone could reel in the Brit over 42.2km.
Germany's Anne Haug appeared up to the task early on, running shoulder-to-shoulder with Laura Philipp at a 3:50/km pace through the opening kilometres. Haug took the lead in the race for second place at 16km, while Charles-Barclay continued running metronome-consistent 4:08/km at the front.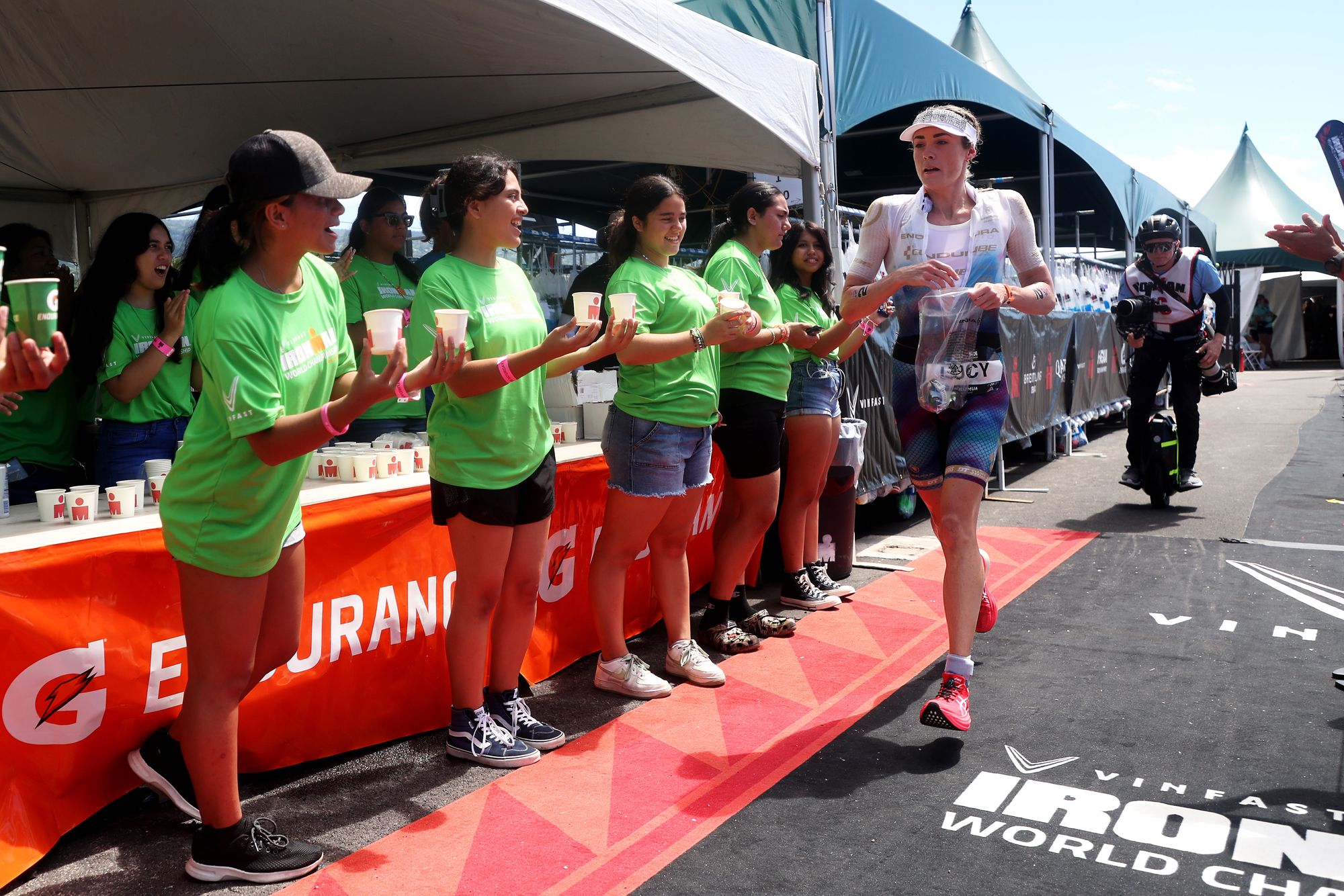 By the halfway point of the marathon, Haug sat 9:24 behind Charles-Barclay who looked strong and focused. Philipp and Knibb were further back and would need to rally to hold their podium spots. The brutal heat and energy-sapping conditions took their toll on the chase groups.
At 29km (mile 18), Haug made her move on the young Knibb, who struggled mightily in the latter stages of her Ironman debut run. Knibb's pace deteriorated significantly as she forced down fluids and ice at aid stations, with the podium now in jeopardy.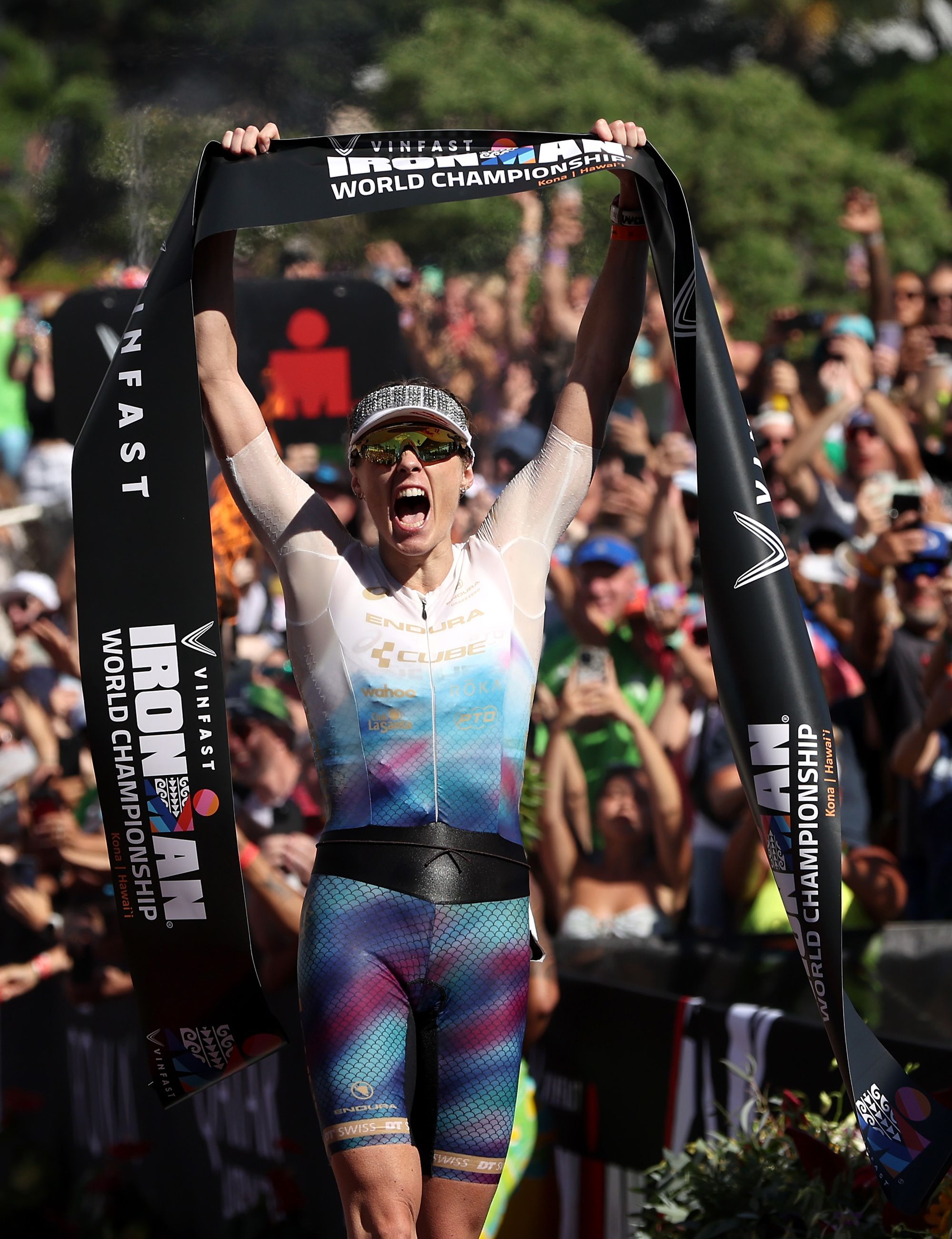 Although she closed the gap in the final k's, Haug ran out of real estate to catch Charles-Barclay. The Brit dug deep to summon every last ounce of energy she had over the previous 8 hours, breaking the tape in a new course record of 8:24:31 and finally ending her Kona bridesmaid streak.
Haug crossed next in 8:27:33, thanks to a new run course record of 2:48:23 - the first time a woman has broken 2:50 in Kona. Laura Philipp moved up to third in 8:32:55 after reeling in the fading Knibb (8:35:56) over the last 10km.
The pro women averaged an incredible 3:04:13 marathon in the heat, with 16 athletes running sub-3:10. Daniela Ryf (8:40:34) and Chelsea Sodaro (8:42:25) rounded out the top five.
It was a history-making day that showed how far women's long-course triathlon has progressed. Lucy Charles-Barclay's wire-to-wire victory and course-record performance highlighted the monumental talent and depth of the professional field. After years of being trailblazers, the women finally had the Kona spotlight entirely to themselves. They certainly rose to the occasion and put on an epic show for the ages.
Top five professional women's results
| | | | | | |
| --- | --- | --- | --- | --- | --- |
|   |   | SWIM | BIKE | RUN | FINISH |
| 1. Lucy Charles-Barclay | GBR | 00:49:36 | 04:32:29 | 02:57:37 | 08:24:31 |
| 2. Anne Haug | DEU | 00:54:10    | 04:40:23 | 02:48:23 | 08:27:33 |
| 3. Laura Philipp | DEU | 00:56:49 | 04:35:52 | 02:55:24 | 08:32:55 |
| 4. Taylor Knibb | USA | 00:51:16 | 04:34:00 | 03:05:13 | 08:35:56 |
| 5. Daniela Ryf | CHE  | 00:54:11 | 04:38:34 | 03:02:11 | 08:40:34 |