Charlotte McShane wins gold in the Women's ITU Under 23 World Triathlon Championship
A Scottish born Wollongong red-head who has her sights on representing Australia at the Olympic Games timed her run to perfection to become Australia's latest triathlon world champion in London today. Charlottle McShane, who came to Australia when she was 15 to live in Bairnsdale in country Vi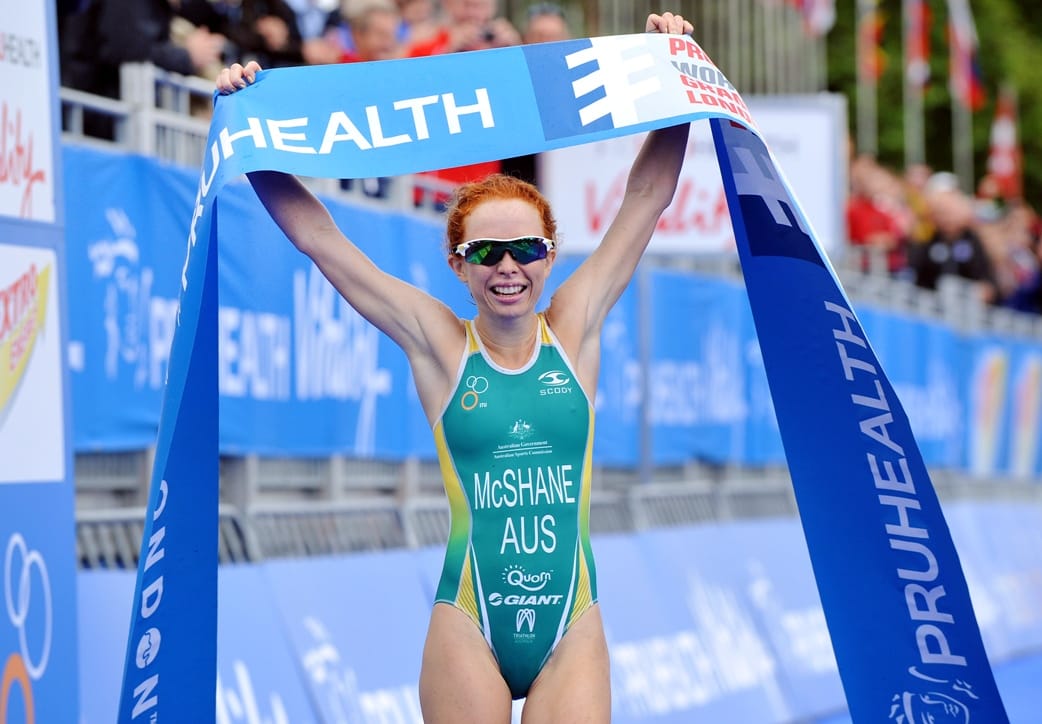 A Scottish born Wollongong red-head who has her sights on representing Australia at the Olympic Games timed her run to perfection to become Australia's latest triathlon world champion in London today.
Charlottle McShane, who came to Australia when she was 15 to live in Bairnsdale in country Victoria, broke away from a group of six to clinch a stunning gold medal in the Women's ITU Under 23 World Triathlon Championship.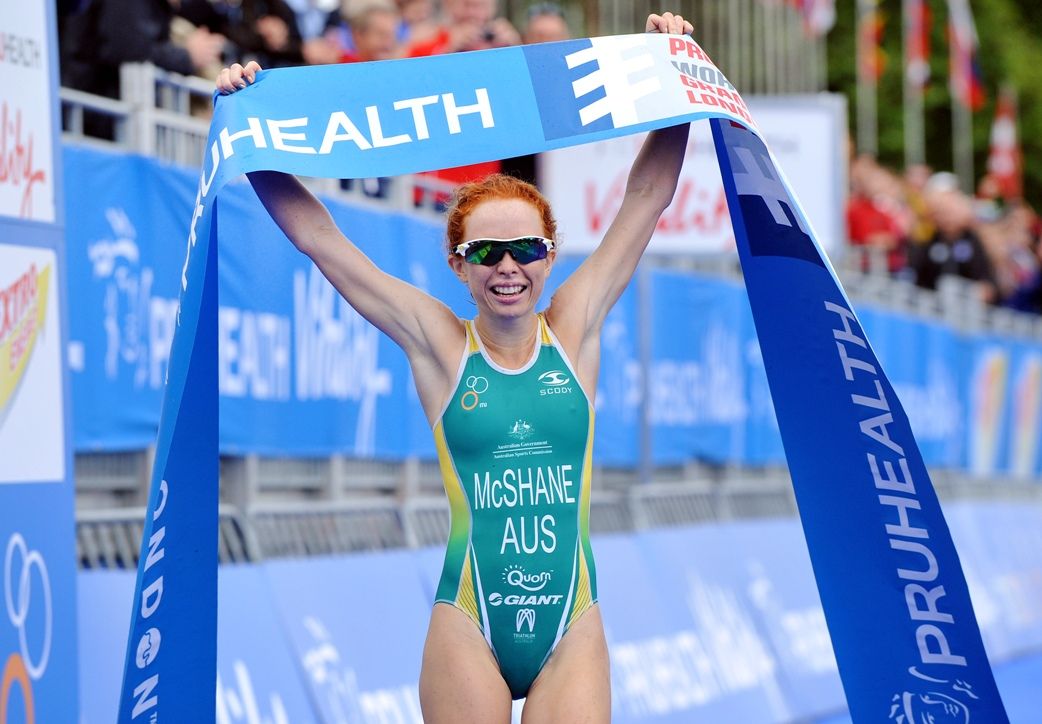 "I knew I had a good sprint so in the end I just backed myself and I won "I can't believe it "I've never won anything before," said McShane, one of four Australians "all training partners, who wore the green and gold in today's race.
"I wasn't prepared to go, I was just waiting for the other girls to make their move and when they did I knew I could pounce and match them."
McShane hit the final 100 metres of blue carpet towards the finish line and never looked back as she stormed away to take the win ahead of Canadian pair Ellen Pennock and Amelie Kretz.
The three other members of Jamie Turner's "Wollongong Wizards" group "Tamsyn Moana-Veale finished eighth, Grace Musgrove 12th and Natalie Van Coevorden 14th in a frustrating yet satisfying day for the Australians.
Earlier Tasmania's mud-splattered Jacob Birtwhistle produced a brave performance to get back on his bike for a fast finishing sixth in the ITU World Junior Triathlon Championships.
Birtwhistle, the 18-year-old Launceston schoolboy hit the pavement when he crashed his bike on the first lap of the 20 kilometre bike course and was also slammed with a 10 second penalty for leaving his wetsuit outside of his designed gear-box.
But undeterred the rising star of Australia's junior ranks picked himself back up on the slippery, rain-affected course and charged home behind one of the fastest men's field's ever assembled for a junior world championship.
"That didn't go according to plan….that's for sure," said a frustrated and bitterly disappointed Birtwhistle, straight after the race and showing the muddy and bloody scars of his bingle with the Hyde Park pavement.
"Whatever could have gone wrong did go wrong….I crashed on the first lap of the bike and also suffered a penalty for what I'm not sure."
He fought on bravely to chase home the winners, European champion Dorian Coninx (FRA) and Scottish pair Marc Austin (GBR) and Grant Sheldon (GBR) but to no avail.
In the women's race it was Western Australia's Jaz Hedgeland who gave herself every chance of a podium finish, only to fall agonizingly short with a courageous fourth behind Tamara Gorman (USA), Georgia Taylor-Brown (GBR) and Laura Lindeman (GER).
Hedgeland, like Birtwhistle, came to London with high hopes but was just five seconds from a podium finish.
"I set myself the goal of winning the gold medal," said Hedgeland "so I am disappointed to finish fourth…but I left nothing out there….I'll be back next year having another crack.
"I was well up in the swim and worked really hard on the bike but when it came to the run I just had nothing in my legs."
| | | | | | | |
| --- | --- | --- | --- | --- | --- | --- |
| Pos | Athlete | Country | Time | Swim | Bike | Run |
| 1 | Charlotte Mcshane | AUS | 1:55:38 | 0:19:20 | 1:00:19 | 0:34:40 |
| 2 | Ellen Pennock | CAN | 1:55:39 | 0:18:38 | 1:00:54 | 0:34:39 |
| 3 | Amelie Kretz | CAN | 1:55:41 | 0:19:20 | 1:00:26 | 0:34:41 |
| 4 | Hanna Philippin | GER | 1:55:43 | 0:19:26 | 1:00:13 | 0:34:47 |
| 5 | Joanna Brown | CAN | 1:55:49 | 0:19:10 | 1:00:31 | 0:34:47 |
| 6 | Tamara Gomez Garrido | ESP | 1:55:57 | 0:19:30 | 1:00:10 | 0:34:56 |
| 7 | Sophie Corbidge | NZL | 1:56:18 | 0:19:37 | 1:00:05 | 0:35:17 |
| 8 | Tamsyn Moana-veale | AUS | 1:56:31 | 0:19:32 | 1:00:12 | 0:35:30 |
| 9 | Emmie Charayron | FRA | 1:56:39 | 0:19:04 | 1:00:39 | 0:35:42 |
| 10 | Sara Vilic | ITU | 1:56:57 | 0:18:42 | 1:00:57 | 0:36:02 |
| 11 | Sofie Hooghe | BEL | 1:56:59 | 0:19:31 | 1:00:10 | 0:36:00 |
| 12 | Grace Musgrove | AUS | 1:57:02 | 0:19:23 | 1:00:15 | 0:35:59 |
| 13 | Mariya Shorets | RUS | 1:57:03 | 0:19:34 | 1:00:09 | 0:36:03 |
| 14 | Natalie Van Coevorden | AUS | 1:57:05 | 0:18:42 | 1:00:59 | 0:36:06 |
| 15 | Alexandra Razarenova | RUS | 1:57:37 | 0:19:28 | 1:00:13 | 0:36:37 |
| 16 | Lucy Hall | GBR | 1:58:00 | 0:18:05 | 1:01:35 | 0:37:00 |
| 17 | Elena Maria Petrini | ITA | 1:58:41 | 0:19:17 | 1:00:18 | 0:37:44 |
| 18 | Arina Shulgina | RUS | 1:58:58 | 0:20:03 | 1:02:35 | 0:35:02 |
| 19 | Lisa Sieburger | GER | 1:59:12 | 0:19:54 | 1:02:45 | 0:35:12 |
| 20 | Simone Ackermann | NZL | 1:59:16 | 0:19:19 | 1:00:24 | 0:38:11 |
| 21 | Elena Danilova | RUS | 1:59:23 | 0:19:56 | 1:02:36 | 0:35:25 |
| 22 | Chelsea Burns | USA | 2:00:08 | 0:20:06 | 1:02:24 | 0:36:07 |
| 23 | Carlyn Fischer | RSA | 2:01:10 | 0:20:13 | 1:02:21 | 0:37:15 |
| 24 | Tayla Glover | RSA | 2:01:32 | 0:20:08 | 1:02:25 | 0:37:35 |
| 25 | Fanny Beisaron | ISR | 2:01:45 | 0:20:07 | 1:02:27 | 0:37:45 |
| 26 | Petra Kurikova | CZE | 2:02:11 | 0:20:05 | 1:02:33 | 0:38:10 |
| 27 | Erin Jones | USA | 2:02:35 | 0:19:35 | 1:03:03 | 0:38:37 |
| 28 | Oleksandra Stepanenko | UKR | 2:03:00 | 0:19:54 | 1:02:39 | 0:39:03 |
| 29 | Lois Rosindale | GBR | 2:03:16 | 0:19:44 | 1:02:51 | 0:39:17 |
| 30 | Shoko Fuchigami | JPN | 2:03:41 | 0:20:03 | 1:02:34 | 0:39:45 |
| 31 | Eszter Dudas | HUN | 2:05:45 | 0:20:22 | 1:05:24 | 0:38:36 |
| 32 | Deborah Antillon | GUA | 2:06:00 | 0:19:24 | 1:03:12 | 0:42:00 |
| 33 | Kaidi Kivioja | EST | 2:06:20 | 0:20:24 | 1:05:17 | 0:39:17 |
| 34 | Karin Chibana | JPN | 2:10:36 | 0:20:29 | 1:05:16 | 0:43:31 |
| DNF | Monika Orazem | SLO | 0:00:00 | 0:20:06 | 1:05:28 | 0:00:00 |
| DNF | Rebecca Kingsford | NZL | 0:00:00 | 0:20:31 | 0:00:00 | 0:00:00 |