News & Racing
Checking in with Chris Kemp ahead of Ironman Frankfurt
Professional triathlete Chris Kemp, 32, from Port Macquarie on the NSW Coast, will be toeing the line at Ironman Frankfurt this Sunday in his first Iron-distance race. After a number of years struggling with injuries, Chris is coming off a fantastic Australian season which included wins at the Ironm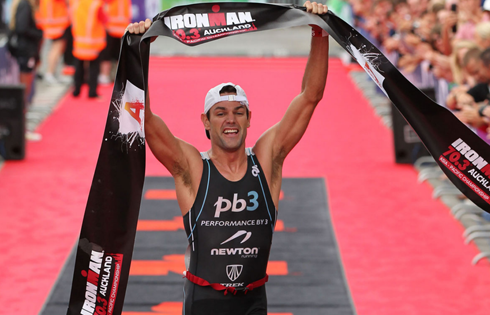 Professional triathlete Chris Kemp, 32, from Port Macquarie on the NSW Coast, will be toeing the line at Ironman Frankfurt this Sunday in his first Iron-distance race. After a number of years struggling with injuries, Chris is coming off a fantastic Australian season which included wins at the Ironman 70.3 Asia-Pacific Championship in Auckland after dropping two-time Olympic medalist Bevan Docherty on the run. Kemp backed that up with a win over another deep field at the Urban Hotels Geelong Long Course event in February this year. Chris took his racing to the US after not starting in at the Ironman Asia-Pacific Championships in Melbourne, and took 11th place at the Ironman 70.3 US Pro Championship at St George, Utah.
We caught up with 'Kempy' ahead of the big dance this week.
TZ: Firstly, Kempy this is your first Ironman, how are the nerves?
Chris Kemp:  Honestly, the nervousness is definitely strong right now. It is that thing of the great unknown I guess. Training has been going really well and I will have to trust that whilst out there, but it is easy to get overawed by the starting field that is assembled and the collective experience of some of these guys at this distance. I will just be focusing on the processes and let the race unfold.
TZ:  Is Ironman Frankfurt the goal for the year, or, is it part of a bigger plan to get to Hawaii?
Chris Kemp: Ironman Frankfurt is definitely part of a plan to race in Hawaii. I have some lofty ambitions in regards to Kona and if I want to achieve them sometime in the future I feel as though it's time to step up to Ironman and start to learn exactly just how to race an Ironman distance event.
TZ: Given this is your first Ironman, have you sought the advice of any more experienced campaigners in your preparation?
Chris Kemp:  Honestly, I haven't spoken to too many of my fellow pro's about it other than Crowie. I admire and respect him more than anyone and feel lucky to be able to contact him when its needed. I certainly don't chat with him daily about it and my coach has still completely written my training programs but he has passed on some advice and I will certainly be taking that into the race with me.
TZ: Lastly, you've picked a cracking field to debut in. How does it feeling going up against the likes of PJ, Marino, Raelert and Sebastien Kienle?
Chris Kemp: It feels great to be racing the best guys going around, and this was part of our plan at the start of the year. There will be no better benchmark moving forward to compare myself against than to these amazing athletes and see where I need to improve the most. Because I am coming into IM racing late being 32, it is necessary that I get on a steep learning curve. I want to be competitive with these guys in the future and jumping right into the deep end is the best way to see where I currently stand. I want to learn to be calm and relaxed in the presence of all the big hitters in the championship races so I need the practice for my future in Ironman distance racing.