News & Racing
Chris McCormack wins ITU Long Course World Champs in Style
Chris McCormack ran the 30kms at 3:30 pace to get over the top of an inform Eneko Llanos and Dirk Bockel to take the world ITU long course championship title last night in Spain. Macca had to serve a 15sec penalty during the run at a stage where he was only 29sec ahead of Llanos. […]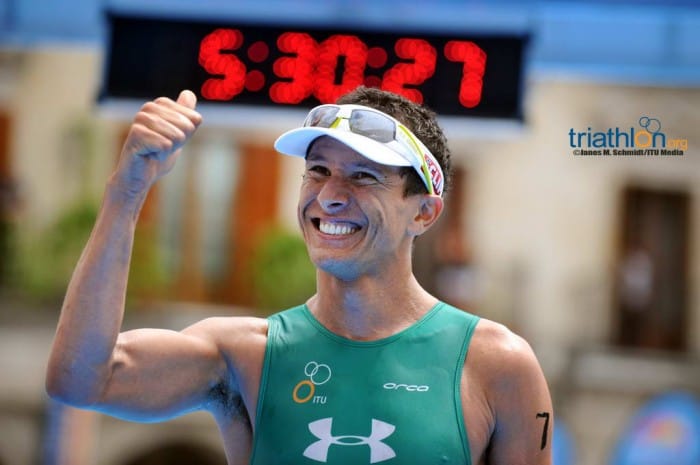 Chris McCormack ran the 30kms at 3:30 pace to get over the top of an inform Eneko Llanos and Dirk Bockel to take the world ITU long course championship title last night in Spain. Macca had to serve a 15sec penalty during the run at a stage where he was only 29sec ahead of Llanos. He didn't look phased when he stood to serve the time then went back out on to the run course with the lead still his.
Macca didn't have the race all his own way. He was two minutes off the pace in the swim and exited T2 with 5 guys ahead of him. But once on to the run the race was his. He looked fast and happy for the entire 30kms.
In the women's race Caroline Steffen was always the favourite but with Jodie Swallow back to her old form it was never a fait accompli. This was evident when with about 25mins to go in the run Steffen looked to loose her footing slightly as she went around a left hand corner then seemed to be running with a slight limp and favouring her right leg.
Australia's Chris McCormack added the ITU Long Distance World Championship to his already impressive resume with a stellar run leg in Vitoria-Gasteiz on Sunday, bettering Spain's Eneko Llanos and Luxembourg's Dirk Bockel over the 4km swim, 120km bike and 30km run.
The 1997 ITU World Champion and two-time Kona winner said it was one of the most special wins of his career, largely thanks to the huge crowd gathered in Spain's basque country.
"It was incredible…there was so many people on run course today and it really made the run fast," McCormack said. "It's a fantastic victory for me, I've won lots of races in my life but this one is very special."
McCormack's last ITU world title came in 1997, and yesterday he was among the favourites in this year's long distance world titles. However he exited the water in the middle of the pack and two minutes down on Llanos and Bockel among others. While he made up time in the bike leg, he still exited T2 in sixth place and with plenty of ground to make up over the leaders.
But after serving a 15 second penalty, McCormack started to reel in those ahead of him. While Llanos had rocketed to the lead in the first lap of the run, overtaking Denmark's Emil Dalgaard to do so, he couldn't hold off a charging McCormack. The Australian hit the front at the start of the third lap of four, and surged ahead to claim his first ITU Long Distance world title. He said the past 18-months of Olympic distance training and racing had helped give him the speed he needed in the run. He was the only man to go under 1 hour and 45 minutes, with a split of 1 hour 44 minutes and 55 seconds in the final leg.
"I've never done this race before, and you know I just tried to make the Olympics so I knew I had a lot of speed, but this is a great distance for me," he said. "Eneko is a very very close friend of mine and I knew if I could stick close to him then I could set this race up, so I'm very very proud to win here."
Llanos was the people's favourite in his home town of Vitoria-Gasteiz, but said he couldn't be disappointed with a silver medal.
"There's no doubt I'm really sorry I couldn't give a victory to all these people, but in any case I've finished after Chris McCormack, who has run a wonderful race…today he's been the best, so there are no excuses," he said.
While Bockel was exhausted, but pleased with his bronze, his first world championships medal.
"I'm tired but I'm very happy, it's my first medal at a world championships so I'm very proud, very exhausted," he said. "I had a very hard fight…I had troubles on the swim, the bike was good, and then I had some struggles on the runs, it wasn't the perfect race…it's the world championships and if you have a medal there is nothing to complain."
Dalgaard ended-up finishing in fourth spot, after leading from the swim through to the start of the run, and Ukraine's Viktor Zemtsev clocked the second fastest run split of the day to finish 6th.
| | | | | | | |
| --- | --- | --- | --- | --- | --- | --- |
| Pos | Athlete | Country | Time | Swim | Bike | Run |
| 1 | Chris McCormack | AUS | 5:29:47 | 0:53:37 | 2:48:54 | 1:44:55 |
| 2 | Eneko Llanos | ESP | 5:31:39 | 0:51:44 | 2:48:59 | 1:48:18 |
| 3 | Dirk Bockel | LUX | 5:34:54 | 0:51:25 | 2:49:39 | 1:51:32 |
| 4 | Emil Dalgaard | DEN | 5:38:39 | 0:49:49 | 2:49:57 | 1:56:37 |
| 5 | Martin Krnavek | CZE | 5:44:47 | 0:49:58 | 2:50:45 | 2:01:37 |
| 6 | Viktor Zemtsev | UKR | 5:45:49 | 0:56:47 | 2:58:42 | 1:47:34 |
| 7 | Nikolay Yaroshenko | RUS | 5:46:23 | 0:52:26 | 2:50:28 | 2:00:59 |
| 8 | Duarte Silva Marques | POR | 5:50:51 | 0:49:52 | 3:03:54 | 1:54:43 |
| 9 | Pedro Miguel Reig | ESP | 5:52:11 | 0:50:55 | 3:02:11 | 1:56:23 |
| 10 | Miquel Blanchart | ESP | 5:52:42 | 0:53:27 | 3:04:15 | 1:52:25 |
| 11 | RAUL AMATRIAIN ARRAIZA | ESP | 5:53:27 | 1:01:19 | 2:59:44 | 1:50:01 |