News & Racing
Christian Kemp makes it two from two in 2013 by winning the Urban Geelong Long Course triathlon
After coach Chris Hanrahan from PB3 got 'in to' Christian Kemp to go out and prove that the Auckland 70.3 was not a fluke Kemp was determined to back it up with a win at the Urban Geelong Long Course today. The athletes were redlining from the gun and Kemp had to dig deep to […]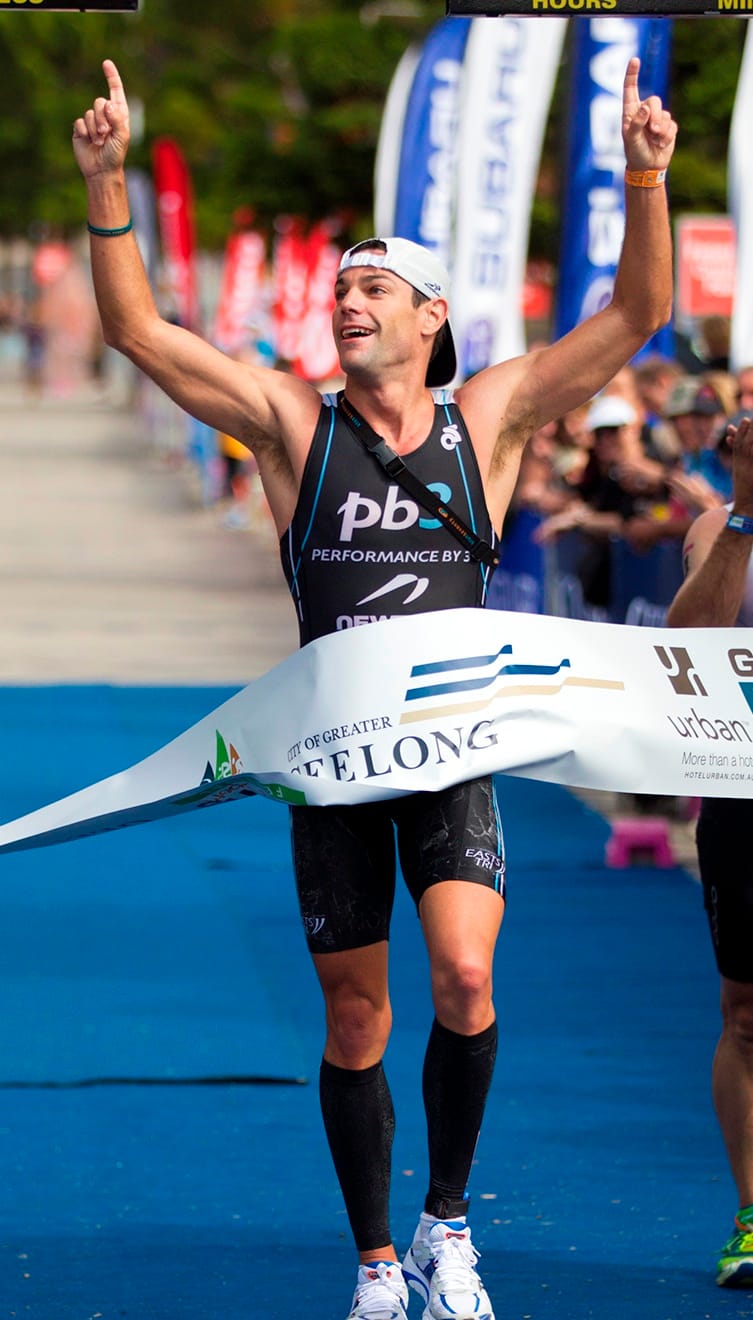 After coach Chris Hanrahan from PB3 got 'in to' Christian Kemp to go out and prove that the Auckland 70.3 was not a fluke Kemp was determined to back it up with a win at the Urban Geelong Long Course today.
The athletes were redlining from the gun and Kemp had to dig deep to make sure he stayed in touch on the swim. "I was last in the front pack on the swim. I kept getting dropped and had to keep swimming back to keep in touch. I kept turning and looking behind and knew there was a big gap to the chase pack. If I got dropped I was going to be in no mans land."
On to the bike and Clayton Fettell did not have the big gap he may have hoped for. Kemp pushed hard over the first 20km on the bike and the pace was hard. He and James Hodge along with Luke Bell and Sam Betten worked hard to reel Fettell in. They caught Fettell at about the 15km mark. Fettell and Hodges set an impressive pace as we would expect. Kemp was pushing the limits to keep in touch. "Trying to stick with Hodges too catch Fettell was hard work. We dropped the rest of the front swim pack and is settled down with Hodge and Fettell taking turns setting the pace. The rest of us were just hanging on for dear life. Those two can ride!"
The decision to push hard early on the bike paid dividends for Kemp. "This race at Geelong went more to plan than Auckland did. It was a good thing to get across to that group early on the bike and that was part of the plan."
On to the run and Kemp decided to push hard early because the other guys had pushed it hard on the bike. "I really pushed it for the first 5kms. Hodge fell away and I made the decision to really push the pace from 10-15kms as Luke Bell was a lot closer than I was comfortable with. Luke would have had a great race in Auckland if he didn't get a drafting penalty so I knew he was a danger man."
Kemp kept surging to try and drop Luke Bell. "I finally got the gap out to 1-1:30 which gave me the gap I needed. That effort hurt and I felt it late in the run. I started to suffer in the dying stages which meant Luke pulled some time back towards the end of the run."
In the end Luke Bell finished second just 32 seconds behind Kemp with a 1:14:07 half marathon. Luke Bell looks to be on fire this year and we will no doubt see him add to his impressive tally of long course triathlon victories.
Third home was Tasmania's James Hodge. Hodge left nothing out on the course at Auckland recently after leading the race until a few kms in to the run. He went hard again today. As Hodge matures we will see him on top of the podium more and more. His victory at Busselton 70.3 last year surprised everyone and now, after a long injury he is getting back on the road to where he was heading earlier last year.
In 4th place was Leon Griffin. He missed the podium by the slimmest of margins. Griffin absolutely smoked the run with a 1:12:30 half marathon. This is one of Griffin's best runs in a while. He has obviously found something to fuel those lethal run legs.
It has been an unbelievable start to the season. Kemp's goal was to win three 70.3s in 2013. He has two of them already after 5 weeks."I am aware that some of the guys may not be in peak race form as we are all working towards September and October." We think Kemp is underplaying his wins. he has beaten some of the best 70.3 triathletes in the world twice this year already.
Once again one of the areas of the race that kept haunting Kemp worked well again. "I nailed the nutrition again. I had a great meeting with Darryl from Shotz Sports Nutrition yesterday and we finalised my race plan. Since working with Darryl I have worked out this part of my race. It was always a problem in the past. I did lose a gel on bike today so I was one down. So not 100% perfect but pretty close."
Another area that held Kemp back were constant injuries. "The physio I am seeing has me in great shape. I am not getting injuries any more and he has my body tuned as well as it can be right now. Consistency of training is going really well so everything is working great at this stage."
Next up for Kemp is Ironman Melbourne. His dream is to win an Ironman. "I have a lot to learn over the Iron distance. At 120-130kms on bike I will be the total race distance I am used to so after that it is going in to unknown territory. I have realistic goals for Melbourne and know I have to learn and have a good race. There will be things that happen in Melbourne that I can only learn by doing an Ironman.
Kemp is still working on attracting sponsors. This is the final part of his triathlon career to sort out. "I will have a new Focus TT very soon. I is on its way from Germany to Albion Cycles and I should have it shortly. Next is a new racesuit for Melbourne. I still am not sure what all the sponsors logos will be. Hopefully I'll be able to work that out sooner rather than later."
If you are looking for a new athlete that wins big races then we suggest you get in touch with Kemp very quickly.
Congratulations to Bradley Clarke, Ross Young and Damien Angus who were the first three age groupers home. All three came home in under 4:05.
| | | | | | | |
| --- | --- | --- | --- | --- | --- | --- |
| Pos | Name | Time | Cat/Pos | Swim | Cycle | Run |
| 1 | Christian KEMP (5) | 3:47:21 | MPro (1) | 0:21:59 | 2:09:26 | 1:13:38 |
| 2 | Luke BELL (6) | 3:47:53 | MPro (2) | 0:22:02 | 2:09:27 | 1:14:07 |
| 3 | James HODGE (15) | 3:49:48 | MPro (3) | 0:21:53 | 2:09:18 | 1:16:11 |
| 4 | Leon GRIFFIN (2) | 3:49:55 | MPro (4) | 0:22:58 | 2:12:09 | 1:12:30 |
| 5 | Clayton FETTELL (1) | 3:50:48 | MPro (5) | 0:21:36 | 2:09:50 | 1:17:06 |
| 6 | Timothy BERKEL (3) | 3:54:27 | MPro (6) | 0:23:06 | 2:12:00 | 1:17:05 |
| 7 | Marko ALBERT (11) | 3:54:45 | MPro (7) | 0:21:57 | 2:13:10 | 1:17:18 |
| 8 | Matthew PELLOW (23) | 3:55:30 | MPro (8) | 0:23:07 | 2:13:37 | 1:16:22 |
| 9 | James SEEAR (28) | 3:57:15 | MPro (9) | 0:21:58 | 2:13:08 | 1:19:52 |
| 10 | Mitchell ANDERSON (8) | 3:58:55 | MPro (10) | 0:26:17 | 2:10:24 | 1:19:26 |
| 11 | Callum MILLWARD (20) | 3:59:55 | MPro (11) | 0:22:48 | 2:16:46 | 1:17:50 |
| 12 | Todd SKIPWORTH (29) | 4:00:40 | MPro (12) | 0:21:58 | 2:13:01 | 1:23:00 |
| 13 | Sam APPLETON (12) | 4:01:15 | MPro (13) | 0:21:56 | 2:13:13 | 1:23:41 |
| 14 | John POLSON (24) | 4:01:40 | MPro (14) | 0:23:00 | 2:16:29 | 1:19:29 |
| 15 | David MAINWARING (18) | 4:02:21 | MPro (15) | 0:23:53 | 2:16:02 | 1:20:13 |
| 16 | Bradley CLARK (237) | 4:02:34 | M18-24 yrs (1) | 0:24:44 | | 0:46:56 |
| 17 | Luke WHITMORE (30) | 4:02:57 | MPro (16) | 0:25:54 | 2:17:45 | 1:16:45 |
| 18 | Ross YOUNG (1240) | 4:04:41 | M30-34 yrs (1) | 0:25:53 | 2:18:14 | 1:17:28 |
| 19 | Damien ANGUS (77) | 4:04:46 | M35-39 yrs (1) | 0:26:16 | | 1:20:40 |
| 20 | Michael PRINCE (25) | 4:05:44 | MPro (17) | 0:22:50 | 2:20:32 | 1:19:48 |