News & Racing
Clayton Fettell and Belinda Granger win the URBAN 2.80.20 Triathlon
Clayton Fettell and Belinda Granger were in a league of their own today, taking out the inaugural URBAN 2.80.20 long course triathlon in Geelong, part of the 2012 Geelong Multi Sport Festival. Fettell, the 2011 70.3 Ironman Port Macquarie winner, lead from start to finish over the 2km swim, 80km rid
Clayton Fettell and Belinda Granger were in a league of their own today, taking out the inaugural URBAN 2.80.20 long course triathlon in Geelong, part of the 2012 Geelong Multi Sport Festival.
Fettell, the 2011 70.3 Ironman Port Macquarie winner, lead from start to finish over the 2km swim, 80km ride and 20km run course in an event which attracted the who's who of long course racing in Australia.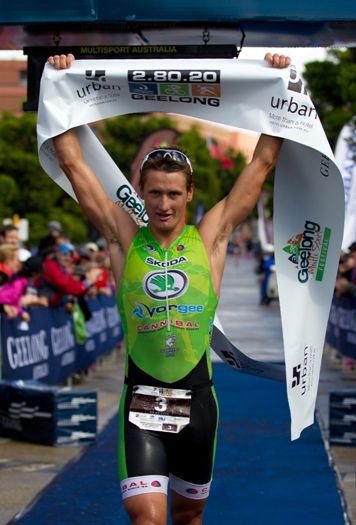 The classic distance race has a long history in Geelong, with over 700 participants experiencing the thrill of racing at the traditional home of long course racing in Victoria.
A flying Fettell was first out of the water with Pete Jacobs hot on his heals as the pair headed out on the bike course 100m ahead of the chase group of three including Leon Griffin, Matt White, and Tim Berkel.
The bike course proved one of the toughest in long course racing with the wind digging into all competitors, including our race leaders. Fettell showed his dominance on the bike putting four minutes on the chase group during the bike leg elevating him into a league of his own.
"I had a lot of fun on the swim with Pete, but I got on the bike and it was really windy, so I had to push hard to pull away.
"I looked back and I saw the boys chasing me! That just made me angry and it was the fuel I needed to push harder. It definitely wasn't easy," said Fettell.
The chase group banded together on the bike with Fettell firmly in their sights. Shepparton Half Ironman winner Griffin was second off the bike, followed by his 'time-trialling' mates Berkel and White.
On the run course, Griffin pushed hard to put time on Fettell, finishing approx. two and half minutes behind in 2nd place overall, with Berkel another minute back to come in third.
Griffin could not fault the winners form.
"On the run I could see Timmy coming at me fast. But hats off to Clayton, he was in another league today.
"He had a crack 100% all the way and deserves the win. He's fantastic and has the goods to go all the way," said Griffin. Griffin has made the decision to become a full time pro again after having a year away from the pro pressures to set up house in Ballarat and working in the money market. "Next up I'm racing the Abu Dhabi triathlon in early March, before heading over to the US for a couple 70.3's. I'll then return to Australia for a few races (yet to be confirmed) to round out the first half year."
Berkel, whilst happy with his 3rd place today, was also hindered by the winds on the bike course.
"I've been working hard on the swim and felt comfortable. But it was really tough on the bike," said Berkel.
Tim Berkel is not focusing on Ironman this year. Next up will be Sri Lanka 70.3 followed by his wedding then Oceanside and New Orleans in the US. Busselton 70.3 is also in the schedule for Tim with Challenge Copenhagen a possibility. In addition Tim also plans on racing at Las Vegas and maybe IMWA at the end of the year if things work out that way. 2013 will be the year of Kona.
Unfortunately for Pete Jacobs, who placed 2nd in the 2011 Hawaii Ironman World Championships, it just wasn't his day.
"Clayton had an awesome race today and I felt a bit ordinary.
"I had a mechanical problem on the bike at the 30km mark and I had to stop to put my chain ring on. When I came in off the bike, I just seized up when I started running," said Jacobs.
Jacobs now heads to Huskisson where he will race the same distance again this Sunday. Pete's focus is firmly on Ironman Melbourne at this stage. He will then race Ironman 70.3 races in Hawaii, Syracuse and the Philippines then a 5150 race in Washington before focusing on final preparations to go one better than 2011.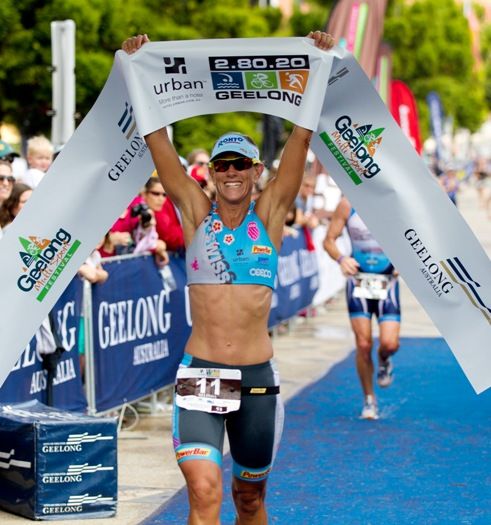 In the female Elite field, it was Australia's most decorated iron distance woman Belinda Granger blitzing the field finishing four minutes ahead of local triathlete Suzanne Blackwell, followed by Rebecca Hoschke in third.
Granger set the pace early in the piece coming out of the swim just behind Michelle Mitchell.
It was Granger's work on the bike that set her race up today establishing a three minute lead into transition, ahead of both Blackwell and Hoschke.
Granger says she has spent her life running scared at the front of the pack.
"When you get to my age, you start to doubt whether you should be doing it, but I just love this sport to death and to have a win is just a bonus.
"I have spent my life running scared, but I had a good run today and I've been working really hard to put the confidence back into my running," said Granger.
With Ironman Melbourne hot on everyone's lips, it was Granger who seemed most excited with her performance today.
"I cannot wait for Ironman Melbourne! It is going to be the best race Australia has ever seen. Not just the Australian girls, but we are also going to have so many internationals that are going to make it just great!" said Granger.
Amongst the throng of long course competitors today were over 800 participants in the Subaru Olympic Distance Triathlon.
The 1500m swim, 40km ride and 10km run course was tackled by some of the best in the business, with Matt Williams of NSW and Elly Franks of Victoria taking the prestigious victories.
With the race doubling as a qualifying race for the Age Group Olympic Distance World Championships in New Zealand this October, there were many triathletes putting in their best performance to secure their place in the Australian team.
Williams came from behind in the swim to lead through the bike and run leg, coming home in a time of 2:03.45. Close behind was Daudi Somi and Luke Gillmer.
In the women's open category, everyone's eyes were on race leader Elly Franks as she blitzed the field with a time of 2:18.33, after only signing up for the race yesterday.
"I decided last minute to have crack at the Olympic Distance after speaking with my coach about my race preparations for Ironman Melbourne.
"I haven't raced since Busselton Ironman two months ago, so it was time to get ready. There's no better way to snap back into it than racing as I just love racing and it's such a great event down here," said Franks.
The URBAN 2.80.20 and Subaru Olympic Distance Triathlon, both part of the second annual Geelong Multi Sport Festival have today proved to be a must-do race on the Australian triathlon calendar.
URBAN 2.80.20
Elite Men
1st Clayton Fettell "3:35.58
2nd Leon Griffin "3:38.49
3rd Tim Berkel "3:39.59
Elite Female
1st Belinda Granger "4:11.39
2nd Suzanne Blackwell "4:15.27
3rd Rebecca Hoschke "4:18.06