News & Racing
Clayton Fettell makes it two from two by winning Ironman 70.3 Kansas
It was Australia 1-2 at Ironman 70.3 Kansas over the weekend with Clayton Fettell heading off the 2012 Ironman Australia champion Paul Ambrose. As usual Fettell gapped the field in the swim, rode faster than everyone else and showed that he has the fire power on the run to go on with it. Fettell won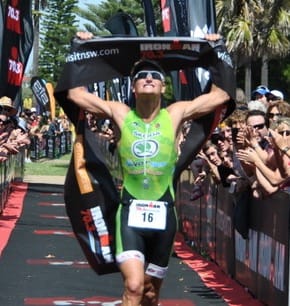 It was Australia 1-2 at Ironman 70.3 Kansas over the weekend with Clayton Fettell heading off the 2012 Ironman Australia champion Paul Ambrose. As usual Fettell gapped the field in the swim, rode faster than everyone else and showed that he has the fire power on the run to go on with it.
Fettell won Mooseman 70.3 a week ago and is a part of the successful Aeromax Team stable under the watchful gaze of Grant Giles. At Moosman the previous weekend Fettell ran a 1:16 to take out the race by an amazing 13minutes. At this level that sort of gap is virtually unheard of.
Fettell has one tactic at the moment and in the 70.3s it works. Lead from the start and never look back! As one of the fastest swimmer/riders in the game Fettell is now at the stage where his run has progressed to a point the he can win barring any mishaps. We first saw this at Port Macquarie last October when he secured his debut 70.3 win. Fettell held off a fast finishing Tim Reed to take 1st prize.
"I have always believed I am a good runner, but I am now at an age where I can put it on the line for 2.5 hours and then bring it home with a quick half. I ran a 1:16 last weekend at the Mooseman 70.3 after riding alone all day I was able to extend my lead in the half marathon."
Fettell runs high volume and it complements his other two disciplines. "I am slowly keep chipping away at all three disciplines. It's triathlon and it's first across the line in the quickest way possible."
Kansas is familar ground to Clayton. He lived in Lawrence for 4 months two years ago and he enjoys coming back.
With Ben Hoffman and Paul Ambrose racing this was going to be a tough race to win. Clayton Fettell was confident going in to Kansas but knew he had these two guys to overcome and it wasn't going to be easy.
Out of the water Fettell had a 30sec lead over Gavin Anderson with Ambrose and Hoffman over a minute and a half behind. On to the bike and Fettell didn't look back putting more time in to his chasers. Anderson would end up riding over 6 minutes slower to put himself out of contention. The only person to get close to Fettell on the bike was Ambrose. These two guys showed in Abu Dhabi this year that they are amongst some of the strongest cyclists in long course triathlon after riding the 200kms together with Fettell dropping off just near the end.
Even knowing Ambrose would be chasing hard Fettell stuck to his race plan. "Ambrose is one of the best riders and most under rated athletes on the circuit. He is good on all three disciplines and when he is riding he is riding."
On to the run and once again Fettell had enough to keep ahead of the competition. Ambrose ran 3/4 of a minute faster but it wasn't enough. Maybe there was still a bit of Ironman Australia in Ambrose's legs.
Hoffman had the run of the day at 1:18:09 but he had lost too much time on the bike to make it up on the run.
Clayton Fettell next races at Lake stevens 70.3 then Boulder 70.3 followed by the 70.3 world championship at Las Vegas. Finally he will tackle Kona in October. The main focus between now and then will be to stay consistent and healthy.
In the women's race, it was Ironman Melbourne 2nd place getter Rachel Joyce from England who managed to create daylight between herself and second placed Amanda Stevens. Joyce's 4:13:46 was a lot closer to the men's winning time that you normally see at a 70.3. Her run was as good as most of the guys, her bike was slightly off but not by much and her swim was solid.
Stevens put over a minute on Joyce in the swim but once on to the bike it was Joyce all the way.
Like Fettell, Rachel Joyce had some familiarity with the race area. Her parents lived in Kansas for a period.
With a bike/run like that Joyce may be one of the few women who will be able to match it with Melissa Hasuchildt (Rollison).
| | | | | | | |
| --- | --- | --- | --- | --- | --- | --- |
| Name | Country | Swim | Bike | Run | Finish | Div. Rank |
| Fettell, Clayton | AUS | 0:25:16 | 2:09:25 | 1:20:36 | 3:56:59 | 1 |
| Ambrose, Paul | USA | 0:26:55 | 2:09:49 | 1:21:13 | 3:59:33 | 2 |
| Hoffman, Ben | USA | 0:26:57 | 2:13:29 | 1:18:09 | 4:00:43 | 3 |
| Umphenour, Joe | USA | 0:26:00 | 2:17:54 | 1:17:01 | 4:02:40 | 4 |
| Lampret, Freddy | USA | 0:28:41 | 2:16:45 | 1:19:23 | 4:06:55 | 5 |
| Anderson, Gavin | USA | 0:25:51 | 2:15:48 | 1:24:02 | 4:07:31 | 6 |
| Mikelson, Ian | USA | 0:28:01 | 2:17:37 | 1:21:57 | 4:09:35 | 7 |
| Shearon, Jonathan | USA | 0:29:51 | 2:15:43 | 1:22:07 | 4:09:48 | 8 |
| Major, Jozsef | USA | 0:31:09 | 2:09:52 | 1:27:57 | 4:11:18 | 9 |
| Jameson, Joel | GBR | 0:34:03 | 2:16:44 | 1:20:03 | 4:12:46 | 10 |
| | | | | | | |
| Name | Country | Swim | Bike | Run | Finish | Div. Rank |
| Joyce, Rachel | GBR | 0:28:02 | 2:22:10 | 1:21:21 | 4:13:46 | 1 |
| Stevens, Amanda | USA | 0:27:10 | 2:29:21 | 1:38:00 | 4:36:26 | 2 |
| Sass, Kirsten | USA | 0:34:36 | 2:29:24 | 1:31:11 | 4:37:32 | 1 |
| Smith, Lesley | USA | 0:34:49 | 2:36:17 | 1:24:11 | 4:38:06 | 3 |
| McLane, Mandy | USA | 0:31:10 | 2:28:21 | 1:37:12 | 4:38:50 | 4 |
| Kuck, Missy | USA | 0:28:19 | 2:30:08 | 1:39:20 | 4:40:02 | 5 |
| Chaffin, Morgan | USA | 0:32:43 | 2:30:51 | 1:38:59 | 4:44:53 | 6 |
| Anderson, Christine | USA | 0:30:57 | 2:36:50 | 1:35:22 | 4:44:59 | 7 |
| Snyder, Sierra | USA | 0:31:01 | 2:36:44 | 1:36:19 | 4:46:26 | 8 |
| Van Der Merwe, Natasha | USA | 0:35:41 | 2:31:57 | 1:39:07 | 4:48:56 | 9 |