News & Racing
Courtney Atkinson and Brad Khalefeldt fuel Pete Jacobs need for speed
IRONMAN World Champion Pete Jacobs makes his long-awaited return to racing in Australia when he defends his IRONMAN 70.3 Cairns title on Sunday 9 June. There's no chance for Jacobs to ease his way back into top competition in IRONMAN Cairns 70.3, as he takes on a white-hot field including two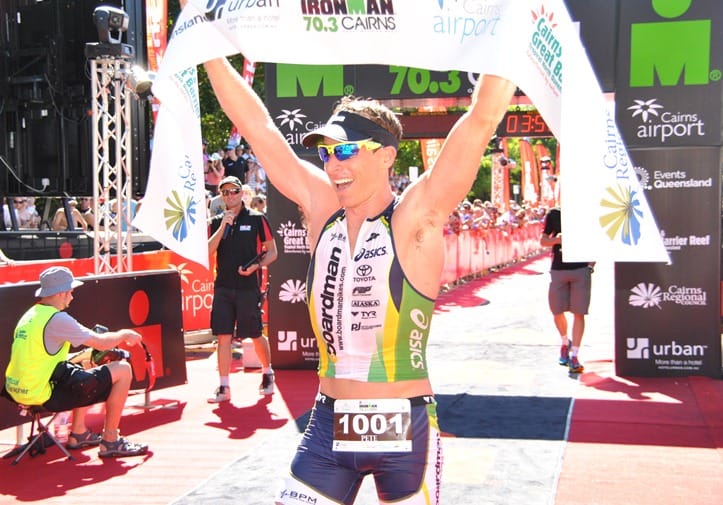 IRONMAN World Champion Pete Jacobs makes his long-awaited return to racing in Australia when he defends his IRONMAN 70.3 Cairns title on Sunday 9 June.
There's no chance for Jacobs to ease his way back into top competition in IRONMAN Cairns 70.3, as he takes on a white-hot field including two Olympians.
In-form two-time Olympians Courtney Atkinson and Brad Kahlefeldt will line up after both have made winning starts to their endurance triathlon careers.
This trio won't have it all their own way, with the stacked field including current Australian champion Tim Berkel and fellow accomplished Ironman 70.3 triathletes Joseph Lampe, Tim Reed and Matty White.
While relatively inexperienced at the longer distance game Atkinson and Kahlefeldt are both in sparkling form. Atkinson recently won the Koh Samui International triathlon, covering a 4km swim, 120km cycle and 30km run, while Kahlefeldt laid down a blistering 1hr10min run to record his debut win at IRONMAN 70.3 Busselton.
For his part Jacobs is looking forward to taking on a few guys with speed to burn.
"I'm going to Cairns to defend my title, and am not thinking about who is in the race, but more about how much faster I can go than last year. Having these other very talented athletes in the field will only fuel my fire for speed," said Jacobs.
"They have speed too, but sustaining it over four hours instead of just two like they are used to will test them."
Atkinson is looking forward to racing this distance for the first time after making the jump from Olympic distance (1.5km swim, 40km cycle, 10km run) to the longer races.
"I get to race the World Ironman champ in my first 70.3 which is pretty cool and a good benchmark.   It's funny though, as I have been locked into ITU racing for the past decade I haven't crossed paths with the majority of the regular guys who race 70.3 which is good. I don't really have any expectations except to go out and race my own race," said Atkinson.
Kahlefeldt is also looking forward to testing himself against the current World and defending IRONMAN 70.3 Cairns champion.
"Cairns has a great field. Pete Jacobs has shown he is one of the strongest athletes in the world at long course racing over the past couple years and has experience on this Cairns course. There are also plenty of other guys so it will be exciting to compete up there," Kahlefeldt said.
Kahlefeldt and Atkinson are among a growing number of Olympic distance athletes succumbing to the allure of Ironman distances.
Jacobs believes their move to a longer form of racing is good for the sport.
"It's great for the sport. The Olympic distance racing is almost a different sport. Different media, different sponsors, different federations and bodies run each distance," said Jacobs.
"Bringing a little of the spotlight from short course like these athletes are doing will only help the profile and understanding of long course racing. I can't wait for these guys to delve deeper into our sport and hear what they discover about the racing, and about themselves."
The IRONMAN 70.3 Cairns event is Sunday 9 June, 2013. Race starts from 06.45am.
| | | |
| --- | --- | --- |
| | Ironman 70.3 Cairns | |
| Bib | Athlete | Country |
| 1601 | Pete JACOBS | AUS |
| 1603 | Timothy BERKEL | AUS |
| 1604 | Joseph LAMPE | AUS |
| 1605 | Matty WHITE | AUS |
| 1606 | Tim REED | AUS |
| 1607 | Josh RIX | AUS |
| 1608 | Adam GORDON | NZL |
| 1609 | Sam BETTEN | AUS |
| 1610 | Courtney ATKINSON | AUS |
| 1611 | Sam APPLETON | AUS |
| 1612 | Monty FRANKISH | AUS |
| 1613 | Michael MURPHY | AUS |
| 1614 | Casey MUNRO | AUS |
| 1615 | Graham O'GRADY | NZL |
| 1616 | Shane BARRIE | AUS |
| 1617 | Matt BURTON | AUS |
| 1618 | Michael GEE | AUS |
| 1619 | Luke GILLMER | AUS |
| 1620 | David MAINWARING | AUS |
| 1621 | Kieran ROCHE | AUS |
| 1622 | Jamie STANLEY | AUS |
| 1623 | Brad WAUER | AUS |