News & Racing
Daniela Ryf Captures the Women's Ironman 70.3 World Championship With Record Breaking Fourth Crown
Today marked Day 1 of the 2018 Ironman 70.3 World Championship with the women opening the fierce competition. Defending Ironman 70.3 World Champion Daniela Ryf of Feldbrunnen (CHE) came into today's race as the clear favourite. After exiting the water in fourth, Ryf was determined and passed L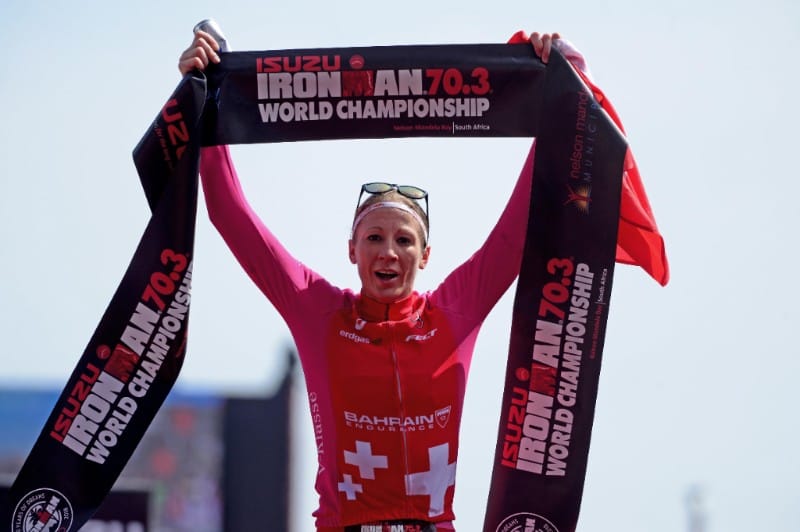 Today marked Day 1 of the 2018 Ironman 70.3 World Championship with the women opening the fierce competition. Defending Ironman 70.3 World Champion Daniela Ryf of Feldbrunnen (CHE) came into today's race as the clear favourite. After exiting the water in fourth, Ryf was determined and passed Lucy Charles of Hoddesdon, Hertfordshire (GBR) on the bike en route to claiming her fourth Ironman 70.3 World Championship in five years. Ryf finished in a stunning time of 4:01:12. Approximately 1,600 women were registered to compete in Nelson Mandela Bay as the Ironman 70.3 World Championship came to the African continent for the first time.
Under clear blue skies, the professional and age-group female athletes lined up at King's Beach for the start. As expected, super swimmer Lucy Charles charged to the front within moments of the cannon start and swam away from the field. She was first out of the water in 23 minutes, with a 1:24-minute lead over a chase group of about nine women that included Sarah True of Hanover, N.H (USA), Daniela Ryf and Anne Haug of Pegnitz, (DEU). Ryf, with a malfunctioning race kit, wasted no time reeling in Charles and made her pass on a flat section of the bike course. Charles retook the lead when Ryf dropped her chain, but after a quick fix, Ryf powered back into the lead. Ryf and Charles opened up more than a five-minute lead over the first chase group, which was led by Haug. Ryf hit the second transition in first with a time of 2:15:27, and Charles in second with a time of 2:17:11. Radcka Vodickova from Jablonec nad Nisou (CZE) came off the bike in third, 7:41 behind the leader.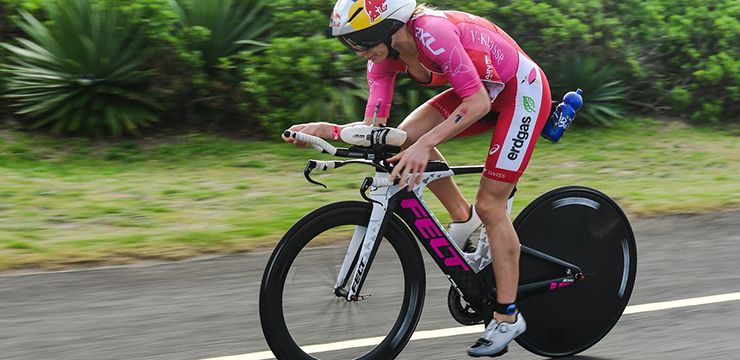 Ryf was first onto the two-lap run course, with Charles just eight seconds behind her. By 10K the defending champion had stretched her lead over Charles to 1:30, with a hard-charging Haug running in third nearly seven minutes behind Ryf. Ryf would close out her record-breaking fourth Ironman 70.3 World Championship win while Charles took second in 4:04:58, and Haug held on for third in 4:07:21 with the fastest run of the day (1:15:10). Pamella Oliveira from Vila Velha (BRA) ran her way into fourth place, finishing in 4:13:43, only six seconds in front of Radka Vodickova with a finishing time of 4:13:49.
"It was a really challenging day," said Ryf at the finish line. "It was a great race with a great atmosphere, and I felt like I was flying over the course. I felt great in the swim, and think our group did a good job not losing more than a minute to Lucy. I knew I had to push hard on the bike because Lucy was powering away. I put the hammer down, but she wouldn't let me go. I jumped off the bike and was absolutely smashed. The pressure was on, and I am happy I could find my legs. It was a really hard day, I have a lot of respect for Lucy."