Daniela Ryf crowned Subaru Ironman 70.3 World Champion in Mont-Tremblant
  In the midst of an incredible season, Daniela Ryf (SUI) once again proved she is a force in the sport of triathlon. Ryf exited the water just six seconds behind 2010 IRONMAN 70.3 World Champion Jodie Swallow (GBR), before the pair were joined at the front of the bike by Annabel Luxford (AUS)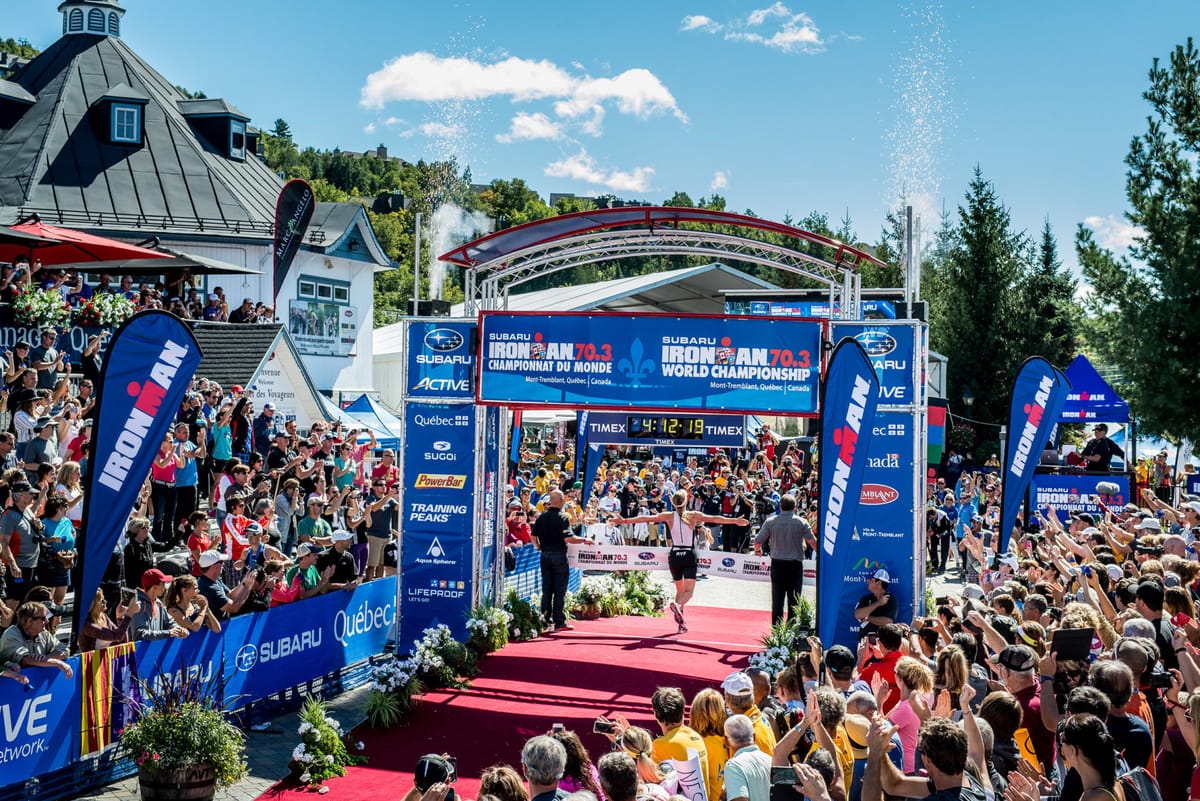 In the midst of an incredible season, Daniela Ryf (SUI) once again proved she is a force in the sport of triathlon. Ryf exited
the water just six seconds behind 2010 IRONMAN 70.3 World Champion Jodie Swallow (GBR), before the pair were joined at the front of the bike by Annabel Luxford (AUS) and Mary Beth Ellis (USA). Ryf and Swallow drove the pace through the first half before Ryf made her move and, by the 66 km, she had separated herself from Swallow, Ellis, Luxford and the rest of the field.
Once on the run, Swallow, who came off the bike in second, made things exciting as she managed to gain back a bit of time.
But, in the end, Ryf was simply too strong as she finished in 4:09:19, 2:24 ahead of Swallow. The win added to her impressive 2014 campaign including, a win at the 5150 European Championship, a win in her first IRONMAN race at IRONMAN Zurich, a win at the IRONMAN 70.3 European Championship in Wiesbaden and a win at KMD IRONMAN Copenhagen.
Canada's own Heather Wurtele ran her way to the podium after passing Meredith fourth (USA) and Ellis who rounded out the top five.
Top 10 professional women's results:
SWIM        BIKE            RUN          FINISH
1. Daniela Ryf SUI               00:24:04    02:16:46      01:24:30     04:09:19
2. Jodie Swallow GBR        00:23:59     02:19:28      01:24:10     04:11:43
3. Heather Wurtele CAN    00:26:24    02:21:53      01:22:19      04:14:55
4. Meredith Kessler USA    00:24:36    02:22:32     01:24:12      04:16:03
5. Mary Beth Ellis USA       00:24:01     02:20:04    01:28:45     04:17:03
6. Radka Vodickova CZE    00:24:32    02:25:42     01:23:33     04:17:47
7. Lisa Huetthaler AUT      00:26:26     02:25:24     01:22:24     04:18:16
8. Svenja Bazlen GEO         00:24:34    02:25:35      01:24:30    04:18:48
9. Rachel McBride CAN     00:26:33    02:22:30      01:26:39     04:19:52
10. Magali Tisseyre CAN    00:24:37    02:25:32      01:26:31      04:20:38