News & Racing
DATETV Challenge Roth media conference
The 12th year anniversary of Challenge Roth, increasingly becoming one of the most iconic iron distance races in the world, is looking to be a great weekend both on and off the race course. Despite current Ironman World Champion Leanda Cave and last year's winner of Challenge Roth Rachel Joyce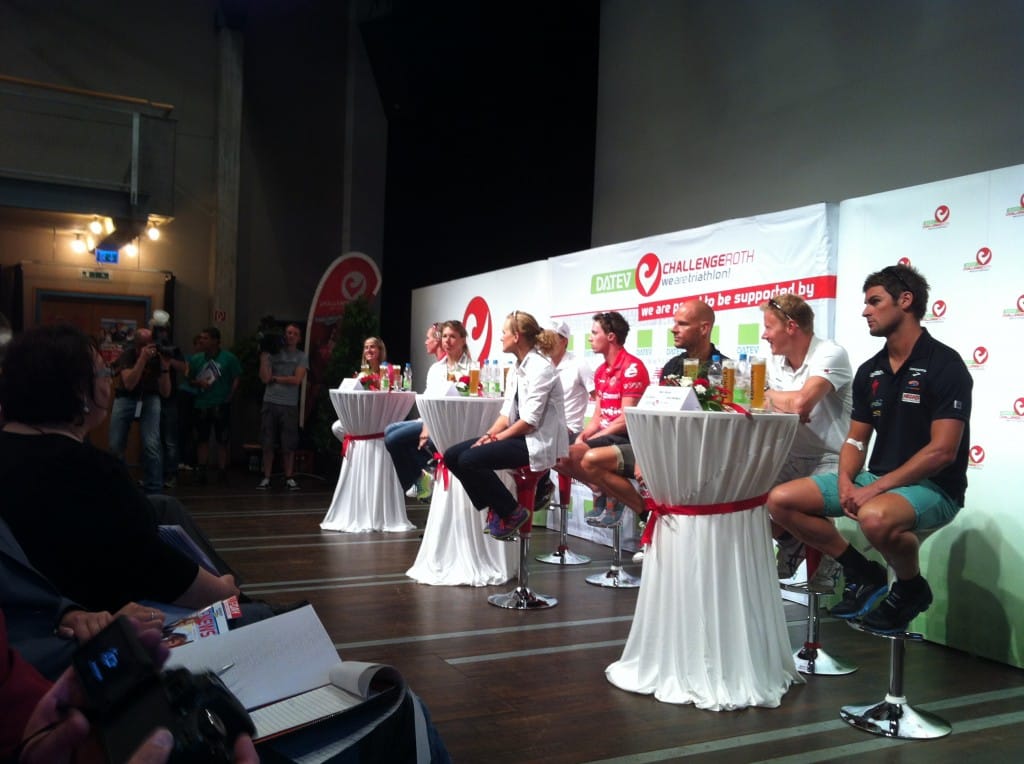 The 12th year anniversary of Challenge Roth, increasingly becoming one of the most iconic iron distance races in the world, is looking to be a great weekend both on and off the race course. Despite current Ironman World Champion Leanda Cave and last year's winner of Challenge Roth Rachel Joyce's absence, there is a top class women's field assembling in Roth. It is for health reasons that both Cave and Joyce have had to make last minute decisions to withdraw, a gut wrenching decision for any athlete. The Challenge Roth media conference was held today and we hear from the top contenders leading into the weekends event.
The eyes of the triathlon world are on the German town of Roth this week as over 5,000 triathletes prepare to take part in the world's greatest long distance triathlon, DATEV Challenge Roth on Sunday 14 July.
As the small Bavarian town prepares for the influx of athletes and over 200,000 spectators, increasing its regular population ten-fold, at today's media conference the stars of the race gave their comments, predictions and why Challenge Roth has been held in such high regard throughout the triathlon world for so long.
Belinda Granger (AUS) – "By far the greatest long distance race in the world"
Even though it's my last time here as an individual, I'll always be involved. I'll be coming back to be behind the scenes, I just felt that 10 races was a good time to finish as a professional athlete but I can't not be involved in the future – it is by far the greatest long distance race in the world. I'll be racing on Sunday, I'm still competitive but we've got four of the world's top women taking part so I'm realistic. I've never finished outside the top 10 and hopefully that will stay the same on Sunday! It's impossible not to enjoy your race here, especially the last 2km of the run; it's impossible not to smile.
Julia Gajer (DEU) – "Third time in Roth and third long distance race – that says it all"
Truly looking forward to this race, it's my third time in Roth and my third long distance race so that pretty much says it all. I feel that I'm prepared extremely well so let's see what comes out of it. It feels as if every year the competition has grown but that doesn't scare me, and it's great to compete against such a great field and it's something to look forward to.
Sonia Tajsich (DEU) – "The highlight of the year"
A victory at Challenge race is still elusive but like all the other girls sitting here, I'm here to win – I've really been focused on this race and it is the highlight of the year for me. The plan is to try to keep the gap in the swim as minimal as possible, I will go full throttle on the bike to get ahead and run the marathon from the front.
Yvonne van Vlerken (NED) – "My heart has always been here"
Thanks very much for the opportunity to be here again it feels really good. My heart has always been here, even when racing elsewhere, I call it my German home and it's great to be back. Sunday wont be easy. All four of us will be very close, it will just be a question of who has the best form on the day. I would really like to get my third win on Sunday.
Caroline Steffen (SUI) – "I've waited for years to be a part of this history"
I've heard so much about this race which is one of the reason why I want to be here. I've waited for years to be part of it and I really look forward to being part of this history.  Last year I had an 8:35 and I'm looking forward to seeing what's possible on the fast course here in Roth. It's always good to be able to compare against the great times that have been achieved here by the likes of Chrissie, Yvonne and the other girls. I'm one of the fastest swimmers and I'm also the quickest on the bike, so yes, it's certainly possible I'll come up at the front for the run. This is certainly going to be my tactics as it always is and I'll try and do this on Sunday as well.
Please not Rachel Joyce and Leanda Cave are late withdrawals.
| | | | |
| --- | --- | --- | --- |
| SURNAME | FIRST NAME | HOME TOWN | NATIONALITY |
| Tajsich | Sonja | Sinzing | DEU |
| Vlerken | Yvonne | Schwarzach | AUT |
| Joyce | Rachel | South Cave | GBR |
| Lawn | Joanna | Auckland | NZL |
| Gajer | Julia | Ditzingen | DEU |
| Cave | Leanda | Tucson | USA |
| Steffen | Caroline | Parrearra | AUS |
| Konschak | Katja | Nordhausen | DEU |
| Leder | Nicole | Darmstadt | DEU |
| Granger | Belinda | Noosa | AUS |
| Grice | Yvette | Eastbourne | GBR |
| Kuch | Celia | Weinheim | DEU |
| Li | Shiao-Yu | Taipei | TWN |
| Kusch | Anna | Kaiserslautern | DEU |
| Jackson | Christina | Oceanside | USA |
| Pereira | Vanessa | Lisbon | PRT |