News & Racing
Dave Matthews and Bree Jones win Round One of the Trishave Sydney Triathlon Series
Racing returned to Kurnell this weekend with round one of the ever popular Sydney Triathlon Series. This season has seen a course change, with competitors once again racing over the original course that took them over a small hill in the scenic National Park before rejoining the course which most wo
Racing returned to Kurnell this weekend with round one of the ever popular Sydney Triathlon Series. This season has seen a course change, with competitors once again racing over the original course that took them  over a small hill in the scenic National Park before rejoining the course which most would be familiar with around the streets of Kurnell.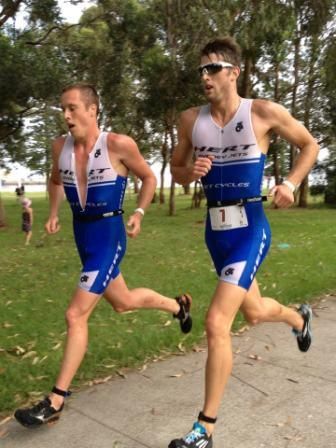 Conditions were ideal for fast racing, with 22 degrees and very light winds, and no significant tidal currents.  Twenty  seven men started in the pro tour field, the lead group out of the 750m swim included Michael Fox, Nuru Somi, Michael Murphy, Bryce Woodly, Kieran Roche, Julian Oey  and Dave Matthews – all within 3 seconds of one another. In this draft legal race the group remaind together on the bike, with the lead 16 riders recording a split within 30 seconds of one another, meaning it all came down to the run.
(Michael Murphy and Sam Douglas – Photo courtesy of Jet Cycles)
In a tight finish Dave Matthews was able to get away for a win in 56:53, followed 3 seconds later by Michael Murphy with Sam Douglas being a further 2 seconds back.
Only four women entered the female pro tour, which was taken out by Bree Jones in 1:07:30, ahead of Tarni Cunningham and Laura Cook. Fastest woman of the day however was age grouper Christelle Van Niekerk, racing in the 35-39 age category, who came home in 1:07:07.
Fastest male age grouper of the day was Robert Hurley in 1:00:06, followed by Anthony Parker, and the ever youthfull Mick Maroney, now racing in the 45-49 category who came home in a blistering 1:01:15.
| | | | | | | |
| --- | --- | --- | --- | --- | --- | --- |
| Pos | Name | Time | Cat | Swim | Cycle | Run |
| 1 | Dave MATTHEWS | 0:56:53 | M-Pro | 0:10:30 | 0:30:34 | 0:15:48 |
| 2 | Michael MURPHY | 0:56:56 | M-Pro | 0:10:28 | 0:30:33 | 0:15:54 |
| 3 | Sam DOUGLAS | 0:56:58 | M-Pro | 0:10:32 | 0:30:29 | 0:15:56 |
| 4 | Daudi SOMI | 0:57:21 | M-Pro | 0:10:34 | 0:30:37 | 0:16:09 |
| 5 | Shane ILGEN | 0:57:24 | M-Pro | 0:10:34 | 0:30:36 | 0:16:14 |
| 6 | Nuru SOMI | 0:57:30 | M-Pro | 0:10:28 | 0:30:31 | 0:16:30 |
| 7 | Dom AUNGLES | 0:57:36 | M-Pro | 0:10:50 | 0:30:23 | 0:16:22 |
| 8 | Declan WILSON | 0:57:40 | M-Pro | 0:10:52 | 0:30:18 | 0:16:28 |
| 9 | Kieran ROCHE | 0:57:55 | M-Pro | 0:10:30 | 0:30:42 | 0:16:42 |
| 10 | Shane FARRANT | 0:58:13 | M-Pro | 0:10:43 | 0:30:26 | 0:17:03 |
| 11 | Bryce WOODLEY | 0:58:26 | M-Pro | 0:10:29 | 0:30:47 | 0:17:10 |
| 12 | Michael FOX | 0:58:35 | M-Pro | 0:10:27 | 0:30:43 | 0:17:25 |
| 13 | Ben HAMMOND | 0:59:06 | M-Pro | 0:10:56 | 0:30:15 | 0:17:54 |
| 14 | Mitchell BROWN | 0:59:30 | M-Pro | 0:10:50 | 0:30:24 | 0:18:15 |
| 15 | Jack INWOOD | 0:59:39 | M-Pro | 0:10:47 | 0:30:24 | 0:18:26 |
| 16 | Jessie FREEMAN | 0:59:58 | M-Pro | 0:10:30 | 0:30:35 | 0:18:52 |
| 17 | Bradley FRASER | 1:00:05 | M-Pro | 0:11:18 | 0:31:42 | 0:17:05 |
| 18 | Cameron FRASER | 1:00:20 | M-Pro | 0:11:11 | 0:31:53 | 0:17:15 |
| 19 | Jack BIGMORE | 1:00:51 | M-Pro | 0:10:51 | 0:30:25 | 0:19:34 |
| 20 | Harry JONES | 1:01:03 | M-Pro | 0:11:14 | 0:32:48 | 0:17:00 |
| 21 | Nicholas HURLSTON | 1:03:06 | M-Pro | 0:11:12 | 0:32:17 | 0:19:36 |
| 22 | Mitch BAKER | 1:03:14 | M-Pro | 0:10:59 | 0:34:42 | 0:17:32 |
| 23 | Matt GODKIN | 1:04:27 | M-Pro | 0:11:07 | 0:34:33 | 0:18:46 |
| 24 | Matt FITZGERALD | 1:05:28 | M-Pro | 0:11:38 | 0:34:04 | 0:19:45 |
| 25 | Bree JONES | 1:07:30 | F-Pro | 0:11:48 | 0:36:38 | 0:19:03 |
| 26 | Tarni CUNNINGHAM | 1:07:51 | F-Pro | 0:11:51 | 0:36:37 | 0:19:22 |
| 27 | Laura COOK | 1:08:23 | F-Pro | 0:11:38 | 0:36:02 | 0:20:41 |
| 28 | April LANGEREIS | 1:14:46 | F-Pro | 0:13:09 | 0:39:38 | 0:21:58 |