News & Racing
David Dellow to race MetaMan Bintan six weeks out from Kona
David Dellow is forging ahead with his iron distance triathlon career. The Ironman Cairns 2012 champion has some big goals in 2013 but before he takes on his biggest goal of the year though he will be racing the MetaMan Bintan iron distance race in Indonesia. Most pros looking at podiums in Kona wil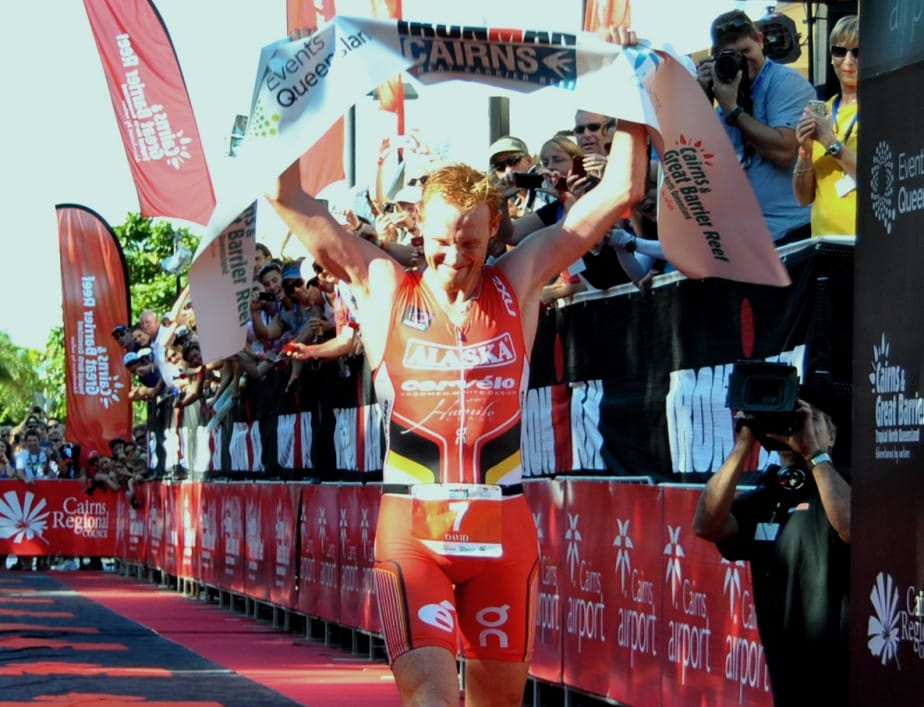 David Dellow is forging ahead with his iron distance triathlon career. The Ironman Cairns 2012 champion has some big goals in 2013 but before he takes on his biggest goal of the year though he will be racing the MetaMan Bintan iron distance race in Indonesia.
Most pros looking at podiums in Kona will not be racing this close to their A race of the year. But for Dellow this is just another hit out for someone who can handle the intensity of racing an iron distance in this climate.
With a week to go before MetaMan we caught up with David as he prepares to take on a solid field including Tim Berkel, Courtney Atkinson, Brett Carter, Viktor Zyemtsev, Matty White, Fredrik Croneborg amongst others.
Trizone: It will be great to see you racing iron distance next month in Bintan, Indonesia. What is it you like about warm climate races and in particular what appeals to you about Bintan?
David Dellow: I grew up in a warm climate in Australia so that's why I've always preferred to race in the heat, I really struggle at times with the cold races in Europe. A few of my mates raced Metaman last year and they were raving about the event and it fitted in perfectly with my schedule so I thought why not.
Trizone: What are some of the strategies you employ when training for racing in warm climates?
David Dellow: There's all the obvious stuff like hydration, salt etc. etc. but I think the key is to just not over do it while training in the heat. It's impossible to get through the same work load you would in a cool climate in a hot climate.
TZ: With Metaman being close to Kona what will your race strategy be? Is this race about the prize money or a final hit out before Kona (albeit very close to Kona).
David: A bit of both, I'm coached by Brett Sutton and he's never been one to wrap his athletes in cotton wool in the lead up to big race. Metaman will be a great hit out for me in the lead up to Kona and the cherry on top is the organisers have done a great job of securing some great prize money.
TZ: How will this race impact Kona?
David: It'll make me stronger in Kona. It's the perfect amount of time (6 weeks) before Kona for me to fully recover and be ready to go again. If I had any doubt that this race would impact my form in Kona I wouldn't be racing.
TZ: Last year you finished a credible 9th overall in your first time at the Ironman World Championship in Kona. Is your goal to podium at Kona this year or in 2014?
I want to get on the podium this year. In 2012 I was in top form about 6 months too early but early this year I had a long injury that prevented me from cycling and running for 3 months. The injury was very frustrating at the time but the upside is I'm really fresh now and every week I can see improvement in my ride and run.
TZ: It would be fair to assume that most professionals take their training pretty seriously, would you agree with this and how focused are you in your approach to your training? Can you tell us a bit about you when you are in 'serious training mode'.
David: For sure it's fair to assume that training is an important aspect of a pro's life because without it the racing, prize money and sponsorship can all head south really fast. I take my training pretty seriously because I'm not some super talent that can just take the easy road in training and then still perform on race day. If I want to have any chance of racing well then a quality training block behind me is crucial.
When I'm in a serious training block I put a lot of focus on the work plus all of the other aspects like recovery but in the spare time between training I like to switch off and do things totally 'untriathlon' related. I'm into music and I read books that have nothing to do with triathlon or any other sport. I've actually never read a triathlon magazine, blog or article "except this one. (Thanks David)
TZ: You are driven to succeed in long distance non drafting triathlon. What is your motivation behind this drive?
David: When I was racing ITU I had absolutely no idea about long course triathlon, before I started with long course I wouldn't have even known who won Kona that year. Since getting into long course in 2011 I was pretty much hooked instantly. I love it how the race plays out over a whole day and even the best athletes in the world are going to have bad patches and it's how they deal with those bad patches that makes them the best.
TZ: Do you have any unique aspects to your diet?
David: Not really. I do eat a hell of a lot so I try to make the vast majority healthy.
TZ: How do you keep trim when on breaks?
David: I don't. During my breaks my weight is the last thing on my mind. If your getting on the scales and worrying about gaining a few kilos during your break then your not really on a break. Time off for me from triathlon has to be physical and mental.
TZ: What are some of the key differences between your training for long course and short course?
David: The differences in training are huge, I would really consider draft legal olympic distance triathlon and Ironman two different sports. Basically ITU is so fast you really need to get in the quality work or your just going to be left for dead. As I mentioned before Ironman is played out over a whole day so just logging miles is important.
TZ: You are one half of a triathlon power couple. What is life like for David Dellow and Caroline Steffen at the moment? How much do you train together? Are your diets similar? Does much differ in your training regimes even though you both race iron distance predominantly as your goal races?
David: Life's great for both of us at the moment, we just bought a house together on the Sunshine Coast in Australia so that's exciting and we're both living our dream traveling around the world together racing and training as pro athletes.
We live under the same roof and eat at the same table so that makes our diets pretty similar. She still eats a lot of the Swiss stuff like cheese which I don't like and she turns her nose up at some of the Aussie foods like fish n' chips which I like.
We never train together, firstly because we have different training programs but also because we tried it a few times and it just ended in us trading insults on the side of the road somewhere.