News & Racing
Dirk Bockel wins Challenge Roth 2013 with a dominant performance
Dirk Bockel has won Challenge Roth with a lead from the front performance. Bockel took the race to his competitors and never looked like being headed. In the end he won by an incredible 12:12. In a big race like this with one of the strongest fields going this is an incredible margin. Especially ove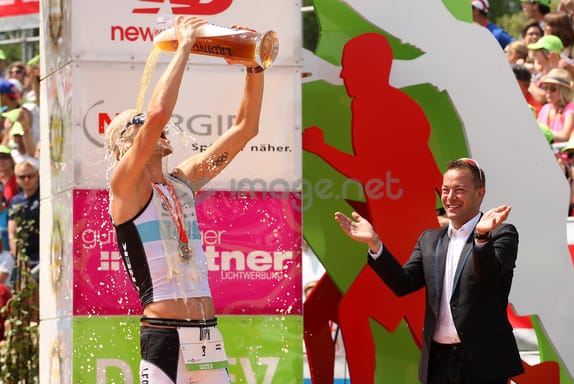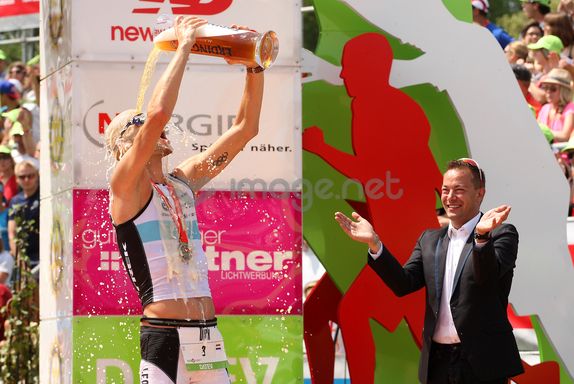 Dirk Bockel has won Challenge Roth with a lead from the front performance.
Bockel took the race to his competitors and never looked like being headed. In the end he won by an incredible 12:12. In a big race like this with one of the strongest fields going this is an incredible margin. Especially over last year's winner James Cunnama who finished second overall.
The comeback of the day was Timo Bracht who looked to be down and out when he started the run at 20+min down on Dirk Bockel. Bracht punctured on the bike and lost a lot of time. He ran a 2:44 to come from 7th at the start of the run to finish 2rd overall.
Record crowds, perfect race conditions and two champions racing their first Challenge Family race marked the 12th Challenge Roth today with Dirk Bockel and Caroline Steffen taking top honours in 7:52:01 and 8:40:35 respectively.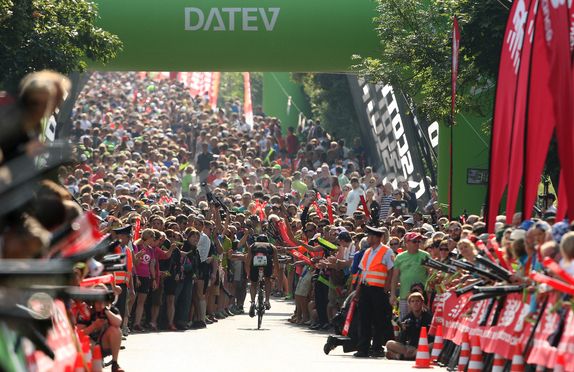 It was Thursday's DATEV Challenge Roth press conference that saw Dirk Bockel announce his goal to beat his personal record of 8:11 hours and to finish among the top three. He entered the water of the Main-Danube-Canal in the morning, and of course most insiders knew that he, being a strong swimmer, would be among the first to leave the water after 3.8km. Only Dylan McNeice (NZL) and Stephen Bayliss (GBR) were a few strokes ahead with McNeice exiting the water first in 45:58. Bockel left the water at 46:05 alongside Olympian Maik Petzold with three and a half minutes between himself and his strongest rivals, Timo Bracht (GER) and last year's winner James Cunnama (RSA).
Bockel made a point of keeping up his speed on the bike, thus laying the foundation for the title. When second placed Konstantin Bachor reached the second transition area, he was already trailing by seven minutes. James Cunnama started his marathon run another four minutes later. Timo Bracht was stopped by a flat tyre, which caused his race to stop for several minutes, dropping to 30th place. During his marathon run he passed six of his co-competitors and entered the Roth triathlon stadium in third place. "If it wasn't Roth, I'd have given up. But I kept going for my family, for my team and for each one of you along the race course!" he said.
After an unbelievably fast switch to his running shoes Bockel managed to keep his lead thanks to his pace and his textbook style of running. While Timo Bracht kept making up time on his rivals, Konstantin Bachor wasn't able to keep Cunnama's pace, who passed Bachor after 20 kilometres.
At this point the places on the 2013 DATEV Challenge Roth winner's rostrum were virtually decided. Bockel went on to win the race in 7:52.01 hours. James Cunnama followed twelve minutes later in 8:04:13, and Timo Bracht completed the winner's rostrum after 8:08.18 hours.
"This was a dream coming true for sure," said Bockel. "I've been doing triathlon for 24 years now and I would never have imagined I could do this time "believing is such a big part of this sport, as well as putting in the work. I had my fastest ever swim, fastest bike and fastest run. I'm not known for my run, but I got a PB, a new national record. To cut it short, it's a dream come true. There's no question that I wont come back. I have never experience such an atmosphere in any race and I've been around for a while around now, I'm definitely coming back!"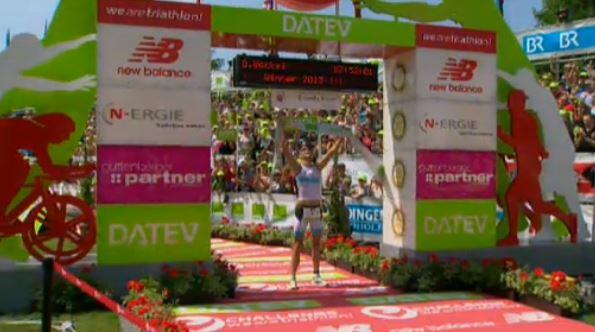 | | | | | |
| --- | --- | --- | --- | --- |
| Pos. | name | club | Diff | Time |
| 1 | Bockel, Dirk (LUX) | LUXEMBOURG | +00:00 | 7:52:01 |
| 2 | Cunnama, James (RSA) | TEAMTBB | +12:12 | 8:04:13 |
| 3 | Bracht, Timo (GER) | POWER HORSE TRIATH… | +16:17 | 8:08:18 |
| 4 | Fachbach, Markus (GER) | SOFTWARE AG TEAM D… | +20:12 | 8:12:13 |
| 5 | Blanchart, Miquel (ESP) | CN SABADELL | +21:24 | 8:13:25 |
| 6 | Bachor, Konstantin (GER) | VFL WOLFSBURG | +25:54 | 8:17:55 |
| 7 | Marques, Sergio (POR) | CHARITY MULTISPORT | +31:39 | 8:23:40 |
| 8 | Smits, Roeland (NED) | TEAM DAVILEX | +32:02 | 8:24:03 |
| 9 | Vabrousek, Petr (CZE) | AUTHOR TUFO TRILIF… | +34:25 | 8:26:26 |
| 10 | Strijk, Erik-Simon (NED) | DAVILEX TRIATHLON … | +34:53 | 8:26:54 |
| 11 | Vistica, Andrej (CRO) | TK ZAGREB | +36:04 | 8:28:05 |
| 12 | Müller, Christian (GER) | RSV TRIA BÜHLERTAL | +36:54 | 8:28:55 |
| 13 | Krämer, Lukas (GER) | ARGI+ TRITEAM SCHO… | +38:31 | 8:30:32 |
| 14 | Hagen, Bernd (GER) | TEAM ARNDT | +39:17 | 8:31:18 |
| 15 | Jung, Simon (GER) | EJOT TEAM TV BUSCH… | +39:24 | 8:31:25 |
| 16 | Müller, Jens (GER) | TSV NEUSTADT/REMS | +39:43 | 8:31:44 |
| 17 | Dülsen, Marc (GER) | TEAM SILLA HOPP/TE… | +40:04 | 8:32:05 |
| 18 | Koceic, Marin (CRO) | TK SPLIT | +40:30 | 8:32:31 |
| 19 | Büchler, Marcus (GER) | WMF BKK TEAM AST S… | +42:44 | 8:34:45 |
| 20 | Mcneice, Dylan (NZL) | Christchurch | +44:25 | 8:36:26 |