News & Racing
Ditlev and Ryf Break Records at Thrilling Challenge Roth 2023
Defending champions Magnus Ditlev and Daniela Ryf set new world records at the Challenge Roth, cementing their places in long-distance triathlon history.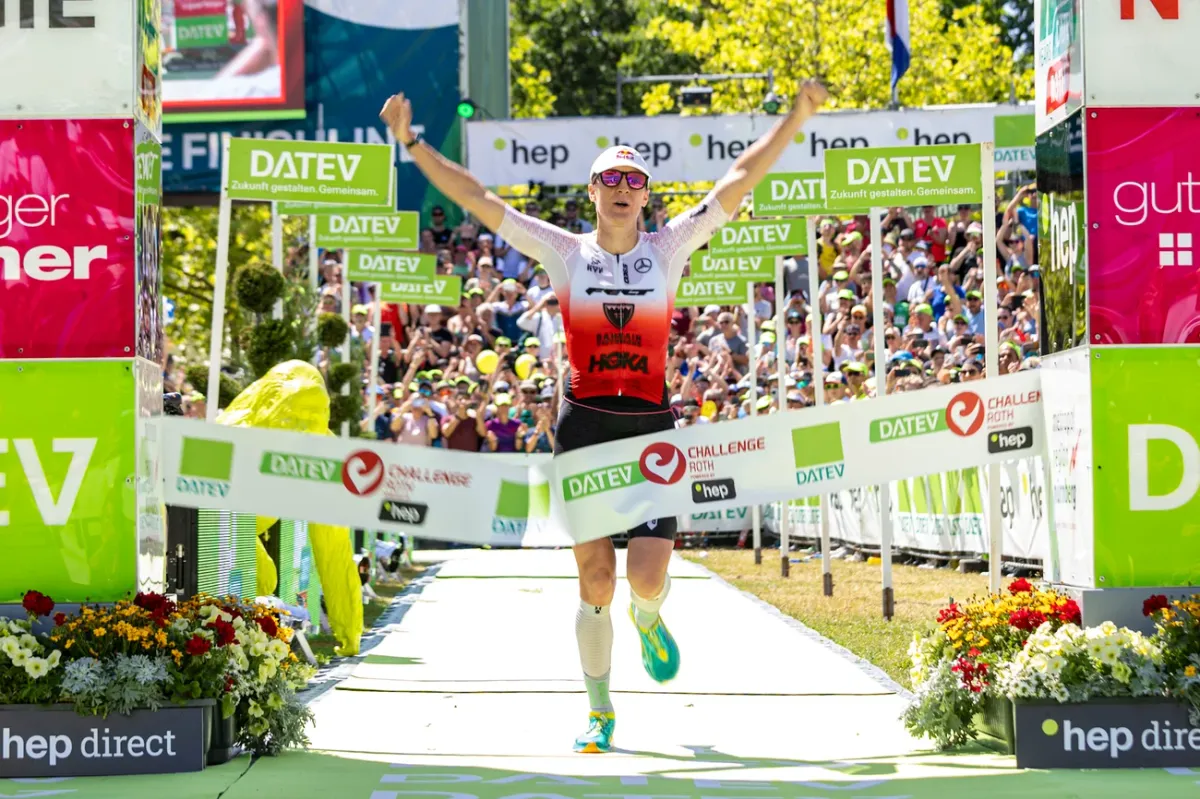 Challenge Roth, renowned for its thrilling races and enthusiastic spectators, witnessed a remarkable feat on race day as both defending champions set new world record times. Magnus Ditlev of Denmark and Daniela Ryf of Switzerland, the defending champions, wowed the crowds with performances that rewrote the long-distance triathlon record books.
Magnus Ditlev finished the race with a world record time of 7:24:40, while Daniela Ryf shattered Chrissie Wellington's 12-year-old record by almost ten minutes, finishing with a time of 8:08:21. The race was even more impressive because Ditlev beat his own record set last year.
Men's Race
Ditlev's commanding performance began with his emergence from the swim in sixth place, just 11 seconds off the lead. His intention was clear – to defend his title with all his might. From the start of the bike section, Ditlev set a blistering pace, causing the lead pack to thin out quickly.
Matching Ditlev until well into the run was Sam Laidlow from France, who later finished eighth due to calf issues that surfaced on the run course. Ditlev powered on and achieved a bike split of 3:57:45, setting a new record and extending his lead.
On the marathon, the real chase started. The 2021 Roth champion, Patrick Lange, made ground on the run, overtaking Laidlow at 24k. Despite his effort, he stated, "I already knew in T2 I wouldn't be able to catch up." His marathon time of 2:30:27, though just missing his sub 2:30 target, was enough to secure him second place, with American triathlete Ben Kanute, the first swim exit, finishing third.
Sebastian Kienle, the 2018 Roth champion, had a different goal for the race. He wanted to savor the experience of his final long-distance race in Germany. He enjoyed the energy of the crowd, finishing in a comfortable 14th place.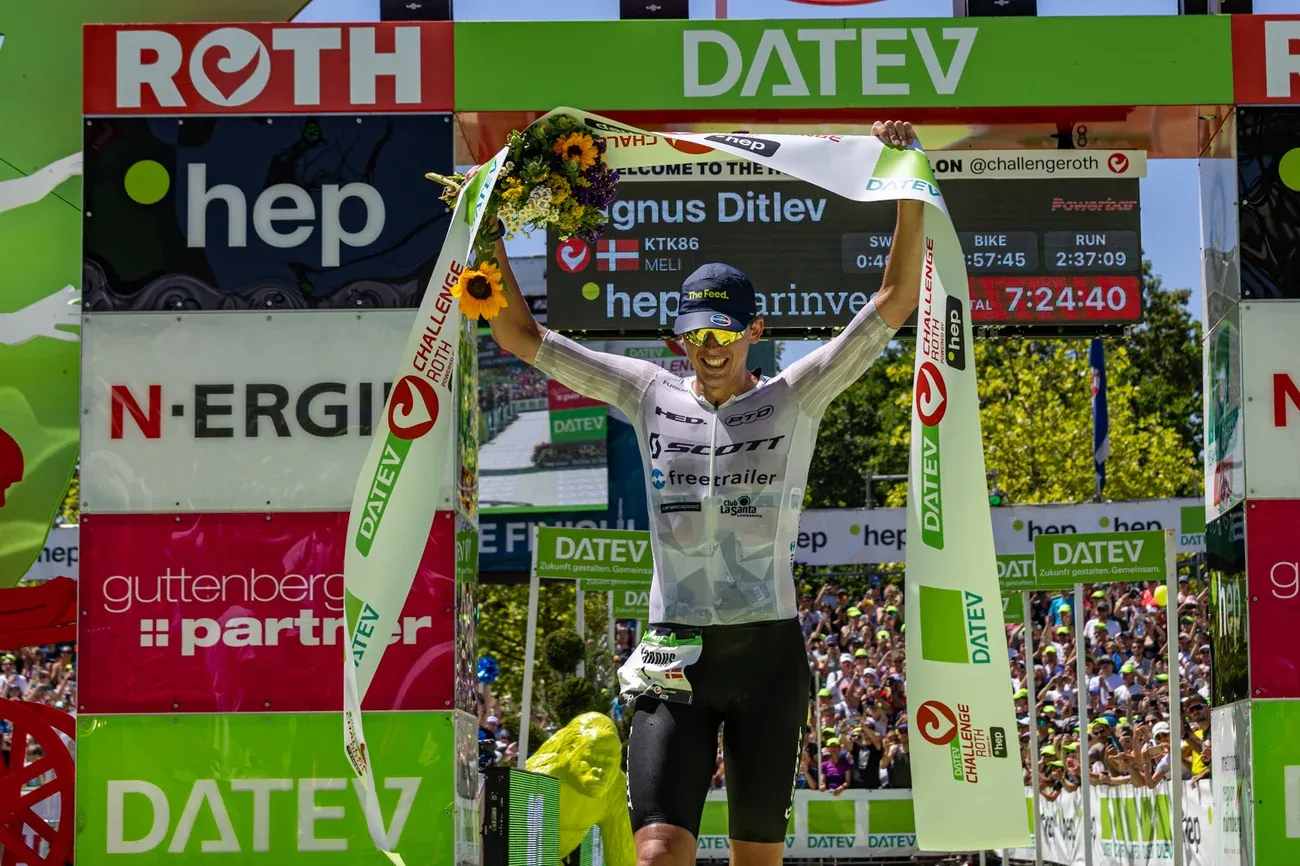 1. Magnus Ditlev
Magnus Ditlev started the race with a 0:46:47 swim, putting him in 6th place at that point. After a swift transition time of 1:47, he set out on the bike course where he truly made his mark. Despite coming in 8th with a time of 3:57:45, his high pace contributed to his overall lead. His transition into the run was a brief 1:14, after which he completed the marathon run in 2:37:09, securing him the 3rd best run time and the overall win with a total time of 7:24:40.
2. Patrick Lange
The 2021 Roth champion, Patrick Lange, also had a strong showing. His swim time of 0:46:42 earned him 4th place. After a 1:31 transition, he took on the bike course, finishing with a time of 4:10:02 which placed him 14th. His transition to the run course took 1:23, but it was on the marathon that Lange truly shone, completing it in 2:30:27, the best run time of the day, and earning him second place with a total time of 7:30:04.
8. Sam Laidlow
Sam Laidlow had a promising start to the race, exiting the swim in 2nd place with a time of 0:46:37. After a transition time of 1:42, he finished the bike in 3:58:01, ranking 9th. Despite a brief transition of just 0:59 into the run, issues surfaced causing his run time to drop to 3:00:48, and his overall position to 8th with a total time of 7:48:05.
Women's Race
In the women's race, the challenge was equally intense. Daniela Ryf, who has previously won Roth twice, shattered Chrissie Wellington's longstanding world record of 8:18:13 from 2011. Ryf crossed the finish line with a time of 8:08:21, marking a nearly 10-minute improvement over the previous record.
From the start of the race, Ryf showed her dominance. She was the only one who could keep up with Fenella Langridge during the swim, and once on the bike, Ryf built up a substantial lead that put her out of reach of her competitors.
Despite a strong run from Germany's Anne Haug, last year's champion, she knew by the time she was off the bike that victory was out of reach, given Ryf's commanding lead. Nevertheless, she delivered a strong performance, finishing second. Laura Philipp of Germany, who had lost touch with the leaders during the swim, managed to secure a commendable third place, making it a good day for Germany in the women's race.
1. Daniela Ryf
Daniela Ryf delivered a stunning performance in the women's race, starting off with a swim time of 0:50:15, ranking her 2nd. After a 1:43 transition, she began the bike course, finishing first with a time of 4:22:56. After a 1:34 transition, she completed the run in 2:51:55, placing her 3rd. Despite not winning the run, her overall performance was enough to secure her first place with a world record-breaking total time of 8:08:21.
2. Anne Haug
Germany's Anne Haug started the race with a 0:54:12 swim, which placed her 10th. A quick transition of 1:36 led her into the bike where she placed 4th with a time of 4:39:17. After a 1:21 transition, she completed the marathon in 2:44:45, winning the run. Despite her strong run, she was unable to catch Ryf and finished second with a total time of 8:21:09.
3. Laura Philipp
Laura Philipp had a challenging start, finishing 9th in the swim with a time of 0:54:11. After a 1:28 transition, she started the bike course, finishing in 4:37:29 and placing 3rd. With a 1:13 transition, she began the run, finishing it in 2:51:12, placing her 2nd in this section. Despite a tough start, her strong performances in the bike and run earned her third place overall with a total time of 8:25:31.