Eneko Llanos wins Ironman Frankfurt and the European Championship – Results
Eneko Llanos has added to his spectacular 2013 list of results with a win at Ironman Frankfurt and in the process has taken out the European Championship. Llanos has won after a blistering marathon which saw him dominate some very fast runners including current World Ironman Champion Pete Jacobs. In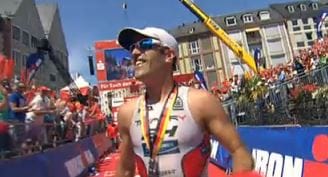 Eneko Llanos has added to his spectacular 2013 list of results with a win at Ironman Frankfurt and in the process has taken out the European Championship.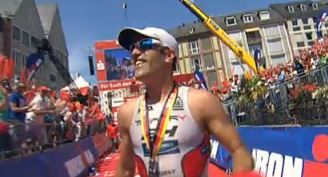 Llanos has won after a blistering marathon which saw him dominate some very fast runners including current World Ironman Champion Pete Jacobs.
In second place was Jan Raphael who put in an incredibly solid 2:51 marathon to finish 7:21 behind Llanos. Raphael is a solid looking athlete and ran strongly all day.
Running in to third was Netherland's Bas Diederen who posted a 2:47 marathon to over take Axel Zeebroek and Andi Bocherer who had ridden over nine minutes in to Diederen but still that wasn't enough.
Eneko Llanos continued to make 2013 a superb year, backing up his Ironman Asia Pacific Championship title in Melbourne this March with the Ironman European Championships here in Frankfurt under perfect blue skies. In a packed men's field it was Llanos that proved most consistent keeping himself in the front pack of the swim and bike before unleashing on the run to charge home in a shade short of the magical 8 hour barrier posting splits of 46:10, 4:25:32 and a scorching 2:44:12 to round out with a 7:59:58. For the women it was the day for the Danish with a come from behind win for Camilla Pederson (8:56:01) taking the European title after Brit Jodie Swallow (8:58:43) lead from the gun before succumbing in the back half of the marathon. The talented Swallow once again showed tremendous form in the swim and bike though it was her run legs that whilst improving didn't quite get her there this time.
The absolutely stacked men's field saw the big Kona contenders show up to put on a show for the German fans. For the likes of Aussie World Champ Pete Jacobs and German 70.3 world champ it was a case of validating their spots for Kona but the likes of Vanhoenacker, Raelert and others were targeting much needed Kona ranking points. All eyes were on the Big Belgian to defend his title from last year. With a strong showing in Melbourne and a full focus on this race and Kona he was the firm favourite. True to form after exiting a little down on the lead swim pack, in no time he was up into the lead group and pushing the pace. Jacobs noted when he saw Vanhoenacker with them in the front within a few kilometres he could tell it could be tough day for all on the bike as Marino would no doubt go out hard. Sure enough he set about putting time into the field and already had almost 2 minutes by the time he hit the famous climb "The Beast" approximately 20kms into the bike leg. From there he went about creating a larger gap but only managed to ever get 5 minutes on the chasing group which was being driven hard by Llanos and Jacobs. Trizone spoke to Aussie Chris Kemp post race and the first time ironman competitor and 70.3 Asia Pac champ noted his shock at 'the level of pressure on the bike leg courtesy of Jacobs remarking how he was riding the 180km like it was a 70.3.'
As the heat continued to be turned up on the bike by the always strong Marino, the chase group dwindled to leave just 5 chasers with the likes of Unger, Dellow, Raelert and more falling off the pace. For Kienle, he had never managed to catch the chase pack and spent much of the day on his own until picking up those that were falling off the pace. Coming into T2 with a 4:20 bike split Vanhoenacker had only managed to create a 5 minute margin on the high calibre runners of Llanos and Jacobs. Sure enough within 5k on the run the chasers lead by Raphael and Llanos were closing in fast. Post race Trizone spoke with Vanhoenacker who told us that he knew early on in the run it was not going to be his day as he "just didn't feel it and then some niggles flared up". By the 2nd of 4 riverside laps Marino fell by the wayside and it looked like it would Llanos with Jacobs just 30 seconds off and looking the most comfortable of all. The Aussie moved into second and it was soon after the wheels fell off and his short lead up and aggressive ride took its toll. Pre race he had said he was fit but not "Kona fit". Ironman's strongest runner in Kona for the past few years didn't pack those legs and he ultimately slowed to a walk to bring himself in well down but validating his spot for Kona to defend his title.
The big movers through the field though were Michael Raelert and Sebastian Kienle. For Raelert he was chasing points for Kona and had a roller coaster run, ranging from charging hard to walking, charging again and ultimately a top 5 place but as all at the finished noticed, in considerable trouble. A very wonky Raelert managed to cross the line but immediately collapsed and was in a spot of bother for some time after. Kienle followed suit with a finish line collapse after a great run following his earlier season troubles and a slower than usual bike. Post race we spoke with the German who told Trizone "I wasn't feeling it on the bike like usual so was pushing to where I felt I could and decided to try my best on the run. Obviously by not going as hard on the bike I had more left in my legs and was happy to see myself have a great run which is a good sign for Kona. To run down the top guys that way in the heat was my big positive for the day."
But ultimately it was the day for Spain in the men's field as Llanos owned the day with a perfect all round result. He showed class in Melbourne in march and repeated that display in hard conditions her win Frankfurt. Can he take this storm to Kona? Pete Jacobs told us he thinks so and is expecting Llanos to be a big favourite as he is so strong all round. Expect Kienle to have learnt a lot from this race and will be the stronger for it in October. Austria showed Andreas Raelert will once again be a contender though word in Frankfurt is he picked up an injury and is undergoing considerable physio to get things right. One to watch out for will be Bocherer as he showed very solid form to take a top 5 result here. Finally two of the big guns, Vanhoenacker and Jacobs. For Jacobs today will be a day to ask some questions of himself. Plenty will no doubt ask questions of his year so far which is fair to say has been quiet. Though he has qualified to be there on the day and he has dialled himself in for Kona each year. All the talk has been his pure focus on Kona so it definitely seems to be an all eggs in one basket year. No doubt he will head back to his Noosa training base to get back to work. For Marino as he said to Trizone post race "I could be screwed here as I am worried about KPR points." He told us he will now have to head to Weisbaden to chase some points and secure his spot, otherwise as he said, "I'll be relying on others and their performance."
Frankfurt presented an eventful day for the pro men and there will be plenty to talk about for the fans and plenty to think about for some of the pro's out there.
Stay tuned to more big race coverage from Trizone.com.au
For more details Ironman.com
| | | | | | | |
| --- | --- | --- | --- | --- | --- | --- |
| Name | Country | Swim | Bike | Run | Finish | Div. Rank |
| Llanos, Eneko | ESP | 0:46:10 | 4:25:32 | 2:44:12 | 7:59:58 | 1 |
| Raphael, Jan | GER | 0:46:12 | 4:25:41 | 2:51:21 | 8:07:19 | 2 |
| Diederen, Bas | NED | 0:46:10 | 4:34:00 | 2:47:58 | 8:12:07 | 3 |
| Zeebroek, Axel | BEL | 0:46:08 | 4:25:48 | 2:58:40 | 8:14:41 | 4 |
| Böcherer, Andi | GER | 0:46:06 | 4:25:51 | 2:59:14 | 8:15:13 | 5 |
| Ritter, Christian | GER | 0:46:01 | 4:34:04 | 2:52:06 | 8:16:30 | 6 |
| Raelert, Michael | GER | 0:46:08 | 4:31:07 | 2:56:04 | 8:16:58 | 7 |
| Kriat, Maxim | RUS | 0:48:09 | 4:36:46 | 2:49:20 | 8:18:10 | 8 |
| Kienle, Sebastian | GER | 0:49:25 | 4:30:28 | 2:55:12 | 8:18:38 | 9 |
| Dellow, David | AUS | 0:46:14 | 4:33:51 | 2:54:05 | 8:19:03 | 10 |
| Vuckovic, Stephan | GER | 0:48:03 | 4:36:50 | 2:52:50 | 8:21:50 | 11 |
| Gomes, Pedro | POR | 0:47:52 | 4:37:02 | 2:53:38 | 8:22:28 | 12 |
| Santamaria, Alejandro | ESP | 0:52:11 | 4:38:52 | 2:48:31 | 8:23:26 | 13 |
| Bittner, Per | GER | 0:46:21 | 4:40:48 | 2:55:28 | 8:26:43 | 14 |
| Unger, Daniel | GER | 0:46:09 | 4:36:34 | 3:03:31 | 8:30:04 | 15 |
| Halksworth, Daniel | GBR | 0:46:05 | 4:34:04 | 3:05:57 | 8:30:07 | 16 |
| Berger, Dominik | AUT | 0:46:11 | 4:36:23 | 3:05:49 | 8:32:23 | 17 |
| Blokhin, Anton | UKR | 0:46:12 | 4:45:44 | 2:56:47 | 8:33:04 | 18 |
| Vanhoenacker, Marino | BEL | 0:46:23 | 4:20:25 | 3:23:05 | 8:34:00 | 19 |
| Rana, Ivan | ESP | 0:46:14 | 4:43:53 | 3:00:28 | 8:34:27 | 20 |
| Swoboda, Georg | AUT | 0:52:58 | 4:31:05 | 3:06:07 | 8:35:11 | 21 |
| Kemp, Christian | AUS | 0:46:09 | 4:43:58 | 3:00:49 | 8:35:35 | 22 |
| Dzalaj, Karol | SVK | 0:51:32 | 4:32:52 | 3:08:42 | 8:38:05 | 23 |
| Cartmell, Fraser | GBR | 0:46:13 | 4:34:26 | 3:15:23 | 8:40:21 | 24 |
| Widmann, Uwe | GER | 0:46:18 | 4:32:55 | 3:16:40 | 8:40:23 | 25 |
| Lyatskiy, Andrey | RUS | 0:46:22 | 4:44:42 | 3:04:50 | 8:40:44 | 26 |
| Sluckis, Rinalds | LAT | 0:54:10 | 4:37:26 | 3:08:20 | 8:44:24 | 27 |
| Schifferle, Mike | SUI | 0:57:03 | 4:38:38 | 3:04:22 | 8:46:06 | 28 |
| Debil-Caux, Victor | FRA | 0:51:34 | 4:39:17 | 3:11:22 | 8:46:23 | 29 |