News & Racing
Erin Densham and Emma Moffatt 1-2 at Hamburg ITU World Triathlon Series
Erin Densham added another highlight to her already stellar year on Sunday, this time pulling away from Emma Moffatt and Sarah Groff in Hamburg to record her second ITU World Triathlon Series win of 2012. It was the third time Densham had raced in Hamburg and her first podium, and she said it was br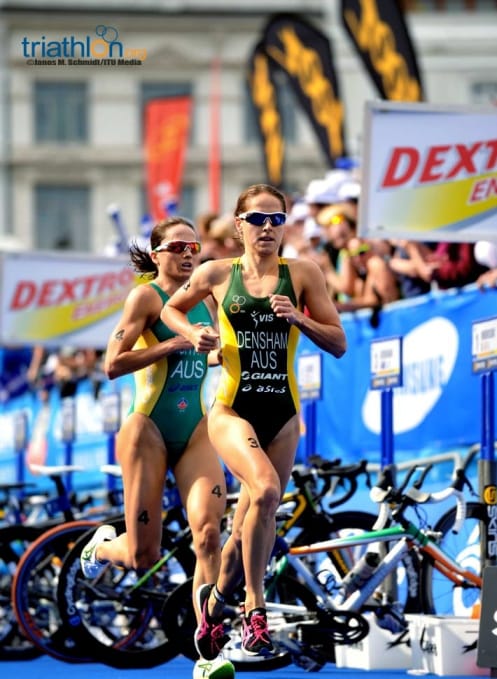 Erin Densham added another highlight to her already stellar year on Sunday, this time pulling away from Emma Moffatt and Sarah Groff in Hamburg to record her second ITU World Triathlon Series win of 2012.
It was the third time Densham had raced in Hamburg and her first podium, and she said it was brilliant to win in front of the great Hamburg crowd.
"It is awesome, they are always out, they are so passionate, and they do drive you on," she said. "It's just great to race here."
While Densham's other win in Sydney this year started with a strong swims, this time she came out of the water almost 30 seconds behind the leaders Pamela Oliveira, Moffatt, Groff, Aileen Morrison, and Rachel Klamer and was 20 seconds down leaving transition despite having the fastest T1 time. But in a busy first bike lap, Densham managed to get herself into the 19-strong lead bike pack, as did Anja Dittmer, Ricarda Lisk and Kate Roberts.
While the first chase pack, which was led by Ashleigh Gentle, Anne Haug and Emma Jackson, initially looked like they would catch the leaders, Moffatt's blistering pace in the lead helped them stay in front. While there was just an eight second difference leaving T2 between the chase packs, it was enough for the leaders to get the jump and Moffatt and Roberts immediately rocketed to the front, overtaking Lisk who was first out of T2.
But Densham was looming just a few metres back, and quickly worked her way past the field. While Moffatt and Roberts stayed in front for the next kilometre, it wasn't long until Densham made her move. Roberts dropped first, and while Moffatt hung on for a while longer, she couldn't stay with Densham who pulled away in the final kilometre to win her second race in the 2012 ITU World Triathlon Series.   She clocked a total time of 56 minutes and 7 seconds, anchored with a run split of 15 minutes and 50 seconds. Densham was the only woman to run under 16 minutes, adding another impressive stat to her pre-Olympic preparation. She said she was happy with her run, particularly after a tough week.
"I like to get into transition at the front but I wasn't quite there, I just didn't feel like I had the go straight away, but I just seemed to build into it really well," Densham said. "I was really happy with how I ran because I felt flat all week, and I'm just thinking hopefully I can come out of this and have a good race."
Behind her the race for podium places was far from over, as Groff pulled up to run with her training partner Roberts. After overtaking her, she had her sights set on Moffatt but couldn't quite catch the reigning Hamburg champion who held on for second place "her first WTS podium since Yokohama last year.
"To be able to race in front of that many spectators is exciting," Moffatt said. "Today I felt pretty good, swim, biking and running, so I'm happy where everything is at. It's only two weeks until the Olympics, you can't really change much but it's nice just knowing you are coming into some good form."
Groff finished third, the second WTS podium of her career, and said it was nice to finally do well at one of her favourite races on the ITU tour and in perfect timing for London.
"It was a great little hit out, I had a really rough start to the season so it's really nice to know that things finally falling into a place a little bit," Groff said. "It's always nice to have a little confidence boost and hopefully I'll be able to carry this into the next couple of weeks."
In other results, Haug made her way back from the second chase pack finish fourth on the back of a stellar run, while Roberts held fast for fifth – her best WTS result since the Hamburg race in 2010.
Gentle also made an impressive run from the chase pack through to finish seventh, while 2011 Under23 ITU World Champion Agnieszka Jerzyk claimed her personal series best result of sixth.
| | | | | | | |
| --- | --- | --- | --- | --- | --- | --- |
| Pos | Athlete | Country | Time | Swim | Bike | Run |
| 1 | Erin Densham | AUS | 0:56:07 | 0:09:48 | 0:29:34 | 0:15:50 |
| 2 | Emma Moffatt | AUS | 0:56:19 | 0:09:27 | 0:29:48 | 0:16:04 |
| 3 | Sarah Groff | USA | 0:56:21 | 0:09:29 | 0:29:49 | 0:16:05 |
| 4 | Anne Haug | GER | 0:56:35 | 0:09:59 | 0:29:28 | 0:16:13 |
| 5 | Kate Roberts | RSA | 0:56:40 | 0:09:41 | 0:29:34 | 0:16:25 |
| 6 | Agnieszka Jerzyk | POL | 0:56:49 | 0:09:44 | 0:29:38 | 0:16:29 |
| 7 | Ashleigh Gentle | AUS | 0:56:53 | 0:09:47 | 0:29:34 | 0:16:26 |
| 8 | Kate McIlroy | NZL | 0:56:56 | 0:09:32 | 0:29:42 | 0:16:38 |
| 9 | Ainhoa Murua | ESP | 0:57:01 | 0:09:31 | 0:29:40 | 0:16:44 |
| 10 | Annamaria Mazzetti | ITA | 0:57:03 | 0:09:32 | 0:29:47 | 0:16:46 |
| 11 | Anja Dittmer | GER | 0:57:07 | 0:09:36 | 0:29:39 | 0:16:47 |
| 12 | Pamela Oliveira | BRA | 0:57:12 | 0:09:23 | 0:29:52 | 0:16:49 |
| 13 | Ricarda Lisk | GER | 0:57:20 | 0:09:37 | 0:29:32 | 0:17:07 |
| 14 | Carole Peon | FRA | 0:57:22 | 0:09:33 | 0:29:45 | 0:17:03 |
| 15 | Nicky Samuels | NZL | 0:57:22 | 0:09:34 | 0:29:47 | 0:17:04 |
| 16 | Svenja Bazlen | GER | 0:57:22 | 0:09:38 | 0:29:36 | 0:17:04 |
| 17 | Gillian Sanders | RSA | 0:57:30 | 0:09:55 | 0:29:34 | 0:17:01 |
| 18 | Kathrin Muller | GER | 0:57:37 | 0:09:36 | 0:29:39 | 0:17:21 |
| 19 | Alice Betto | ITA | 0:57:42 | 0:09:30 | 0:29:45 | 0:17:26 |
| 20 | Yuko Takahashi | JPN | 0:57:46 | 0:09:41 | 0:29:42 | 0:17:18 |
| 21 | Rachel Klamer | NED | 0:57:53 | 0:09:25 | 0:29:49 | 0:17:39 |
| 22 | Marina Damlaimcourt | ESP | 0:57:54 | 0:09:35 | 0:29:40 | 0:17:35 |
| 23 | Anja Knapp | GER | 0:57:55 | 0:09:30 | 0:29:54 | 0:17:30 |
| 24 | Katrien Verstuyft | BEL | 0:57:56 | 0:09:44 | 0:29:41 | 0:17:29 |
| 25 | Debbie Tanner | NZL | 0:57:56 | 0:09:45 | 0:29:38 | 0:17:29 |
| 26 | Hideko Kikuchi | JPN | 0:57:57 | 0:09:47 | 0:29:39 | 0:17:28 |
| 27 | Lois Rosindale | GBR | 0:58:00 | 0:09:52 | 0:29:38 | 0:17:25 |
| 28 | Zurine Rodriguez | ESP | 0:58:11 | 0:09:44 | 0:29:37 | 0:17:50 |
| 29 | Natalie Van Coevorden | AUS | 0:58:14 | 0:09:38 | 0:29:44 | 0:17:44 |
| 30 | Fabienne St Louis | MRI | 0:58:14 | 0:09:55 | 0:29:32 | 0:17:49 |
| 31 | Tomoko Sakimoto | JPN | 0:58:23 | 0:09:39 | 0:29:48 | 0:17:54 |
| 32 | Manon Letourneau | CAN | 0:58:26 | 0:09:52 | 0:29:33 | 0:17:54 |
| 33 | Felicity Sheedy-Ryan | AUS | 0:58:35 | 0:09:58 | 0:30:48 | 0:16:38 |
| 34 | Margit Vanek | HUN | 0:58:41 | 0:09:39 | 0:29:43 | 0:18:06 |
| 35 | Ayami Kawaguchi | JPN | 0:58:48 | 0:09:41 | 0:29:47 | 0:18:17 |
| 36 | Aileen Morrison | IRL | 0:59:02 | 0:09:28 | 0:30:05 | 0:18:32 |
| 37 | Mateja Simic | SLO | 0:59:27 | 0:09:58 | 0:30:48 | 0:17:31 |
| 38 | Olga Zausaylova | RUS | 0:59:35 | 0:10:05 | 0:30:49 | 0:17:43 |
| 39 | Carolina Routier | ESP | 0:59:37 | 0:09:26 | 0:31:33 | 0:17:40 |
| 40 | Vendula Frintova | CZE | 0:59:45 | 0:09:30 | 0:31:21 | 0:17:51 |
| 41 | Liubov Ivanovskaya | RUS | 0:59:49 | 0:09:52 | 0:30:57 | 0:17:50 |
| 42 | Vanessa Raw | GBR | 0:59:51 | 0:09:48 | 0:30:53 | 0:17:48 |
| 43 | Anastasiya Polyanskaya | RUS | 1:00:12 | 0:10:08 | 0:30:45 | 0:18:17 |
| 44 | Elena Danilova | RUS | 1:01:53 | 0:10:08 | 0:33:13 | 0:17:28 |
| DNF | Melanie Annaheim | SUI | 0:00:00 | 0:09:39 | 0:29:36 | 0:00:00 |
| DNF | Mira Bednarovicova | SVK | 0:00:00 | 0:10:05 | 0:00:00 | 0:00:00 |
| DNS | Sarah Fladung | GER | 0:00:00 | 0:00:00 | 0:00:00 | 0:00:00 |
| DNF | Emma Jackson | AUS | 0:00:00 | 0:09:34 | 0:00:00 | 0:00:00 |
| DNF | Petra Kurikova | CZE | 0:00:00 | 0:10:08 | 0:33:12 | 0:00:00 |
| DNF | Non Stanford | GBR | 0:00:00 | 0:09:34 | 0:33:47 | 0:00:00 |
| DNF | Vicky Van Der Merwe | RSA | 0:00:00 | 0:10:10 | 0:00:00 | 0:00:00 |