News & Racing
Erin Densham hopes Sliver Lining 'Enough' to clinch Olympic Berth
Australia's Erin Densham has finished second in the Dextro Energy ITU Triathlon in San Diego today in another bold selection bid for the 2012 London Olympics. Densham said immediately after the race that she "hopes that's enough" after putting in another impressive performance follow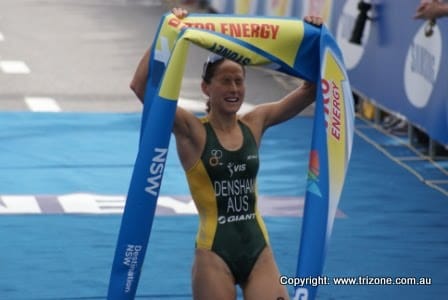 Australia's Erin Densham has finished second in the Dextro Energy ITU Triathlon in San Diego today in another bold selection bid for the 2012 London Olympics.
Densham said immediately after the race that she "hopes that's enough" after putting in another impressive performance following her win in opening ITU round in Sydney three weeks ago.
The 26-year-old Sydney-born Victorian could not match Great Britain's world ranked number one and reigning world champion Helen Jenkins who kicked away on the second of three 3.3km laps on the run to clinch the gold medal.
Jenkins, who secured a place for a home Olympics in the London ITU Test event last year, will now be the favourite to win Olympic gold.
Third home and clinching the final place on the US team was 37-year-old Laura Bennett, wife of former Australian Olympian Greg Bennett, who will now have the chance to atone for her fourth place in Beijing.
All eyes were on the Australian girls today, with just one more race to be contested (in Madrid) before the London team is finalised on May 31 with London-bound former world champion Emma Moffatt ninth, the emerging star Ashleigh Gentle 10th, Emma Jackson 14th and reigning Olympic champion Emma Snowsill 17th.
With Moffatt already pre-nominated there are two places to be finalised by the end of the month.
Australian head coach Shaun Stephens said there were certainly improvements across the board from the Australian girls after Sydney but they still "lacked a gear."
"Jenkins was in a league of her own today "an amazing performance all round to work as hard as she did in the swim and the bike and then kick away on the run "it was her day and she fully deserved the win," said Stephens.
"We knew it would be a swim-bike day and that's the way it panned out and full marks to Erin for putting herself in the best possible position out of the swim and throughout the bike but even Erin lacked the gear she had in Sydney.
"But a second podium from two starts for her is fantastic and she has had as great start to the season."
Stephens said to have three Australians in the top ten was an encouraging day and with three months before the Olympics there was still time to put it all together.
"Moffatt probably should have been with that lead group after a good first lap of the swim but was in the chase group on the bike but then worked hard to put together a great run as did Gentle who at 20 is showing great promise "four top 10 finishes from four World Championship races is pretty impressive.
"For Jackson and Snowsill, there were also some encouraging signs, with Snowsill again running throughout the pack."
Densham, who had surgery to correct her accelerated heart rate two years ago, was always well positioned and worked the second 750m lap of the swim which saw Moffatt and Jenkins dominate early, with Moffatt using her surf wading skills to ensure she had some clear water.
The ITU Sydney race winner knew she had to be in the lead group coming out of the water to stay in touch with Jenkins and the US trio Bennett, Sarah Groff and Sarah Haskins.
Densham, who spent two weeks in Scottsdale Arizona preparing for this race, hooked into a lead group of eight including Jenkins, Bennett, Groff, Haskins, Jessica Harrison (FRA), Vicky Holland (GBR), and Colorado-based Flora Duffy (Bermuda) that had the perfect ride.
They extended their lead throughout the bike to two minutes 20 seconds to ensure the likes of Snowsill, Moffatt, Jackson and Abram were all well away from the podium.
Densham came through the bike transition well placed behind Bennett, chasing an Olympic spot with Haskins, Holland and the ever present Jenkins, who doesn't appear to have a weakness.
The group of eight quickly became a lead group of four with Jenkins, already on the British team, Densham, chasing a spot on the Australian team and Bennett and Haskins both desperate to claim the final spot on the US team with Groff and Gwen Jorgensen.
But as the women got into their stride it was Jenkins who took off on the second 3.3km lap and Densham, who admitted she gave her body a well deserved rest after the Sydney race, just could not go with the world's number one.
| | | | | | | |
| --- | --- | --- | --- | --- | --- | --- |
| Pos | Athlete | Country | Time | Swim | Bike | Run |
| 1 | Helen Jenkins | GBR | 1:58:21 | 0:18:28 | 1:04:54 | 0:33:34 |
| 2 | Erin Densham | AUS | 1:59:26 | 0:18:34 | 1:04:52 | 0:34:39 |
| 3 | Laura Bennett | USA | 2:00:11 | 0:18:31 | 1:04:54 | 0:35:28 |
| 4 | Jessica Harrison | FRA | 2:00:14 | 0:18:34 | 1:04:48 | 0:35:29 |
| 5 | Vicky Holland | GBR | 2:00:28 | 0:18:31 | 1:04:50 | 0:35:46 |
| 6 | Flora Duffy | BER | 2:00:46 | 0:18:34 | 1:04:52 | 0:35:59 |
| 7 | Anne Haug | GER | 2:00:50 | 0:19:31 | 1:06:07 | 0:33:44 |
| 8 | Sarah Haskins | USA | 2:00:56 | 0:18:30 | 1:04:48 | 0:36:07 |
| 9 | Emma Moffatt | AUS | 2:01:18 | 0:18:34 | 1:07:04 | 0:34:08 |
| 10 | Ashleigh Gentle | AUS | 2:01:33 | 0:19:36 | 1:06:05 | 0:34:22 |
| 11 | Maaike Caelers | NED | 2:01:34 | 0:19:50 | 1:05:53 | 0:34:25 |
| 12 | Rachel Klamer | NED | 2:01:44 | 0:18:34 | 1:07:03 | 0:34:38 |
| 13 | Juri Ide | JPN | 2:01:51 | 0:18:59 | 1:06:39 | 0:34:42 |
| 14 | Emma Jackson | AUS | 2:01:59 | 0:18:57 | 1:06:48 | 0:34:48 |
| 15 | Sarah Groff | USA | 2:02:01 | 0:18:32 | 1:04:50 | 0:37:13 |
| 16 | Liz Blatchford | GBR | 2:02:10 | 0:18:40 | 1:06:55 | 0:35:05 |
| 17 | Emma Snowsill | AUS | 2:02:10 | 0:19:01 | 1:06:40 | 0:35:01 |
| 18 | Vendula Frintova | CZE | 2:02:13 | 0:19:32 | 1:06:12 | 0:34:59 |
| 19 | Sarah-Anne Brault | CAN | 2:02:13 | 0:19:33 | 1:06:10 | 0:35:04 |
| 20 | Irina Abysova | RUS | 2:02:16 | 0:18:50 | 1:06:55 | 0:35:02 |
| 21 | Non Stanford | GBR | 2:02:26 | 0:19:06 | 1:06:31 | 0:35:21 |
| 22 | Kate Roberts | RSA | 2:02:31 | 0:19:08 | 1:06:31 | 0:35:22 |
| 23 | Claudia Rivas | MEX | 2:02:38 | 0:18:50 | 1:06:50 | 0:35:27 |
| 24 | Sarah Fladung | GER | 2:03:06 | 0:19:34 | 1:06:10 | 0:35:55 |
| 25 | Lauren Campbell | CAN | 2:03:08 | 0:19:30 | 1:06:07 | 0:35:58 |
| 26 | Marina Damlaimcourt | ESP | 2:03:16 | 0:19:33 | 1:06:11 | 0:36:04 |
| 27 | Maria Czesnik | POL | 2:03:21 | 0:19:12 | 1:06:20 | 0:36:14 |
| 28 | Pamela Oliveira | BRA | 2:03:25 | 0:18:34 | 1:07:07 | 0:36:16 |
| 29 | Mariko Adachi | JPN | 2:03:29 | 0:18:56 | 1:06:41 | 0:36:21 |
| 30 | Lois Rosindale | GBR | 2:03:36 | 0:19:31 | 1:06:14 | 0:36:22 |
| 31 | Elizabeth May | LUX | 2:03:43 | 0:19:32 | 1:06:08 | 0:36:39 |
| 32 | Felicity Abram | AUS | 2:03:58 | 0:19:07 | 1:06:38 | 0:36:44 |
| 33 | Melanie Annaheim | SUI | 2:04:02 | 0:19:05 | 1:06:34 | 0:36:52 |
| 34 | Gillian Sanders | RSA | 2:04:08 | 0:19:53 | 1:07:52 | 0:34:56 |
| 35 | Yuka Sato | JPN | 2:04:10 | 0:19:07 | 1:06:36 | 0:36:59 |
| 36 | Carole Peon | FRA | 2:04:15 | 0:19:36 | 1:08:04 | 0:35:04 |
| 37 | Vanessa Raw | GBR | 2:04:17 | 0:18:55 | 1:06:44 | 0:36:54 |
| 38 | Lydia Waldmüller | AUT | 2:04:20 | 0:19:31 | 1:06:12 | 0:37:07 |
| 39 | Nicky Samuels | NZL | 2:04:29 | 0:19:05 | 1:06:33 | 0:37:20 |
| 40 | Yuliya Yelistratova | UKR | 2:04:40 | 0:19:52 | 1:07:53 | 0:35:25 |
| 41 | Kelly Whitley | USA | 2:04:49 | 0:19:35 | 1:06:05 | 0:37:43 |
| 42 | Chantell Widney | CAN | 2:05:01 | 0:19:56 | 1:07:48 | 0:35:50 |
| 43 | Sarissa De Vries | NED | 2:05:02 | 0:18:52 | 1:06:49 | 0:37:57 |
| 44 | Lisa Perterer | AUT | 2:05:05 | 0:19:38 | 1:08:07 | 0:35:51 |
| 45 | Jodie Stimpson | GBR | 2:05:22 | 0:18:50 | 1:06:48 | 0:38:21 |
| 46 | Tomoko Sakimoto | JPN | 2:05:52 | 0:18:54 | 1:06:49 | 0:38:39 |
| 47 | Katrien Verstuyft | BEL | 2:06:03 | 0:19:07 | 1:08:38 | 0:36:52 |
| 48 | Kaitlin Shiver | USA | 2:06:08 | 0:19:31 | 1:06:12 | 0:38:54 |
| 49 | Radka Vodickova | CZE | 2:06:14 | 0:19:30 | 1:06:05 | 0:39:06 |
| 50 | Carlyn Fischer | RSA | 2:06:20 | 0:19:52 | 1:07:53 | 0:37:09 |
| 51 | Gwen Jorgensen | USA | 2:06:35 | 0:18:57 | 1:08:46 | 0:37:19 |
| 52 | Elizabeth Bravo | ECU | 2:06:57 | 0:19:51 | 1:07:52 | 0:37:40 |
| 53 | Jenna Parker | USA | 2:07:13 | 0:19:36 | 1:06:11 | 0:39:59 |
| 54 | Romina Palacio Balena | ARG | 2:07:38 | 0:19:57 | 1:07:53 | 0:40:35 |
| 55 | Jillian Petersen | USA | 2:08:06 | 0:19:33 | 1:06:04 | 0:41:00 |
| 56 | Yi Zhang | CHN | 2:08:19 | 0:19:36 | 1:08:07 | 0:39:05 |
| 57 | Anahi Leon | MEX | 2:09:06 | 0:19:04 | 1:08:42 | 0:39:47 |
| 58 | Annamaria Mazzetti | ITA | 2:09:30 | 0:19:44 | 1:08:00 | 0:40:18 |
| DNF | Line Jensen | DEN | 0:00:00 | 0:19:35 | 0:00:00 | 0:00:00 |
| DNF | Lindsey Jerdonek | USA | 0:00:00 | 0:19:52 | 1:11:46 | 0:00:00 |
| DNF | Caiping Jiao | CHN | 0:00:00 | 0:20:57 | 0:00:00 | 0:00:00 |
| DNF | Kristi Johnson | USA | 0:00:00 | 0:25:49 | 0:00:00 | 0:00:00 |
| DNF | Kaisa Lehtonen | FIN | 0:00:00 | 0:20:07 | 1:10:41 | 0:00:00 |
| DNF | Lisa Mensink | NED | 0:00:00 | 0:18:48 | 0:00:00 | 0:00:00 |
| DNF | Daniela Ryf | SUI | 0:00:00 | 0:19:45 | 1:08:03 | 0:00:00 |
| DNF | Fabienne St Louis | MRI | 0:00:00 | 0:20:55 | 0:00:00 | 0:00:00 |
| DNF | Debbie Tanner | NZL | 0:00:00 | 0:18:51 | 0:00:00 | 0:00:00 |
| DNF | Kathy Tremblay | CAN | 0:00:00 | 0:18:55 | 0:00:00 | 0:00:00 |
| DNF | Ai Ueda | JPN | 0:00:00 | 0:20:04 | 1:07:43 | 0:00:00 |
| DNF | Yi Wang | CHN | 0:00:00 | 0:20:02 | 0:00:00 | 0:00:00 |