News & Racing
Flora Duffy Defends her Xterra Asia-Pacific Championship Title
Duffy's near-flawless performance seals her 10th XTERRA win, outpacing Riveros in every segment.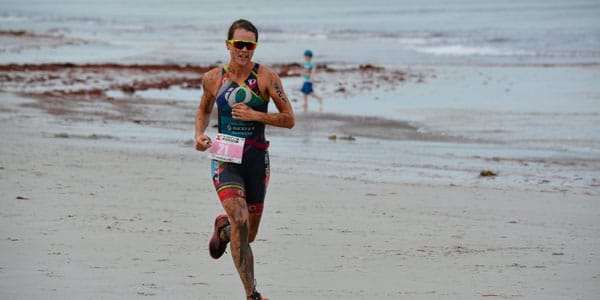 Flora Duffy took most of the drama right out of the women's race right from the start with another dominating performance on her way to her 10th XTERRA Championship win in 11 tries since the start of the 2014 season.
The 27-year-old two-time Olympian from Devonshire, Bermuda had the fastest swim (almost two minutes over Barbara Riveros), the quickest bike (more than two minutes over Riveros) and the second-best run split (less than one-minute behind Riveros) to take the tape in 2:36:40, a full three-minutes in front of Riveros.
Of note, Riveros was also the runner-up to Duffy at last year's XTERRA World Championship and the pair are amongst the very best on the highly competitive ITU World Triathlon Series.
"It was a tough day out there," said Duffy. "I really wanted to defend this title, and it's a lot harder defending. I seem to be the favorite no matter what. I wanted to attack the swim and nail the bike, ride the technical bits as best I could. I had a few issues out there, though, with a couple mechanicals and a little crash. It was super muddy. Then I just tried to run steady, and not push too hard. I'm really happy with how it went."
Duffy, who was fifth at the ITU WTS race on the Gold Coast here in Australia last week, now heads back to her home-away-from-home in South Africa for next weekend's ITU race.
"Flora is on fire, she's very strong. I knew it. She's racing good in ITU as well and I'm super happy for her," said Riveros, who was in second the whole way but still had her share of misfortune. "I fell in the mud puddles, didn't realize it was so deep, and I couldn't get out of there. The guy behind was asking if I needed help getting out of there. But it was great, a beautiful course, and I'm happy to have raced here and qualify for XTERRA Worlds."
Behind Riveros Jacqui Slack was in third and in control, Suzie Snyder was fourth, and Lizzie Orchard ran her way into fifth.
"Mud!" said Jacqui Slack, as if the one word could describe the whole day. "Wow, that's a really tough course. It's awesome but you have to keep pedaling all the time, a real power course. There's no let up, you can't rest and in the muddy sections you have to keep pushing all the time. The competition was amazing here, and it was really close at the end for the third through fifth positions."
Indeed it was, with just one-minute separating Slack, Snyder, and Orchard. Carina Wasle finished sixth and covered in mud, Caroline Steffen was seventh in her XTERRA debut, Jessica Simpson placed eight and won the XTERRA Australia title for being the top Aussie, and Renata Bucher and Belinda Hadden rounded out the top 10.
Steffen, of Ironman fame, had a big smile and lots of stories to tell at the finish line.
"It's awesome. Lot of fun. Bit muddy and dirty, but I really enjoyed it," said Steffen. "And, I'm happy to be at the finish line in one piece, my coach was so worried. This is an awesome place, a great event with great organization. I've never run on the beach before. In Ironman we're on the road three times longer, and we try to keep a steady heart rate, fast but steady. Here it's red-lining the whole time. My body was screaming, like what are you doing to me. That was quite painful. Actually very proud of my performance. I went off a few times but apparently that's normal. And in the forest it's so green, I actually thought I was in the movie Lord of the Rings and was a bit scared being out there all alone. There were puddles and mud everywhere, and the sun was coming in through the trees. To be able to run through the forests was good fun, we don't get that on the road. It's so different. Swim, bike, and run but just so, so different. I really enjoyed it."
Steffen hinted at a possible run for the "Outrigger Double" "an award given to the top amateur and professional athletes with the best combined times at Ironman and XTERRA Worlds.
"Maybe after Kona I'll go to Maui, why not!" exclaimed Steffen. "It looks beautiful, and if my performance today was good enough I wouldn't turn it down."
TOP 10 WOMEN
Pos Name, Country Time Swim Bike Run
1 Flora Duffy, BER 2:36:40 0:17:24 1:34:27 0:40:26
2 Barbara Riveros, CHI 2:39:47 0:19:15 1:36:41 0:39:31
3 Jacqui Slack, GBR 2:47:06 0:20:19 1:37:37 0:44:46
4 Suzie Snyder, USA 2:47:53 0:20:29 1:39:11 0:43:34
5 Lizzie Orchard, NZL 2:48:08 0:21:25 1:41:13 0:41:07
6 Carina Wasle, AUT 2:52:36 0:22:01 1:40:15 0:45:18
7 Caroline Steffen, SUI 2:56:52 0:19:38 1:48:51 0:43:20
8 Jessica Simpson, AUS 2:57:17 0:21:49 1:44:29 0:46:13
9 Renata Bucher, SUI 3:08:40 0:22:18 1:47:00 0:53:51
10 Belinda Hadden, AUS 3:12:34 22:24 1:55:05 49:15:00