News & Racing
Former ITU World Champion Annabel Luxford steps up to Ironman 70.3 and wins Canberra
After a false start at Mandurah 70.3 recently Annabel Luxford has shown her class in Canberra by winning the Ironman 70.3. Luxford lead from start to finish with only Kiwi Sydneysider and also former ITU triathlete Anna Cleaver giving her some competition on the day. Cleaver, a former NZ national sw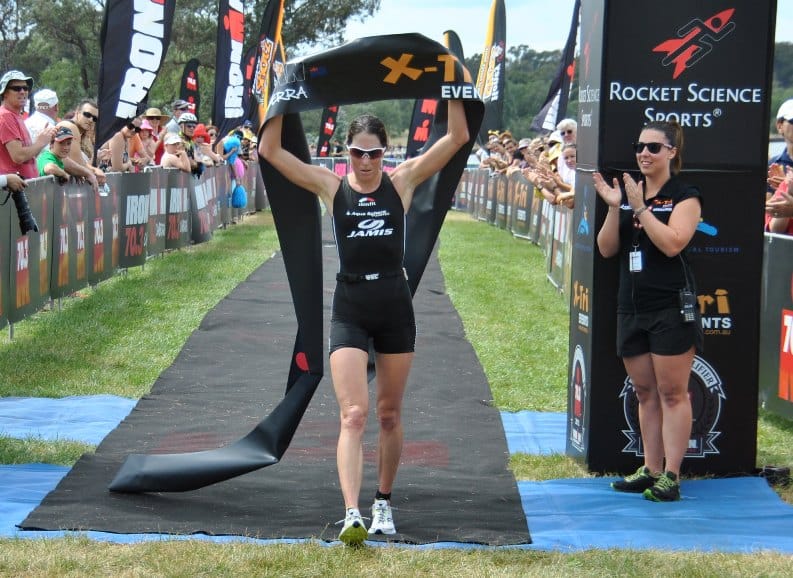 After a false start at Mandurah 70.3 recently Annabel Luxford has shown her class in Canberra by winning the Ironman 70.3. Luxford lead from start to finish with only Kiwi Sydneysider and also former ITU triathlete Anna Cleaver giving her some competition on the day. Cleaver, a former NZ national swimmer, was hot on Luxford's heels heading out on to the bike. These two lead females swam the same times as the lead male chase pack. The scary thing for the guys is that Cleaver says she is about a minute off her swim.
Noticeable down on the swim was Lisa Marangon. We caught up with Marangon while out riding in Sydney on the Saturday before the race and she was incredibly upbeat and confident about Sunday. However between then and race start she copped a bout of gastro and hardly slept on the Saturday night.
Out on to the bike and Luxford started to pull away from Cleaver. Cleaver is only getting back to full training after her mid year accident and all while back working full time in the corporate world in Sydney. Luxford was putting around 45sec in to Cleaver on each lap. The obvious elephant in the room was Lisa Marangon, a usually strong swim/biker who misfired on the swim and was loosing over a minute per lap to Cleaver.
Michelle Wu was also slower than normal and the only other female keep pace yesterday was Cairns 70.3 winner Sarah Crowley. Crowley's main issue at this stage was the 5:30 swim deficit. Kate Bevilaqua is someone we would normally see pushing the pace in a 70.3 but this race was one she started with the least preparation she has ever had. A mystery illness during the year was eventually diagnosed as glandular fever and a complete halt to any exercise were the orders from the doctor.
Once on to to the run Luxford put in an initial burst to be 5:30 ahead of Cleaver at the 2.3km mark. Surprisingly when the two lead females finished the first 7km lap Cleaver had held the 5:30 and was looking good. Most importantly for Cleaver was that the third place female pro was around 8min back at out of T2. Cleaver had some directional challenges during the race as. During the run it became obvious how the race was going to pan out and there may have well been some conservation going on in the late stages of the run.
Cleaver changed her run tactics for this race. In the past year she has been going out fast and finding the obvious happens and she fades with injuries happening to often. She went out on to the run more conservatively and found she managed to hold a better pace for the remainder of the run. Coincidentally Michelle Wu also said the same thing separately after the race. Wu has been struggling with foot injuries suffered during this year and has only just got over them and started running again.
Michelle Wu ran her normal 110% run and was never going to die wondering as she chased Crowley in the hope that she would be able to catch her for a podium spot. Watching Wu on the bike and run you see someone giving it her all in every race. She never leaves any questions unanswered.
Sarah Crowley had her run back to the pace we saw at Carins in June this year. She was over the moon with her podium and ran about 5mins faster than she did at Shepparton recently.
Lisa Marangon was hurting all day and the pain was evident. She could not get herself firing and was disappointed after a great build towards this race.
Kate Bevilaqua was happy with the chance to get her brain back in to racing. Like most pros there is always an issue with racing underdone and having a poor result with sponsors to look after but at the end of the day the triathlon fans appreciate it and do admire the top pros that race to get back in to things even if it means a worse than normal result. The only issue in this race was Kate's partner Guy Crawford passing her on the run. He was unsure whether to or not as this could mean trouble when he got back home later.
| | | | | | |
| --- | --- | --- | --- | --- | --- |
| Name | Country | Swim | Bike | Run | Finish |
| LUXFORD, Annabel | Australia | 0:23:56 | 2:10:04 | 1:25:40 | 4:04:25 |
| CLEAVER, Anna | New Zealand | 0:24:07 | 2:14:54 | 1:27:22 | 4:10:35 |
| CROWLEY, Sarah | Australia | 0:29:33 | 2:15:44 | 1:25:06 | 4:14:59 |
| WU, Michelle | Australia | 0:27:44 | 2:20:01 | 1:26:09 | 4:18:31 |
| BEVILAQUA, Kate | Australia | 0:27:43 | 2:20:20 | 1:29:21 | 4:21:48 |
| GRATTAN, Kate | Australia | 0:25:10 | 2:27:43 | 1:27:35 | 4:24:41 |
| FLEMING, Jessica | Australia | 0:27:08 | 2:21:19 | 1:36:27 | 4:29:41 |
| MARANGON, Lisa | Australia | 0:26:20 | 2:19:09 | 1:42:07 | 4:31:35 |
| SNIPE, Rhiannon | Australia | 0:31:12 | 2:27:35 | 1:29:02 | 4:32:39 |
| GRAVES, Stephanie | Australia | 0:33:26 | 2:24:45 | 1:34:53 | 4:38:02 |
| STRETTON, Elizabeth | Australia | 0:28:12 | 2:24:37 | 1:42:45 | 4:40:28 |
| LANGLEY, Susan | Australia | 0:33:15 | 2:21:53 | 1:39:57 | 4:40:30 |
| SILVESTRO, Natalie | Australia | 0:30:59 | 2:26:58 | 1:37:20 | 4:41:18 |
| DAVIS, Jennifer | Australia | 0:31:02 | 2:22:56 | 1:43:39 | 4:42:27 |
| BARKER, Jodie | Australia | 0:30:40 | 2:33:03 | 1:35:33 | 4:44:24 |
| RICKARD, Heidi | Australia | 0:28:09 | 2:32:51 | 1:38:50 | 4:44:49 |
| HARRIS, Raeleigh | Australia | 0:33:57 | 2:28:51 | 1:36:32 | 4:45:16 |
| RANSON, Holly | Australia | 0:31:07 | 2:24:42 | 1:46:27 | 4:46:37 |
| WHITMORE, Tarryn | Australia | 0:27:49 | 2:24:58 | 1:50:41 | 4:48:18 |
| WALKER, Wendy | Australia | 0:30:11 | 2:26:15 | 1:48:20 | 4:49:49 |