Nutrition
Fuelling Your Ironman or Ironman 70.3 Performance
There's no doubt racing a half or full Ironman puts some serious demands on your body – I've heard people call it crazy, insane, masochistic, then some people are just left speechless at what we put ourselves through. Over my years of racing, I've learned that it requires so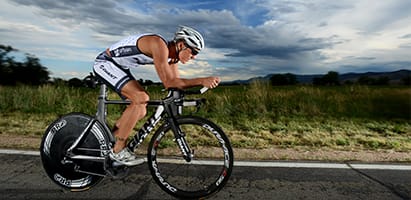 There's no doubt racing a half or full Ironman puts some serious demands on your body – I've heard people call it crazy, insane, masochistic, then some people are just left speechless at what we put ourselves through. Over my years of racing, I've learned that it requires some serious, high-quality nutrition (and a nutrition plan) to get the most out of my performance. I've tried a lot of different brands/diets/techniques, and here's a bit of a summary of what I've found works best for me.
Before Training
I think when training for Ironman events, it's really important to have breakfast to set yourself up for the long days of training. I'm a big fan of the fats – bacon, eggs and avocado are one of my favourite breakfasts – It's very filling and I can go all day. The other option pre-training, when I want solid food, is to have an Endura Energy Bar they're just a super convenient way to get an extra 1000 kj of energy, with extra vitamins and minerals as well – the fact they're delicious doesn't hurt either.
I like to have a serve of Endura Optimizer just before training (about 30 mins before), so I sip on a sports bottle with four/six scoops of Opti mixed with 750 mL of water. If I'm tired and the body is pretty sore, I like to have six scoops of Opti. But if I just want something light, I'll have four scoops. I find Opti really easy to digest quickly, so it doesn't sit in my gut during the session, and the low fibre content means it doesn't cause me any gastric upsets during training  I don't have the strongest stomach when really pushing my body, so this is something I'm particularly thankful for.
During Training
I treat training the same as I would a race – someone once told me "It's critical for race day success that you train using your sports nutrition, so you know just what your body needs come race day" and that has really stuck with me.
During the session, I have a bottle of Endura Rehydration Performance Fuel (two scoops in 700 mL water) each hour. This is the isotonic dosage, which matches the concentration of the body's own fluids for enhanced absorption. This helps keep my electrolytes topped up, helps prevent cramps and supplies me with a bit of energy for the session. The Raspberry and Pineapple flavours are definitely my favourites – I just love them.
For long sessions (more than two hours), I also take one to two Endura Gels each hour to keep my energy levels up, washing them down with water. I love all the flavours, but I can't go past coffee.
For even longer rides (greater than 4 hours) I also have an Endura Energy Bar with water, to really keep those energy levels topped up.
After Training
After every training session, I like to make "The Endura Shake", a mix of Endura Optimizer (Vanilla or Banana), bananas, frozen berries and water. It's absolutely delicious and it's a hit in our household, as my wife loves them as well (I usually make an extra one for her, so mine doesn't go missing). With the high-quality protein, carbohydrates and electrolytes from the Optimizer, it really helps to maximise my recovery. I try and drink it within 30 minutes of training, to really kick off my recovery as soon as possible.
Extra Supplements to Keep Me Healthy
Training and racing puts a lot of strain on my body, so I also take some other supplements each day to help maximise my training and keep me in tip-top health:
Endura Max: Provides a high dose of highly absorbable magnesium, which helps prevent cramps and aid recovery. This is particularly important during the rigorous training required for Long Course and Ironman.
Endura Overtraining Formula: To help minimise the effects of physical stress when going through a heavy speed training phase.
Endura Glutamine: To support muscle repair and recovery.
Endura N-Acetyl Carnitine: To help metabolise fats for energy production. This is important for an Ironman event because over such a long event fat is an important fuel. I also find it makes me feel more alert.
Ethical Nutrients Hi-Strength Q10 Absorb 150 mg: To help support cellular energy production, heart health and general wellbeing.
Ethical Nutrients Hi-Strength Fish Oil: To help maintain joint health and mobility.
Ethical Nutrients Iron Max: Because high-intensity exercise increases the bodies demands for iron.
Pushing my body to its limits can leave my immune system a bit under-strength, so I take a few immune-boosting nutrients to try and avoid those annoying bugs that can put a stop to training:
Ethical Nutrients Extra C tablets: For immune system support, it's also a handy free-radical scavenger.
Ethical Nutrients Immune Defence: I take Immune Defence every day to help me fight off things like colds, and up the intake to one tablet twice daily to help fight things off if I do catch something.
Ethical Nutrients Zinc Zix: To help boost my immune system.
Racing
Trying to get the balance right for Ironman and 70.3 can be very difficult. There are huge energy requirements needed in order to race these events, and just trying to get the energy required can put some stress on the athlete's gastrointestinal system. Here are some basic guidelines and tips I've found work for me:
Pre-Race
In the last few days leading up to the race you can carb-load by using Endura Optimizer to increase the day's calories (four to six scoops mixed in 750 mL water) – I wake up with a 750 mL bottle of Optimizer then have another at night. I pretty much live on the stuff, I love it.
One of the reasons I love Endura Optimizer is the great mix of carbs/protein, and the low fibre content decreases the chance of a gastric upset. It also contains magnesium, so along with Performance Fuel it's really useful to help with magnesium loading – helping increase the amount of magnesium that can be stored by the body, which can help prevent cramping come race day. For breakfast, on race day I struggle to have solid food, so I have a 750 mL bottle of Endura Optimizer. Then 30 minutes before the start I have an Endura Energy Gel with 250 mL of water, to give me a quick burst of energy for the swim.
During the Race
The best race fuel and the easiest one for your body to use is carbohydrates. The general rule is that you should take in 1 g of carbohydrate per kilogram of body weight per hour e.g. I weigh in at 68 kg, so I aim for 68 g of carbohydrates per hour. But I also try have to have more on the bike, as it's a lot easier to stomach than trying to get 68 g of fuel on the run per hour.
I've found the best way for me to meet these requirements is using Endura Energy Gels – each Gel contains approximately 25 g of carbs (26 g to be exact, but let's say 25 g to keep it simple). So to get 75 g of carbs an hour, you need three Gels each hour "easy, no calculator, weighing or algebra required! I like to wash each Gel down with sips of water.
Another option you can use for the first half of the bike is a bottle of Endura Optimizer. I mix four scoops with water in a 750 mL sports bottle. Note – make sure it doesn't get too hot in the sun as the Optimizer can go off and upset your stomach.
Taking energy as a liquid places less stress on your gastrointestinal system than eating solid food, however, some athletes get hungry. For this, I recommend taking an Endura Energy Bar with you. I also like to put little treats in my special needs bag – if I'm having a bad day or craving some junk or sugar, I like to have a cheeky Mars Bar.
My other essential is a bottle of Endura Rehydration Performance Fuel during the first hour of the bike (two scoops in 700 mL water), as it contains magnesium to help limit the effects of cramps, as well as those all-important electrolytes to help limit the effects of dehydration. I use Performance Fuel throughout the race, as the extra 20 g of carbs per dose gives me additional energy.
After the Race
A long-distance race takes a lot out of the body and recovery is critical. I recommend Endura Optimizer within 30 to 60 minutes of finishing your race, along with whatever other goodies take your fancy in the recovery tent. Make sure you have another Endura Optimizer before bed to really give your muscles all the nutrients they need to recover (your body does a lot of its repair/recovery during sleep).
I hope this helps you get the most out of your training, so you can really smash it on race day.
Nutrition for Ironman 70.3, Ironman and Long Distance Triathlon
Training
Racing
BEFORE
Endura Optimizer (4-6 scoops + 750 mL water)
OR
Endura Energy Bar Convenient source of high carbohydrate sports fuel.
Endura Optimizer(4-6 scoops + 750 mL water)
AND
Endura Energy Gel with 250 mL water – 30 mins before the start
DURING
Endura Performance Fuel (2 scoops in 700 mL water)
ADD
If over 2 hours, 1 – 2 Endura Energy Gels with 250 mL water each hour
ADD
If over 4 hours (in addition to Rehydration & Gels), 1-2 Endura Energy Bars with water
Consume 1 g carbohydrate (CHO) per kg of body weight per hour e.g. 75 kg = 3 x Endura Sports Energy Gels (26 g CHO each) per hour with 250 mL water per gel
AFTER
Endura Optimizer (4-6 scoops + 750 mL water)
Endura Optimizer (4-6 scoops + 750 mL water)
AND
whatever you want in the recovery tent
BEFORE BED
Endura Optimizer (4-6 scoops + 750 mL water)
Always read the label. Use only as directed. If symptoms persist consult your healthcare professional.