News & Racing
Georgia Taylor-Brown Clinches First Victory of Season at WTCS Cagliari
British silver Olympic medallist Georgia Taylor-Brown secures a stellar victory at the World Triathlon Championship Series Cagliari, maintaining Britain's perfect win record for the season.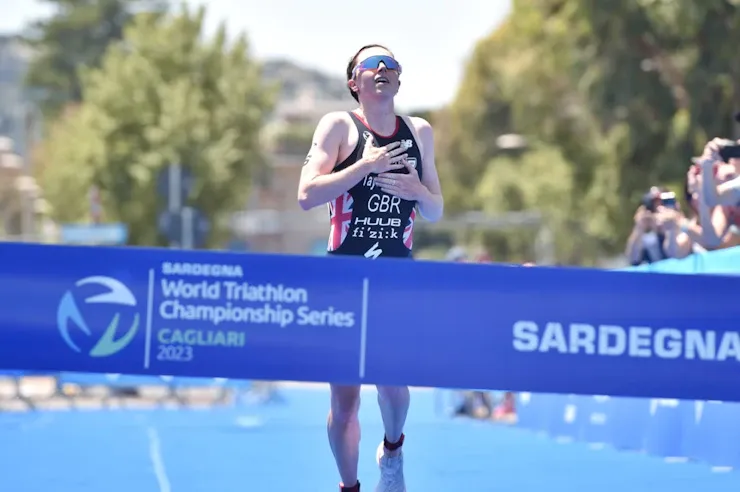 The 2023 World Triathlon Championship Series, hosted in Cagliari, was a comeback story for British Olympic silver medallist Georgia Taylor-Brown. After struggling to finish in top positions earlier this season, Taylor-Brown claimed a triumphant victory, making her two-for-two in Cagliari.
The swim in the choppy Cagliari waters posed a considerable challenge, dispersing the athletes early on. Vittoria Lopes from Brazil and Summer Rappaport from the US led the pack, with the Rio 2016 Olympic champion Gwen Jorgensen finding herself at the back.
Heading into the bike segment, the six front-runners included Taylor-Brown, Taylor Spivey from the USA, Emma Lombardi from France, Maya Kingma from the Netherlands, as well as Rappaport and Lopes. Despite a series of strong contenders in the chasing pack, none managed to close the gap to the leading group.
Throughout the ten laps of the bike course, the leading group, taking turns at the front, maintained a relentless pace and continued to increase their lead over the chasers. The group's lead became so substantial they even started to lap athletes from the 5th lap onward.
The leading pack had a comfortable 1 minute and 22 seconds lead as they moved into the second transition. Taylor-Brown quickly seized the opportunity, creating a significant gap between her and Lombardi who was trying to keep up. Their quick start immediately left Summer Rappaport and Spivey in third and fourth places, respectively.
Midway through the 10k run, Taylor-Brown and Lombardi maintained their lead while Rappaport started to lose momentum. In a turn of events, Rappaport was overtaken first by Spivey, then by Cassandre Beaugrand from France and Jeanne Lehair from Luxembourg, both of whom had their eyes set on the podium.
After almost 10k of a head-to-head race, Taylor-Brown made a decisive breakaway from Lombardi in the final 300m to claim her first victory of the season. An emotional Taylor-Brown crossed the finish line solo, marking a strong return to the podium after struggling in earlier races.
Finishing second was Lombardi, replicating her achievement from the previous year in Cagliari. Taylor Spivey claimed the bronze, landing herself the Series leadership with her outstanding performance throughout the day.
Reflecting on her victory, Taylor-Brown expressed relief and happiness, complimenting Lombardi on her performance and emphasizing the importance of their mutual support during the race.
While Beaugrand finished fourth, Jeanne Lehair secured a career-best 5th place. The top 12 finishers showcased impressive performance throughout the day, contributing to an unforgettable race in Cagliari.