News & Racing
Hedgeland Sisters Quinella Australian Junior Triathlon Championship
Jaz and Kira Hedgeland dominate the Australian Junior Triathlon Championships with a stunning 1-2 finish, evoking comparisons to the Brownlee brothers.
With the Brownlee brothers the talk of the triathlon town in recent years, Triathlon Australia has today uncovered its own pair of siblings – with a stunning 1-2 finish to WA's sister-act Jaz and Kira Hedgeland in the Australian Junior Triathlon Championships at Melbourne's Brighton Beach.
Youth Olympic champion, older sister Jaz, 18, put together an almost faultless display to successfully defend her National Junior crown.
She was on hand to greet little sister Kira, just 16, when she crossed the line in second.
The sisters admitted they have always looked up to Britain's Brownlee brothers, Olympic champion Alistair and ITU World Champion Jonathan, who have taken the triathlon world by storm over the past five years.
And it brought back memories for senior Australian triathlon officials of Australia's Carney sisters Emma and Claire, who amongst other feats shared the ITU World Championship podium in 1994 – Emma (senior) and Claire (junior) in 1994.
"And now Australia has the Hedgeland sisters," said Jaz, whose victory also sealed her an automatic selection for this year's ITU World Championships in Edmonton after her fourth placed finish in London last year.
And in a red letter day for Western Australia, Mikayla Falconer made it a WA trifecta when she finished a close-up third.
After coming out of the swim in front, Jaz Hedgeland said it was one of the best races for rolling through on the bike this season.
"We really worked hard as a team on the bike which was great and then on the run I knew I had to hit it hard from the start. I pushed it hard early and I was actually able to bring it home easy," said Jaz.
"I have had a really good six week block with my coach Dan Atkins and concentrated on a few things like playing to my strengths and getting off the bike and running hard and getting a good swim start."
And on a 1-2 finish with sister Kira and the WA trifecta?
"I could see Kira and Mikayla on the run that was just awesome and Kira has been working so hard and I know that more than anyone and I am really super proud of her, it's a big confidence booster for Kira,"said Jaz.
"It could not have been a better result for WA. We have kind been the underdogs but now we are coming through."
And the comparisons with the Brownlee brothers?
"I think it's kind of cool," said Jaz, "the Brits have the Brownlee brothers and Australia has the Hedgeland sisters."
"Jaz and I have always looked up to the Brownlees," said Kira, who admitted she was determined to have an improved race.
"I knew I had to go hard from the start and I couldn't stop hurting until I crossed that finish line but it definitely how exactly how I wanted it to be," said Kira.
"Jaz is the best training partner. She is so motivational and always there to talk to me when I need it. It is something that I always imagined since we started doing the same sport, to go 1-2 it feels pretty good."
In the men's race it was Tasmania's NSW-based defending champion and Olympic Youth champion Jacob Birtwhistle who made his 2014 Scody Junior Series debut with a with a well deserved victory after re-locating from Launceston to join Jamie Turner's Wollongong Wizards squad.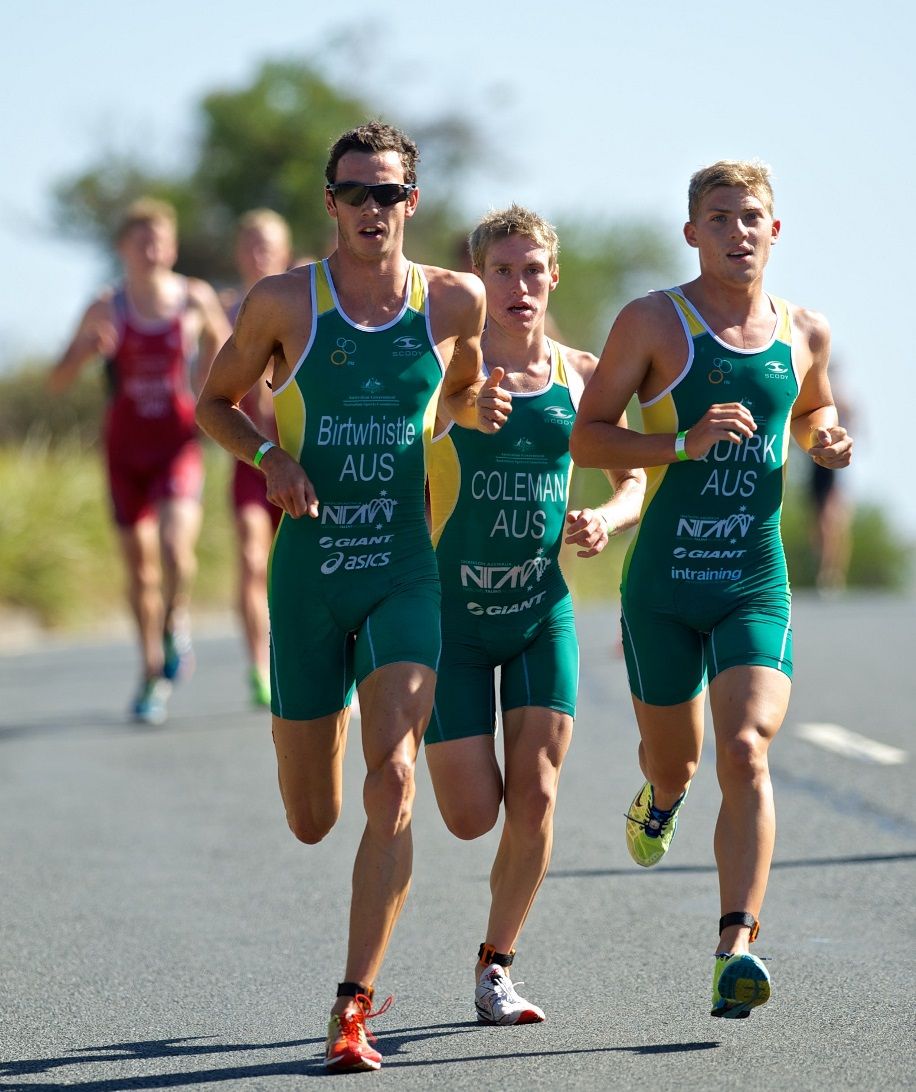 Birtwhistle ensured he came through a traffic jam unscathed riding into the bike transition before unleashing his power on the final five kilometre run.
The 19-year-old winner of last year's 3000m Zatopek Under 20s at Olympic Park, set the pace in the early part of the run, taking youngsters Dan Coleman and Calvin Quirk with him.
But with on the backend of the run, Birtwhistle managed to steal a break on the field to snatch the victory, with fellow National Talent Academy scholarship holders Coleman, Quirk, Matt Hauser and new addition Matt Roberts fifth.
"I came here without any real game plan, just really keen to put together a mistake free race and I was very happy with the way it turned out and I knew those other boys would be hard to beat," said Birtwhistle, who also has his sights set on the ITU World Championships in Edmonton.
"It is a really good start for me after making the move from Launceston and settling in to Wollongong and living without the comforts of home "so that took some getting used to.
"But to be part of the training group in Wollongong is ideal for me and I am really enjoying the move."
Scody Australian Junior Triathlon Series (Round Three), Australian Junior Triathlon Championships, Brighton Beach
Girls J Hedgeland WA (1:05.06.6) K Hedgeland WA (1:05.42.0) M Falconer WA (1:05.52.3) Boys J Birtwhistle TAS (58.15.1) D Coleman QLD (58.26.3) C Quirk QLD (58.27.5)
TOP Ten Girls
J Hedgeland
K Hedgeland
M Falconer
K Deacon
S Malowiecki
B Dutton
G Hoitink
J Glavincevski
M Stevenson
E Hobson
Top Ten Boys
J Birtwhistle
D Coleman
C Quirk
M Hauser
M Roberts
C Noble
B Copeland
F Lyon
S Lade
L Cook