IRONMAN 70.3 Incheon, Korea announced
MELBOURNE/TAMPA (Wednesday 18 March, 2015) – The growth in popularity of IRONMAN in the Asia-Pacific region continues with the exciting addition of the IRONMAN® 70.3® Incheon, Korea triathlon. The inaugural race will take place on July 5, 2015. Incheon, Korea's third-most populous city, is
MELBOURNE/TAMPA (Wednesday 18 March, 2015) "The growth in popularity of IRONMAN in the Asia-Pacific region continues with the exciting addition of the IRONMAN ® 70.3 ® Incheon, Korea triathlon. The inaugural race will take place on July 5, 2015.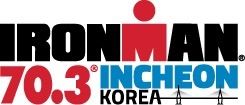 Incheon, Korea's third-most populous city, is less than an hour train ride from the amazing city of Seoul and its more than 28 million people. The event will be held at the site of the 2014 Asian Games in the eco-city of Songdo. The IRONMAN 70.3 Incheon, Korea course will offer athletes a unique and unforgettable racing experience, starting with the swim in the Central Park Lake, designed to create a balance between nature and man-made surroundings. The three-loop bike course takes athletes around the modern city of Songdo and showcases the uniqueness of the area. The four-lap run course circles Songdo's Central Park, which was modeled after New York's Central Park, before an energetic finish.
"We are thrilled to add our second IRONMAN 70.3 race in Korea after the success of last year's IRONMAN 70.3 Gurye, Korea triathlon," said IRONMAN Asia-Pacific CEO, Geoff Meyer. "Incheon is a spectacular city that we know our growing number of IRONMAN athletes and their families and friends will love."
Licensee Ironstar is the brainchild of former elite IRONMAN competitor Park Byung Hoon. Park has raced for more than 20 years and earned multiple podium finishes including a second-place finish at IRONMAN Korea and first-place at IRONMAN Japan in 2007.
"We are excited about launching IRONMAN 70.3 Incheon, Korea. The course is very close to hotels and the international airport, which will make it a fantastic event for participants," said Event Director Park Byung Hoon.
IRONMAN 70.3 Incheon Korea will offer a $25,000 USD professional prize purse and 30 age-group qualifying slots for the 2015 IRONMAN 70.3 World Championship in Zell am See-Kaprun, SalzburgerLand, Austria.
General registration for IRONMAN 70.3 Incheon, Korea will open today, Wednesday 18 March 2015. For more information on the IRONMAN brand and global event series, visit www.ironman.com. Athlete inquiries may be directed to incheon70.3@ironman.com.
Media may contact daniel.hoy@ironman.com.
About IRONMAN
The iconic IRONMAN ® Series of events is the largest participation sports platform in the world. Since the inception of the IRONMAN ® brand in 1978, athletes have proven that ANYTHING IS POSSIBLE ® by crossing finish lines at the world's most challenging endurance races. Recognized for excellence through distinguished events, world-class athletes and quality products, IRONMAN has grown from a single race to a global sensation with more than 190 events across five unique brands: IRONMAN ®, IRONMAN 70.3 ®, 5150 "¢ Triathlon Series, Iron Girl ® and IRONKIDS ®. For more information, visit www.ironman.com.