News & Racing
Ironman 70.3 Mandurah Australian Pro Championships Men's Race Report
With some unexpected time on his hands today Ironman 70.3 world number 5 Tim Reed has sent through a race report covering the 2013 Ironman 70.3 Mandurah Australian Pro Championships. A mechanical with the rear brake put Tim out of the race. This was unfortunate for Tim and not a great way to finish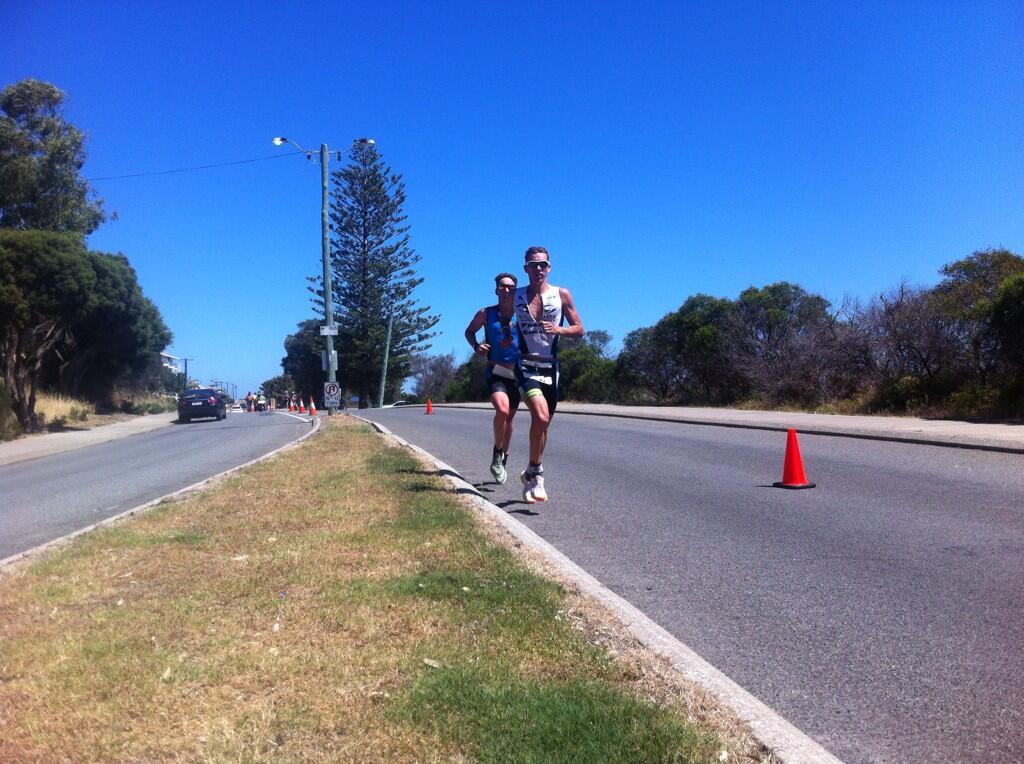 With some unexpected time on his hands today Ironman 70.3 world number 5 Tim Reed has sent through a race report covering the 2013 Ironman 70.3 Mandurah Australian Pro Championships. A mechanical with the rear brake put Tim out of the race. This was unfortunate for Tim and not a great way to finish of 2013.
In only two years the Ironman Asia Pacific team have established a deservingly great reputation for the fast and scenic 70.3 Mandurah. Once again, beautiful conditions made for a relaxed friendly atmosphere among the pros with many of us, including myself, hoping to end the season on a high note and enjoy a much needed break.
With the tide on the weaker swimmers side, a reasonable current helped propel a large pack of pros including all the main hitters to shore in 21 minutes low. Tim Berkel, determined to show he meant business, rode at the front of the group for a large portion of the first lap. 25kms in, while I was riding behind him I was suddenly having to work extremely hard to keep up, soon dropped off and was steadily passed by everyone in the front group. Despite putting down power that I know should have me riding very well I was losing time rapidly. Then my rear tyre blew and I was slapped in the face with the realisation that my rear brake had dropped out of it's socket and had been rubbing on the tyre until the heat blew the side wall. Of course I've had several hours of 'what if's' and uncontrolled mutterings of expletives as I believed that I was one of the few that could possibly give Terenzo Bozzone a run for his money having done so a couple of times earlier in the year. I'm slowly learning to put these days behind me and realise that everyone at some point has this sort of bad luck. Moving on..
With the tailwind behind them going back into town, coupled with some of the most honest 12m+ gaps I've seen among pro races, the front group started to string out, with Casey Munro and Brad Khalefeldt falling off the pace slightly. Entering T2 together was Sammy Appleton, Terenzo Bozzone, Tim Berkel, Jeremy Jerkiewicz and Greg Bennett. Bozzone did his usual trick of laying down some 3 minute and change kilometres early on, establishing his dominance early by pulling away from the chasers. However Greg Bennet was running strongly and would stay in 2nd until the later stages of the run where he withdrew leaving a very exciting race on for 2nd place.
In typical European metronomical run style, Jerkiewicz pulled very close to Berkel leaving Appleton in his wake until Sam Appleton showed that he's got some mongrel when it counts and pulled himself back together to make a late charge, bridging to Berkel and relegating Jerkiewcz to 4th place.
With only 1.5 kms to go Berkel, knowing full well that he cannot sprint, put in a hard surge and the move worked, dislodging a gasping Appleton who was really hoping it would come down to the last 50 metres.
Bozzone ripped out another amazing performance for the year winning in style and adding to his legacy as one of the best at this distance. The people's champ, Tim Berkel is a big race performer and I know that defending his Aussie title was hugely important to him so 2nd place and 1st Aussie across the line is a fantastic achievement. Sam Appleton continues his run of form jumping up on the podium yet again with a stellar 3rd place. 3 brilliant podium finishes in 4 weeks is an exciting insight into what sort of punishment this kid will be able to inflict on his competition in the next few years as he only gets stronger.
Over and out
| | | | | | | | |
| --- | --- | --- | --- | --- | --- | --- | --- |
| Name | Country | Swim | Bike | Run | Finish | Div. Rank | Overall Rank |
| BOZZONE, Terenzo | New Zealand | 00:21:15 | 02:03:20 | 01:15:52 | 03:42:59 | 1 | 1 |
| BERKEL, Tim | Australia | 00:21:20 | 02:03:16 | 01:17:15 | 03:44:31 | 2 | 2 |
| APPLETON, Sam | Australia | 00:21:18 | 02:03:20 | 01:17:46 | 03:45:02 | 3 | 3 |
| JURKIEWICZ, Jeremy | France | 00:21:16 | 02:03:18 | 01:19:19 | 03:46:50 | 4 | 4 |
| KAHLEFELDT, Brad | Australia | 00:21:17 | 02:09:46 | 01:16:45 | 03:50:32 | 5 | 5 |
| PASSUELLO, Domenico | Italy | 00:24:10 | 02:05:29 | 01:18:17 | 03:50:46 | 6 | 6 |
| MUNRO, Casey | Australia | 00:21:21 | 02:05:35 | 01:24:26 | 03:54:19 | 7 | 7 |
| OGDEN, Courtney | Australia | 00:21:53 | 02:09:16 | 01:22:08 | 03:56:25 | 8 | 8 |
| BURTON, Matt | Australia | 00:24:29 | 02:06:40 | 01:24:21 | 03:58:21 | 9 | 9 |
| STANLEY, Jamie | Australia | 00:21:45 | 02:10:09 | 01:24:20 | 03:59:15 | 10 | 10 |